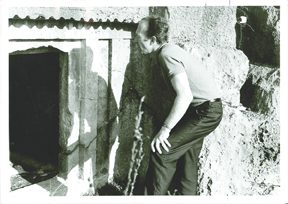 Interviewed by Benji Nichols
Dr. Richard Simon Hanson grew up in rural Wisconsin with a love of farm life that has led a journey of learning, teaching, and sharing. He was ordained, received his Ph.D. from Harvard University, and is a Professor Emeritus of Religion at Luther College where he taught for almost 40 years. He and his wife, Rita, were married for over 55 years and had four children throughout their life's adventures. A highly respected storyteller, Chaplin, caregiver, mentor, and educator, Richard Simon now spends many days a week volunteering and visiting with those giving and receiving skilled, nursing home, and hospice care. He was a member of the Dead Sea Scrolls archaeology and translation team, and was awarded the Carnegie Foundation 'US Professor of the Year Award' for Iowa in 1998. He is the author of several theological and related works, including his own translation of the Book of Psalms. Hanson is also featured in the eight-part DVD series "How the Bible Happened" which was hosted by the NE Iowa Unitarian Universal Fellowship.
What's the best advice anyone ever gave you?
I grew up on a farm in rural St. Croix County Wisconsin, and my father explained things very well, so there was a lot of good advice. "Always tell the truth," although… At least I started off with good advice! My father also always said, "When opportunity comes, then maybe it's time to jump." That suited me well through the years.
How about the worst advice?
Oh, you know, you do and don't follow advice.
What did you want to be when you grew up?
Because farming was so much fun, I was going to be a farmer – what a life! But it didn't occur to me until I was a bit older that our 72-acre farm would barely support a family. At 16 or 17 I thought, "No, I love to learn."
What do/did you do?
I had taken to Latin on my own, and was interested in music, which I majored in at Luther College, with minors in German and Greek. I loved directing choirs and led many throughout my years, including the Schola Cantorum my senior year while Weston Noble was directing the Nordic Choir. And I wanted to keep learning, so I went to Luther Seminary in St. Paul, learned and taught Hebrew – much of it on my own, got my masters, and then had the opportunity to continue my doctoral studies at Harvard. The Dead Sea Scrolls had just been found and it was a very exciting time. In the time shortly after WWII there were not as many doctoral degrees, and we had the opportunity to look at moving to Indonesia, Israel, and other locations with our children – and there was also an option at Luther, which we took, partially due to the proximity of our families, and our own growing family.
If you were stranded on a desert island, what three things would you want with you?
Another person! Fresh water, and local edibles.
If you could eat anything every day for the rest of your life, what would it be?
Oatmeal. It's very balanced – and growing up on a farm, you learn it has the highest protein among the grains.
Name one thing you could not live without.
Water. It is profoundly important.
Multiple choice: tell us about… Your wedding / engagement day!
I got through Luther College – too poor to date. In Minneapolis though, there was a nurse that I met who invited me to dinner with her three roommates. She had a fabulous chicken dinner which I thought she had cooked, and then I found out it was actually her roommate, Rita, that had cooked it. I was smitten. We dated a bit, and then I had a summer job in Thief River Falls. I spent all my money on an engagement ring. Really, I knew the church would have some leftovers, and I had a place to stay – I had very little money. Outside of Elk River there was a pretty spot above a lake that I had found and it was there that I asked Rita to marry me. We were so excited. I figured I would finish seminary and we'd get married in a year or two, but Rita's mother and friends had other ideas – she was also three years older than me! A completely homemade wedding happened on September 2, 1954. We spent the morning picking flowers and ferns for the ceremony, and Rita had found a used wedding dress. When it got to ceremony time, I was almost panicked not knowing if I was ready, but I said 'I do'. 50 years later, while Rita was at Aase Haugen with Parkinson's, I decided we should re-do our vows. We brought down her dress and I read our vows out loud. It was quite special – and I said "Rita, this time I really do mean it!"