It's a baking kind of day here in the Driftless Region. I don't know about you, but there are about six ripe bananas in my freezer that need to get used, and my rhubarb is on its very last stalks. Since we're officially into summer now, let's say goodbye to spring. Go ahead and pull that last rhubarb up, warm the kitchen (I'm seriously wearing a fleece right now), and make this yummy treat!
This has been my go-to rhubarb recipe since it was introduced to me in 2009. It's called a torte, but it's unlike any torte I've ever made before. My grandma has a similar recipe, but this one is from my good friend Kristin Torresdal's grandma, Grace Torresdal . If you do it right, it creates a magical top crust all by itself! Try it out, and please let me know if you have any questions.
Rhubarb Torte by Grace Torresdal (transcribed by Kristin Torresdal)
*For a 9×9 pan
Preheat oven to 350
• Wash and cut rhubarb (recipe calls for 2 cups but Grandma says she usually uses close to 3)
• 1 c. cake flour (or improvise and use 1 c. minus 3 tbsp regular flour); and then add 3 tbsp corn starch…this approximates consistency of cake flour
• 5 tbsp powdered sugar
• 1/2 c. butter
MIX AND BAKE CRUST 15 mins @ 350 degrees (Ed. note: It seems pretty crumbly when you put it in the pan, but once you pat it down and bake it, it does indeed form a solid crust. Sometimes I bake it a few minutes longer because I like my crust to be nice and firm…)
WHILE BAKING CRUST, MIX THE FOLLOWING IN THE ORDER GIVEN
(Ed. note: that "order given" part is really important. Mix each ingredient after you've added it – this seems to be the secret to the crust "magically" appearing in the oven.)
• 2 eggs
• 1 3/4 c. sugar
• 1/4 tsp salt
• 1/4 c flour (regular, not cake) – Grandma says 'I throw in an extra, heaping tsp because otherwise it can get runny…especially if we've had rain lately and the rhubarb is moist)
• 3/4 tsp baking powder
• Rhubarb (2-3 cups, as you prefer, cut up)
Spread the filling over the crust and bake @ 350 for 30-35 minutes – Grandma says it generally takes hers 35-40 minutes because she doesn't like it too runny…and top gets crispier…in that case, I recommend letting it sit a bit so the rhubarb juices from below rise to the top…yum!
Serve with ice cream or cream (if you can possibly handle any more sweetness!)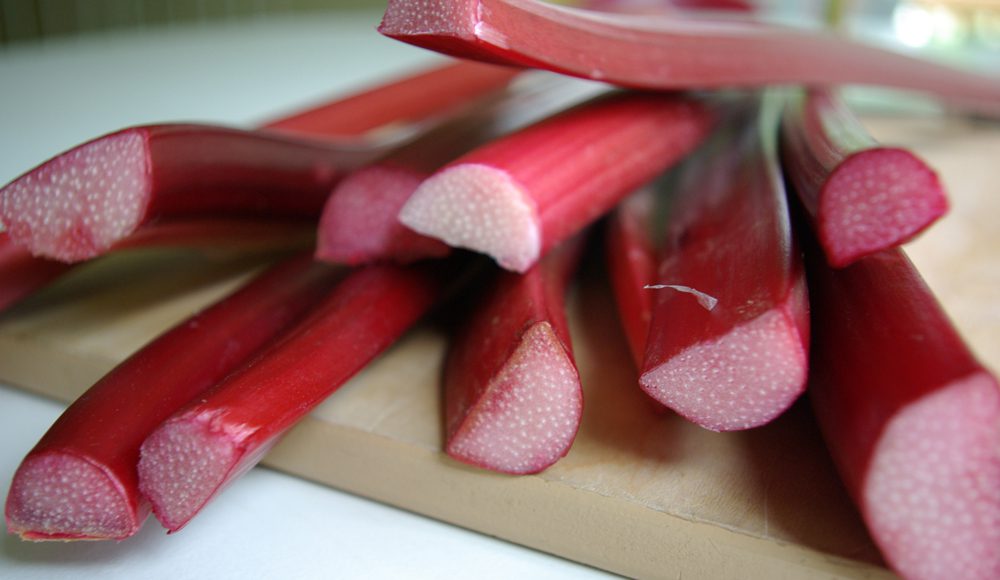 *9×13 INCH PAN RECIPE (follow steps above using the measurements below)
• 1 1/2 cake flour (it's still adequate to take out 3 tbsp regular flour and replace with 3 tbsp corn starch)
• 7 1/2 tbsp powdered sugar
• 3/4 c butter
• 3 eggs
• 2 5/8 c sugar
• 1/2 tsp salt
• 3/8 c flour (heaping tsp extra)
• 1 1/8 tsp baking powder
• 3-4 c rhubarb, cut up
I know Kristin, her grandma, and of course the team at Inspire(d) hope you enjoy this recipe, and this lovely, cool day!
XO,
Aryn