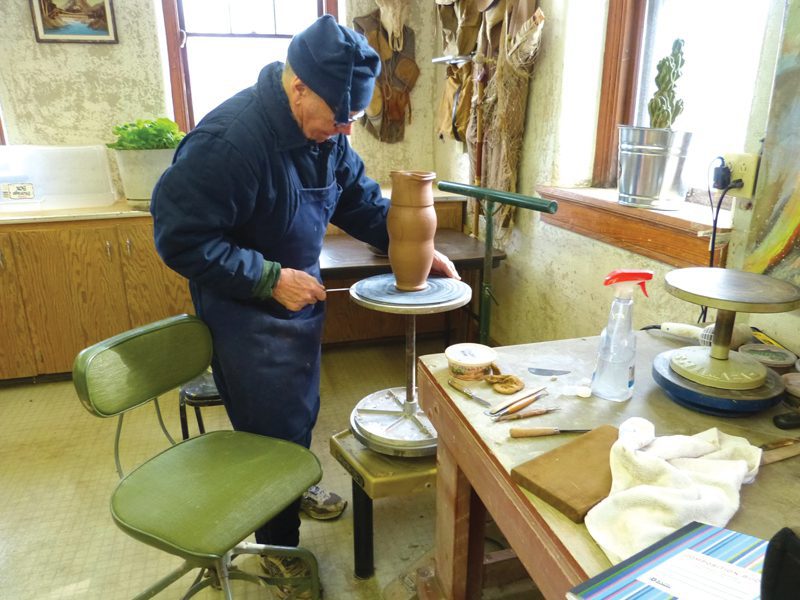 An exhibition of life and purpose by artist Dean Schwarz
Story and Photos by Kristine Kopperud Jepsen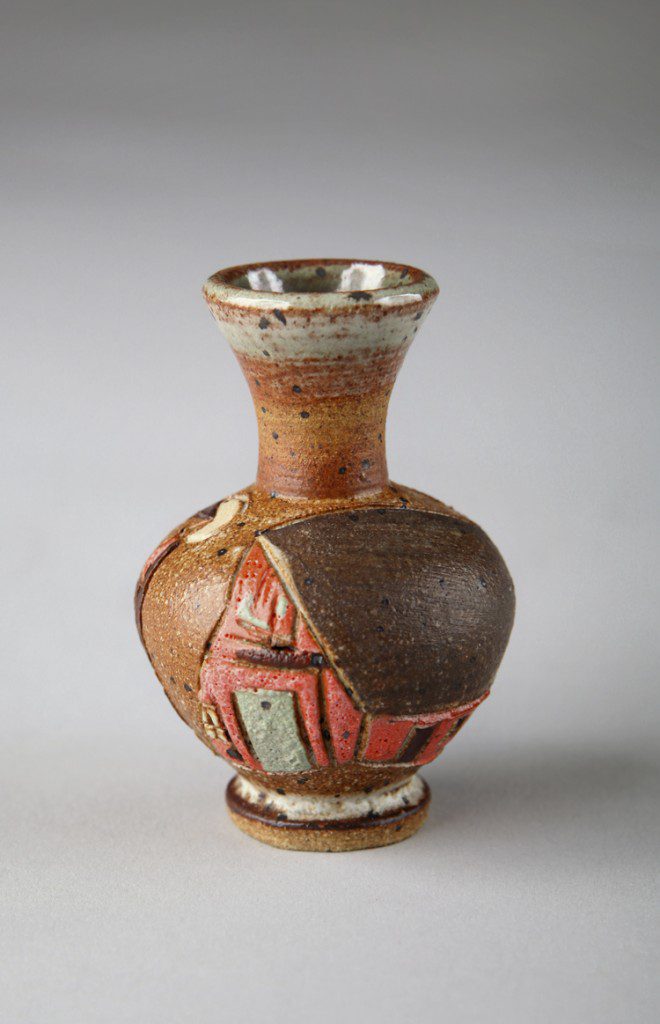 Acquainting one's self with potter Dean Schwarz isn't as simple as looking at his finished works, neatly numbered and named. To get his particular sense of craft-as-life, you really need to hear his narrative: A looping, mingling romp through the history of functional studio pottery – and the life he and his family have built around it.
Spend enough time immersed in creative expression, Schwarz suggests, and you'll find that it's not just the work that remains, but the shape of a whole life and the lives it's touched. This degree of dedication can also, on occasion, connect the lives of two different artists in different times – such as Dean Schwarz and painter Marvin Cone – without their ever having met. (Photo at right by Harry Baumert.)
Cone, a prolific life-long painter, lecturer and community advocate, studied and traveled, first as an interpreter of French in the military in World War I, but his roots were, like Schwarz's, always twined in Cedar Rapids, where he was born. In all, Cone spent four decades teaching at Coe College there, founding the art department in the process.
Over the past three and a half years, more than five decades into his own vocation as artist and teacher, Schwarz has created a distinct series of pots inspired by Marvin Cone's paintings – 512 pieces, to be exact.
The exhibition, "Marvin Cone On My Mind: The Ceramics of Dean Schwarz," pairs many of Cone's works with Schwarz's pottery, creating a unique conversation between the two media and the two artists. The exhibit will be housed at the Cedar Rapids Museum of Art, March 15 through November 2, 2014.
"Growing up in Cedar Rapids, I was aware of Marvin Cone ­– and his good friend [widely known 'American Gothic' painter] Grant Wood – even though I was more into athletics," Dean says. In retrospect, Dean knew he had been introduced to art growing up, but he never planned to become an artist. Ever the athlete, he went to the University of Northern Iowa – at that time Iowa State Teacher's College – on a basketball scholarship. It was there that he first got his hands in clay.
"I was required to take a class called 'Man and Materials' in college. And voila! To my great surprise, I found the same excitement in using my hands to make pottery as moving a basketball on the court," he says.
He also met another love in college – his wife, Geraldine (Gerry). After earning a masters degree, finishing his navy stint and teaching one year in Independence, Iowa, Dean spent his first of three summers at pond farm in California. He was about to embark on an influential alliance with mentor and master potter Marguerite Wildenhain, utilizing the functional artistry embraced by her masters' school, the Bauhaus of Weimar, Germany.
Following Wildenhain's example, the Schwarzes – with fellow Luther College professor and Decorah art-gallery owner Doug Eckheart – established South Bear School in the summer of 1970. In the tiny hamlet of Highlandville, Iowa, on the banks of South Bear Creek, a 14-room former hospital became the first home for South Bear's master classes, apprenticeship program, and momentous community in pottery and other arts. After six summers, the art outgrew the space, and South Bear School was moved – with the infusion of new collaborators, the John Nellermoe family – to the former Aase Haugen retirement home, a 65-room facility on a dead-end drive in a wooded valley southwest of Decorah.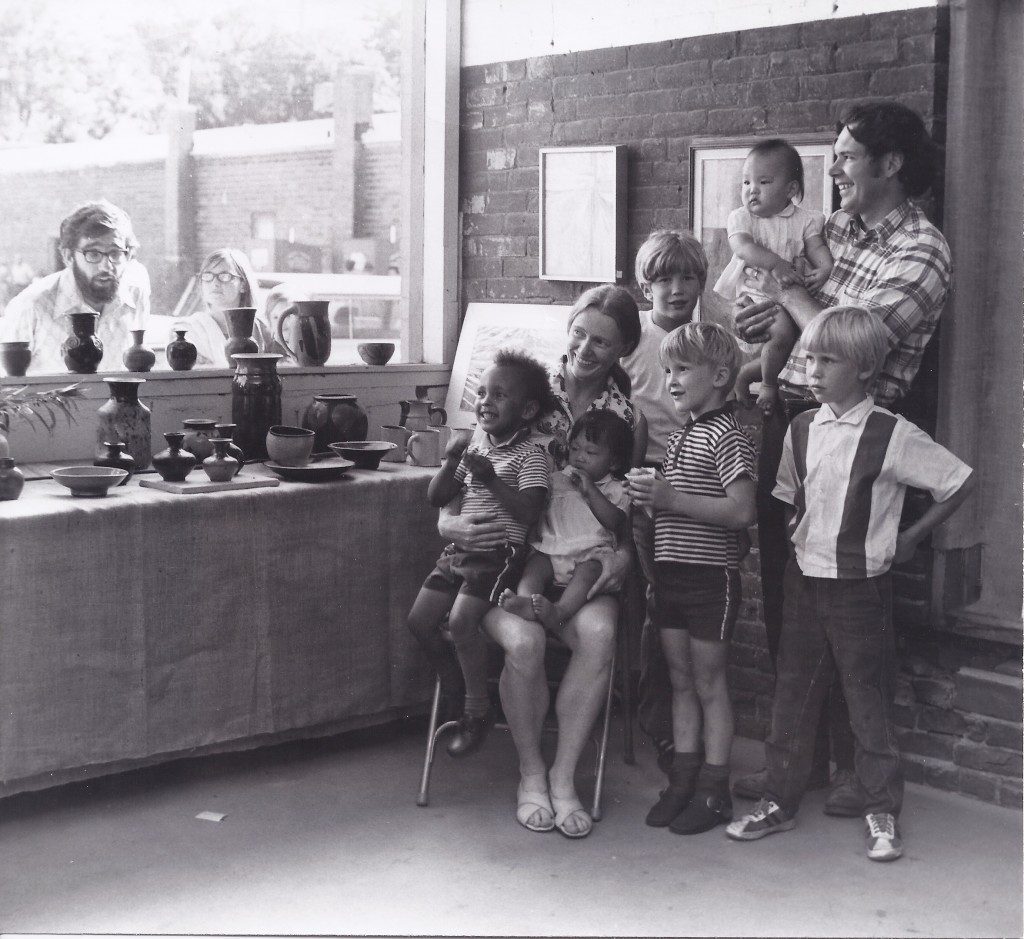 (Schwarz family photo circa 1972 by Joan Liffing Zug-Bourret.)
The school followed the European Bauhaus model of apprenticeship, in which children serve as craft apprentices from ages 12 to 18. The Schwarzes raised their six children – Bill, Gunnar, Lane, Jason, Sheela, and Nan – at South Bear, and each was required to study pottery – or another functional art – each summer with the older students enrolled.
"That's just what we did," says Gunnar, who threw many of the medium and large (up to 40-inch) pots in the CRMA exhibition – saving Dean's ailing back. Gunnar and Lane have been making a living in the studio, adjacent to their dad's, since the mid '80s, and all the Schwarz siblings are 'proficient' in pottery, as Gerry says, whether they profit from it professionally or not.
The work ethic and immersion experience seem to have gotten into the Schwarz DNA. Daughter Nan studied art on scholarship at the University of Iowa with interest in photography, and her work appears throughout South Bear School. Today, she performs acupuncture and Chinese medicine through her private practice, Nanarita, in Seattle, and says artistic value plays into her everyday activities. "It feels like everything I know about artistic flow, movement, and consideration weighs in on any diagnostic evaluations I make when considering a patient," she writes via e-mail. "Form and function should be recognized in every aspect of your life. And there is nothing more functional than the human form."
Similarly, son Jason did some of his childhood apprenticeship in fiber arts and is now the editorial associate of South Bear Press (southbearpress.org), a publishing company begun by Dean and Gerry as a vehicle for their research. He threw a series of bowls for a friend's wedding reception, and though the intent was for guests to take them home, they turned out so beautifully that the bride and groom kept most of them. Daughter Sheena is the owner/director of Squirrel's End Gallery in Iowa City, specializing in ancient Chinese artifacts, vintage decor, jade jewelry, and American pottery, paintings, and prints. Finally, son Bill teaches and is head coach of boys cross-country and track and field at Prairie High School in Cedar Rapids.
"It's a pretty neat collaboration," Gunnar says of working side-by-side with his dad, in his childhood home, this nexus of familial interests. He bikes to work in the summer, and cross-country skis out in winter. "There was a time when working there was more of a mentorship, but we've always been encouraged to grow into our own expression. So, sometimes Dad will tell me about something he wants, if it's a specific form, but most of the time it's more like, 'What do you want to do right now?'"
Years became decades of near-daily work in the studio, resulting in vast collections of pieces. In storage in the basement, on shelves floor-to-ceiling, this body of work is formidable as a library — but all upside down. "We store them that way to keep the bats out," Dean explains, only half joking. "Otherwise, Gerry has to get in here with her terrific sniffer and ferret out the casualties."
To their mutual credit and amusement, Dean and Gerry orbit each other comfortably, fact-checking each other and adding details the other skipped. They are lively bookends, as Gerry tries to keep Dean on task (such as eating lunch while it's actually hot) and Dean pauses in his steady narrative to pull a date or name from Gerry's encyclopedic memory.
Since he stopped traveling to and selling at art fairs nearly a decade ago, Dean has settled into a creative hermitage at South Bear, preferring to keep the studio and apartment at 50-odd degrees in winter and wearing, almost without exception, a pair of singular blue insulated coveralls. (He still plays competitive tennis each week with former colleagues at Luther – but also in blue coveralls, cut off at the shins.) Gerry, on the other hand, stays on her family's farm near Mason City during the week while teaching writing and literature at North Iowa Area Community College and travels home on weekends.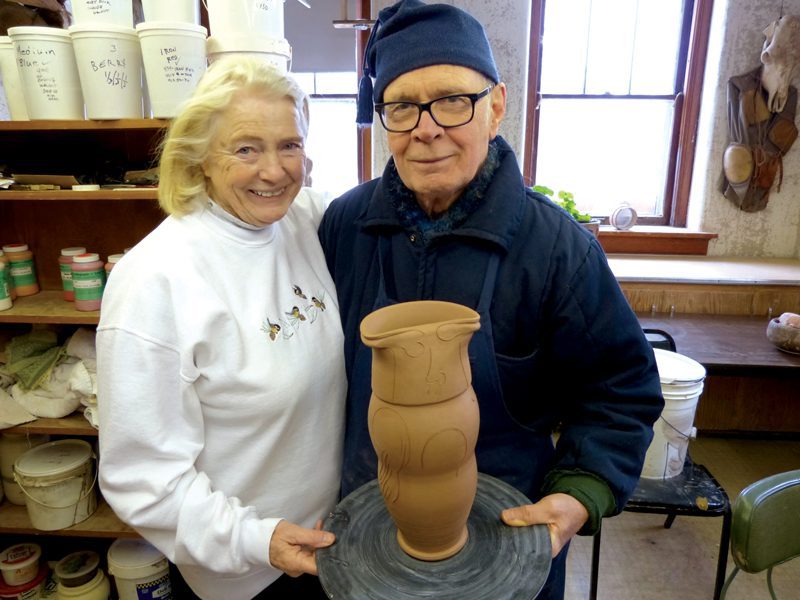 "She has a special relationship with the thermostat around here," Dean says mischievously. "When she's home, it's suddenly jumped to 65!"
But beneath their banter, the Schwarzes take seriously the honest, earnest creative work that fills their days, not to mention the business of documenting it. Together they have authored and published several respected books through South Bear Press.
Each title is carefully researched with first-hand access to the artists, locations, artifacts, and artistic subject matter at hand, incorporating such experiences as the family's time spent in South Korea, where Dean studied and taught ceramics as a Fulbright-Hays Research Fellow, and in Israel, where he was an on-site restorer of pottery on an archaeological dig. Dean also visited Japan, where he studied traditional pottery, and he made several trips to Panama, where he researched Pre-Columbian pots. Their 770-page compilation Marguerite Wildenhain and the Bauhaus: An Eyewitness Anthology, weaves together essays, memoirs, diaries, letters, interviews and other written documents by or about Bauhaus or crafts-related professionals. The project took them more than a decade.
"It makes perfect sense to me that my parents would eventually go into publishing, as they are both storytellers and believe in passing on the traditions that make them/us what we are," Nan writes via e-mail.
Gerry notes that with such creative longevity, subjects and interests have a way of cycling back into their lives, inspiring new bodies of work. "You don't really know you're in a series until you're in it," Gerry explains, "and then there it is, all its own."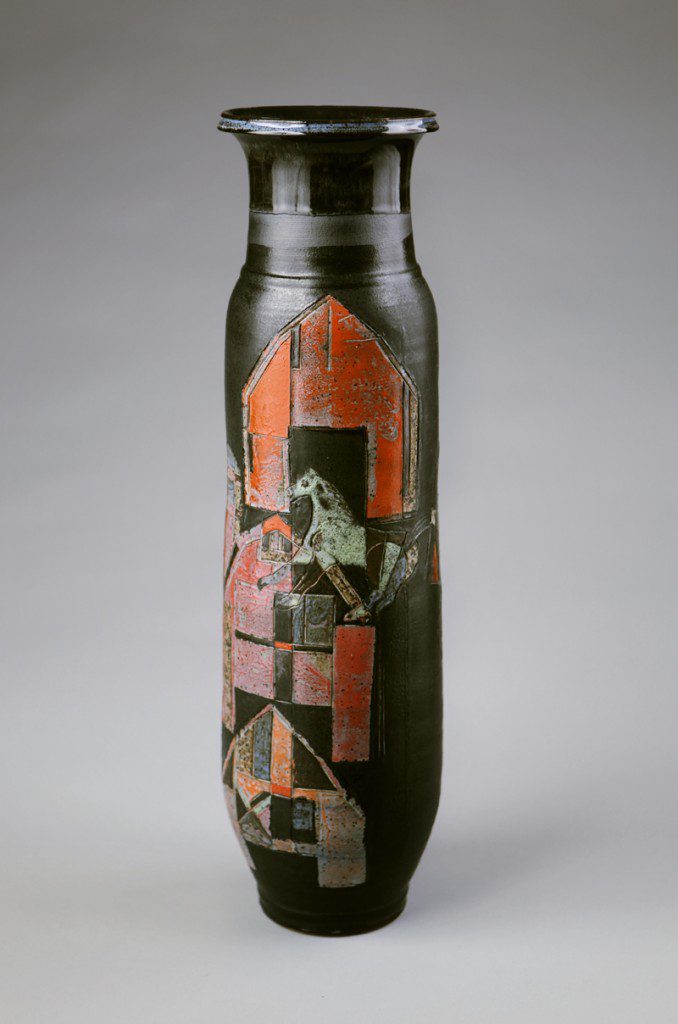 Dean's Cone series ranges from two-inch-tall 'mini' pots thrown by Lane, to pots so tall and heavy that Gunnar and Dean had to work together just to lever and strap them safely into the kiln. (Photo at right by Harry Baumert.)
"When I got into Marvin Cone's collections, I saw that he spent time with some of the subject matter – rural landscapes, elements of architecture – that I had been after, too," says Schwarz, who, in the '70s, made a practice of hoisting himself – canvas and materials in tow – up any limestone outcropping to get some perspective on Northeast Iowa's landscape. The mill stands tall over here. Expansive barns with hay lofts there. "As a person and an artist, Cone was 'quiet,' I think, but he was a great observer and brought out what he 'saw' when he looked at a bend in a river, or a homesteader's barn. He seemed to get what was 'going away' and what would be lost with it. Most of all, his work was a love of place and spirit."
Dean, now in his mid 70s, is keen to the precariousness of productivity. "The most difficult thing for me is that I cannot work harder, share more spirit, and develop new ways to live and love," he says.
But, in reality, he's still no slouch at celebrating and remixing the eclectic successes of his many friends, family, former students, and colleagues the world over. In his studio, he's surrounded by totems – collages of artifacts, assembled like complex personas.
"That's my dad's welding mask," he says, pointing to the wall above a bench of pots-in-progress. It's mounted atop a canvas stunt suit – or straight jacket? – that, fyi, once belonged to Houdini-era escape artist and Decorah local Roy Jaegerson. "Both my parents were welders, actually," he continues. "My dad was once told that his were the only seams in the construction of the Duane Arnold [atomic] Energy Center, near Cedar Rapids, that had no bubbles in them. He was quite proud of that."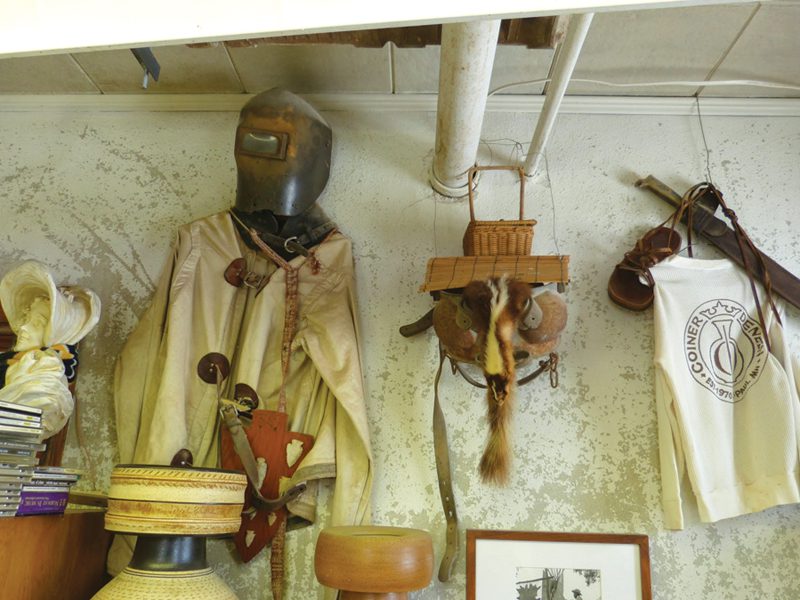 On another wall, capped by a Panamanian sun hat, hangs a tweed duffle coat wrapped in cotton fishing net and bobbers Dean painted himself. In front hangs a walking stick carved by a former student; at the head, a tin dish Gerry once used panning for gold on a short stint in Alaska. "I'll never get over the thrill of seeing or hearing or feeling something and remembering where you were when you first encountered it," Dean says. "We have so much to learn from where we've been."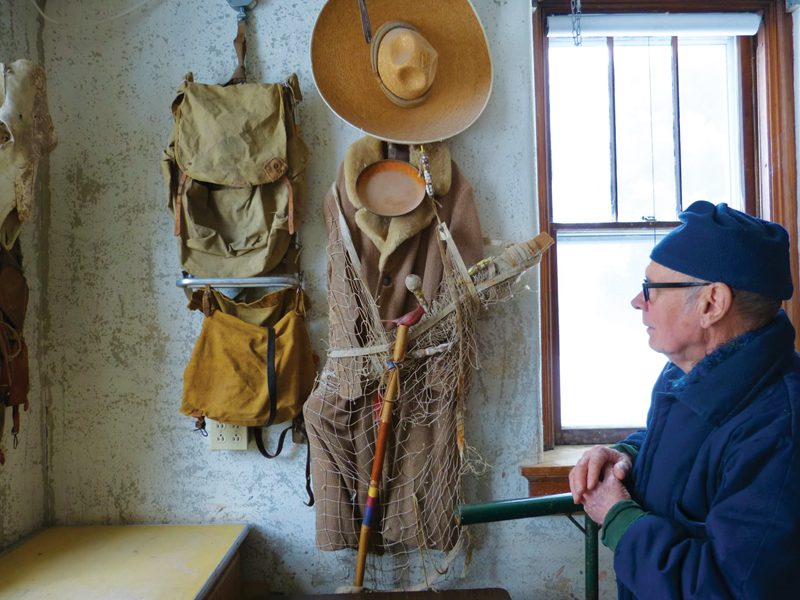 After a few beats, his thoughts turn back in the direction of the exhibition and the buzz it's generating among former colleagues and students, many of whom haven't seen him since he largely retired from lecturing and art fairs. "I'll be really happy if people think [CRMA] is a good place to show this series, seeing it in direct relation to Cone's paintings," he continues. "That's what I want."
The exhibit commands two of the museum's 16 galleries and involves nearly 100 of Schwarz's pots, displayed in cases, with Cone's paintings arranged on walls. The pairings were selected by CRMA interim director Sean Ulmer.
"Dean's interaction with Cone's work isn't replication," he explains, "as though he could take a Cone painting and wrap it around a pot. In some cases, the relationship is a familiar form – a barn or silo or field. Sometimes, the title of Dean's piece references one of Cone's lectures at Coe. Or, it might be an archetype – a portrait of an older MAN – that shows up in both works. To me, Dean is referencing Cone as teacher, as friend to Grant Wood, as a man in the community, Cone the artist. And, the show also contains works that are outgrowths, not related to Cone – where you can see a transmutation, where Dean is now a step away, or two steps away."
Schwarz himself, however, seems never to have been far away at all, despite his pots and acclaim having reached galleries and collections all over the world.
"When my mother had died, and my father was dying, I would visit Cedar Rapids, and every time I drove away, about 20 minutes down the road, a profound depression would wash over me, knowing that their end meant I wouldn't be 'going back,'" he says. "This exhibition feels like coming home. I'm quite honored to do it."
—————————-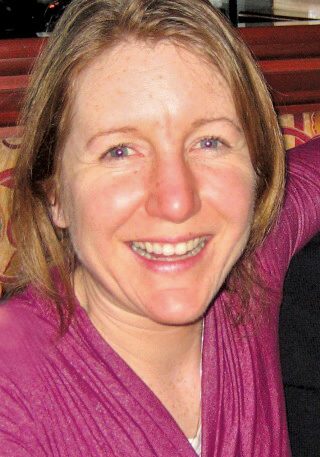 Kristine Jepsen loved being immersed in the Schwarz's world of functional studio pottery while writing this story. And she'll be over the moon if she can produce anywhere near 512 related articles, essays, and other written works in her own career. When not tap-tapping at a keyboard for magazines and the Web, she works with Grass Run Farms, a grass-fed beed company she owns and manages with her husband.
RELATED BOOKS:
The Boy and the Old Dam – By Dean Schwarz. Memories of an eight-year boy living in the heart of Cedar Rapids. Available In 2014.
Also available in 2014, a biography of Dean Schwarz written by South Bear School student and professional potter Brent Johnson.
OTHER BOOKS:
Marguerite Wildenhain and the Bauhaus: An Eyewitness Anthology ISBN 978-0-9761381-2-9, and Centering Bauhaus Clay: A Potter's Perspective, ISBN 978-0-9761381-5-0, both edited by Dean and Geraldine Schwarz, (Decorah, Iowa: South Bear Press, 2007).
COLLECTIONS:
Schwarz's ceramics are owned by private collectors, museums and universities throughout the world, including, the Museum of Art and Culture (Wu Han, Hubei, China), University of Nottingham (Nottingham, England), Collection of King Olaf (Oslo, Norway), Pottery Museum (Mikawachi, Japan), Burg Giebichenstein (Halle, Germany) and the White House Collection (Washington, D.C.).