Winter is a wonderful time to cozy in and think about making life better. So we're excited to bring you the new Winter 2016-2017 Inspire(d) Magazine, all about bettering yourself and your communities! Online today, and out on stands starting this weekend!
Here's what you'll get to read:
Forgiveness Initiative • Smithsonian Water/Ways in Lanesboro • Northeast Iowa Food & Fitness • The Walking Revolution • Sum of Your Business: Brenda Harris • Heard About It? Try It! • Wild Rice Chicken Soup recipe • DIY Envelopes! • Probit: Grace Peterson
Winter 2016-2017 Editor's Letter
These are some tumultuous times here in our world. There are so many things folks are upset about, and rightly so. These problems are very real and concerns about the future are legitimate.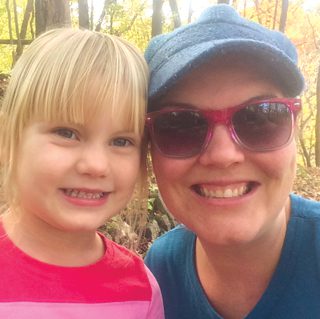 We're not here to say everything is going to be all right, but we are going to say that this time is yours to shape. Just like any time. And just like always, Inspire(d) encourages you to start small, start in your own community, or even just start with yourself. Winter is the perfect time to look inside and work on being well and being a better person.
Where do you start? How about with a little (or a lot of) forgiveness? Sara Friedl-Putnam chatted with Luther College forgiveness expert Loren Toussaint, who has done extensive research on the mental and, yes, physical benefits behind being more forgiving of others and yourself. It makes perfect sense to us – holding on to negative feelings will only make us feel more negative. Toussaint shares some tips on how to start forgiving on a more regular basis – we hope you'll give it a try (pg. 24)!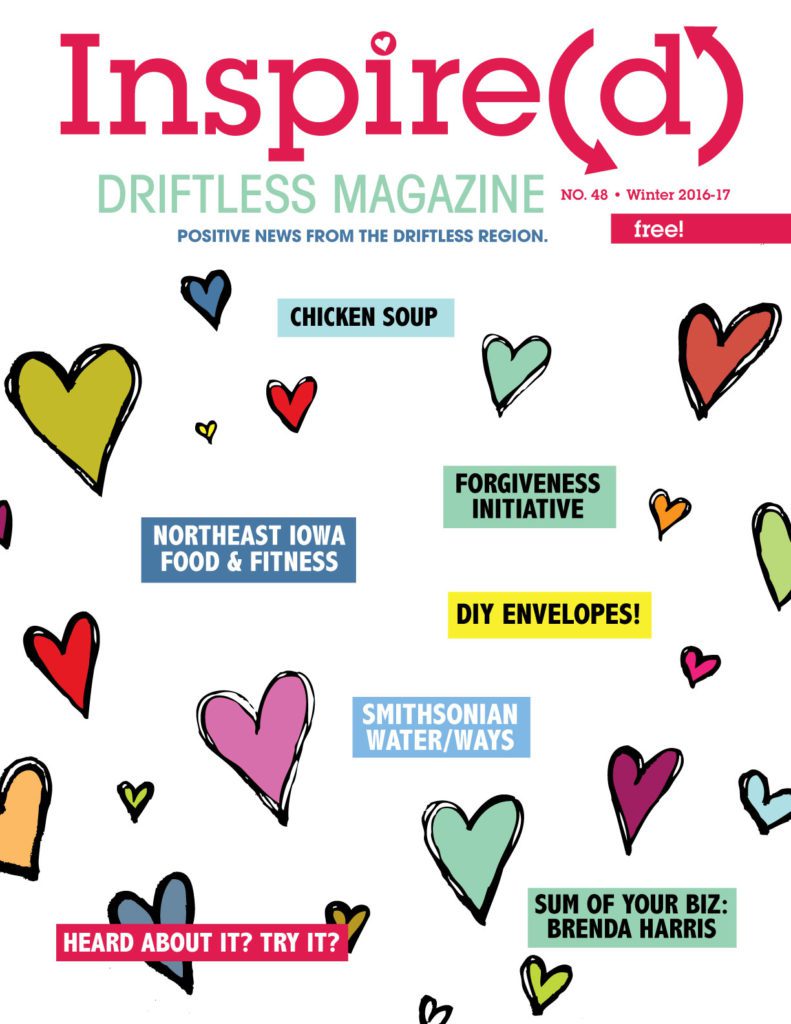 Inspire(d) newcomer Cerrisa Snethen covers the part where we make our communities better places – she did an fabulous job covering the amazing work of Northeast Iowa Food and Fitness Initiative. Come 2017 (which is, indeed, coming!), FFI has been bettering Northeast Iowa for a decade! We had no idea just how many awesome changes in the region were due to this many-faceted organization. See for yourself on page 50.
Speaking of communities, we're pretty excited that Lanesboro, Minnesota is one of the towns hosting the national Smithsonian exhibit, Water/Ways, January 7 – February 18, 2017. Water is life – we need to protect it, conserve it, and respect it. Kristine Jepsen fills us in on all the cool details of the community-wide exhibit and its multitude of events. It's going to be a perfect combo of education and fun (pg. 14)!
This issue's Sum of Your Business feature, Brenda Harris, owner of the Acupuncture Center Decorah, fits perfectly with winter wellness. The three facets of the Center – acupuncture, qigong, and herbal medicine – are fascinating to learn about, and Brenda's business story is great too (pg. 24).
And while we're talking about wellness, we should also talk about staying well – I've included my go-to chicken soup recipe (pg. 48) – make this for yourself or your family when someone is under the weather, or if you're just looking for a healthy, warm winter meal.
We were happy to have former Inspire(d) intern, now legit-design-pro Kristin Anderson create the paper project this issue. She came up with a fun idea for reusing your favorite magazine pages: Homemade envelopes (pg. 33). They're super cute, and who doesn't love to get a fun little piece of snail mail delivered to their door?
Okay, and winter doesn't have to be all about looking in – you can get out too! Try some of our fun "get active" ideas – from silo ice climbing to Aerialates – on page 30! And, finally, don't miss Grace Peterson's wonderful probituary – we just love reading those interviews!
We here at Inspire(d) hope you enter 2017 with optimism, strength, and health. Make it the best year possible. You've got this.
Looking forward,
Aryn Henning Nichols