Here's what's happening in the Summer 2017 Inspire(d):
Summer Fun List! Local Food Directory • CSA: Hooray! • Crystal Creek Magic • Sum of Your Biz: Impact Coffee • Lansing, Iowa • Paper Project: Gnomebooks! • RAGBRAI Northeast Iowa Edition • and more! Read the whole thing online here!
A note from Aryn: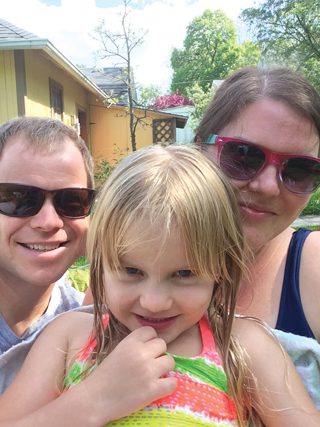 This is our 50th issue of Inspire(d)!!!! Can you believe it?!
Every time I say the word "fifty" I think of that Saturday Night Live sketch… you know, the one where Molly Shannon says, "My name is Sally O'Malley and I'm proud to say I'm 50! And I like to kiiiick and streeeeetch, and kick! I'm 50!" And she jumps around, all spry and awesome.
I'd like to think Inspire(d) is a lot like her – all spry and awesome, kicking and stretching and proud to make you smile. Oh, and ready to stick around for another 50 issues. You ready for that?
We hope so.
We'll start off with Inspire(d) #50. It is full of summer awesomeness! I was so excited about all the stories in this magazine, I decided to write three of them! I had a blast chatting with Erin Dorbin and her partner Taylor Harris at Crystal Creek Canyon Lodge near Houston, Minnesota. They're launching a citizen-artist residency this summer, and we just love their goals and ideas for the project (pg. 14).
Then I got to go another scenic direction in the Driftless Region – on over to Lansing, Iowa, to interview some great folks there for the next in the Inspire(d) Community Features (pg. 48). Plus, we got a sneak peek at the new Driftless Area Education and Visitor Center. It's totally rad.
I also got to share some ideas for something that I'm really passionate about: bulk cooking! Specifically for this issue, local bulk cooking and figuring out how to get the most out of your CSA – community supported agriculture – share each week. Anne Bohl from Low Oaks Farm in Waucoma, Iowa, worked with me to put together some great tips and recipes (pg. 38).
Speaking of local food, we're honored to yet again have the Driftless Local Food guide within our pages this summer – check it out on page 33, and then go check out some of your local farmers, producers, and restaurants.
One of our favorite local places to get coffee is Impact Coffee Bar and Roasters. Benji interviewed owners Jeff and Anja Brown for this Sum of Your Business and got to learn even more about this truly family-run business.
Sara Friedl-Putnam put together an awesome guide for folks hitting up the RAGBRAI trail in Northeast Iowa (pg. 58) and Kristin Anderson brings us another amazing paper project: a notebook, er..gnomebook! It's super cute. Check it out on page 37, and get instructions soon here at iloveinspired.com.
Finally, as promised by G-Gnome (who is so happy to be back on a summer cover), we've got some summer fun ideas for all (pg. 30). We hope this is a great summer filled with adventure, happiness, and lots and lots of play.
Thanks for reading and always being Inspire(d) – and inspiring!
Looking forward,

Aryn Henning Nichols
P.S.
October 4 will be our 10-year anniversary, so get ready for some more gushy, "I love you guys" stuff from me in the next issue too! xox