The Fall 2019 Inspire(d) celebrates our 2019 Community Builders! Inside, you'll find:
Community Builders – Luke Zahm, Emily Kurash Casey, Julie Shockey Trytten, Amanda Ninneman, Debra Lash – Driftless Mill History, Mid-Wisco Roadtrip, 12 Ways to Show Up for Your Community, Apple Orchards, & More!
A note from Aryn: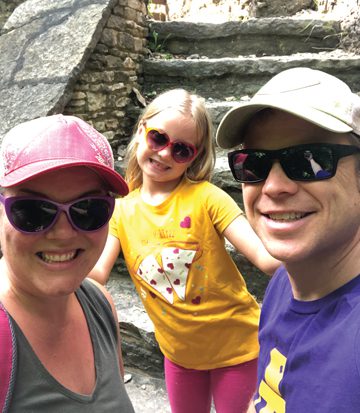 12 years! It seems impossible that much time has passed, yet here we are 12 years in on Inspire(d) Magazine, and 12 years in on our mission to make the world a better place, one community at a time.
In fact, it's through communities that this mission has the best chance to succeed. Building communities is one of the most important things we can do on this planet, whether it's through a book club or civil leadership or neighborhood networks or… you name it.
To celebrate that, and our 12-year birthday, we're once again highlighting awesome Community Builders this fall. Congratulations – and a huge thank you – to the 2019 Inspire(d) Community Builders: Luke Zahm (Viroqua, WI), Emily Kurash Casey (Winona, MN), Julie Shockey Trytten (Decorah, IA), Amanda Ninneman (Caledonia, MN), and Debra Lash (La Crosse, WI). We love telling stories of folks out there walking their talks, and these people are doing just that. Check them out starting on page 34.
Anniversaries and birthdays often make us think about what's important in our lives, what we've learned over the past year, and what we want to accomplish in the years ahead. The biggest, most obvious truth that comes to the top of our list every year is that people are what matter, and all people matter. I recently read an article that said, "It's not self care we need, it's community care," and I realized this is the phrase I was missing. Community care! We need to Show Up for each other, in big and small ways, because often when we most need help, self care isn't a possibility. I put together an infographic with 12 Ways to Care for Your Community – hopefully it inspires you to do some (intentional) acts of kindness in your neck of the woods!
Like every fall, there is A LOT a lot of fun to be had around here. Like heading out to apple orchards! Read about how Al Peake of Peake Orchards got his start 40 years ago in this issue's Sum of Your Business, and see our list of apple orchards in the region – there are way more than we knew! Will you check one (or three?!) out this fall?!
Speaking of places you can check out, consider putting mills on your list! Benji Nichols explores these historic buildings dotting riverbanks in the area, and the grains they once processed (or might still today).
And in that spirit of getting out and enjoying every last lovely day, we put together a fun Mid-Wisco Road Trip for this issue. Check out what Benji and I did on our adventure from Viroqua to Richland Center to Spring Green and beyond, starting on page 56.
Thank you so much for reading Inspire(d) Magazine all these years, and for being part of this amazing community. You guys are the best. Here's to creating a bright future together!
Looking forward,


Aryn Henning Nichols
P.S. Please let us know if you've got a Community Builder you'd like to nominate for the Fall 2020 Inspire(d) – email me at aryn@iloveinspired.com.
P.P.S. Are you interested in writing for Inspire(d)? Shoot me an email! I'm on the lookout for experienced writers in the Driftless (extra bonus if you live in a place we don't cover that often – we'd love to keep expanding our coverage).