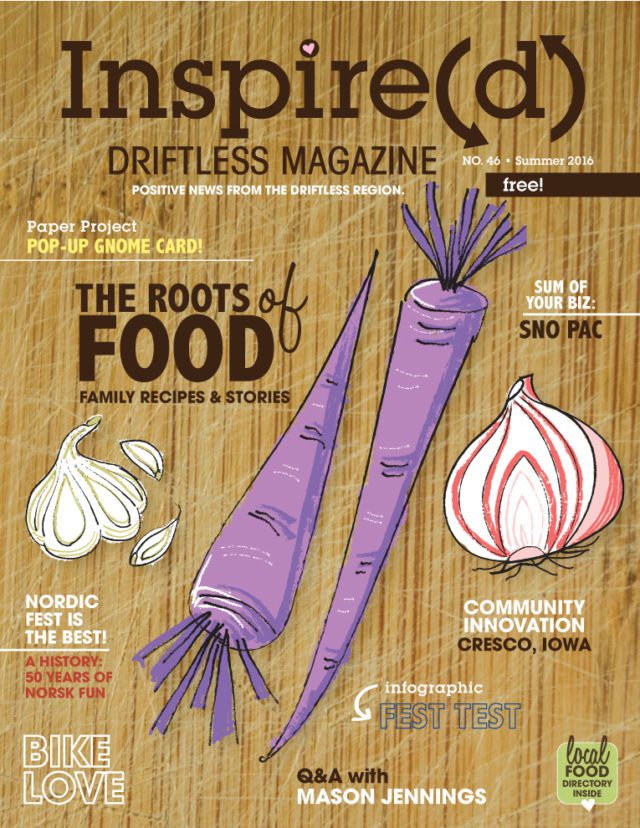 Inspired Magazine Summer 2016!
Welcome to the 2016 'Summer' issue of Inspire(d) Magazine! As always, the summer issue of Inspire(d) has a fun local food theme. This year we explored the Roots of Food – family recipes and the stories that go with them. Next, we take a leap back in time with 50 Years of Nordic Fest Fun (plus an infographic!), share our Bike Love and ride ideas, have a quick Q&A with musician Mason Jennings, an "organic" business conversation with Sno Pac Foods in Caledonia, and the community series takes us to Cresco, Iowa. Plus, of course, you'll still find all our regular features like the monthly calendars (wow – it's going to be a fun summer!), What We're Loving, and a very, very special back page probituary with an extremely inspirational figure from Nordic Fest's history – you'll just have to read it to find out!
Click on over to read the whole Summer 2016 Inspire(d) online.
Also: This is our largest issue to date! We're super excited to have increased to 84 pages for this summer, and our circulation has expanded too – 16,000 magazines will go out to the Driftless Area and beyond. Woot!
A million thanks to our talented contributors:
• Illustrations by the incredibly talented and wonderful Lauren Bonney.
• Writing Contributions from Sarah Friedl-Putnam, Kristine Jepsen, Jim McCaffrey, and Joyce Meyer.
• Photos for our community story on Cresco from Tanya Riehle of Blue House Studio and Jessica Rilling.
And a huge, massive, very grateful thanks to all of our advertisers. They are the reason we have been able to create 46 issues of Inspire(d) and continue this awesome "experiment in positive news." Buy local! Please support the awesome local businesses of the Driftless Region. And when you visit our advertisers, let them know you saw them in Inspire(d)!
If you'd like to see where you can pick up a copy, please click over to this link. Magazines will be on stands in early June, but often go fast. If you'd like to see them somewhere in your neck of the woods, drop us a note! (benji @ iloveinspired.com)
Now get out there and enjoy the summer!
-Aryn, Benji, & Roxie