By Aryn Henning Nichols
Music and family. These are the threads that tie Rosanne Cash's life together.
Not just because her father was the iconic music legend Johnny Cash, or because she works closely with fellow musician, songwriter – and husband of 21 years – John Leventhal, or even because some of her five kids have dabbled in music here and there.
Music lights her soul on fire.
She chats about her 35 years of music-writing and performing from her kitchen in her family's 1855 brownstone in Chelsea in New York City. The windows look out over a "tiny little postage stamp yard" with a garden filled with hydrangas and hostas.
Cash is currently touring to her three-time Grammy Award-winning latest release, The River and the Thread – a collaboration with her husband, John. The album is about traveling Hwy 61, the "main drag" of the South, and visiting places like the Tallahatchie Bridge and the location where 14-year-old Emmett Till was lynched in 1955, along with trips to the Historic Dyess Colony during the restoration of the Johnny Cash Boyhood Home.
"We were having all these really soulful experiences – it was hard to not write songs," Cash says. "After we got a couple of songs in, John said, 'There's something here, we could write an album with this.' So we got to work."
The song, A Feathers Not a Bird, is written about Cash's friend, Natalie Chanin, who taught Cash how to sew on one of those trips south. Chanin runs a company called Alabama Chanin (alabamachanin.com). They produce hand-sewn heirloom pieces made from 100 percent organic cotton.
"I loved Natalie's clothes and I loved Natalie," Cash says of her desire to learn how to sew at this point in her life. "A couple of my friends were [starting to sew] and I wanted to do something without words and with women – I'm with men all the time with my work. I was ready for something else."
The first thing Cash made was a skirt. Now, she's got her own sewing circle. Alabama Chanin sells "kits", materials and threads are all ready for groups to hand-sew.
"It's me and five other women – we get together regularly," she says. "It's been really enriching."
It's likely something Cash's grandmother might have done in her day. Cash remembers her fondly.
"She was the best Southern cook in my life. She and my father were very close," she says. "She worked so hard, and her work ethic was passed down to all of us."
With the amazing number of songs and shows under Rosanne Cash's belt, that much is certainly clear.
—————————————
Inspire(d) had a great time talking on the phone with Cash earlier this fall – check out some of that conversation here, then head over to luther.edu to get your tickets to Cash's Center Stage Series show at Luther College in Decorah November 12, 2016!
You're not only a talented and prolific singer and songwriter, but an author of books and essays and columns – has writing always been a part of your life?
Oh yes, always. Since pre-teen, at least.
Is the creative process totally different when you're writing words for readers vs. writing songs for listeners?
I mean your toolkit's a little different and the form is a little different – but it all comes from one source. I write a lot of essays…for Oxford American, the New York Times, Rolling Stone…I enjoy it. It's kind of refreshing – to free myself up from a rhyme scheme. I like the interplay of written song and prose. I'll write both out sometimes – from prose to song and back – as I try to work it all out.
You're the mother of five kids – how did your work change after children?
After you have a baby, there's basically two years where all you do is raise a baby. There were times where I thought, "am I ever going to write again?" But for me, it made sense to carve out time for a baby. I was lucky it worked out that I could do it.
It made me able to write in short spurts, you know, being interrupted every five minutes. And that was actually really useful – not having the luxury to sit down for eight hours to write was good for me. I've learned to write from pretty much anywhere.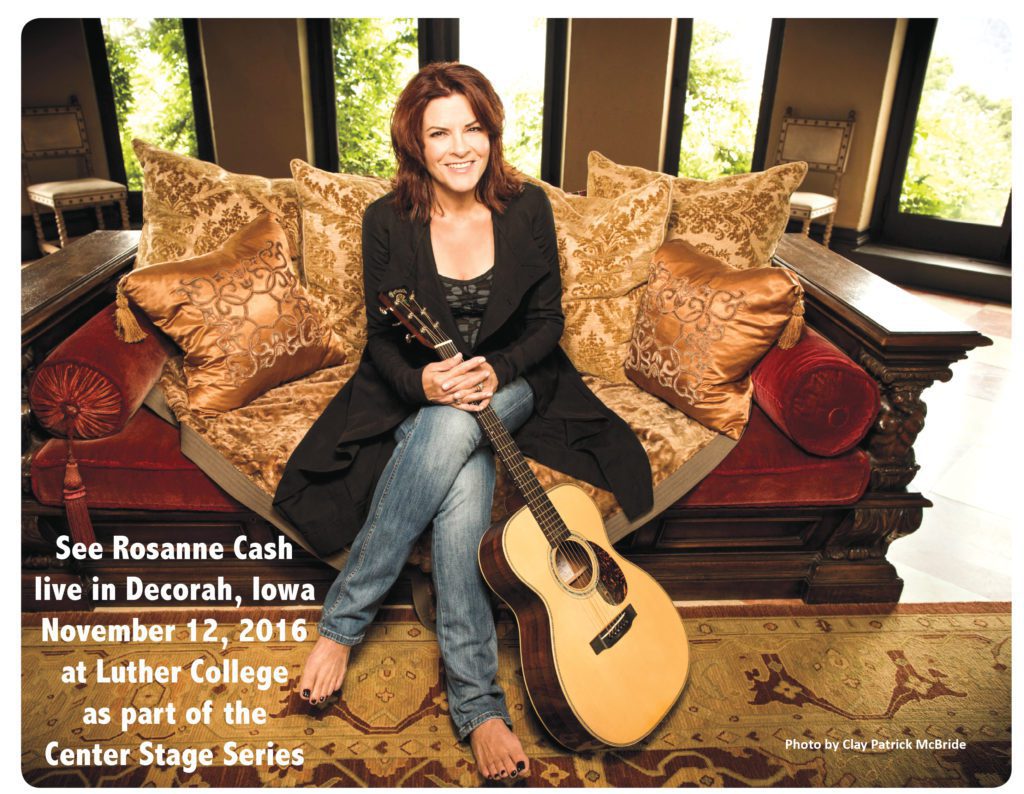 Johnny Cash, aka dad… I can't not mention him, of course.
People always say that. Like they can't ask about my dad, but you can!
Do you ever get sick of talking about Johnny Cash?
Well, no. I love my dad, and I don't get sick of talking about him. I do start to wonder whether other people my age still get asked about their parents. Really! Do other people have to talk about their parents all the time?! (laughs)
Over the past several years, you've worked with Arkansas State University on the restoration of the Johnny Cash Boyhood home in Historic Dyess Colony (dyesscash.astate.edu). Did this open up some new (or renewed) memories for you?
It was a moving project – to go back to a place where your father was raised. And the things I learned about my grandmother…how tough her life was. I'm a modern woman in New York City; I have every amenity available to me, but then you go two generations back to a family of cotton farmers. They didn't have electricity – my grandmother worked taking care of seven kids all day and still managed to go out and pick cotton.
And I thought, 'I couldn't do that.' The things she went through – there's really gotta be some tenacity there. I just hope I inherited some of it.
I adored my grandmother. When I was pregnant with my first baby – I heard horror stories of how labor could go and I asked my grandma, 'So, Grandma, how do you get through it?' And she said, 'Honey, you just endure it.' And that really stuck with me.
There were so many things she just endured.
What do you miss most about having your dad around?
I miss both my parents. You know, they were my parents, and you miss both your parents. I miss the things all people miss about their parents. I wish I'd taken their advice. I wish had asked for advice. I wish I had asked things about their early lives. You just don't think about it when you're young and raising your own kids.
You work with your husband, fellow musician John Leventhal, all the time. What's the best and worst thing about working with your spouse on projects?
The best thing, I think, is the depth of the conversation you can get to about what you're doing. The lack of self-consciousness with things that you might not show to anyone else. The honest feedback…
And those are also the worst things. You feel free to criticize. It can turn personal, although I think we've learned to avoid that over the years. We still get into arguments over the some things, but generally in service to the song. It's always for the song.
Do you have a favorite show in memory?
Yeah, well, there are many. It happens unexpectedly. You'll be in some town in the Midwest in some renovated theatre and you never expect the audience to be so there with you and connected to what you're doing.
And then there are the shows that you expect to be great, and they live up to those expectations and more. For me, that was Carnegie Hall in February (2016). It felt like a culmination of almost 40 years of work – that I had earned this moment. I felt like our souls were on fire the whole show.
You're definitely one to stand up for yourself and other artists, even in the political arena – you even testified for the Subcommittee on Intellectual Property in 2014. With everything that's going on right now in our country, we here at Inspire(d) feel it's important to stay positive. From your most optimistic side, what is an exciting thing you see coming up for America?
I feel like congress is listening. Sometimes artists have to give up, sometimes because they can't make enough money at it, and that's heartbreaking to me. That's why I advocate for artists rights and intellectual copyrights. We need to protect artists – care for them – and it feels like congress is on board.
And even though there is so much tension and conflict and bad behaviors in this election – that's the negative part – the good part is that people really care. They are involved in the democratic process. And I hope the voting poll numbers swell this November.