INTRO AND INTERVIEW BY BENJI NICHOLS
Life in the Driftless just wouldn't be the same if it weren't for all of the dance bands. Sunday afternoons filled with polkas, two-steps… a schottische here and there – gracefully (or maybe not so gracefully!) sliding across the well-worn wooden floors of the Upper Midwest.
It would be easy to call them "old-time" dance bands, but that would be wildly inaccurate, particularly in the case of Spring Grove, Minnesota's own Mollie Busta (aged 39!). Having grown up singing and playing – eventually more than one instrument at once – with her Dad and family in the Jim Busta Band, then leading the way through middle, high school, and Luther College music programs, Mollie has become a preeminent Polka Front-Woman on a national (and international) level. You'll hardly know it when you meet her, as her personality radiates not only great music, but an honest and authentic love of people and the dance floor.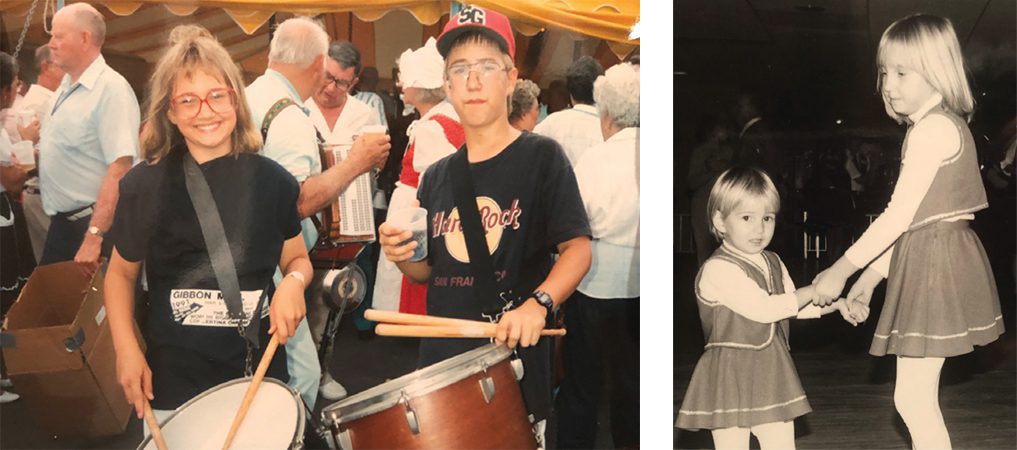 It's quite possible you've seen Mollie B with the Jim Busta Band, or Squeezebox (with her husband, Ted Lange), or on the "Mollie B Polka Party" (most recently aired on RFD-TV), or, perhaps, in the Warner Brothers movie The Mule, directed by and starring Clint Eastwood.
Well, we're here to tell you that your chance to slide across the floor is just weeks away when Mollie B, SqueezeBox, and the Jim Busta Band play the Spring Grove Fest Building, May 11, 2019 from 1-5pm. The event will help celebrate local non-profit Giants of the Earth Heritage Center's 10-year anniversary.
Inspire(d)'s Benji Nichols caught with with Mollie B. to ask a few fun questions!
Read on, and mark your calendars to see her in Spring Grove this May!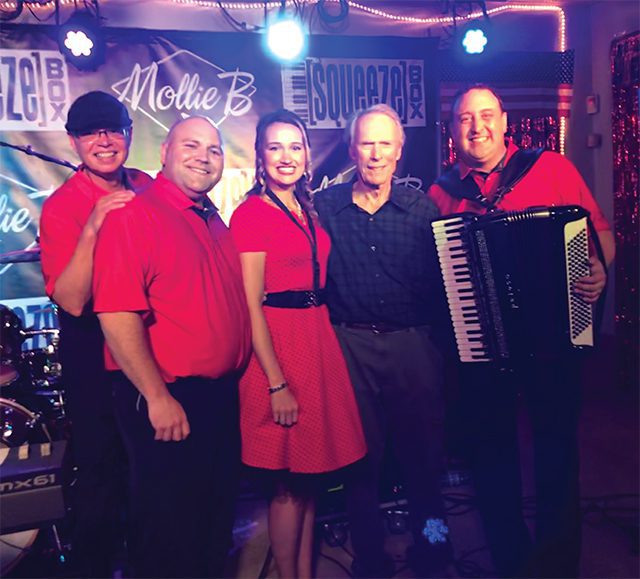 I: It's been quite a year since the release of The Mule with Clint Eastwood. Any favorite moments stemming from your musical feature and on-screen appearance?
Mollie  B: The premiere, itself, with Diane Wiest three seats down from me, Tim Moore two rows in front of me, Clint Eastwood and his family behind me, and Toby Keith to the right side of me, across the aisle.
I: We've had the great fortune to watch your continued success over the past decade or two from afar, but what's the best part of coming 'home' to Southeast Minnesota?
Mollie B: The people – I have always loved the people, particularly my long-time friends! And the beautiful country side.
I:  We know you grew up in a "Polka Family", but do you remember your first-ever polka dance, or have a specific early memory?
Mollie B: I loved dancing the polka a lot more than being on stage. Yes, it was fine to make the music, but dancing to it made my heart soar!!! I was simply on Cloud Nine every time I could go to a festival, or even a dance. I didn't realize how unique my childhood was. Easily two-thirds of my weekends growing up were at dances and festivals. I danced with my siblings, mom, polka friends, and even lots of people I didn't know. The joy this music and dancing brought to me was simply indescribable. My favorite festival from age four until 13 was Gibbon Polka Days. It took place the last weekend of July in Gibbon, Minnesota. There were times I would arrive at the festival on a Thursday and dance every day through Sunday. It may sound a bit stretched, but I really danced for 12 hours – each day – then I'd sleep on the grounds in our tent or rented pop-up camper. There were up to six locations with polka music on the grounds and as soon as one band finished playing a set of polkas, my brother and I would RUN to the next location where the band was playing polkas and would dance until they finished the set of polkas, then run again. This pattern would last for 12 hours every day. Our breaks were only for food about one time a day – an ice cream cone – and for the daily 4:00 parade, in which I usually played drums or trumpet in.

I: How did you ever discover you could play multiple instruments at the same time?!? It seems like some sort of sorcery!
Mollie B: Sorcery – ha! I have never heard it called that 🙂 In all honesty, it's not difficult. I already was playing piano with two hands, why couldn't I play two different instruments with two hands? So I did. Yes, when I am playing in the key of G in my left hand on the piano; my lips, breath, and fingers are playing in key of A on my trumpet, since the trumpet is a Bb instrument.
It was NEVER my dad suggesting any of my music 'craziness." He hired me as his trumpet player when I was 11, for in his eyes, that is what the band needed. Of course, I saw things differently. When I was eight, it was my idea to play my keyboard in the band for I thought the band needed it. When I was 14, it was my idea to play sax and clarinet, again because the band needed variety. Also, when I was 14, I felt the band needed to put on more of a show, so I added a little choreography. And yes, when I was 16, I really confused my dad by bringing a keyboard with me. I told my dad to trust me when he made the comment that he hired me to play trumpet, not piano.  So, I did it – I played my first gig on piano and trumpet – at the same time – when I was 16-years-old. And, the instruments kept multiplying. But I must admit, after playing three, the rest simply made sense.
I: We know you spend an incredible amount of time on the road – do you have a standout location that is somewhere you are always hoping to get to (or get back to!)?
Mollie B: I want to get to New Zealand someday – but I don't need to play there. I have been told Brazil has wonderful music, and I would like to experience that. I would jump at the chance to return to the Dominican Republic with Tony Guzman and an ensemble again (I went twice with the Luther College Jazz Orchestra) And lastly, I play often in Texas, but since my first time there in 2009 – I have loved Texas. It's like the Midwest, but warmer.  And I get called ma'am and miss down there, even by perfect strangers and long-time friends.  Who doesn't love good old-fashioned manners?
I: Butter, sugar, or brown sugar on your Lefse?

Mollie B: Brown Sugar 🙂
---
Benji Nichols met Mollie B around 1994, thanks to the amazing Emily Engen, also from Spring Grove. Benji met Emily because of one Paul Scott, then owner of KRDI Radio in Decorah, IA – where somehow we were hired to be on-air announcers while we were in high school. Ain't life funny? Now go dance a polka!
---
See you on the dance floor!
Mollie B with Squeezebox and the Jim Busta Band
Saturday, May 11, 2019, 1-5 pm – Spring Grove Fest Building
Tickets are $15 at the door, and $12 in advance at
www.mollieb.com or by calling 507-498-5070.
But wait, there's more!
• Come learn the polka-hop (and other fun dances) with Mollie B and the Squeezebox team. There will be lessons at the Spring Grove Fest Building from 11:30 to 12:30, with dance instructor Patsy Linehan.
• All students 12 and under get free admission to the show, & teenagers are $5 (with a paid adult). Luther College student admission is also $5 (must present Student ID).
• There will be food and drink for sale at the Fest Building.