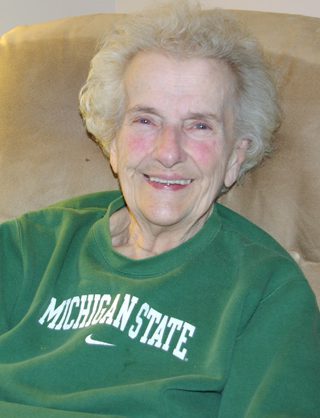 Interviewed by Benji Nichols (Orginally published in the April/May 2010 Inspire(d))
Joyce Cote – Approached life with laughter, curiosity, and an eternal love for 'the water.' Joyce passed away April 2014
Joyce (Hewett) Cote grew up swimming endless hours in Lake Michigan between Sheboygan and Milwaukee. She has always loved being close to 'the water' whether in Lake Michigan, on the Mississippi, or at the Decorah & Waukon public pools. Joyce married Paul Cote in 1947, and had four kids; Mary, Paul (Jr.), Lisa, and Luke. She was a founding member of the "Fat School" with Eleanor Nichols, Laura Hoeg, Grace Spilde, Mae Doubendiek, Blanche Overland, and Ruth Branae – and enjoyed her friends and their antics to no end. At the end of her life, she resided in the assisted living wing of the Aase Haugen Home in Decorah, but her joie de vivre is to be out raising a ruckus and making your acquaintance.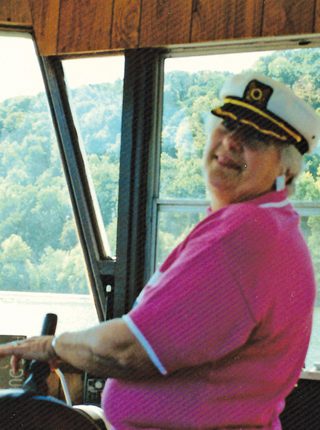 What's the best advice anyone ever gave you?
Be Considerate to people of their time and thoughts – don't be flippant.
What did you want to be when you were growing up?
I wanted to be different! (laughing hysterically). But really, I remember my mother absolutely refusing to let me ride a motorcycle, even when my brother had one. I never did… not sure why….
What do/did you do?
Swam – always. I grew up in Wisconsin, and ended up going to college in Berkeley, CA and then back at the University of Iowa – with a major in math. I worked at a Fox West Coast movie theatre while in CA, but got in the fastest moving vehicle east that I could to get back here and chase down my husband – so I could tackle him – I did. I also taught so many kids at both the Waukon and Decorah pools, and we ended up running the movie theatre in Waukon for many years. (Ed. note: The Cote family opened a silent movie theater in Waukon, and then a second theater for the "talkies", successfully running both for many years.)
If you were stranded on a desert island what three things would you want with you?
Eleanor & Carl (Nichols), and my peach of a husband, Paul. For what it's worth, I'd give both my right arms to have the gang back together – I have a great family, and have had so many friends – miss them all like the dickens.
Describe yourself in one sentence:
Your grandmother Eleanor & I always said we'd never been to jail, but we wouldn't mind knowing what it's like… (laughter…) As long as we could both go! We may have made the police blotter a time or two, but not into jail. No, don't print that…. Oh, to heck with it… (much more laughter…) I grew up rather formally but really enjoyed kicking up my toes too!
If you could eat anything every day for the rest of your life, what would it be?
Something home made- good stuff!
Name one thing you couldn't live without:
Laughter. I always try to laugh before I go to sleep.