Probituary: Ernest M. Corson, interviewed by daughter Charlene Selbee
Originally published in the Summer 2017 Inspire(d), Ernest passed away August 20, 2017 at the age of 102. Our condolences to Ernest's family and friends.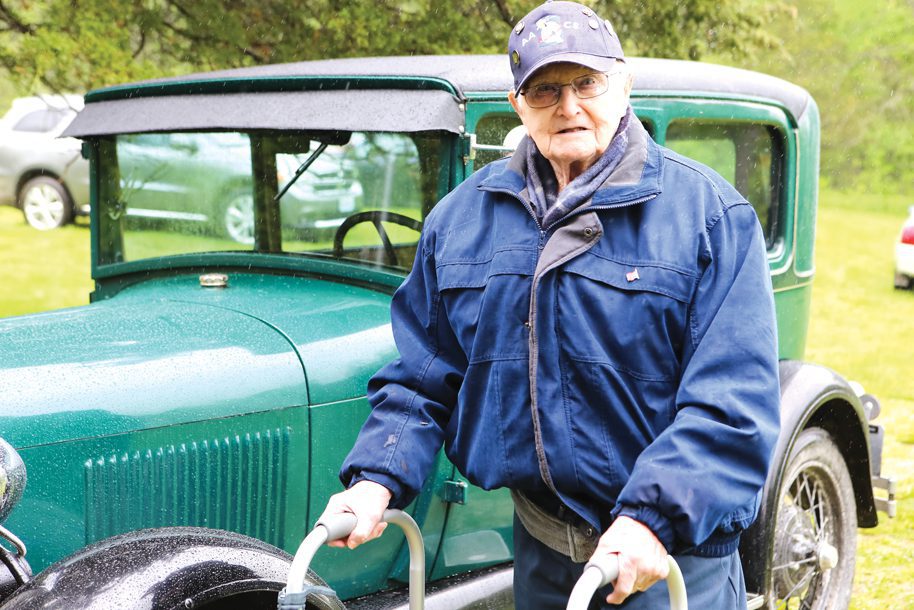 Ernest Corson was born to Melvin and Emma Corson on May 29, 1915 on the "Skunk Farm" in Hesper, Iowa. He was joined in later years by his brothers Norman and Manford, and It was during his youth that he first met Charlotte, his wife -to-be, at family get-togethers. The couple would eventually grow their family to 6 kids; Denny, Lynda, Doug, Dalton, Forrest, and Charlene. Ernest graduated from Mabel High School, and attended Normal School in Preston, MN to become a teacher. (? Include?where he was the only boy in the class!)
Enlisting in the Army Air Corps in 1941, he was judged too old to fly planes at the age of 26 so he entered radio school and graduated two days before the bombing of Pearl Harbor. He served during WWII at locations throughout Alaska and the Aleutian Islands, including volunteering for the invasion of Attu. He was diverted to the nearby island of Shemya and participated in the building of a top secret Air Force base during extreme arctic conditions. After World War II, Ernest and his brother Norman opened a radio repair shop in Mable, MN before re-enlisting.
Charlotte and Ernest were married Nov. 7, 1946, in Montana. Two deployments to England soon followed, family in tow – where the family spent a total of 6 years. Retiring after 20 years of service in the USAF, they returned to the family farm near Hesper. In 1967 Ernest became the manager for the Mabel Cooperative Telephone Co. where he used his skills to update the regional phone system. He continued to help on the family farm until the age of 93 and joined his wife Charlotte at the Aase Haugen Home in Decorah before their 66 years together came to an end in 2012. A life member of the Mabel Legion and the Veterans of Foreign Wars in Mabel, Ernest was surprised as a part of the Eastern Iowa Honor Flight to Washington DC in Arpil 2013. Several members of his family joined him in Washington where they toured the memorials before returning to Eastern Iowa.
1. What's the best advice anyone ever gave you?
My dad and mom gave a lot of advice. Like "Don't hunt anything unless you want to kill it." Mouse or rat included. Why harm it if is not harming anything. Also, on longevity, "Lots of grass cutting. Don't use a rototiller. Lots of hoeing by hand. I always had a big garden." The secret for a long marriage? Always have fun together, and take your kids with you wherever you go.
2. How about the worst?
No bad advice – listen to what people had to say.
3. What did you want to be when you grew up?
When I was 6 years old I had a plan, I was interested in being a teacher.
4. What do/did you do?
I had many odd jobs like pin setter at the Mabel bowling alley, and was a 1st – 8th grade teacher after high school. Enlisted in the Army Air Corps in 1941 and went to radio school. After WWII we ran a radio repair shop in Mabel, was manager at the Mabel Cooperative Telephone Company, and farmer on the Young family farm outside of Hesper.
5. If you were stranded on a desert island, what three things would you want with you?
I've been many places – and food and water are the most important things. Water is the most important. People don't even know how important is. Water is more important than food.
6. If you eat anything every day for the rest of your life, what would it be?
Good food. My Dad was a sharp shooter and hunter – we always had food on the table from the big garden and good meat!
7. Name one thing you could not live without.
Water. Some people take it for granted but I don't. No food or water – you won't live very long. I've seen guys who were prisoners of war – in the Sahara Desert 1942, they got home and said water was most important. You can go without food for 2 or 3 days but can't go very long without water.
8. Multiple choice: tell us about… Your first job.
I taught at South Fork in Fillmore County, MN. All eight grades in a one room school house – an they didn't complain. Kids had to walk 1 mile to school, but I only walked a ¼ mile. I had to light a fire every morning before school at 9am – we let out at 4pm in time to go home and do chores. Some kids' parents came from Norway or Germany and spoke no English, but it wasn't hard to teach English. Spelling was a favorite – they were good at that. Memories include getting to the school in a cutter or sleigh in Winter and snowball fights. The Christmas program – so crowded that parents who came late had to stand. Having an apple or orange for lunch, and playing pump pump pull away outside during recess.