Ernest "Pokey Pete" Peterson was born in the spring of 1925 in Cedar Falls, IA. He grew up on a farm just outside of Osage where milking and chores took the place of extra curricular activities, but also accounted for a strong family life and respect for hard work. He joined the US Navy on Thanksgiving Day 1943 and from an early age figured out that he didn't personally need much money, especially when it could be better used helping children and those in need. In August of 1968 Ernest paid off his bills and bought the best riding lawn mower he could find, a Massy Fergeson, as it would need to be red to be the locomotive of his train. Two wooden cars – a "coal car" and a caboose were built in his basement that winter, and moved up in the spring so that a fun, new attraction could be presented at the many rural town festivals across eastern Iowa. And of course it would raise money for charities.
Ernest knew his operation needed to run entirely non-profit – "morally non-profit" as he says – from covering his own expenses, to sharing the proceeds with those in need with no judgment or concern. All of his proceeds, including much of his janitor's salary, an incredible sum nearing $400,000 total over three decades went to charities such as the Salvation Army, Ronald McDonald house of Iowa City, private individuals in need, and more. He also rang bells for the Salvation Army in Cedar Falls – complete with his railroad engineer's outfit on, for 35 years.
Pokey Pete, aka "Troll's Trolley" was (and still is) an institution at Decorah's Nordic Fest, where he donated his train to the Decorah Lion's Club in 1989. You can read more about Mr. Peterson's incredible contributions in the new book by Dawn Svenson Holland entitled "Nordic Fest: 50 Years Strong".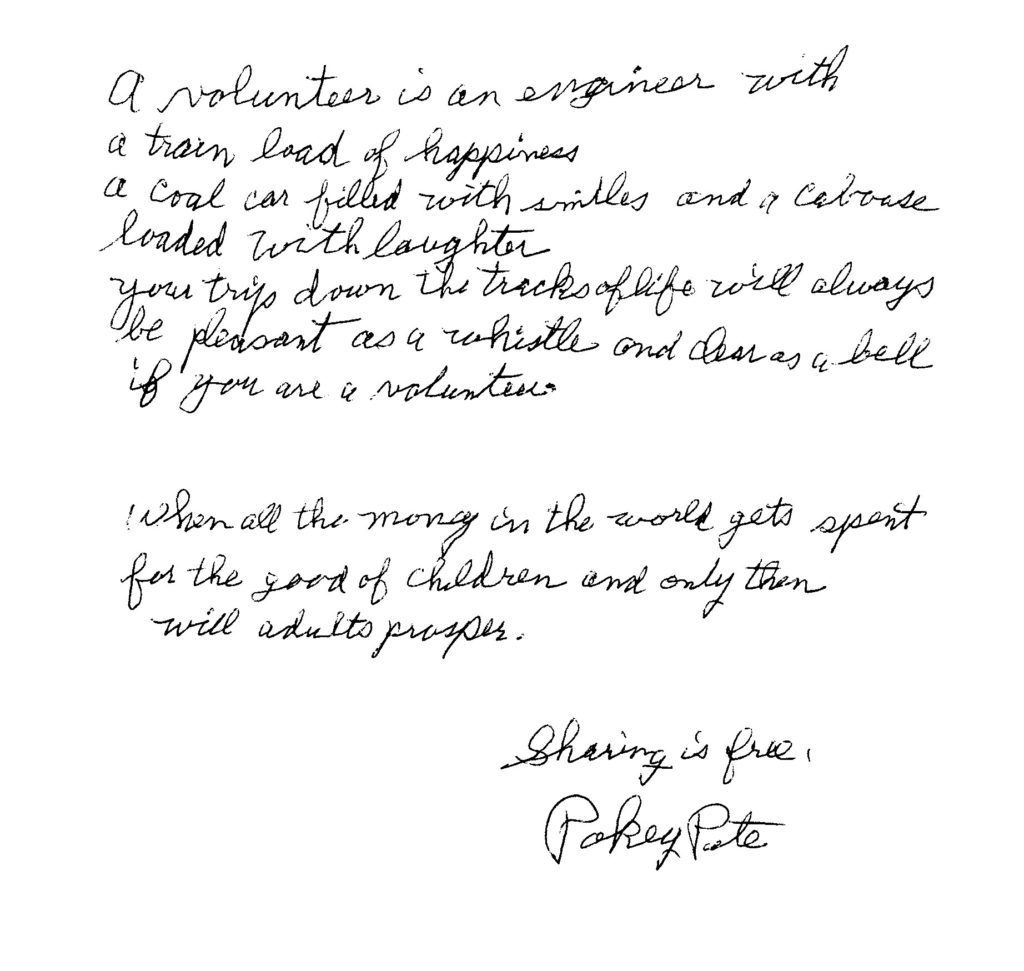 1) What's the best advice anyone ever gave you?
Take your own advice! Actually, my parents didn't do a lot of talking, but they sure set by example.
2) What did you want to be when you grew up?
I didn't know there was another job other than farming – my brothers and I milked 25 holsteins – an hour and a half every morning and every night. There wasn't time for the other activities, and I didn't get exposed to the problems that people have today.
3) What did you do?
I came back in '45 and just looked for a job – whatever was available. A short time at the Rath packing plant, and then at that time in the 50's we had 9 dairies bottling and delivering milk to homes. I thought the dairies would go on forever – Carnation and Walnut. So I worked there, but as of about 1970 there wasn't a milk bottler in Cedar Falls. I got to sanding floors for 10 years after that – I just took what was available at the time. And then I became the school house janitor at Orchard Hills school in Cedar Falls for 16 years. The school job allowed me to take my vacation days off to drive the train.
4) If you were stranded on a desert island, what 3 things would you want?
Hahaha, well it ain't ever gonna' happen! Well, look around your home. Who needs all this stuff? Not me – we could all get by with a lot less.
5) Try to describe yourself in one or two sentences:
I was just a carnie operator doing my job, if you want to call it that. I'm awful proud I did it (the train) and made all the decisions myself. And you need to do what you believe.
6) If you could eat anything every day for the rest of your life, what would it be?
I don't eat to eat. The hunger to over eat is pitiful. You learn that on the farm too – you work to eat, and eat to work, and exist. I can live without food now almost – I'm 91. I have my 2 slices of toast, but I don't ever expect too many tomorrows at my age.
7) Name one thing you could not live without:
We all need a dream, and you have to get to living that dream.
8) Tell us about…
Your Wedding Day:
I was married in 1947, for ten years – but things didn't work out. We didn't see the same way about money. Then there was a nice young lady that lived near my folks – Juanita and I got married in 1958. She had been through a tough marriage as well – we both had our challenges, but those 2 negatives made a positive. The only job she travelled with me on each year was to Nordic Fest, as it was more than one day. She ran the "Station", and Gary Svenson always had someone lined up that we could stay with. That was the only job she came with me on each year.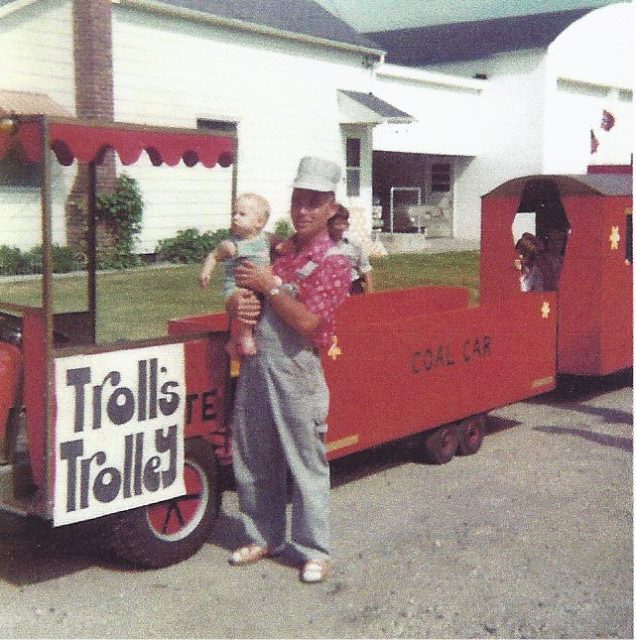 Your favorite memory:
There are many, but the times when I would help a toddler get up on the train engine and walk them in a circle letting them drive. Parents, and kids, loved that – taking pictures, their little darling was the engineer. I did too. I gave the train away in '89 (to the Decorah Lions Club), one of my biggest helpers telling that story was Paul Harvey. I gave away the rest of my money on my 90th birthday, just before I came to the Western home. What I did, you know, I wasn't Mickey Mouse or Super Man – I'm just a human. Its time we all get back to doing more human things. ——————–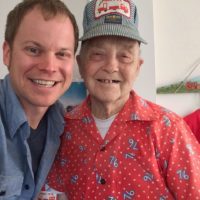 Benji Nichols can remember riding on the Pokey Pete (or "Trolls Trolley") train from a very young age. Getting to interview Ernest for this article and realize the magnitude of his extreme generosity have been a major highlight for Inspire(d).