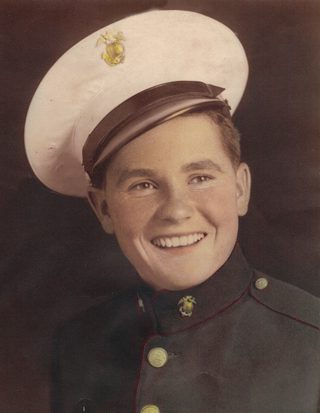 Interview and intro by granddaughter Molly. Spec passed away April of 2012
Ambrose Spec Wilmes was a man of stories. A history book that remained open for all who were willing to listen. He was also a beer drinker and a card player, but always wrapped up in these festivities you would find my grandpa, bringing to life the colorful and incredible story that was his existence. Painting your imagination with tales of a young boy hopping freights to California, playing instruments and singing for local barn dances, surviving The Great Depression or fighting in WWII. All it took was the slap of your arm and the statement "Hey, have I ever told you of the time…" and suddenly you were there, in another world and another time, sharing the memories of a man who no one could ever call dull.
What did you want to be when you grew up?
I wanted to be in the plays or a baseball player. I was in the plays at country school when I was seven or eight and always liked that. I also really liked baseball. There was no radio then to listen to the games, but we had our own team. We played in the pasture without gloves and a ball made of socks because we couldn't afford to buy them.
What jobs did you do?
When I was a really little kid my first job was as a water boy. I had a cart and pony and drove water out to the threshers in the fields. I made good money doing that, $.50 a day.
When I got older I worked as a hired farm worker. Once the harvest in our area of Missouri was finished we would travel North and work on other farms. We used to follow the harvest from Missouri to Canada. After graduating high school I worked at the Maryville, Mo hardware store for about a week until two of my friends asked me to go to California with them. I got my paycheck; I was the only one with any money, and quit my job.
To get to California we hitchhiked and hopped freights, we would stop and work for one paycheck when we got hungry. We did many jobs in that time; we even topped sugar beats with the Hispanics.
My first job in California was with a company who was building a highway and railroad across the mountains. We all lived in camps right along where we were working.
Once I got to L.A. I worked in souvenir shop. I worked in the basement warehouse. When people would decide what they wanted they would send the numbers of the product down to me on an elevator and I would find the product and send it back up to them on the elevator. I also worked as a busboy in L.A. at may different hotels and restaurants.
I also bottled for coca cola. My job was to look for foreign objects in the bottled pop. We found a lot of cigarette butts and once I think I even found a dead mouse.
For a short time I worked for a carpenter, carrying wood.
I ended up in the Marine Corps as a gunner in dive bomber planes and then I was sent to radar and radio school. My official title ended up being 'Radar Gunner' and I spent my service time working with experimental night flying and bombing. We were the first unit to work with this new night flight/radar equipment.
After I got back from the service I was a radio repairman as well as worked at a service station where I pumped gas, washed cars, etc. I then worked in the railroad as a telegraph operator for 20 years. I worked many jobs on the railroad from Sioux City to Dubuque. During my time on the railroad, I opened a small gas/ grocery store in Brushy Creek, Ia. I'd haul groceries from the Fort Dodge warehouse. Those kind of convenience stores weren't around in those days and my son claims I started 7-11 stores with my little store in Brushy Creek. After the railroad I opened a hardware store in Ida Grove, Ia. And after that hotel/ Laundromat.
Can you tell me what the Great Depression was like for you?
Just before the Depression, my father bought a 240-acre farm. He died shortly after that, I was nine, and left a new farm and 7 kids (2 girls and 5 boys) for my mom to care for. When the depression hit, we lost the farm but we moved to a little rental farm eight miles out of Maryville, Mo. My mother was able to keep the whole family together and she never turned away a beggar from town. She always made sure they had something to eat before they went on their way. At some point my mother sold off some of our animals and was able to get ahead just a little, with that money we put a down payment on a farm where one of my siblings and I were able to go to High School, we were the only two in my family to do that. The older kids could not go because they had to work on the farm.
How did you open the gas/grocery store?
First I had to borrow $500 from my mother to buy my initial groceries. I called the telephone operators and had them announce the opening over all the party lines. I offered free cigars to the men and free pop and candy to the women and children. I never had to pay for advertising and the opening was huge.
Can you tell me about the first time you jumped a freight on your way to California?
The first freight I tried to hop came around the corner and turned out to be a passenger train. Well you couldn't hop a passenger train, so we turned around to leave but a railroad cop picked us up instead. We got thrown in jail for three or four days. They kept asking us if we had any relatives near, but we didn't. Finally one of the boys got a hold of one of his cousins that lived near there. He came to the station to ID us. I turns out we matched the description of three boys who stole a car and they need someone to ID us and be sure were not them. The cop took us out to the highway where he'd picked us up and told us to 'go home!' We said we would but as soon as he was out of sight we headed to the other side of the road to head South for California.
What was a defining moment in your life?
The first time I learned to stand up for my rights was when I was working as a hired farm worker. We were working for a very large man in Fargo, SD. When we were all done working in his fields he told us to meet him in a bar in town to receive our wages. When we got to the bar, he was not there. We waited for him but he never came. The other guy I was working with wanted to just forget the pay and leave. We got a little ways out of town and I just couldn't do it, I told him to turn around. We went back to the bar and found the guy we'd been working for. I stood up to him face to face and told him to pay us our money. I wouldn't budge. The guy tried to say that he wouldn't pay us because at one point that summer my team had gotten too close to the grain spout and torn it off and we had to pay for that. I said that was ok and he could take that cost out of my wages but we WOULD get paid for the rest of the summer. That was the first time I was scared in my life but the man paid us our money.