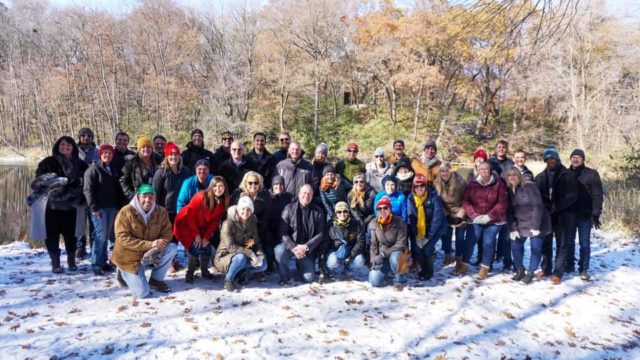 Inspire(d)'s Benji Nichols participates in 2019-20 Leadership Iowa Class.
It's not very often that we get to do interviews with each other, so I (Aryn) jumped at the chance to put Benji Nichols in the hot seat! Honestly, even though we work in the same office, it's kind of tough to catch up with him – that guy is busy! When he's not out bringing the world the latest Inspire(d) Magazine, or doing his many varied tasks for our business, he's been on the road to far-flung Iowa locales, learning about different aspects of our great state.
Why, you may ask?
You might have seen some of Benji's posts on social media talking about a program he's doing through 2020, Leadership Iowa! We are super proud he was selected to participate, and wanted to share a little more about its purpose.

Leadership Iowa is "Iowa's premier statewide issues-awareness program for current and emerging Iowa leaders." Basically, it's a like a grad program for civic leadership on a state wide level. The program brings together 40 diverse adult professionals for eight monthly sessions across the state, and provides an in-depth look at different topics –economic development, education, government, agriculture, and more. Leadership Iowa exists to educate, inspire, and grow a network of informed leaders and to encourage their ongoing local and statewide involvement to create a better future for Iowans. The program is a part of the Iowa Association of Business and Industry Foundation, now in it's 38th year, with over 1,000 alumni across the state and beyond.
Check it out, and make sure to follow along here and on social media for more of Benji's adventures – you know he's going to have them!  Inspire(d) Facebook  –  Inspire(d) Instagram
To kick off the series, here's a quick Q&A between Aryn and Benji!
Aryn: Why Leadership Iowa?
Benji: In March of 2019, I had the opportunity to attend the Iowa Rural Economic Development Summit in Grinnell. While there, I connected with a couple of other Leadership Iowa (LI) Alum, including Jenae Jennison, director of external engagement at Central College in Pella. Through conversations it seemed like the LI experience could be a great fit, and I was nominated to apply for the 2019-20 Class. The program accepts only 40 participants from across the state each year, with a full application process and tuition. It truly focuses on giving participants valuable, professional insights into the issues and opportunities that Iowa faces as a state, and that follows through the entire eight-month course.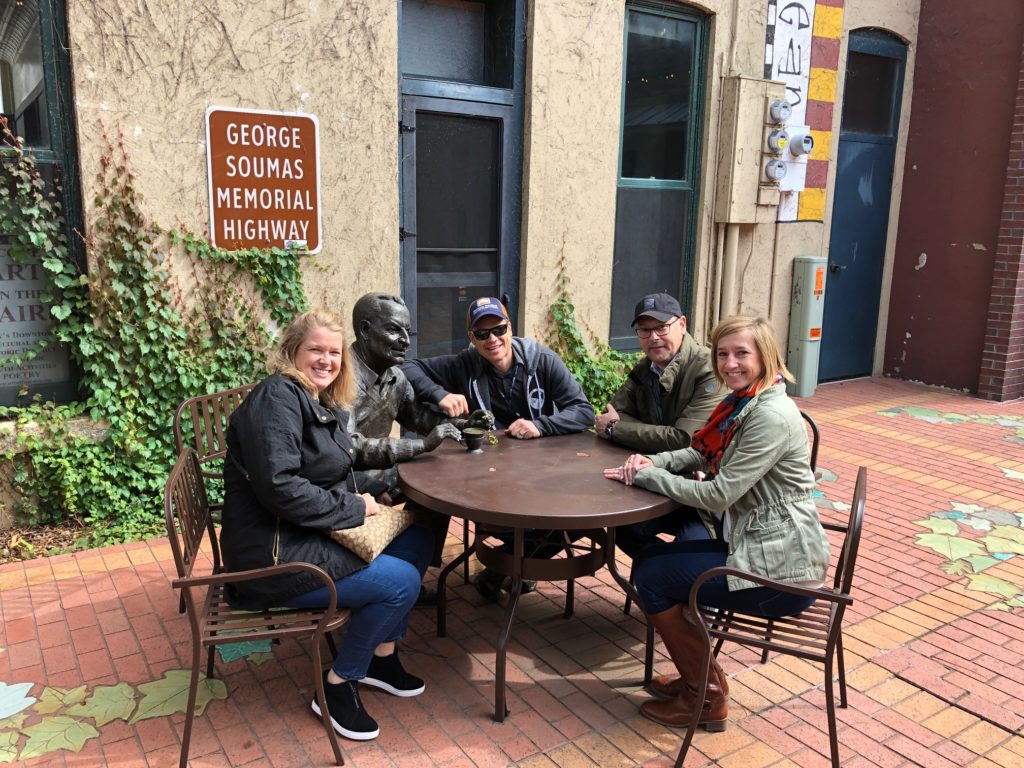 In terms of why I really wanted to be a part of the program – I feel like now, more than ever, we all need to keep reaching to find the common ground that makes rural America work. The Midwest is a highly misunderstood, and often overlooked place from a national viewpoint. Decorah, and Northeast Iowa hold those same exact traits on a state level (misunderstood and overlooked). We (Aryn and I) have spent the last 12 years building a company that focuses on the positive in the world, and we believe we can make real influences within that, and would like to be a part of the larger picture in our state and the Midwest. It's an exciting time to be in the midwest – and opportunity abounds!
Aryn: (YES! Love it!!!) … Is Leadership Iowa a political program?
Benji: No, not as such. The program does bring together statewide leaders from a professional, often grassroots level though, and several notable Iowa politicians are alumni. Being sponsored by the Iowa ABI Foundation, obviously the hope is to help continue strengthening the Association of Business and Industry's ties across the state, but those cross almost every imaginable sector and part of our State's economy. The program does tend to find access to several state leaders, which provide amazing small group opportunities to engage.

Aryn: How often do you meet? Are you finding it hard to make the time?
Benji: LI meets for 2-3 days each month for eight months, with essentially an optional month thrown in the mix (January… in Iowa!). We meet all over the state, so yes, it is a pretty big commitment, but also a fantastic way to see locations in the state that one might otherwise not. Our first meeting was in Perry. Talk about a town that is working hard to reinvent themselves not only for visitors, for for future generations, and current business owners. Last month's meetings were in Iowa Falls, focusing on agriculture in Iowa. Central Iowa is definitely home to big ag, but also to some really innovative ag education programs, as well as the heart of Iowa's booming wind energy sector – which leads directly into agriculture as most windfarms are located on ag land.
Living in the northeast corner of the state, the sessions can be quite a drive – but our class has members from Waterloo, Cedar Falls, Iowa City, and Cedar Rapids. We work to do some carpooling, and luckily I enjoy driving! Being self-employed adds a real challenge to the equation as well. Many full-time employers often encourage participation by employees, and help fund tuition costs, travel, and time off from work. Luckily Inspire(d) is helping me take on the expense, travel, and time to be a part of the program (thanks Aryn!). In just our first two meetings I feel that the program has been completely worth it. The level of connection with other participants, and our access to explore issues across the state is unparalleled.
Aryn: What's next?
Benji: We've had our first two meetings – orientation in September (Perry, IA), and our session on agriculture in Iowa in October (Iowa Falls, IA). I'm headed to Ft. Dodge next week for our session on education, and look forward to breaking down some of the topics in posts here on the Inspire(d) blog! The program runs through June of 2020 for our class, with opportunities to stay engaged through the alumni network – it's an amazing group of Iowans, and I'm truly grateful for the chance to be a part of the organization.
Look for another post soon with updates on Benji's experiences with Leadership Iowa!