By Benji Nichols • Originally published in the Summer 2014 Inspired
There are a ton of great spots to check out in the Driftless Region – from museums to landmarks to educational centers and more. Some of them are well known, some of them not, but all of them are worth the trip. We've put together a list of five we think you should really get to know if you haven't already. Happy adventuring!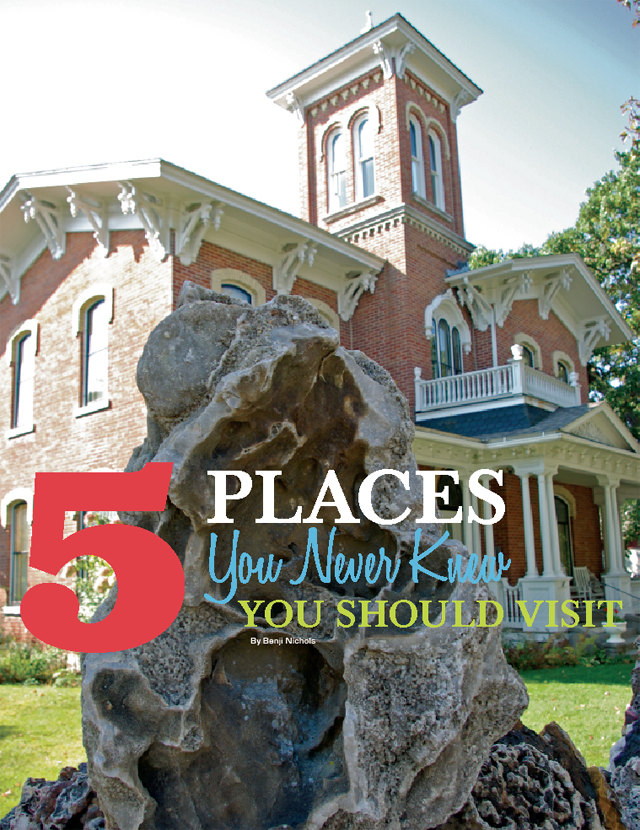 Porter House
401 W. Broadway, Decorah, Iowa
www.porterhousemuseum.org

Rocks, bugs, and beauty.
Porter House is not just another pretty house in the Historic District of Decorah. Don't get us wrong – it is a pretty house in the Historic District of Decorah. But inside, you'll find all sorts of treasures and tales that transport you to another time…almost another world… the world of the Porters.
Hometown boy Adelbert "Bert" Field Porter (1879 – 1968) grew up across the street from Grace Young Porter (1880 – 1964). While he attended boarding schools during the school year, summers were spent in Decorah with his grandparents. Childhood play dates grew into real dates, and the Grace and Bert married in 1904. Having come from wealthy families, Bert and Grace were free to spend their lives together chasing adventures, creating amazing collections, and exploring history, culture, nature, and art.
Known as a "gentleman naturalist," Bert was a professional collector, gathering butterflies, rocks, and other curiosities from far-flung locales. Grace accompanied him on many, but not all, of his travels that varied in length from weeks to months and always producing crates and boxes of found items along the way.
Thus, the Porter House, an1867 Italianate villa, has become a character in and of itself.
Outside, the unique grotto-style 1940s rock wall is built with stones from around the world – each one is unique and gorgeous – and compliment the extensive gardens with beautiful plantings and small pond.
Up the gorgeous 1890s wrap-around Queen Anne porch and inside the house, displays range from Grace's beautiful crochet work to Bert's truly astounding collection of bugs and butterflies to photographs of the Porter's wild adventures (hitching along with scientists in South America, for instance). The museum proves interesting for a quick tour, as well as deeper return visits to really get a feel for how astounding the Porter's travels were for their generation.
"The furnishings show the continual habitation of a family, items acquired and collected over decades of travel and living from the late Victorian era up through the early 20th century," says Emily Mineart, Consulting Curator/Collections Manager of the museum. "The same house museum displays superb architectural detail, elegant Victorian garments and furnishings, taxidermy bats and caimen, pre-1940s international photographs, Chinese foot-binding shoes, and vast collections of butterfly folk art!"
A unique annual event, the Porter House Garden Party Fundraiser, is planned for Saturday, June 11 (2016), 4:30 to 6:30 pm at the Porter House to help raise funds for ongoing projects. A silent auction of goods and services featuring artistry, history, natural beauty, and great experiences will be offered. All proceeds from the silent auction will go toward the preservation of the museum house and collections. Refreshments will be served on the beautiful Porter House grounds, amidst the gardens, historic porches, and fascinating rock wall. http://www.porterhousemuseum.org/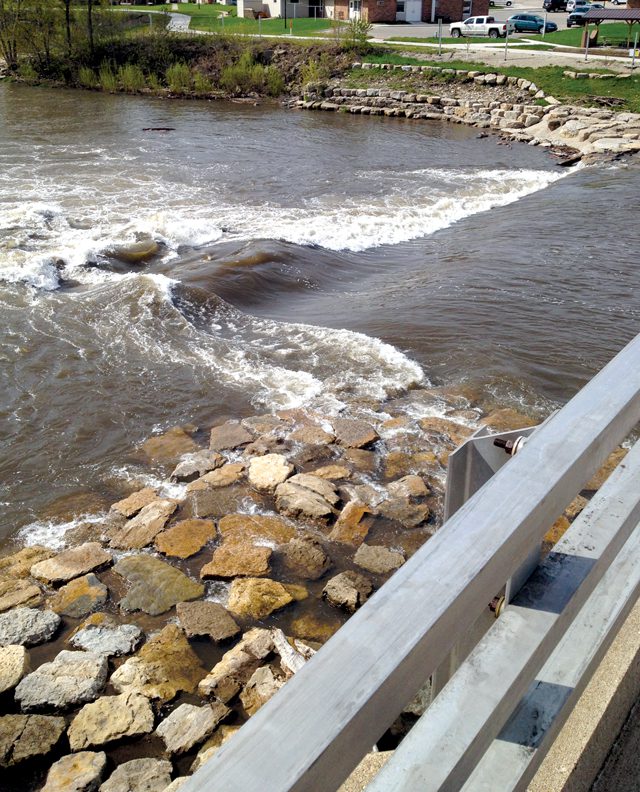 Iowa Whitewater Parks
Charles City White Water Park, Charles City, IA
Downtown Charles City
ccwhitewater.com
Elkader Whitewater Park
Downtown Elkader, Iowa
www.elkader-iowa.com/whitewater.html
Manchester Whitewater Park
Downtown Manchester
www.manchesterwhitewater.com
Whitewater and Iowa. It's a real thing!
Charles City, Iowa, has brought a flood of new interest to their community by rebuilding a river that would sometimes do just that – flood.
The town of 7600 has always been charming, but the new Whitewater at Riverfront Park project has brought a whole new level of tourism to the forefront. Completed in 2013, the project is the real deal. Designed by Recreation Engineering and Planning (REP) from Boulder, Colorado, the Charles City course encompasses 11 acres of water with three world-class whitewater features rated at Class II and III, depending on water levels – Dam Drop, Docs Drop, and Exit Exam. The white water features are designed with freestyle, surfing, spins, and "rodeo" style kayaking, with some level of previous experience being advisable. Outside of the features, the area is also good for tubing, canoeing, and fishing. The surrounding Riverfront Park includes 23 acres of land featuring a handicap accessible boat launch, disc golf course, natural play area, amphitheater, storm water fountain, labyrinth, and access to the community's more than five miles of recreational trails. www.ccwhitewater.com
The 2016 Charles City Challenge Whitewater kayaking event will take place June 18. Check it out here.
Meanwhile, just over in Elkader, the city's Whitewater Park park is made up of three components – The Gobbler Wave, Boulder Island, and Fish/Canoe Passage. The white water wave components allow for fun playboat and stand-up paddle surfing, flat spins, and freestyle moves. The Passage allows fish to pass upstream and canoes to pass downstream, while also allowing a great starting point for beginners. www.elkader-iowa.com/whitewater.html
And don't miss Iowa's newest (and perhaps largest?) whitewater park in Manchester! The Maquoketa provides 6 drops over 800 feet below the Marion Street Dam, including great playboating features and accesible shoreline. More info at www.manchesterwhitewater.com.
The 2016 'Let it Flow' Riverfest will take place in Manchester June 18, with demos, events, and a special evening concert by Dave Zollo and the Body Electric. Check it all out here.
Note: The sport of whitewater paddling has been growing intensely over the past few years, and while most play areas in these projects can be navigated around easily, the idea of whitewater kayaking is a bit different from the standard canoe or kayak river drifting that many enjoy in the Driftless Region. White water kayaks are often shorter and easier to maneuver in fast water, and include a sprayskirt to keep water out – helmets, PFDs, and special skills are necessary to jump into the sport. Check out either of the above websites for more information, opportunities, and events that will help you get your feet wet!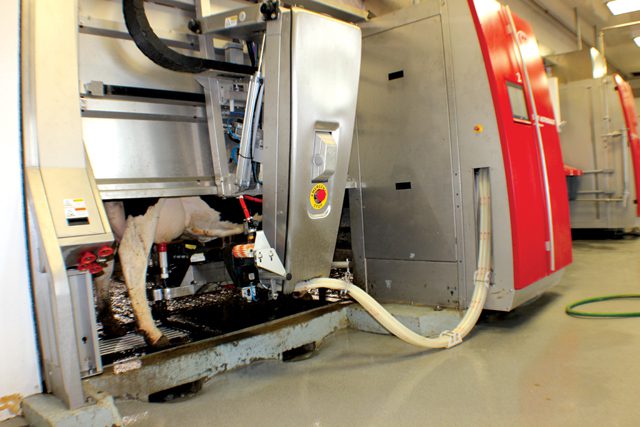 Iowa Dairy Center
NICC Campus, Calmar, IA
1527 Hwy 150 South, Calmar, Iowa 52132
www.iowadairycenter.com
Wanna go see some cows? Yep. We thought you did.
You better get on over to Iowa's Dairy Center in Calmar, Iowa. You'll not only see cows, but a world-class robotic milking facility. Seriously, guys, get a mooove on (groan). Showing the kids, or that farm-sheltered friend, how a dairy facility works is a perfect field trip for our corner of the world.
A project of NICC and the Northeast Iowa Dairy Foundation, the center includes an educational facility with classrooms and labs, a milking parlor, free-stall barn, and calf barn. The partnership with the Northeast Iowa Community College also allows students enrolled in the dairy program to experience hands-on curriculum by working with the center's dairy herd.
A unique double-eight milking parlor is featured at the Center – complete with a viewing platform that allows visitors to watch the process of cows being milked (open anytime!). This automated milking system demonstrates both herringbone and parallel parlor styles side-by-side, making it the only dairy educational facility of its kind – most likely anywhere! There are exhibits too, like the Hall of Breeds with its life-sized pictures and info on different milk cows. Milkings are done three times daily: 4 am, 12 pm and 8 pm.
A great time to check it all out is when the center hosts its annual "Breakfast on The Farm" June 18, 2016 from 8:30 am to 12pm. Or, to schedule a tour, call Megan at 563-534-9957 ext 107. www.iowadairycenter.com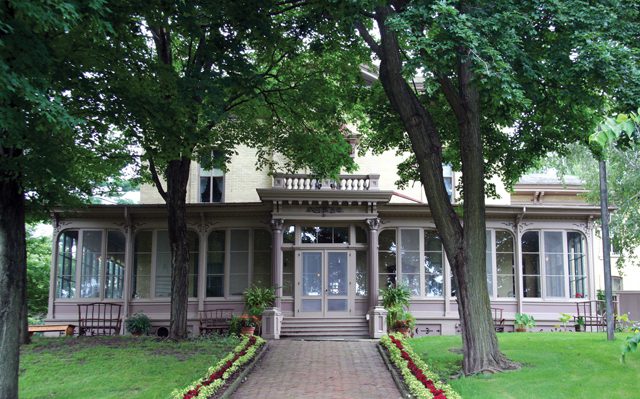 Villa Louis
521 N Villa Louis Rd, Prairie du Chien, Wisconsin
608-326-2721
villalouis.wisconsinhistory.org
Summer time is the perfect time to imagine what it was like in the good 'ol days. Windows open, lemonade on the table, lounging on the veranda as the world seems to slow on down. A trip to Villa Louis in Prairie du Chien, Wisconsin, can bring this sweet little daydream to life.
The immaculate house and grounds were first conceived by Hercules Louis Dousman (1800 – 1868) after he had acquired a large fortune through his enterprises as a fur trader, lumberman, land speculator, and frontier entrepreneur. In the mid-1840s the Dousman family began developing an estate on the banks of the Mississippi River at Prairie du Chien that would eventually evolve into the Villa Louis. Its vibrant hues and rich textures reflected the family's rise to wealth and leisure living. Throughout its evolution the property always maintained its elegant and stylish Victorian country home aesthetic, and much attention was paid to the grounds surrounding the mansion and outbuildings.
In the 1930s, mindful of their family's important place in Wisconsin history, Virginia Dousman Bigelow and Violet Dousman Young – granddaughters of fur trader Hercules Dousman – undertook a restoration of Villa Louis. In 1935 they turned the property over to the city of Prairie du Chien and the Wisconsin Historical Society for operation as a house museum. In the midst of the Great Depression, operating a museum far from the Society's Madison headquarters seemed a risky venture, so the Society declined the offer. A decade later the family renewed the offer, and in April 1952 Villa Louis opened to the public.
The Dousman heirs also donated a large collection of furnishings and accessories original to the house as well as thousands of letters, business records, photographs and other archival documents.
Villa Louis offers daily tours of the house and property, in addition to fantastic special classes and experiences like Breakfast in a Victorian Kitchen, Come Fly a Kite at Villa Louis, a special Behind the Scenes tour, Kids in a Victorian Kitchen, and more. Call ahead or check the web for full details and deadlines on special offerings.
The museum operates May through early November with tours 10am to 4pm. Additional information and year-round visiting information available by calling 608-326-2721.
For an added adventure bonus this summer, check out the Wisconsin Historical Societies "Family Passport" which offers unlimited admission to 12 awesome history-filled Wisconsin destinations, including the Villa Louis, for just $80.www.wisconsinhistory.org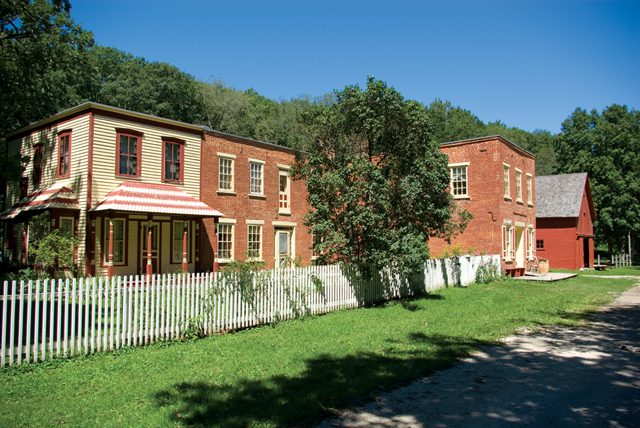 Forestville / Mystery Cave State Park
21071 County 118 Preston, Minnesota
Main Park: 507-352-5111
In the early 1850s, two entrepreneurial gents bargained for a section of land near the Root River known as "Watertown", between Spring Valley and Preston, Minnesota. A double pen log general store was constructed, supplying pioneers in the southern part of the Minnesota Territory. This was the start of Forestville. A rural village supplying to settlers at its peak, Forestville had a general store, school, brickyard, two hotels, two saw mills, a cabinet shop, gristmill, blacksmith shop, and post office. But with the routing of Southern Minnesota Railroad away from the town in 1868, the town slowly drifted into decline. By 1899, the businesses left were all owned by Thomas Meighen, son of one of the original general store founders. By 1910 the town was all but abandoned, left to fall by the boom and bust wayside of settler history.
If this all sounds like a grand "Little House on the Prairie" adventure, you are in luck! In 1949, Forestville State Park was created, and later the Minnesota Historical Society was entrusted with Forestville and now operates the site in full nineteenth-century appearance (1899, to be exact…).
Several ongoing programs are presented by costumed docents throughout the May-through-October season. Programs include: Bread Making Day, From the Churn – butter making!, 1899 Independence Day Celebration (July 4), Pickling, Drying and Sugaring, By the Light of the Lantern, Apple Cider Pressing, and Apple Butter Day. You can check out all the schedules and fun here.
Admission to historic Forestville is $7 for adults, $6 for seniors and college students, $5 for children 6-17, and free for 5 and under. The park is open Thursday through Sunday, Memorial Day to Labor Day, with additional Saturdays through October.
Also located at the State park is Mystery Cave, the longest public cave in the state. Added to the park in 1987, admission and entrances to the cave are separate from Historic Forestville.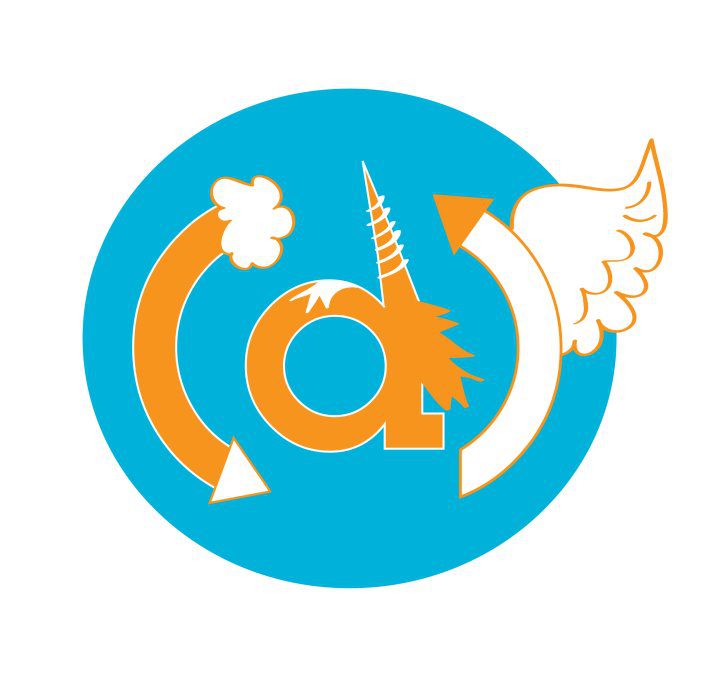 Benji Nichols thinks that five is just a nice number – and merely just scratches the surface to all of the amazing Driftless destinations for lovely summer days. Get out there…