Fall is the loveliest season around here (we think). So we put together a little list of events to add to your calendar! Go ahead and hit the road this fall for some fun art trips in the Driftless Region! Next up: Driftless Film Festival!
—————————————————-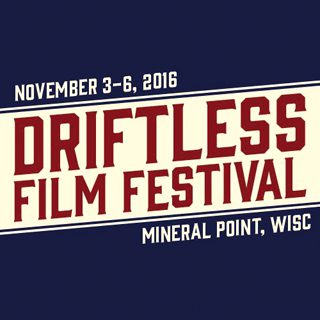 Driftless Film Festival
November 3-6, 2016
Mineral Point, Wisconsin
driftlessfilmfest.org
Now entering its seventh year, the Driftless Film Festival will return to the Mineral Point Opera House this November for four days of independent cinema, live entertainment, workshops, filmmaker discussions, and networking opportunities.
The festival is known for boasting a healthy lineup of both regionally-produced cinema and popular independent productions not typically found on small-town movie screens.
"We're really proud of our program this year," says festival director Eve Studnicka. "We are screening more features shot in Wisconsin than we have in the last few seasons." These include opening night film American Fable which features a surreal scene shot in local attraction House on the Rock, and The Seeker, a feature-length narrative set to the music of regional band Cloud Cult – members of which will be in attendance for a Q&A. The crowd-pleasing Wisconsin Shorts Showcase will also return in 2016, featuring short films produced in-state.
Studnicka notes that once again 50 percent of the features and shorts in the festival lineup are directed by women, and there is no shortage of heavy-hitting documentaries in the 2016 program.
Expanding its educational outreach, Driftless Film Festival will partner this year with the Madison Media Institute and Frozen Stage Films to bring attendees two unique workshops on DIY cinema lighting and writing & directing with a focus on story arc. The popular Student Shorts Showcase will also return to the festival, featuring student-produced short films from across the world competing for a cash prize.
New to the festival this year is a late-night program entitled Temptations, showcasing short films with central themes of indulgence, decadence, and the pursuit of pleasure. "It's a little risque," says Studnicka, "but not distasteful. The stories are meant to make us think about how we treat ourselves and really enjoy what life has to offer."
The Driftless Film Festival will take place November 3-6, 2016 at the Mineral Point Opera House with after-parties at local nightlife establishments.