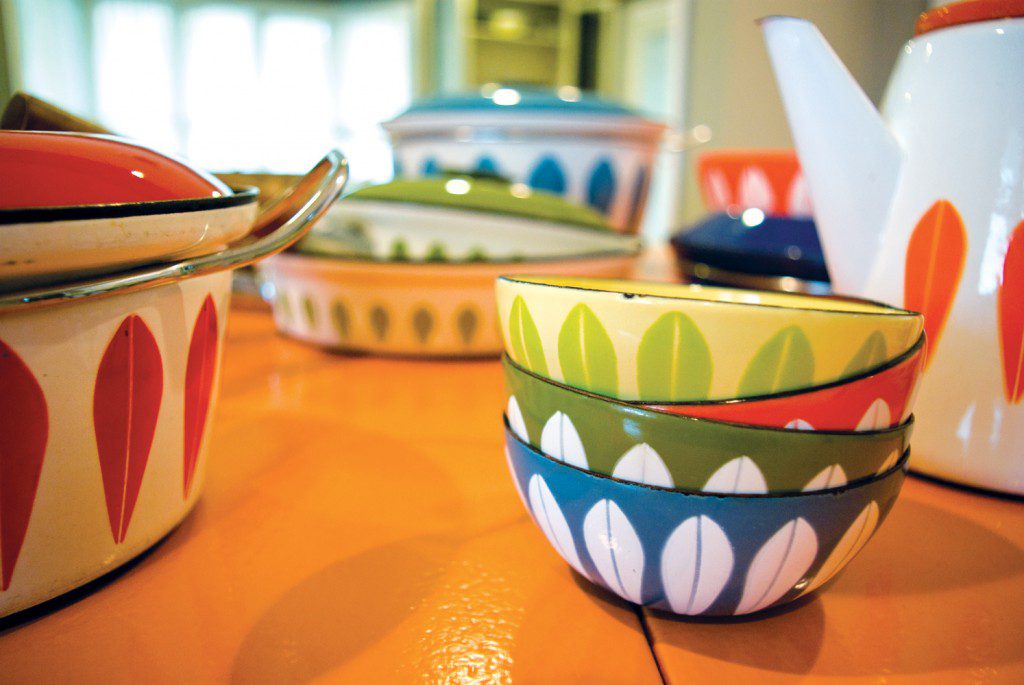 By Aryn Henning Nichols
On a recent traipse through Vesterheim Museum (when you're a member, it's free entry, so you can totally traipse anytime), I thought, "What a great little museum." Then I stopped myself. No. It should simply be: What a great museum! Every fall there's a major fundraiser for Vesterheim – Deck the Tables – so we thought it would also be a great time to share with you some of the things we love most about this wonderful place right under our noses. Are you a member yet? Sign on up! There are lots of great perks!
Vesterheim is Besterheim!
Amazing rotating exhibits:
We are so excited about the "Scandinavian Modern Design: Norwegian Enamel," exhibit (pictured above).
Guest curator Kate Martinson helped source pieces from the area and beyond (and added some to her own personal collection) to put this exhibit together. The trendy Cathrineholm designs, featuring artist Grete Prytz Kittelsen – known as the "Queen of Scandinavian Design," – are stunning by themselves, but especially cool en mass. And, lucky for us, these designs are a part of Norwegian history and thus perfect for Vesterheim! The exhibition will showcase enamel jewelry, cookware, and tableware.
Tradewind
Guys: There's a giant boat inside Vesterheim. This is surely one of the first things folks will mention when Vesterheim Museum comes up, but rightly so. The 25-foot sailboat is the smallest known to have crossed the Atlantic Ocean without assistance, but it still looks pretty big to me. You can't get in it, but at the top of the stairs you can look through a telescope to see inside the cabin!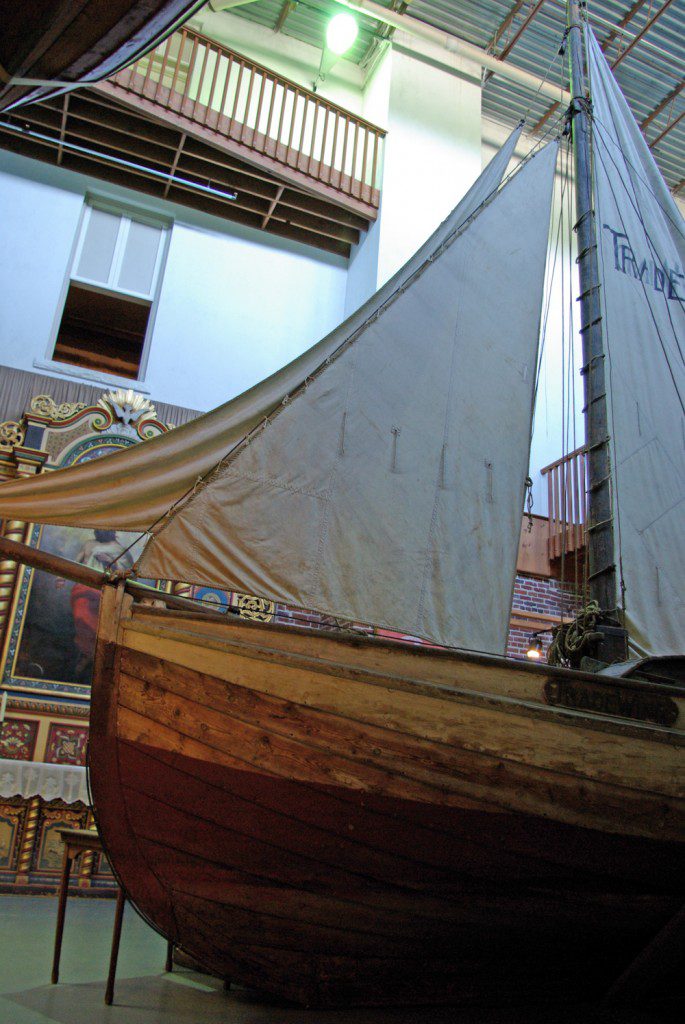 There are real houses you can walk into! INSIDE the museum. It's like an MTV Cribs for 1850s cabins. Sweet.
Open Air Division (May 1- Oct. 31)
There are also other houses and buildings surrounding the museum that you can explore. I always forget about this, so I'm reminding you here! Vesterheim's Open Air Division is a collection of 12 historic buildings – such as a log school, a blacksmith shop, pioneer houses and a restored stone mill – located behind the main building. It is open from May 1 to October 31, and guided tours occur daily at 1:30 pm, included with admission (free for members!). These tours are subject to guide availability, though, so please confirm tour departure place and time with a Vesterheim desk attendant.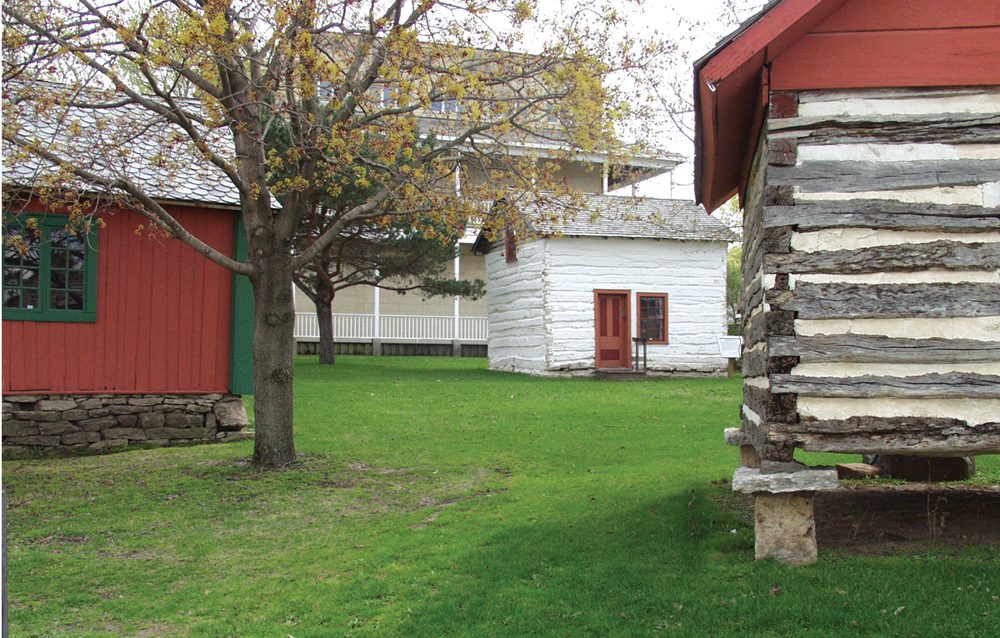 Basement
Speaking of places I forgot / didn't know about: Did you know you can visit the basement of Vesterheim? Anytime? It's part of the museum! I didn't know, so maybe you didn't either. There's a Christiansen altar, the WWII 99th Battalion exhibition, along with a lot of other things. You can access it via the elevator or any stairs (huh, seems obvious after writing it out).
While you're taking the stairs…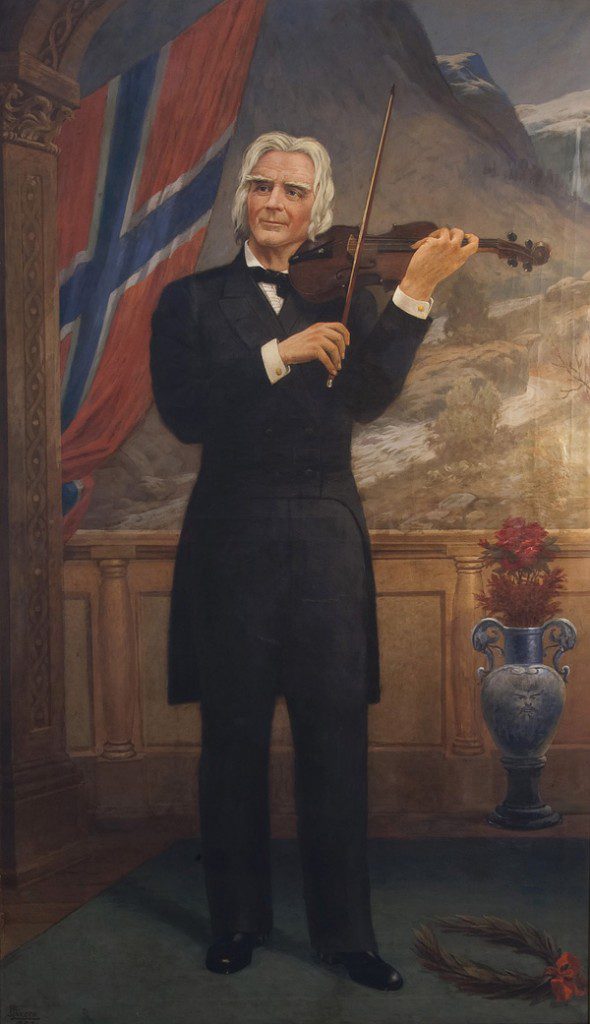 Ole Bull in the Stairwell
We always make sure to go between the first and second floors via the south stairwell. There, you'll find a giant painting of famous Norwegian violinist and composer Ole Bull! Say hi from us, please.
Do you love Vesterheim too? You can help support Vesterheim! While you can become a member any time, you could also take part in the fun, annual Deck the Tables Vesterheim fundraiser, November 7 and 8, 2014. Learn more at Vesterheim.org.
Events for 2014:
Deck the Tables:
Friday evening – BLUE JEANS AND BLING 6 – 8 pm
$12 door / $10 in advance.
Tasty appetizers, raffles, silent auctions, door prizes, games.
Saturday morning – OPEN HOUSE 9 am – 12 pm
$12 door. No advance tickets.
Carriage rides, raffles, door prizes, pastries and coffee, discounts to local stores, live music.
Saturday afternoon – LUNCHEON IN THE LOBBY 12 – 2 pm
$25. Advance ticket sales only. Reservations must be made by October 25, 2014.
A lovely luncheon in the lobby of the Hotel Winneshiek, private viewing of the tables, raffles, door prizes, discounts to local stores.
Saturday evening – GALA DINNER AND LIVE AUCTION 5– 9 pm
$50. Advance ticket sales only. Reservations must be made by October 25, 2014.
Scrumptious meal at a distinctive and beautiful decorated table, live auction, raffle, door prizes.
"Deck the Tables" is a fundraiser for Vesterheim Norwegian-American Museum and is organized by a volunteer committee – Melanie Anundsen, Karla Erdman, Llew Jenkins, and Syd Stephenson.
For more information contact Stephanie Johnson at snjohnson@vesterheim.org or call 563-382-9681, ext. 103.
Vesterheim hosts Free First Thursdays, which includes free museum admission and a special event on the first Thursday of each month.
Knit-In
Get out your knitting projects and join Vesterheim on November 8 and 9 for a Knit-In. Everyone is welcome to knit, chat, enjoy behind-the-scenes tours, and hear presentations about Norwegian and Norwegian-American knitting. The Knit-In is made possible by gifts in memory of Ann Swanson and Grace Rikansrud.
Norwegian Christmas Celebration
On December 6, Vesterheim shares Scandinavian holiday traditions with Norwegian Christmas Celebration. This festive one-day celebration features a variety of music, folk art demonstrations, and food.