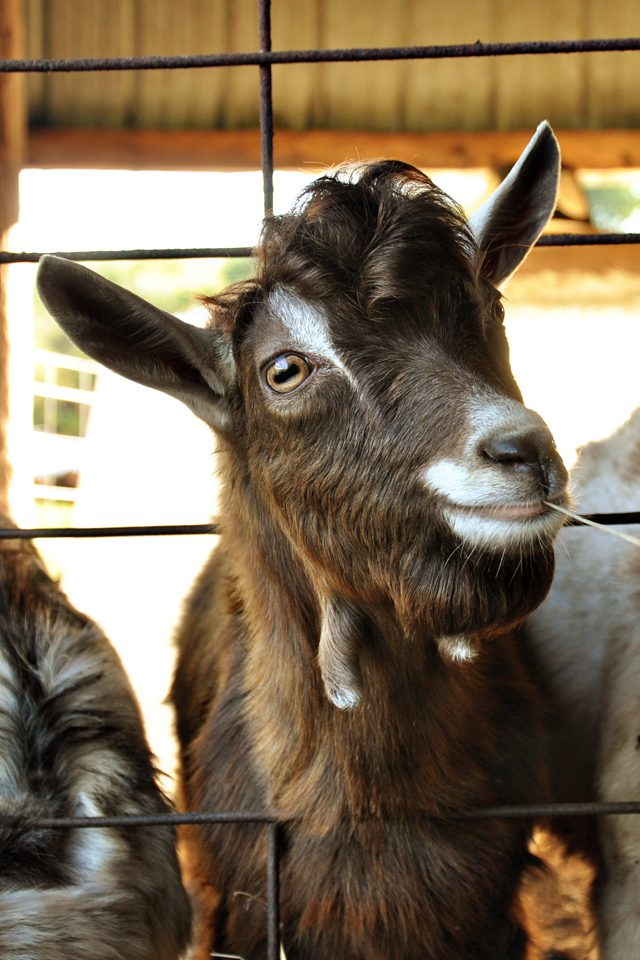 By Kelli Boylen • Photos by Jessica Rilling
Originally published in the Fall 2015 Inspire(d)
Yellow River is more than just a river in Iowa. Its land is filled with beautiful valleys, rolling hills, the 8,300-acre Yellow River State Forest, and one 80-acre goat farm called Yellow River Dairy.
Pat Lund and her husband, Don, settled in rural Monona, Iowa, more than 25 years ago, and started on a farming path a little less traditional than many others in Northeast Iowa. Much of the family participates in the running of Yellow River Dairy – Pat, Don, and sons, Tim and Daniel, and daughter Deborah included – but they all report to the real bosses: the goats.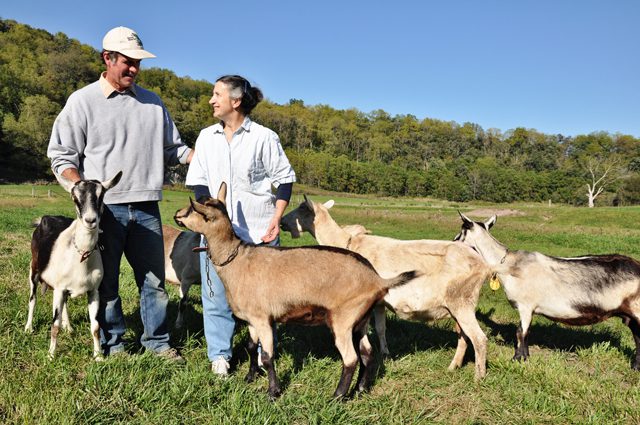 "The farm is actually two parts:  The goats and their feed, and everything else," the Lunds write on their website, yellowriverdairy.net.
Yellow River Dairy has three breeds of goats – Saanens, Alpines, and Toggenbergs – chosen for their unique milk flavors and cold-weather hardiness. "The Saanens and Toggenbergs are Swiss breeds, and tend to be somewhat intelligent and easy to manage," they continue. "The Alpines are a French breed, very hardy but also very independent, and forever the first ones to test any fence."
It was about 25 years ago that Pat and her husband, Don, decided to give goat farming a try. When Pat was deciding how to work at home while raising their then-young children, she knew she didn't want cows or pigs on their farm. She always enjoyed the few goats they kept around as pets, and after meeting a few dairy goat producers at the county fair, they bought a herd and starting milking.
"Our children have been a part of the farm since their childhood, and all still participate to varying degrees," Pat says. "Baling hay, milking, feeding babies, kidding season, showing at the Iowa State fair, cold winter nights and hot summer days are familiar memories for all four kids."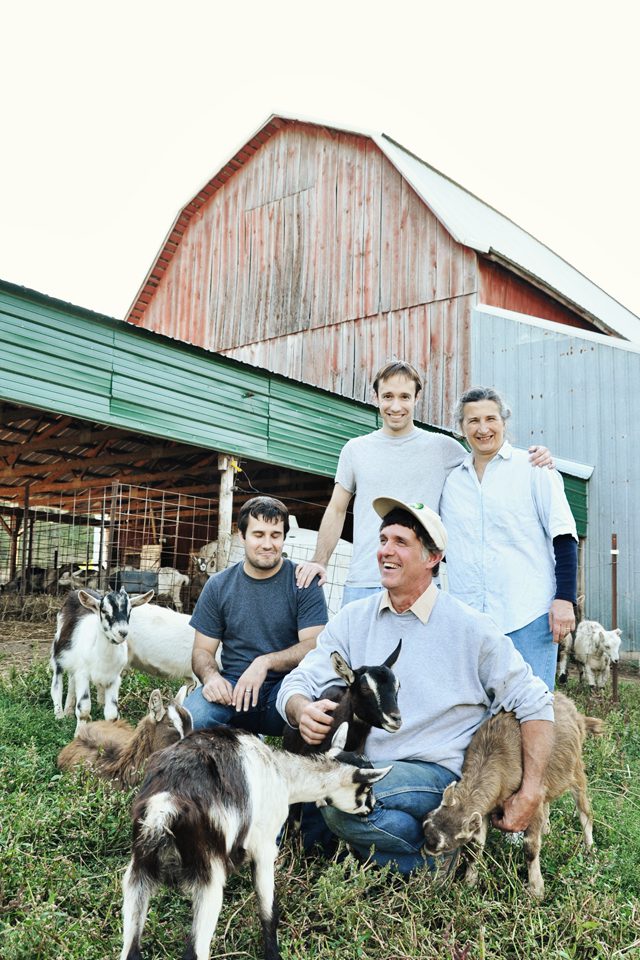 They started shipping their milk to Mt Sterling Co-op Creamery, a member-owned and operated cooperative in Crawford County, Wisconsin, where they've been co-op members and helpers ever since. But it was over a decade – 16 years, to be exact – before they decided to make cheese commercially. For years they drank milk straight from the bulk tank and made cheese in their farmhouse kitchen. "Deciding to take the step into commercial production was a natural fit," Pat explains. "It was simply a continuation of the kitchen cheesemaking that our family had been experimenting with for years."
It was almost three years from that decision 'til their first log of commercial cheese. They searched carefully for the equipment that they needed – looking for bargains along the way –worked closely with their milk inspector – asking for advice along the way – and were able to create a micro processing area in an existing building on their rural Monona farm.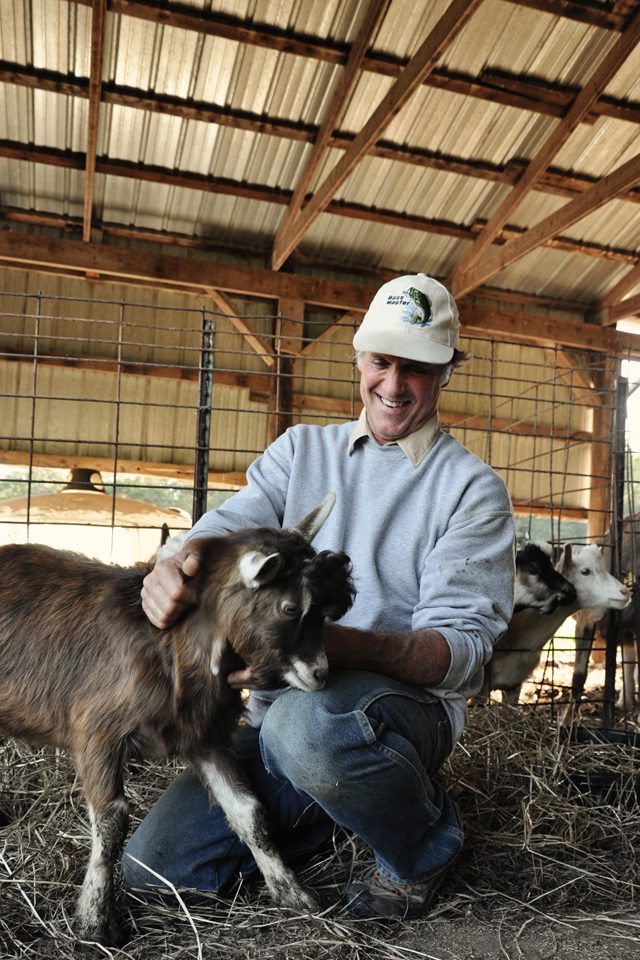 In one day, they can process up to 1,000 pounds of milk into cheese, which results in about 140 pounds of cheese. The milk is first pasteurized, then cooled. Culture is added, and after the necessary set time, rennet is added. Once the cheese and whey separate, the process splits depending on what type of cheese is going to be made. Pat says cheesemaking days usually last about eight hours, and packaging takes place the next day.
Their very first chévre sale was on a Saturday morning farmers market in Decorah in the spring of 2009. They later added the markets in Cedar Rapids and La Crosse (they still participate in these two) and you can also purchase Yellow River Dairy cheese locally at the Oneota Food Co-op in Decorah and the People's Food Co-ops in Rochester and La Crosse.
Pat especially enjoys hearing from customers at farmers markets. "They will tell you what they like and don't like," she says. This feedback has helped the Lunds grow their product line to include 23 varieties of seven types of product.
Yes, you read that right! Goat cheese is often referred to as chévre, and many people think there is only one kind. But the fact is that goat milk, just like cows' milk, can be made into many different types of cheese.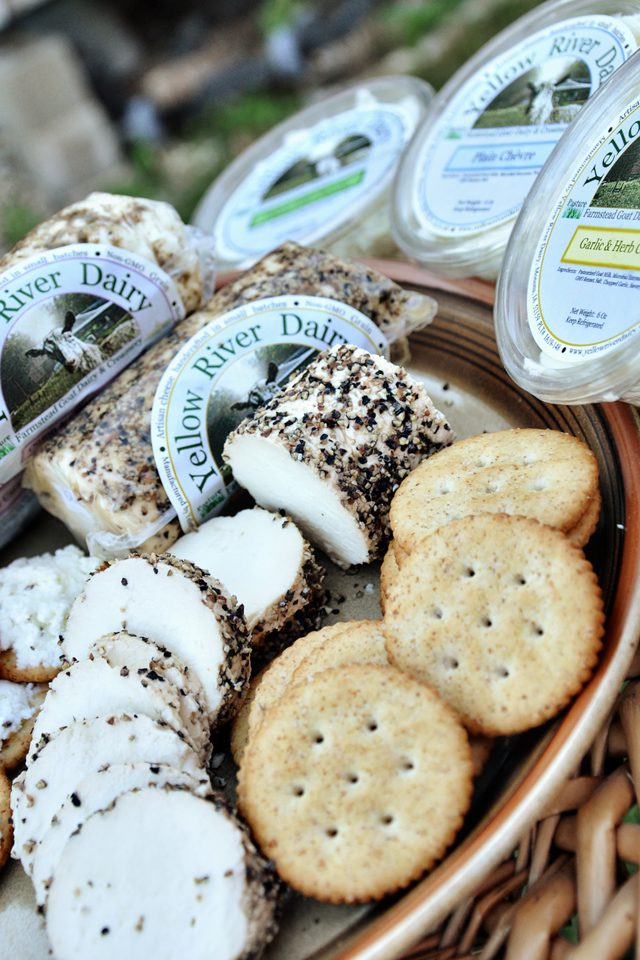 Yellow River Dairy makes their milk into cheese "logs", a semi-soft product dubbed "cracker-cut logs" since a slice nicely tops a cracker. These logs are available in plain, smoked, peppercorn, dill, lemon-pepper, and lavender. They also make plain, dill, and red pepper cheese curds. Their traditional soft chévre is made in a variety of flavors from plain to blueberry mint. And they make a goat cheese dip also available in several flavors, and a crumbled goat feta.
Their son, Tim, is the main cheesemaker, handling most of the cheesemaking operations during the summer months. During the school year – when milk production is typically lower – Tim is a music teacher at an area school and Pat picks up the cheesemaking title. The Lunds milk their 120 goats seasonally, from February to November, grazing them on pasture as much as possible, and have established their own cheese route, selling product to 25 stores in Iowa, Minnesota and Wisconsin. It is indeed a family affair: Daughter-in-law, Tara, helps with packaging and cheese production, while Daniel, Deborah, and David help with chores when Don and Pat want a break from the farm work. Don farms with Pat and handles the cheese route, supports the on-farm processing, and puts in many hours of work to help keep things running smoothly.
"You have to be creative and inventive to make it all work," Pat says.
For those just wanting to give cheesemaking a try, though, Pat says, "Making cheese is easy to learn and there are plenty of online sources for reference. Just get started!"
————————————
Kelli Boylen lives in the unglaciated hills of Allamakee County with her family. She is a freelance writer and a licensed massage therapist.
————————————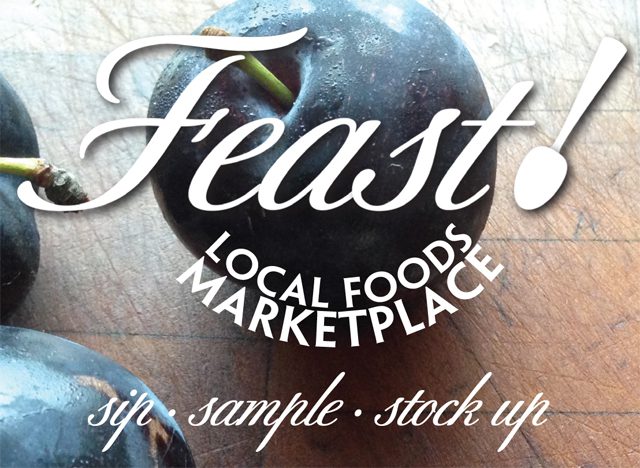 Yellow River Dairy will be among the more than 100 distinctive growers and artisans from the Upper Midwest will be showcased at the Second Annual Feast! Festival and Tradeshow December 4-5, at the Rochester Civic Center.
This unique two-day food event begins on Friday, Dec. 4, with a tradeshow just for food professionals. On Saturday, Dec. 5, Feast! blossoms into a delectable festival and marketplace for the general public.
Friday's tradeshow invites farmers, growers, food buyers, artisans, chefs, and other food industry professionals to register and participate in an exclusive buyer-seller, peer-to-peer forum and networking experience.
Feast! is a harvest marketplace of jury-selected food representing a great variety of specialties – from basic to unique, to sublime The event will also include chef demonstrations, food making mini-workshops, and activities for kids.
Admission to the public Festival is $5/adults and $2/children. An additional charge and I.D. will be required for sampling local beer, wine, hard cider, and spirits. For more information about attending Feast! Local Foods Marketplace as a consumer, an exhibitor, or food-buying professional, please visit www.local-feast.org or email Devon at devon@rtcinfo.org.
To keep in touch with the latest updates, 'like' Feast! Local Food Network on Facebook, follow @Local_Feast on Twitter, and use #localFEAST to make sure your voice is heard.