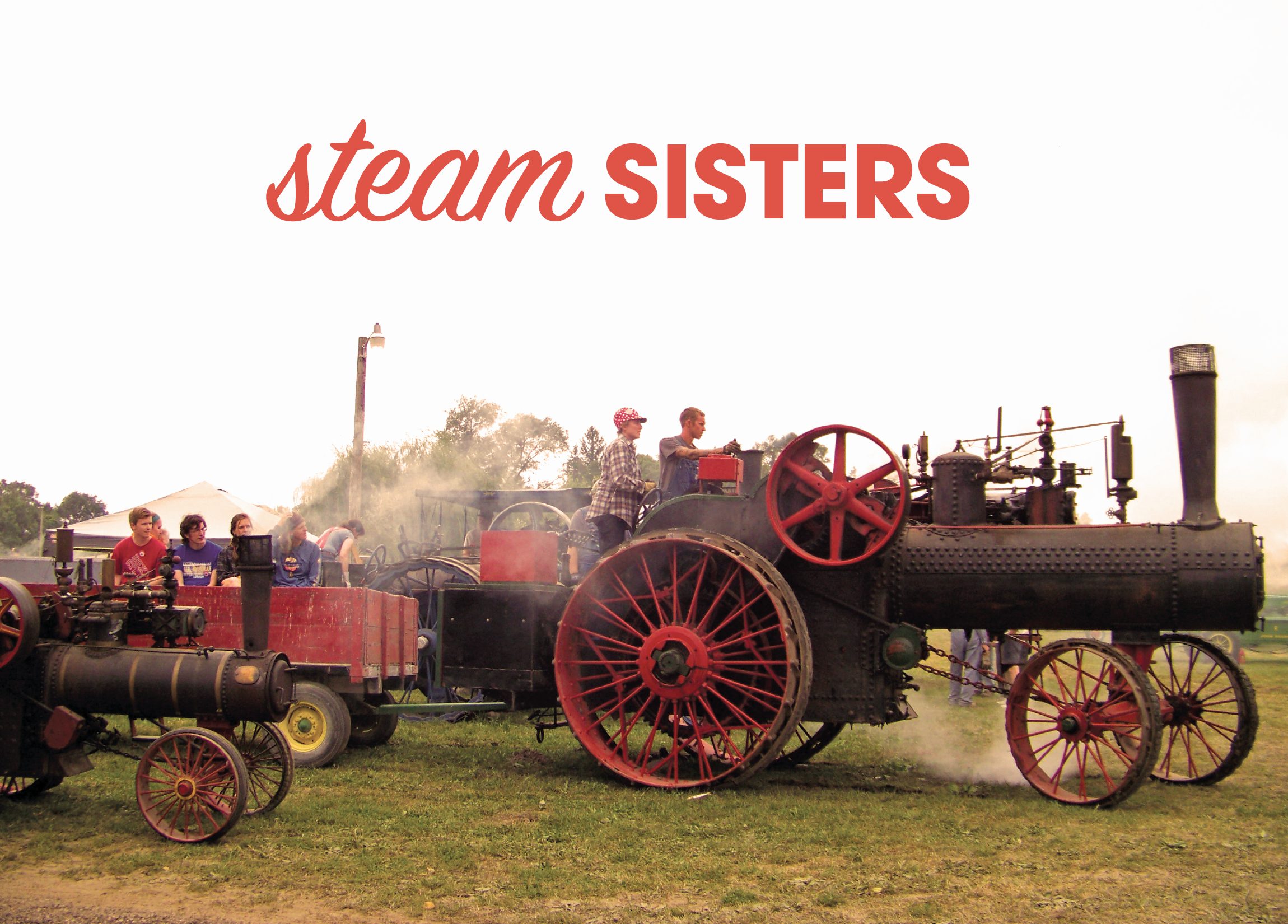 Decorah native Clara Bergan follows in family footsteps as a steam engine operator
Intro and interview by Aryn Henning Nichols • Photos courtesy Clara Bergan & family
The engine starts slowly. Chug, chug, chug. Pop! Chug, chug, chug – speeding up – it spills steam from it's pipe as the wheels start to turn aaannnd…motion!
People have been using boiling water to make things move for thousands of years, but steam wasn't used for any practical applications until the Spanish inventor Jerónimo de Ayanz y Beaumont patented the first steam engine in 1606. Throughout the next two centuries, steam inventions advanced – from the steam pump to the first piston steam engine to a 10-horsepower engine – invented by James Watt in the late 1780s – that finally produced continuous motion, making it feasible for steam to be used for vehicles such as traction engines and railway locomotives.
The first steam tractors were portable engines that were built on skids or wheels and then transported by horse to a work area. These engines were used extensively in rural North America for threshing. Steam traction engines were often too expensive for a single farmer to purchase, so "threshing rings" were formed. Multiple farmers pooled their resources to purchase a steam engine, and they'd chose one person among them to go to steam school to learn how to run the engine properly. In some ways, a threshing ring was how the Hesper-Mabel Steam Engine Days began.
It's been many years since steam engines were the farm machinery of popular choice and threshing rings were the norm, but the people passionate about the trade are also passionate about passing it along. Decorah native Clara Bergan, 23, is an eager – and actual – student; she attended Steam School in Forest City, Iowa at age 15 (also in attendance: her mom and dad, aunt, uncle, cousin, and her then-pregnant sister!), and has practiced and learned the ins and outs of steam engine operation on a 1922 Advance Rumely steam traction engine inherited by her mother, Carol, and Aunt Connie.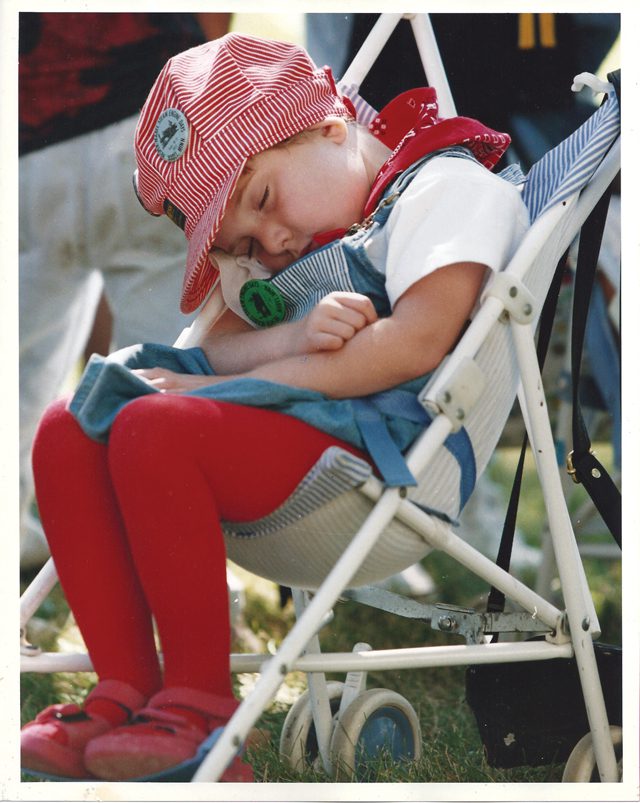 (A young Clara is "all steamed out" in a favorite family photo from Steam Engine Days.)
We caught up with Clara to chat about what she loves most about Hesper-Mabel Steam Engine Days (63th annual coming up September 12-13, 2015), being a woman in steam engineering ("it's a bit of an anomaly"), and the best part of operating an engine (not what you might think!).
It's clear her love of engineering and family history is as thick as an engine's steam billowing toward the clouds on a crisp, fall morning.
Tell me about the history of steam engineering in your family.
Envision loads of laundry thick with oil, grease and soot! Now you've got a pretty good idea of the fun had at Hesper-Mabel Steam Engine Days. The living history event is a multigenerational affair for a few area families, packed with much anticipation, sweat, and preparation. The summer leading up to the event, the Toot & Whistle Club spends several Thursday evenings sawing logs for fuel or repairing equipment. Around Labor Day, striped bib overalls make their way from the back of the closet. And the Thursday before, we drive antique tractors from Hesper to Mabel to kick-off the weekend.
All this started in the early 1950s, when my grandpa Gerhard Clauson and three friends invited their neighbors to participate in old time threshing. Sharing a love of steam, they gathered their farm machinery to demonstrate a passing tradition. It's the same today – a celebration of heritage, family, food and machines that do work. Since inception, Hesper-Mabel Steam Engine Days has grown from a small scale gathering of neighbors to an assemblage of antique tractors, steam and gas engines that welcomes crowds from all around.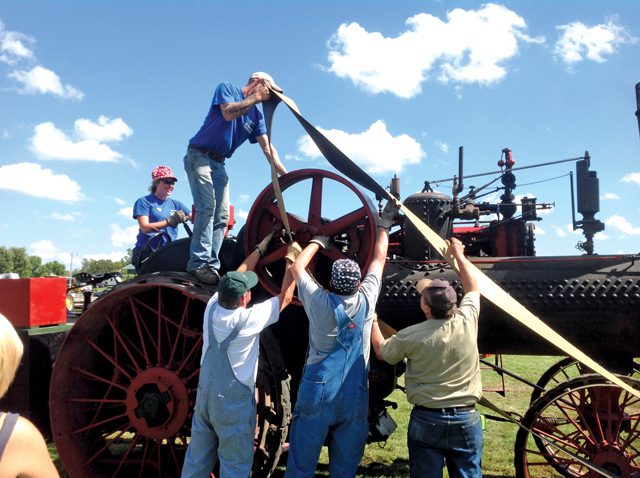 Today the family tradition continues with a 1922 18-HP Advance Rumely steam traction engine my mom Carol and Aunt Connie inherited. My dad Mike and Uncle Joe married into the Clauson family, helping keep steam alive by repairing, preparing, and operating a nearly century-old engine. Today, they joke the tables have turned. Now my cousin Joseph (Pearce) and I run the engine and they are the "old guys" imparting wisdom.
How do folks go about learning how to operate a steam engine?
I'm fortunate to have both experts and an engine in the family, but for those without this luxury, a great place to start is steam school. There are a few workshops throughout the Midwest that offer both classroom and hands-on experience. Participants range in skill level so it's a great place to ask questions.
And that's just it! Ask questions. I have so much to learn and never hesitate to ask when curious or unsure. When operating in a crowd of spectators at pressures over 100 psi, safety is the priority. Operating an engine efficiently and safely requires close management of your fire and your water level. Having experienced engineers nearby can be a valuable resource.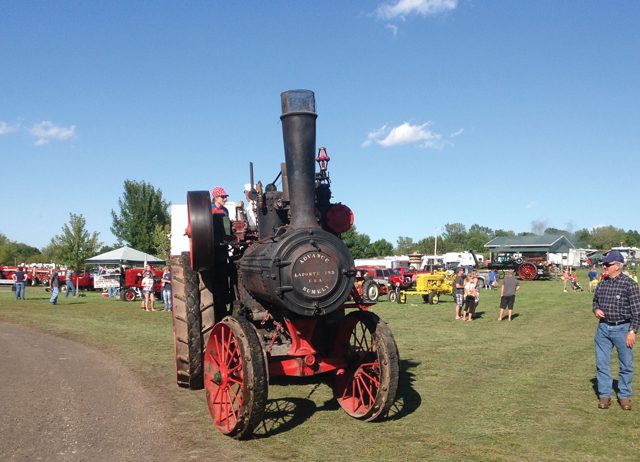 Are women generally encouraged to participate? Why did you decide to get into it?
Women and steam are somewhat of an anomaly. But when my family – parents, sister, aunt, uncle and cousin – signed up for steam school, I was not about to be left behind. I was 15 and recognized my chance to actually run the engine. Joseph is a year older than me and he's a natural. Having a knack for things with gears, he'd climb on the engine with confidence and curiosity. Steaming up with Joey is a lot of fun and the peer support is what I needed to get involved. My dad and uncle are patient teachers and advocates for passing along traditions, regardless of gender.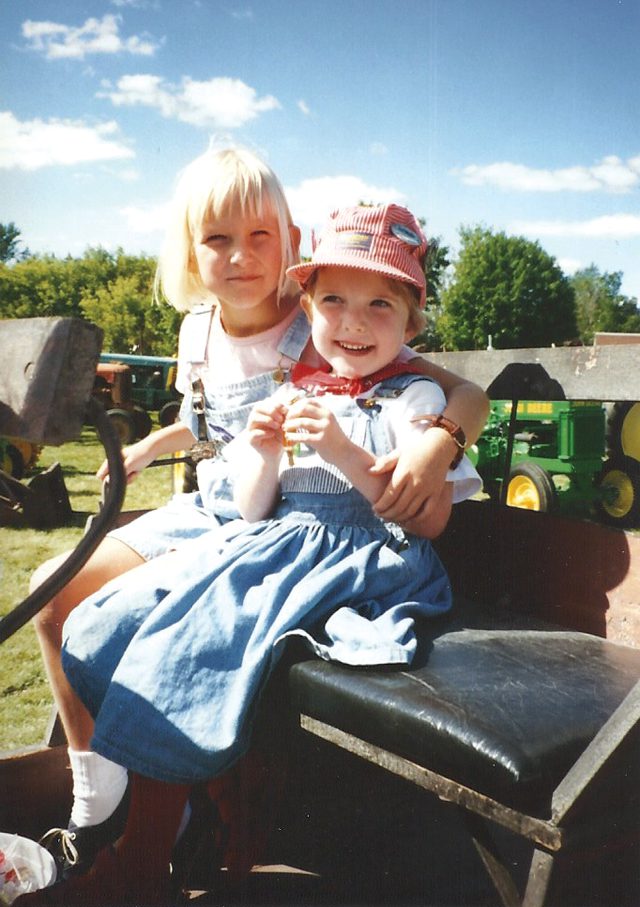 While I'm the first woman in my immediate family to get an operating license, familiarity to steam runs thick in the Clauson women. Combined, my mom and Connie have participated in every Steam Engine Days event, well-represented by my mom's giant jar of admission buttons stretching back to years before my birth. My sister Johanna is an exemplary role model as well. Not one lick afraid of steam cylinder oil, Johanna attended steam school six months pregnant and undaunted by the firebox (Steam Sisters Clara and Johanna pictured at right).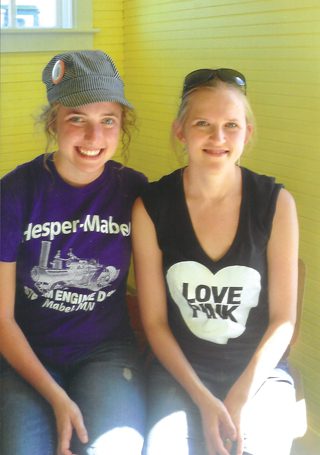 In addition to family, my passion for steam stems from an interest in sharing and preserving farming history. I've gained a real appreciation for the tedious care belting up to a sawmill requires. Or the extra attention required to ensure the piston lands in the right quadrant to move either forward or reverse. Nothing is automatic and it's very humbling. Sitting on an all-iron, scalding washing machine during its spin cycle kind of describes operating the Advance Rumely while belted to the saw mill. It doesn't sound very appealing, but the sweat pays off in logs sawed with care. I'm proud of the history.
Do you need to have a license to operate an engine? What does that entail?
Requirements for operating steam engines vary by state. In Minnesota, an "Historical Boiler Operators License" is required. Licensure includes passing a written exam, hands-on exam and 50 hours of operating experience with a licensed engineer (including a checklist of completed tasks). Operators are required to display their licenses while operating an engine. It's really cool to see four generations represented on the Advance Rumely – beginning with J.P. Clauson, my great grandfather.
What's the coolest part about operating a steam engine?
Steam whistles are a pretty awesome part of operating an engine. Whistles are more than just fun in parades, they are also used for safety. When working on the sawmill, we toot the whistle for two short bursts to let people know we are starting the engine. There are a whole host of signals indicating different things, but my favorite is the long whistle that signals supper.
At the end of a long day's work, engineers and crew indulge in a sturdy, steam-cooked meal. We put meat, carrots and potatoes into engine steam boxes in the morning. By evening – we've got roast! The last couple of years I've been experimenting with corn on the cob by injecting steam into a metal garbage can filled with a few ears. In regard to food, steam has created a fine gathering place for family and friends.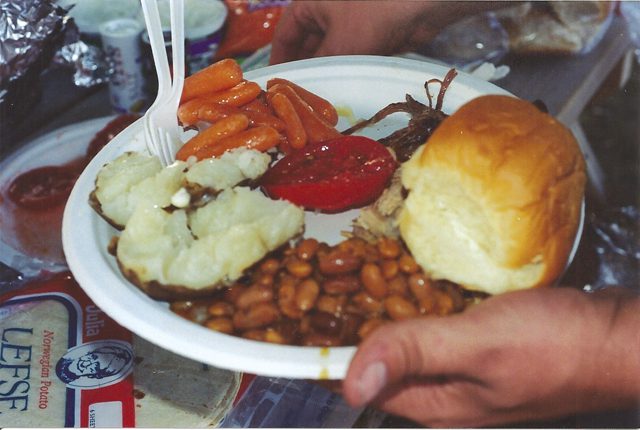 Anything else you want to add?
Steam engines don't move very fast (probably 2-3 mph max), but the Advance Rumely weighs 12 tons with water in it. That's a lot of mass. And there are no brakes. Keep that in mind if you're standing around and an engine is approaching you – especially downhill!
—————————— 
One of Aryn's first dates with Benji was to Steam Engine Days in Hesper-Mabel. Plus, her mother- and father-in-law also celebrate pretty much every wedding anniversary there. So, while we don't have steam engineering in our blood, it's definitely part of our family history! Steam School for me? Who knows!
—————————— 
WANT MORE STEAM?
——————————-
63rd Annual Hesper-Mabel Steam Engine Days, Mabel, Minnesota • Sept. 12-13, 2015 • www.steamenginedays.com
This year, featuring: Odd-Balls and Orphan Tractors. Don't miss the Steam Engine Parade that chugs down Main Street at 12 pm on Saturday and Sunday. The weekend is filled with cool steam demonstrations too! You might see a steam engine doing something like this:
Shingle Mill
Old Time Threshing
Log Sawing
Plowing & Sub Soiling
Corn Shelling & Shredding
Tractor Dyno
32nd Annual Steam Threshing Festival – Heritage Park, Forest City, Iowa • Sept. 19-20, 2015 • www.heritageparkofnorthiowa.com
Western Minnesota Steam Threshers Reunion – largest collection of working steam shovels in the world • Annually, Labor Day weekend • www.rollag.com
Really in to it? Head to Steam School!
The 15th Annual Steam School is May 21-22, 2016 • www.heritageparkofnorthiowa.com