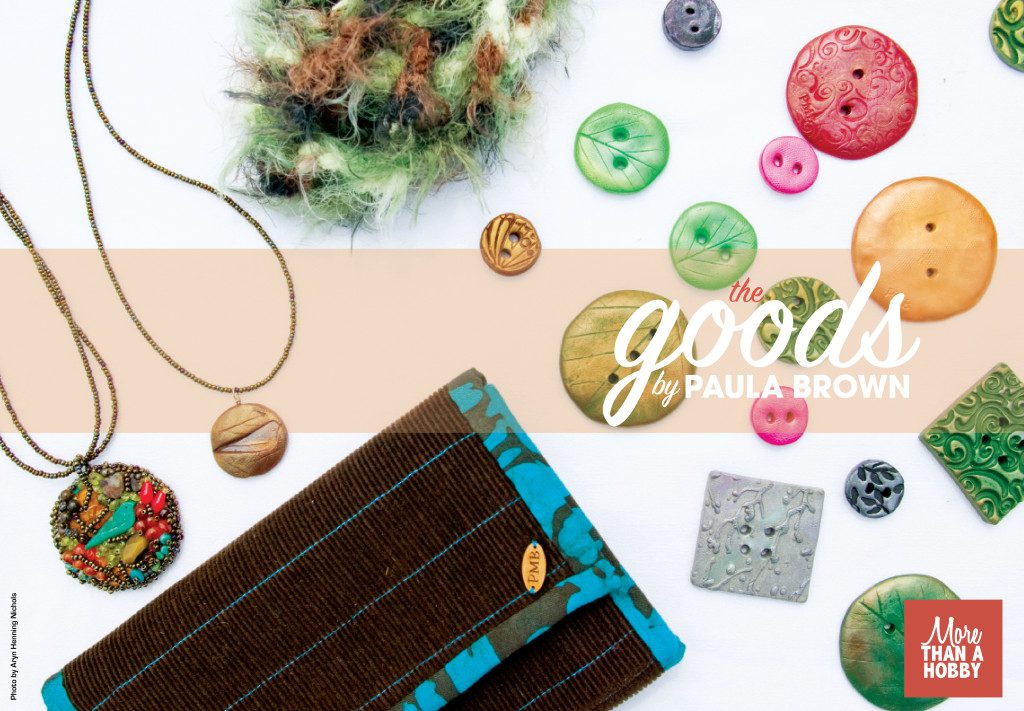 By Kristine Jepsen • Originally published in the Fall 2015 Inspire(d)
If you spend any time in or around Decorah, you probably know the incurable creative behind The Goods by Paula Brown.
Paula works her main magic – amazing jewelry, purses, and knitted wear – out of an eclectic gallery/shop in her rural Decorah home, but you'll also find her behind the bar at the Hotel Winneshiek in Decorah – her part-time gig – several nights a week.
Toward the holidays, you might catch her standing on a chair, styling the displays in the hotel lobby for the annual Gift of Art artisan craft show, an event she founded and sponsors.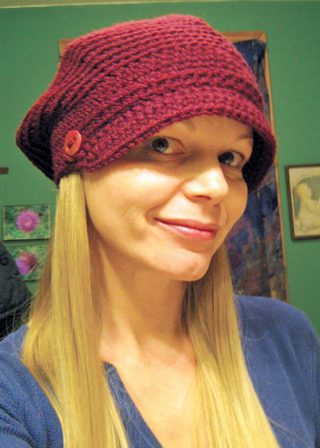 Or maybe you've seen her throw back her blonde head of hair and laugh, revealing a stack of hand-knitted scarves that fit together like bangles, or a riveting necklace of hand-selected turquoise. Ask for her card, and she'll dig it out of a hand-knitted, felted, and dyed tote. Yup, of her own design.
"I make things," the Dubuque native says with a shrug. "I don't fit in a box creatively. It's what people need or what people want," – she often takes cues from the folks she meets tending bar. "I can get lost in the process" – for example, spending a whole day crafting a wallet of upcycled corduroy to match one of her purses – "how do you stop?"
Paula (pictured, right – photo courtesy Paula Brown) creates her own designs for goods, and then, even when something sells well at craft shows or in her shop, she'll modify and remake the designs, turning always toward something new. "I want to make things accessible, whether that's the value of small earrings or a shoulder bag," she says. "People change. Their interests and tastes change. It gives me a chance to change and evolve, too." Take the scarf bangles, "Nec Lux," as she calls them. "I had customers asking me about different textures and colors of yarns, and I thought, 'Why wear just one at a time?'" And so, the idea of mixing and matching the narrow bands was born.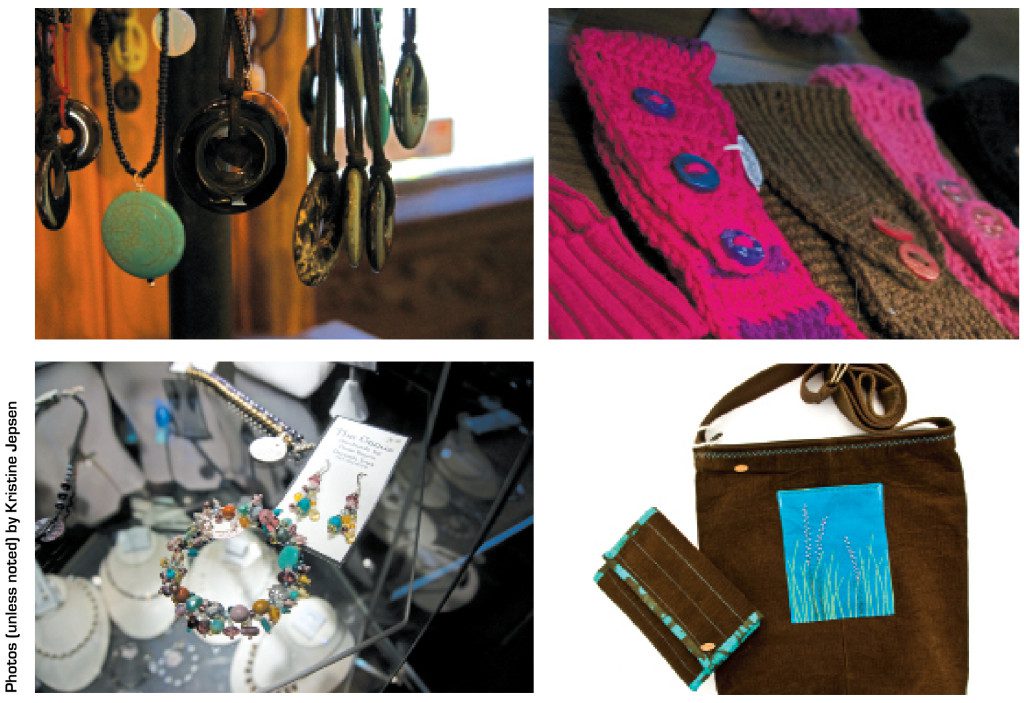 It's the same with her purses and tote bags, which she hand-knits or cuts from unique or vintage clothing scavenged from thrift stores. Each bag features a natural emblem – a tree, a bird, or a palette straight out of an Iowa sunset – but the sizes and shapes are unique. "I had moms ask me for a backpack purse – something unique but durable, that would stay put when you have a kid by the hand and bag full of water bottles and snacks."
She's big on this kind of function, noting that quality fasteners, clasps, zippers, and finish stitching mean her pieces will live up to living. "My work is meant to be worn. And washed. And worn again," she says. Any problems? She'll repair it.
And while running a shop from her country home might seem removed from mainstream commerce, it's a deliberate step toward making a living from her artistic tendencies. (Below photo and bottom hat photo courtesy Paula Brown.)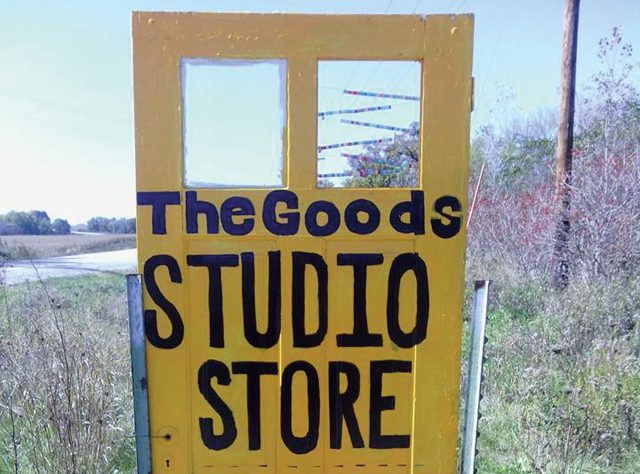 Since starting at a flea market her first year of high school, Paula has traveled thousands of miles and hung thousands of handmade goods on her 10-foot-by-10-foot display at art shows across the region, even as her family grew to include her husband and two sons. She's also built a website and shipped items to customers, but none of those outlets afforded the joy of watching art transform someone in person, she says, having them see right where it was made, amid her hand-drawn design sketches and scraps of fabric on her cutting table.
"I love seeing customers touch a fabric, or feel a smooth pendant or handmade button, or try something on – and then there it is – that joy," she says. "That's why I do it. It's me saying, 'I made this just for you.'"
—————————————
Kristine Jepsen understands the compulsion to 'make things,' as evidenced by whole drawers in her home of light-gage wire, glitter, beads, fabric scraps, papers and, especially, writing instruments. She's proud to call the Driftless home, where creatives are far from the exception.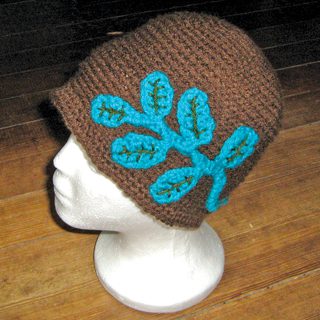 ————————-
Want to see more?
————————-
You can visit Paula Brown's The Goods Studio Store Saturdays, 10am-3pm or by appointment.
The Goods is also a stop on the Northeast Iowa Artists' Studio Tour October 2-4, 2015
The annual Gift of Art sale, organized by Paula and featuring six local artists, will be Saturday, December 5, 10 am – 7pm in the Hotel Winneshiek lobby. She also manages the local artwork on display throughout the hotel year-round, including a new collection of her own paintings. Visit The Goods Studio Store on Facebook for details.