The following is part II in a series entitled "Making A Scene" from the Fall 2014 issue of Inspire(d) Magazine.
Part I – featuring Tanya Gertz & the Luther College Center Stage Series can be found here.
Interview by Benji Nichols
Inspire(d) caught up with five different leaders in the Driftless Region who have been helping make amazing performances happen in venues large and small. From fine art performances, to rockabilly queens, to alcohol free rock and roll, and the Blues, these are the people who truly make it happen. Hats off to these fine folks and the amazing people that work with them to "make a scene" – say thanks the next time you see them (just look for the wizard behind the curtain – or more likely running around making it all happen!). Better yet, buy a ticket and go see the shows!
"Shameless" James Ronan – Dance and Stay Young – DASY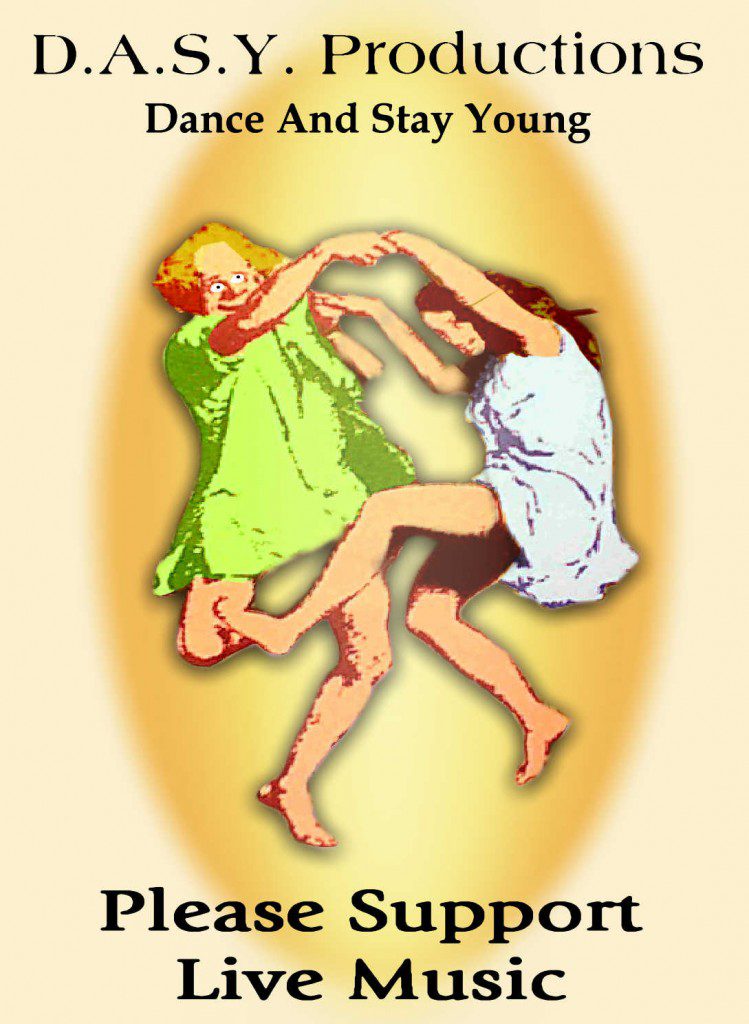 In the past 25 years, James "JR" Ronan has had one mission: promote and support live music. Blues, rock, reggae, rock-a-billy – you name it, DASY has touched on it in some way. A music-lover to the core, Ronan has helped bring countless regional and national acts to Northeast Iowa, including 14 Halloween shows with the Dustbowl Blues Band. From being the partnering force behind McCaffrey's Dolce Vita nights – bringing great roots music to Twin Spring Road every Saturday night of the Summer season, to having a huge hand in preserving Iowa's ballroom culture, and promoting the Iowa Rock & Roll Hall of Fame – Ronan is shamelessly committed to "the scene."
He's claiming to be hanging up his promoting shoes with a 25th Anniversary DASY blowout this October 11th at the Inwood Ballroom in Spillville – featuring "Blue Mississippi" – a conglomeration of the rock & roll hall of fame founding members of the Blue Band as well as the Mississippi Band. Other artists like Paul Kaye and the Blues Cartel and Lew Klemish will also be on the bill. If you know Shameless James, you know he won't be able to sit still for long, but the word is out that this is (a­­lmost!) it for DASY. See you on the dance floor at the Inwood October 11th!
How'd you get into presenting events?
I got bit by the bug early – helping other people out. John Matter, Ear Food Magazine out of La Crosse, the radio stations – there weren't that many venues, and artists needed and deserved to be treated well. So on Halloween 1989, I put the Dustbowl Blues Band in the Highlandville School House – costume show, the whole deal. They were my "good luck band" for 14 years in a row with Halloween shows. Highlandville, The Elks, Matters downstairs and then upstairs when it grew. But the name came from when I was just a kid, 10 or 12. I remember standing on the dance floor of a ballroom – and seeing "Dance and Stay Young" up on the wall. It stuck. "DASY", shortened, didn't come until later – but it seemed right. Dance and Stay Young – that's how it started. Quality and class acts – that's what I've always looked for.
Do you have a most "exciting" live moment?
The biggest highlight of the last 25 years was Canned Heat at the Inwood – I tried for months to put that together and didn't get anywhere. Finally I got through to Skip Taylor and it clicked. There's also a whole book's worth on Commander Cody at the Inwood in 2007. Bringing David Honeyboy Edwards to Decorah – twice – is right up there too. He loved playing at Chase the Adventure – said it reminded him of the places he started out in the south. That's also how I met Paul Kaye, who's come back several times and is playing on the show October 11.
If you could present one show with anyone in the world – past or present – who would it be?
I'd love to see Tony Joe White come to Northeast Iowa. I saw him play on Beale Street for his birthday – just him and his drummer BoomBoom – and in Iowa City once years ago, opening for Richie Havens. He just doesn't get out much anymore – doesn't have to I guess.
What are you excited about in the near future?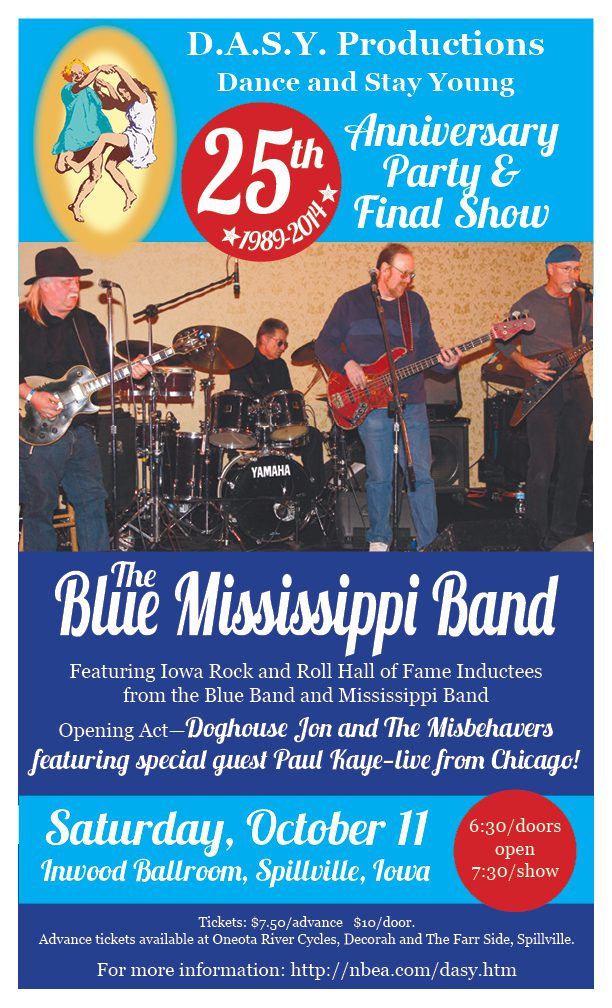 Oh man, I'm excited about the Blue Mississippi show at the Inwood in Spillville. The Inwood is great – a lot of new life being put into that room. And I'm working on bringing some of the Matter's nostalgia back to the Inwood – its just too bad that Matter's is gone. But there are a lot of memories from there and we're focusing a lot of energy on the Inwood now – it's such a neat place. Most of all, though, I just have to thank the bands, all the local music lovers, and the countless businesses that have supported these DASY shows over the years. They're the real reason any of this has happened – I can't thank them enough for 25 years of Dancing and Staying Young!