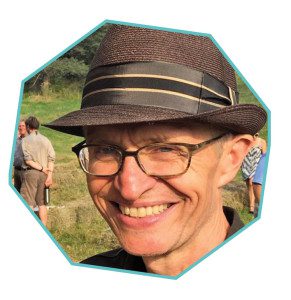 It's easy to let fifth-generation Decorah native Mark Faldet fool you: He's the kind of guy who, having traveled the region for work at Luther College for 30 years, could tell you – down to the last left-hand turn – how to get to the best pulled-pork sandwich shop in Iowa. BUT, he himself has never lived more than a mile as the crow flies from his childhood home, a farm on the first crest of Locust Road. In fact, he's never been away from Decorah for more than 13 consecutive days in his 60-ish years. "It was never my intention," he says, "but it's been a pretty good bit of luck, or fate."
Mark's was perhaps the hardest interview to procure in this series, thoroughly convinced as he was that none of his volunteerism would warrant this kind of attention. Though in many ways, his under-sung turns of community service are among the most accessible – the smallest of gestures that make a small town thrive.
Some will recognize him as a long-time member of Decorah's city Tree Board, a division of the street department that oversees the planting and maintenance of the town's majestic boulevard trees. Others cite him as a regular visitor to the area's nursing homes, where he knows and is known by the generations that created the fabric of his childhood. Through his high school years, his extended family celebrated every aunt, uncle, and cousin's birthday together.
And still others have seen Mark pushing a self-fashioned broom/pan contraption down Water Street after the annual Nordic Fest parade, taking some of the back-breaking work out of scouring for candy wrappers, paper decorations, and other debris. When it looks like rain, he's cleaning leaves and branches out of storm drains in his Broadway neighborhood, where he's lived for 28 years. And when the snowmelt pools and freezes on the sidewalks in spring, he's been known to scrape and salt his block, then the next, and sometimes the next.
"To stay in the town you grew up in is in many ways a lot harder than moving away to 'grow up,'" he says, his eyebrows shooting up in reference to youthful antics he had to live down as he matured. "There's something about the way people in a community like this still depend on each other that compels them to do right by each other, to give back more freely. It's understood: you don't give away what you expect to get back – you can always tell the newcomers by this, you know? – but in return, you get a community with the right balance of understanding and generosity and forgiveness. I wouldn't trade it for anything." – by Kristine Jepsen