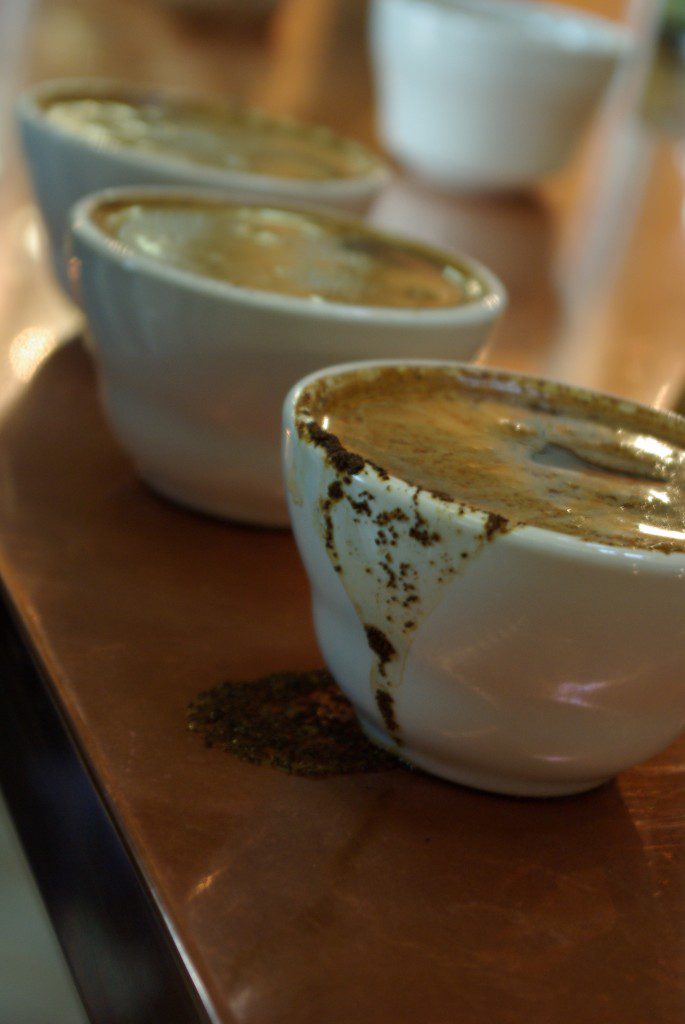 By Aryn Henning Nichols
Originally published in the Feb/March 2010 Inspire(d) Magazine
The room is literally abuzz. If caffeine were palpable, you could carve your initials in the air at Kickapoo Coffee headquarters in Viroqua, Wisconsin. Cups line a shelf, half-filled, grounds stuck to the lip after a morning cupping session.
Caleb Nicholes and TJ Semanchin, co-owners of Kickapoo Coffee along with Denise Semanchin, are busy tasting espresso. A basket (or gruppa) of ground espresso beans is thrust under my nose, "Smell like blueberries?" Caleb asks. He moves on like a mad scientist, working quickly and making plenty of noise as he grinds, whirs, and thwacks the various tools it takes to make the perfect cup of coffee. Oh, that elusive perfect cup.
"We totally geek out on coffee," says TJ. "The other day we used the same type of beans, brewed the same way, but with three different kinds of water. And the coffees were all completely different from each other."
Therein lies the most difficult aspect of the Kickapoo crew's – and any other coffee roasters' – trade. The bean is merely an ingredient to be properly prepared, like asparagus or sweet corn. It's sometimes compared to the nuances of wine grapes: the origin of the bean, growing and cultivation practices, and ways it's dried, stored, and roasted are all of utmost importance. Every coffee-producing region makes a different tasting bean and every roaster processes it in its own unique way. But the finished product, the cup, is not up to any of this. It's up to the barista or the mere at-home-coffee-drinker to heat the (right) water correctly, grind the beans to the perfect consistency, and steep it not too long, but not too short. It's not bottled and corked with an "open on" plan.
"You send the coffee out and trust that the consumer will prepare it properly," TJ says. "There are so many variables."
But Kickapoo closely controls the variables on their end to help you start with the very best ingredient. That begins for these roasters with a melding of Fair Trade AND great-tasting beans. And they're quick to note these things are not always synonymous, although they're striving to make it more so.
"The Fair Trade price is just the floor – it only covers the cost of farming," TJ explains. "We want to do better than that, treat the farmers better, and we want to help them learn that if they put a little more work into the quality of their beans it will really pay off."
They became owner-members of Cooperative Coffees to help further this cause. A fair trade importing business owned by 23 like-minded roasters, Cooperative Coffees sets the bar higher for the fair trade world. According to the Kickapoo website, the Coop's pricing minimum is 10 cents above fair trade standards at $1.61. ("A price that in practice we routinely exceed," Kickapoo says.) They also offer farmer-partners pre-harvest financing. Kickapoo imports more than 80 percent of their coffees through this avenue.
As Kickapoo and the other Cooperative Coffee partners grow in popularity, it's the hope that consumers will realize these beans are not just good politics, but are the best-tasting as well.
"It's about getting those two things to combine and cross. It's at the core of what we do," TJ sa
ys. "And we do it for our own sake too – we love to drink a good cup of coffee."
This commitment has helped get their business buzzing (pun intended). Kickapoo Coffee was named 2010 Micro Roaster of the Year by Portland-based magazine, Roast, and has received favorable nods from Consumer Reports and Coffee Review. In just over four years since their first roast in November of 2005, they've grown Kickapoo to produce 1700 pounds of coffee each week – and last year they even saw a profit: no small feat for any new business. It seemed that fate led them all to the tiny Wisconsin town of 4,400 people.
With Organic Valley headquartered in La Farge, Wisconsin, just 15 miles from Viroqua, many locals were knowledgeable about what they put in their bodies and where it came from. TJ, originally from Buffalo, New York, came to know Viroqua through his work with Minneapolis-based roaster Peace Coffee, where he pushed for social change in the industry for years, spurred on by his travels in Latin America that focused on sustainable development. He was convinced that fair trade, organic coffee farming could change the face of rural Latin America. When he and his wife, Denise, were planning on expanding their family, they also planned on a move.
"I didn't see myself in a city long term. Viroqua was on the radar for a long time," says TJ. "It's a hotbed for organic farming. We planned to move here and start our own roastery."
Unfortunately – or so it seemed – someone had "beaten them to the punch."
Caleb had begun Kickapoo Coffee with his sister, Haley Ashley, after having roasted coffee at home for the past five years. Originally from the West Coast – Oregon and then Idaho – Caleb has spent most of his life dedicated to food and drink, including three years as a boutique European wine importer. This work took him all over Europe, but it was family that brought him to Southwest Wisconsin.
When TJ decided to introduce himself to the new Kickapoo Coffee roasters, it appeared Caleb's talented palette was a perfect match for TJ's years of experience.
"I knew right away we could work well together, so I asked if they wanted to join forces," TJ says. It turned out there was nothing unfortunate about the combined Kickapoo team. They all bring various talents to the table: Caleb is the head roaster, in charge of roast profiles. Denise, currently taking a leave to be a stay-at-home-mom, maintains marketing and outreach. Hallie is the office manager, doing much of the business-end/paperwork-side of things, and TJ is a self-proclaimed "Jack of All Trades," being able to pinch hit in any of the positions should it be needed.
"No one's really sure what exactly I do around here," he says, joking.
The roastery is housed in Viroqua's old train depot, a formerly vacant historic building that Kickapoo restored. The restoration process, like their business, was focused on sustainability. They reclaimed studs, salvaged trim and wainscoting, installed efficient heating and recycled insulation, and sourced local carpenters for their custom storage bins and cabinets.
The result is a bright, warm space that has a comforting feel and retro appeal. The vintage 1930s German roaster (that even runs on handmade Amish belts!) and complementary mint-green vintage canner help this aesthetic along, and the sustainable good looks continue with their packaging: reusable, recyclable steel cans containing 80 percent post-consumer recycled steel that bear the artwork of Viroqua-based woodcut artist. And their one and five-pound coffee bags are biodegradable.
(UPDATE: Kickapoo has moved on up! Their new (and gorgeous) headquarters are located at 1201 N. Main St., Suite 10, Viroqua. They host public cupping events regularly, so like them on Facebook to get the next one on your calendar!)
Although they ship coffee all over the county, they've also gained local popularity. The bulk of their beans is hand-delivered or shipped within a 200-mile radius.
These smart business practices don't stop with their roastery; they also strive for a sustainable home life, working just four-day weeks so they can spend time with family.
"It's kept us really efficient," TJ says. "I don't think we'd get any more work done even if we spread it out over five-days."
Of course, it makes sense. Family values fit right in with the laudable vision that has made Kickapoo Coffee what it is.
"We've been very clear about what we set out to do," says TJ. "Having and staying true to that vision makes
it easy to make decisions in our business. We know what the right thing to do is before the question is even asked."
Find lots of great information about coffee, Fair Trade, Kickapoo and more at www.kickapoocoffee.com
Aryn Henning Nichols spent many mornings attempting to achieve the perfect cup of coffee after this interview. She was successful about half the time. Must be something in the water…
Where to get Kickapoo Coffee in the Driftless Region:
Decorah: Oneota Community Co-op, Magpie Coffeehouse
Winona: Mugby Junction Café, Bluff Country Co-op
La Crosse: Pearl Street, People's Food Co-op, Root Note, Sip & Surf
Viroqua: Chilito Lindo, Driftless Fair Traders, Harmony Valley Farm CSA, OZone, Viroqua Family Market, Viroqua Food Co-op
Below is a run-down on the best brewing and storing practices, directly from the coffee masters themselves (see more info at www.kickapoocoffee.com).
Brewing is a critical aspect of making great coffee. It is extremely important to follow a few basic guidelines related to water quality, temperature, equipment and grinding. Below is a list of general coffee brewing principles. For more specific brewing recommendations, please click on one of the brewing icons.
WATER
Excellent coffee requires excellent water ­– there's no way around it. Do not use distilled water; instead use filtered water, spring water, or Artesian well water. Minerals are important for coffee flavor so reverse osmosis water, while filtered, will not yield optimum results.
TEMPERATURE
Coffee tastes best when brewed between 195 and 205 degrees Fahrenheit. Most drip coffee makers don't quite hit this temperature. You can achieve this range on your stove by bringing water to a boil and letting it rest for a minute or two. Do not use boiling water – it will cook the nuances out of the beans.
 GRIND
For best results, we recommend a burr grinder because it produces a much more consistent grind (though a blade grinder is still preferable to pre-ground coffee). As a general rule, coffee should be ground finer for quick extractions like espresso, medium for the auto-drip method and coarser for slower extractions like the French press. Measure your coffee first before putting it into the grinder and only grind as much as you need per brew. Once the coffee is ground, its flavor will immediately begin to deteriorate.
 STRENGTH
A general rule of thumb is 2 rounded tablespoons, or 8 to 10 grams, per 6 ounces of water. If you like a weaker or stronger cup, adjust the amount of coffee you use, not the grind of your coffee. A grind that is too fine under a long extraction period will taste bitter and over-extracted, while a grind that is too coarse will taste weak and diluted. Remember that the full expression of the coffee will become most evident as the coffee reaches lukewarm temps, so drink slowly and appreciate your brew as it cools off. If it is too strong, or too weak, this is when you will taste it most.
 STORAGE
Coffee should be stored in a dark, cool, dry place (like a kitchen cupboard). Our coffee cans are ideal storage vessels so feel free to use them throughout the season. The only time storing coffee in a freezer is appropriate is when you have more than a few weeks' supply. If you do use the freezer make sure to put the coffee in an airtight container.