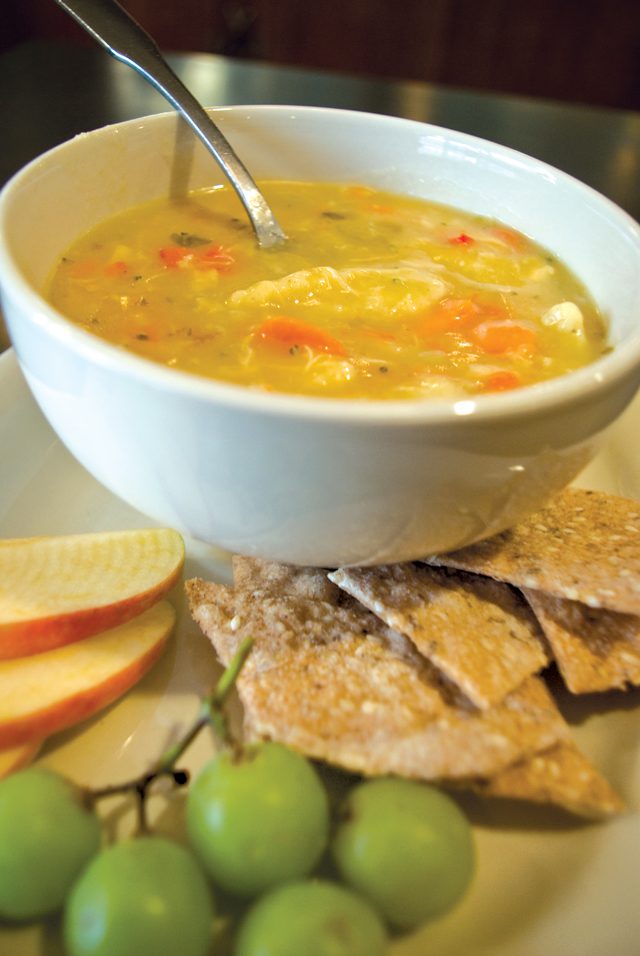 Introduction and photos (unless noted) by Aryn Henning Nichols 
If you've ever been into Java John's on Water Street in Downtown Decorah, you've probably seen Mary Klimesh. She's the one carrying a plate of tasty-looking, totally homemade cinnamon rolls the short walk from kitchen to coffee bar, stopping at almost every table to chat. Mary – kind, engaged, humble – doesn't see the people in Java John's as just customers; they're friends. That's the kind of person Mary is. Plus, she's a darn good cook.
Inspire(d) favorites include any soup that has homemade dumplings (and every soup comes with a side of homemade sesame flax seed crackers and fresh fruit, yum!), Bob's Breakfast Biscuit – ham, egg, and cheese on a savory scone (although we want to try the homemade English muffin egg sandwich too), and, of course, the chocolate cake. Do not forget the chocolate cake (pictured below).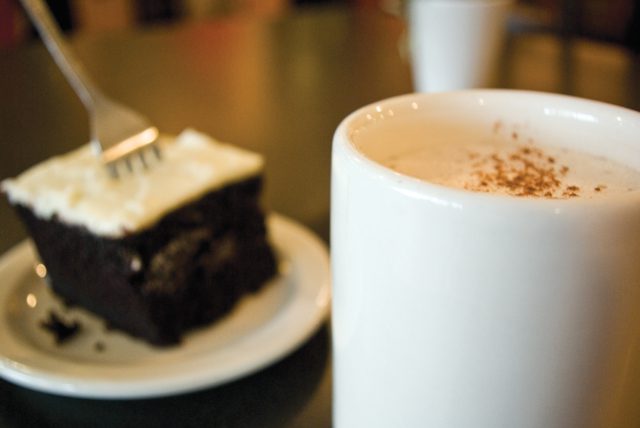 Mary's also famous for her aforementioned cinnamon rolls, bread pudding, and homemade breads and bagels. All of this "goes well with coffee" – according to Mary – which is, obviously, really important for a coffeehouse! Java John's coffee beans are from Specialty Java in Waconia, Minnesota, and are shipped the day they order – right after roasting. The friendly staff of baristas makes a mean cappuccino and chai latte (Big Train is our favorite) as well.
Java John's was originally the brainchild of Mary and her husband, John. The business launched in Decorah in April 2009, but in January 2015, Mary and John were joined by new co-owners Doug Reid and Andrew Knox. Together, they've re-opened Java John's… literally! They blew out some walls, expanded the kitchen and coffee bar, and they're now even open later (until 9 pm seven days a week) to satisfy folks desire for late coffee and tasty desserts. Remember: Don't forget the chocolate cake!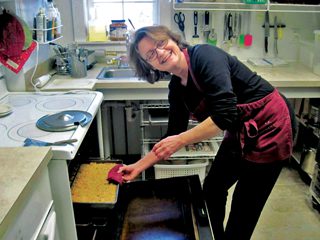 Name: Mary Klimesh (photo at right courtesy Java John's)
Age (if you're willing): 60
Restaurant or Kitchen: Java John's Coffee House
Number of Years Cooking: 6 (formally)
Formal training or live-and-learn?
Live-and-learn. My mom was a very good cook – but nothing fancy. She grew up in the depression, so we learned the "waste not" approach to cooking. The pot roast or chicken on Sunday was re-purposed (current term) for much of the rest of the week. Mom also read magazines and newspapers with an eye for good recipes, particularly bar, cookie, and hot-dish recipes. Most of the recipes I inherited from mom included a brief critique, such as "good" or "needs more flour" or "this is the one your dad likes."
What's your earliest or most significant memory of cooking or being cooked for?
When I was young, I liked to be mom's helper in the kitchen. If I wasn't doing something, I was watching what she did. I would watch how she took a recipe and made it her own by modifying the ingredients slightly to match her/our tastes. One of my favorite times was learning to make potato salad from mom. We peeled, cooked, and sliced the potatoes; boiled, peeled, and sliced the eggs; chopped the onions and celery. Then, the moment when we made the secret dressing – she brought out the ingredients and showed me how to assemble them, without a recipe. The wetness of the dressing was just right when it made a "slurping" sound when mixed with the potatoes and eggs. To this day, I listen for the correct sound, and think of mom.
Why did you decide to become a chef?
I didn't. I decided to open a coffee house, the rest followed out of necessity. I like to prepare things that "go well with coffee."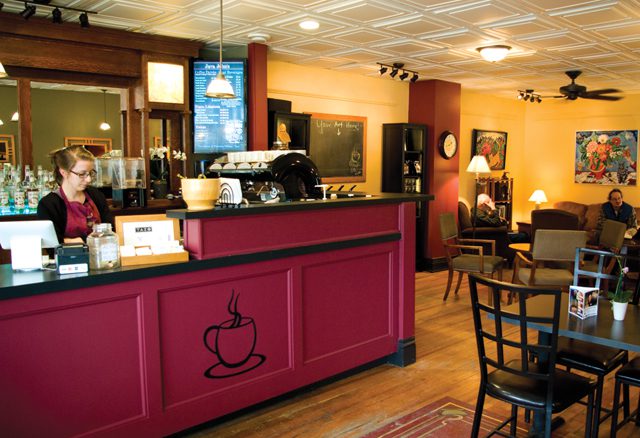 What's the best thing you've ever made?
No one thing. I do very well with cinnamon rolls, bread pudding, and soup.
Do you have any monumental food fails you'd like to share with us?
Many years ago, my husband and I were entertaining family for a meal. For dessert, I had decided to make a strawberry dream bar (with a crushed pretzel crust). I was using the last of a bag of pretzels, crushed them well in the original bag and prepared the crust and the cream cheese and strawberry topping. At the end of the main course I brought out this beautiful dessert and served everyone a portion. Simultaneously, we tasted our desserts, then we gasped for water. What I had overlooked in the process of making the crust was the accumulated rock salt at the bottom of the pretzel bag. It was quite a while before I tried that recipe again, and quite a while before my family stopped teasing me.
How about secret food indulgences you don't normally talk about?
Macaroni & Cheese
What's your favorite:
Ingredient: Potatoes
Dish: Klub (potato dumplings)
Cookbook: First, the one I put together of my mom's recipes; I have many "seconds."
Random (or not so random) kitchen tool: Paring knife
Vegetable: Rutabaga
Fruit: Apple