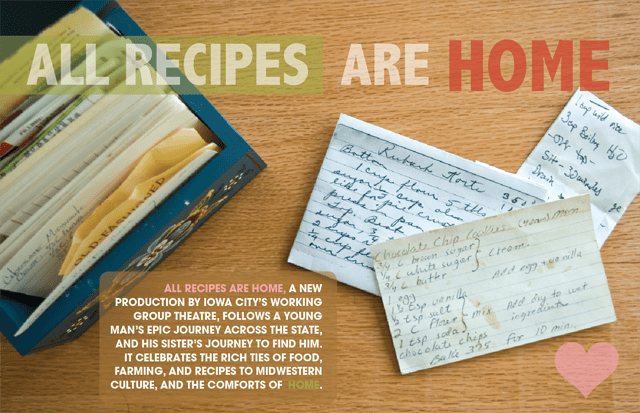 By Benji Nichols • Above photo by Aryn Henning Nichols
Chocolate chip cookies. Mac and cheese. Betty Crocker. Ten Layer Cake.
Recipes are – in theory ­­– mathematical equations. But in reality, each recipe – tucked in an old box or church cookbook, scribbled to the edges with notes and names – is a story, sometimes handed down from generation to generation, place to place, family to family. Just a whiff of a favorite dish can transport you to another time and place. Home.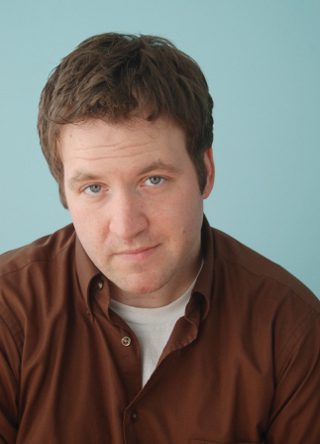 "Irish Stew," says Sean Lewis, writer and director of 'All Recipes are Home.' "It's the meal I remember smelling in my grandmother's house whenever we would visit her."
But as anyone who has tried to recreate a dish "just like grandma" knows, a recipe will only get you part way there.
"At its simplest a recipe is just measurements and ingredients, but at its best it is like a potion," says Lewis. "Mundane things that when put together remind of us of who we are and where we came from." (Photo at right courtesy Sean Lewis.)
Commissioned by Luther College, The University of Iowa, and Grinnell College, "All Recipes Are Home" is a new theatrical piece by Iowa City's Working Group Theatre. Following a young man's epic journey across the state, and his sister's journey to find him, a beautiful story is woven through words and music, including new songs from Iowa City's own Awful Purdies. The work explores and celebrates the rich ties of food, farming, and recipes to Midwestern culture, and the comforts of "Home."
"This is our fourth major play in Iowa," says Lewis, the lead of Working Group Theatre. Founded in 2009 by three MFA graduates from the University of Iowa, Working Group has created more than 30 new plays and theatrical works, many centered around timely social issues. "We have done some heavy material in the past including race and class, the support for caregivers of loved ones suffering from Alzheimer's, cyber bullying, etc. It was clear after coming to Decorah and meeting farmers across the state that this piece would need to be different. This show needed to be joyful. A celebration. We really wanted to make a show that collected this identifying quality of the state, this 'look at how we are brought together despite our differences.'"
Lewis, an award winning director, actor, and playwright in his own right (including being heard as a commentator on NPR's This American Life), visited Northeast Iowa extensively in preparation for the production.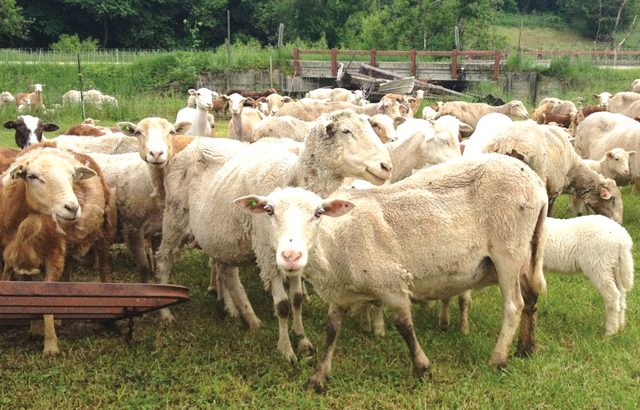 (Photo courtesy Luther College.)
"The local commitment to food is amazing," he says. "Young people deciding to come back to the farm and living from the land juxtaposed with children leaving the family farm, the shared interests and concerns of farmers who are neighbors but also their differences regarding the type of farm; family vs. commercial; organic vs. non. I loved how excited people were with their work. No one is in farming for the easy money. But there is a true honor in growing something and nurturing it – a joy in providing for others."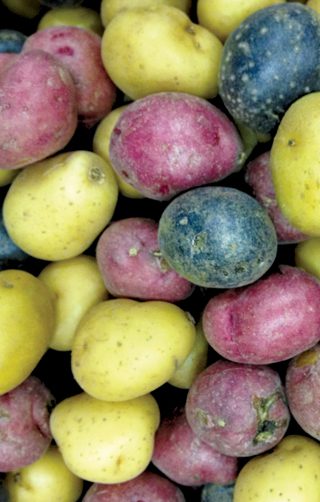 Specific stops for Lewis included The Pepperfield Project Farm, Foresight Farms, WW Homestead Dairy, The Seed Saver's Exchange Heritage Farm, The Oneota Co-op, multiple local vegetable farmers, as well as the Decorah School District and Luther College Kitchens.
"I loved working in the Decorah Middle School cafeteria," said Lewis. "The food they provide local and fresh prepared is worlds removed from my cafeteria experience. We served purple French fries that day – I served them – and never felt less popular in a middle school!" (Photo at right courtesy Luther College.)
Iowa City-based folk band Awful Purdies also collected stories from around the state and visited Decorah in in preparation for the production.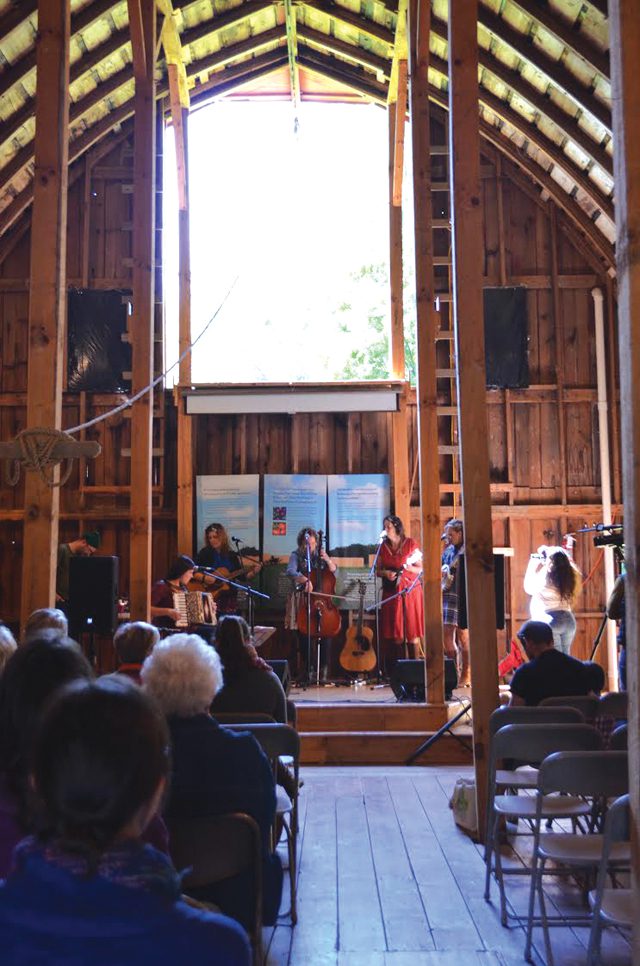 (Photo courtesy Seed Savers Exchange.)
"At first the idea of writing songs about food seemed completely lacking in sexiness," says Katie Roche, the official accordion, xylophone, penny whistle, recorder, and washboard player for the group. "But now that we are deep in this subject, the band has realized that it is dripping with politics, love stories, empowerment, and complete loss."
They performed at Seed Saver's Exchange Heritage Farm during their stay in Northeast Iowa, and held story circles to collect personal experiences for the project.
"We could have easily continued to listen through that gourd labeled food and wrote nothing but food songs for the rest of our lives," says Roche, "Because lyrically, food is really about survival and quality of life. That subject is a ten layer cake."
 —————————-
Benji Nichols has long believed that recipes are merely rough guides to follow. Much as in life, the monumental failures and successes are often found by deviation – but finding them again is the real magic!
All Recipes are Home premiers as the final show of the 2014-15 Center Stage Series in Decorah on April 11, with additional performances at Grinnell College April 13, and the University of Iowa / Hancher on April 17-18.
Find out more at:
tickets.luther.edu
luther.edu/recipes
www.workinggrouptheatre.org
The new Awful Purdies album, also entitled "All Recipes Are Home" is available for pre-order now on Maximum Ames Records with a delivery date of Summer 2015. The "physical" album will actually be sent as a packet of Seed Saver's vegetable Seeds with a download card – plant and play, and eat your way through the summer!
www.awfulpurdies.com
www.maximumamesrecords.com