Do you love a good view? Hoping for the perfect photo opportunity to memorialize your summer in the Driftless? Want to get an epic vantage point for sunset or sunrise? Check out this list of six area lookouts that'll give you some of the best views around. Have we piqued your interest? (Haha!) Get to one of these peaks and take it alllll in! Happy adventuring!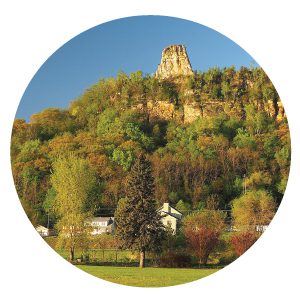 Sugar Loaf bluff sits high above Winona, Minnesota, its rock spear acting as a beacon, as it has for many years. The well-known rock pinnacle was formed from limestone mining in the late 1800s, although the bluff itself has been a river landmark for centuries. It features an easy drive to an overlook that offers an expansive view of the river, surrounding bluffs, and the city of Winona. The Sugar Loaf area has also come to serve another purpose as well: rock climbing! Winona is quickly becoming known for their outdoor recreation efforts, including climbing instruction and groups.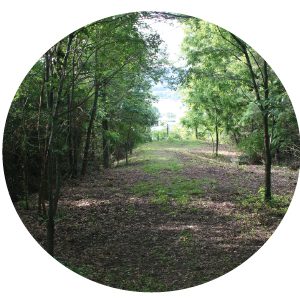 Did you know that around 1,000 years ago, just above Trempealeau, Wisconsin on the mighty Mississippi River, there was an incredibly sophisticated settlement of native "Mississippians"? The Little Bluff Mounds Interpretive Trail showcases the history of the bluff-top settlement, where three temple mounds still stand. With one of the most spiritual views of the Mississippi River in our region, it is no wonder that Native Americans found this place special. Make your TRIP (Trempealeau Interpretive Path) a trifecta, by visiting the Shirley M Wright Library for more information about the Native culture, as well as Perrot State Park with more 500-foot bluff views! www.tremptrip.com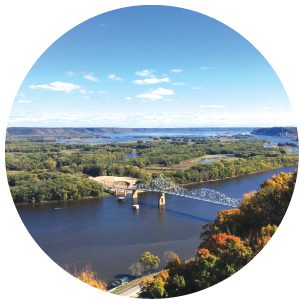 If we had to pick our favorite "historical story to name a bluff" in the Driftless, Mount Hosmer would most likely win! So goes the tale of the 1,040-foot bluff with a panoramic view of the Mississippi Valley above Lansing, Iowa: Back in the steamboat days, boats often stopped at Lansing for a spell while on the way up or down the river. Upon one of these stops in the 1850s, passengers decided to have a foot race up the nearest bluff. It was one Ms. Harriet Goodhue Hosmer, a well-known sculptor originally from Massachusetts, who won the race to the summit, and thus had it named after her. Well, that's the tale that's told anyway, and we think it's a pretty fine story. Drive or run (or walk) your way to the halfway look out, or all the way to the top for great views, a beautiful Veterans Memorial, as well as picnicking and more. Blow a kiss over Lansing while you're up there – it's such a lovely little river town.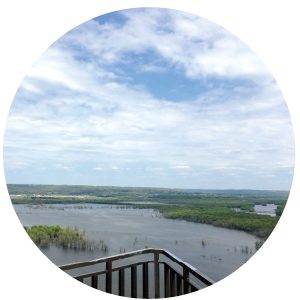 Just outside of McGregor, Iowa is Pikes Peak State Park. A stunning view of the upper Mississippi River Valley showcases the confluence of the Wisconsin River from over 500 feet above. With its showcase, double-deck viewing area, and beautiful park and picnicking area, Pikes Peak should be a once-a-summer (at least!) visit for anyone in our region. If your hiking shoes are aching to get in the dirt, Pikes Peak is a perfect place to get out! Eleven and a half miles of trails take guests through wooded bluffs and valleys, past walls of Decorah limestone, fossil and even Bridal Veil Falls – or Point Ann, overlooking the quaint town of McGregor.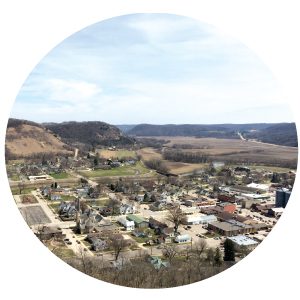 Tucked away on Highway 43 in Southern Minnesota is the beautiful small town of Rushford, at the convergence of Rush Creek and the Root River. Magelssen Park has three scenic overlooks, with an open panorama of the area for several miles. Drive or hike on beautiful trails to several picnic areas, and the Rushford Burr Oak tree – estimated to be nearly 200 years old and one of the largest in Minnesota! As far as we're concerned, this is one of the region's most tucked-away, yet accessible parks – perfect for a day of hiking, views, and a picnic – and close enough to town for an ice cream cone, lefse, or an iced coffee afterwards.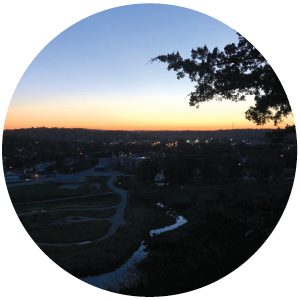 On the east end of scenic downtown Decorah lies the 105-acre Palisades Park. With a one-way driving loop, and several miles of single track hiking and biking, the top of the bluff provides a fantastic view of Decorah and the Upper Iowa River Valley. Firepits and grills are set amongst thoughtfully located picnic tables to take advantage of the great views, while also enjoying the shade of the bluff-top trees. Worth noting, the road to Palisades is only open seasonally (Spring-Fall), but is also groomed for cross-country skiing as natural snowfall allows in the winter. Palisades Park is near Ice Cave Park, as well as the 120-acre Barbara Barnhart Van Peenen Memorial Park, which offers many more miles of single track hiking and mountain biking trails.