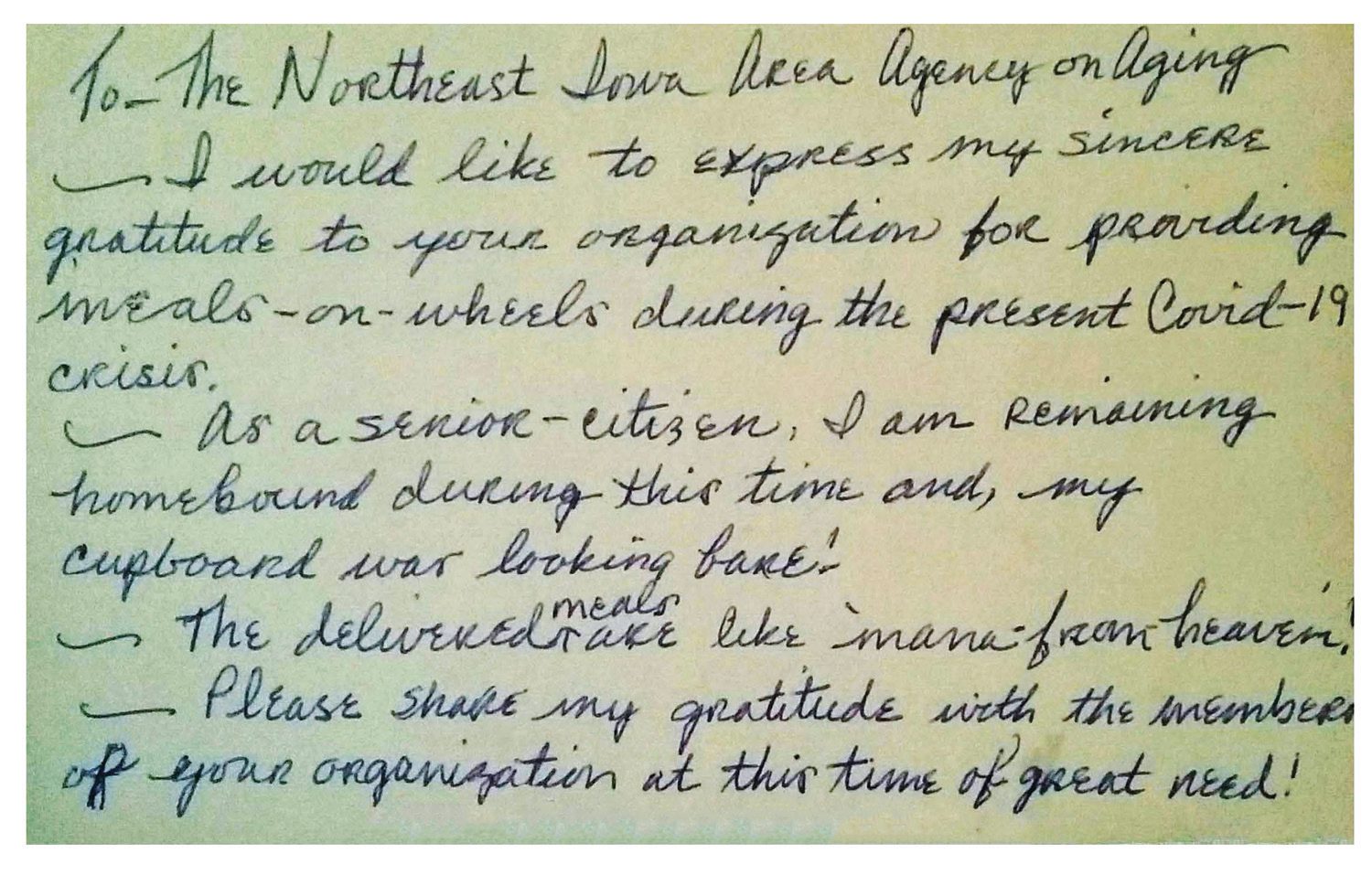 By Kristine Jepsen • Originally published in the Summer/Fall 2020 Inspire(d)
Northeast Iowa Area Agency on Aging connects Driftless residents during time of COVID
For many during this pandemic, our Internet connections have turned into our social connections, giving us a view into a world we can't visit in person.
At times, it's helped keep sanity. We moved our buying habits online, dialed up friends, family, and co-workers on Zoom or Facetime, or scrolled the Insta posts of our friends who got pandemic puppies.
But for some seniors, shut-in residents, and individuals with disabilities in the Driftless – because they're not connected to the Internet – COVID-19 meant an end to social interaction altogether.
"As it became clear that older people were most vulnerable, hundreds of people disappeared from daily life, because they were likely safer at home," says Kristie Wiltgen, regional coordinator of Northeast Iowa Area Agency on Aging (or NEI3A). Funded both by the state and the federal government, Agency of Aging serves Iowans age 60 and older – and younger folks with disabilities – from four centers statewide, with Decorah's office reaching 18 counties. "The hardest blow, I think, was that we had to close our congregate meal centers – the highlight of many clients' days," Kristie explains. "It's where people get the news of the day and check up on each other – it's a camaraderie you can't get over the phone."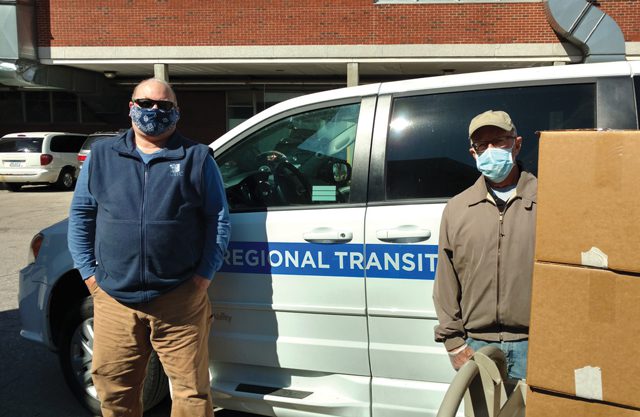 To compound the issue, in-home support services for seniors in the Driftless run on a steady stream of retiree volunteer support, Kristie says, including members of the Retired and Senior Volunteer Program (RSVP), who are naturally more cautious of personal health and safety. "Many of this generation have life lines to the influenza epidemic of 1918. They take the risks very seriously."
But at times, digital solutions just don't cut it. There are certain things you have to have in hand to appreciate…or, obviously, on the table to consume. Agency on Aging pivoted their meals program, for example, to delivery of a week's worth of frozen entrees, instead of hot meals multiple days per week. "You feel a little like a trick-or-treater," Kristie explains with a chuckle, herself communicating via Zoom conference call. "Ring the bell with a bag. Talk awkwardly through a mask." This brief contact still plays a vital role, she says, so meal-bringers can ask in person how residents are doing. "You get as much from what people don't say as from what they do, and it's sometimes the help that's offered even when it's not requested that is really needed." 
When local senior centers closed to observe COVID safety recommendations in Lansing, Iowa, along the Mississippi in rural Allamakee County, Shep's Riverside Bar & Grill partnered with local grocers to serve free take-out meals. With Agency on Aging support, their daily output grew to more than 300 meals a day, serving more than 150 clients. "It's the same with grocery stores, boxing up multi-meal kits and instructions for preparing meals at home – and avoiding unnecessary public exposure," Kristie says. 
"And I just have to shout out to the EARL Public Transit drivers," she continues. EARL serves Allamakee, Clayton, Fayette, Howard and Winneshiek counties. "They do it all – they load meals and supplies and deliver door-to-door and report back on individuals they visit."
Another low-tech solution arrived in the form of old-fashioned letter-writing. Mail Cheer, an anonymous delivery service for handwritten notes, was launched in June through the Decorah & Winneshiek Mutual Aid Network, a collaboration between DecorahNow community listserv and Winneshiek County Development. Residents can register online (see sidebar) or by calling (563) 293-5075 to receive Mail Cheer notes, or get instructions for writing them. 
"There is something important about having something physical you can hold in your hand and know that someone was thinking of you as they wrote it, that you're not alone," says Mail Cheer coordinator Jessica Hegdahl, a 2019-20 AmeriCorps volunteer based in Decorah. When she set up the program, incorporating art supplies donated by Decorah's Cardboard Robot and stored in the Little Free Craft Closet at ArtHaus, she had her own school-age kids in mind, too. "We made cards for seniors doing Mail Cheer," she explains, "but it's no shocker that kids who've been isolated from school and summer activities might love to get Mail Cheer, too!"   
The favor pays itself forward, says Kristie, adding that Agency on Aging receives notes and phone messages from residents and caregivers about how important a single act of compassion might be.
The real-time social needs created by COVID-19 have also inspired folks to learn something new, online, for the first time.
"I'm excited to see how fast communities that didn't use a lot of computer-based communication are adapting technology," Kristie says. Online classes such as 'How to Make Nutritious Meals from Things Already in Your Pantry,' and weekly tai chi, have a strong following. In summer and fall 2020, NEI3A will partner with GrandPad, makers of a super simple digital tablet with built-in cellular data, to give tech-challenged residents a new way to contact family and friends. 
Whether it's a delivered bag of groceries, a kind note, or tech assistance, Kristie concludes, such strong partnerships are flourishing because our communities are seeded with care and compassion. Neighbors are showing up for neighbors. "Even when we can't 'see' each other, we have a chance to be 'helpers,' to rise up to take care of our own."  
---
Kristine Jepsen learned the art of letter writing from her grandmother, whose address book for weekly correspondence numbered in the hundreds of friends and family. Today, Kristine is also a business mentor for America's Small Business Development Centers and Winneshiek County, as well as a freelance writer/editor (kristinejepsen.com). Checking the mail is still by far one of her favorite things.

---
Learn more:
Know a senior who could benefit from Agency on Aging support?
Get connected at (800) 779-8707 or nei3a.org.
Support public transit!
Visit www.neicac.org/transit or call toll-free (866) 382-4259 for a ride or delivery services.
Retired and Senior Volunteer Program (RSVP)
Seniors 55+ perform engaging and meaningful service throughout Northeast Iowa. More at www.decorah.lib.ia.us/rsvp.
Decorah & Winneshiek Co. Mutual Aid Network
Check out this unique network that coordinates the giving and receiving of aid in the community: decorahnow.com/mutual-aid-network/
Winneshiek County Development & Tourism
Businesses and residents alike will find resources to navigate COVID-safe commerce at winneshiekdevelopment.org
Sign up for Mail Cheer!
Visit Decorah Mutual Aid Network at decorahnow.com/mutual-aid-network/ for info on sending or receiving handwritten happy-grams.
Let's get the ball rolling:
Send some Mail Cheer today – either through the Mail Cheer program, or simply send a note in the mail to friends and family! We can almost guarantee it will brighten their day!
Here's a fill-in-the-blank letter template to get you started! Just click to download the template!