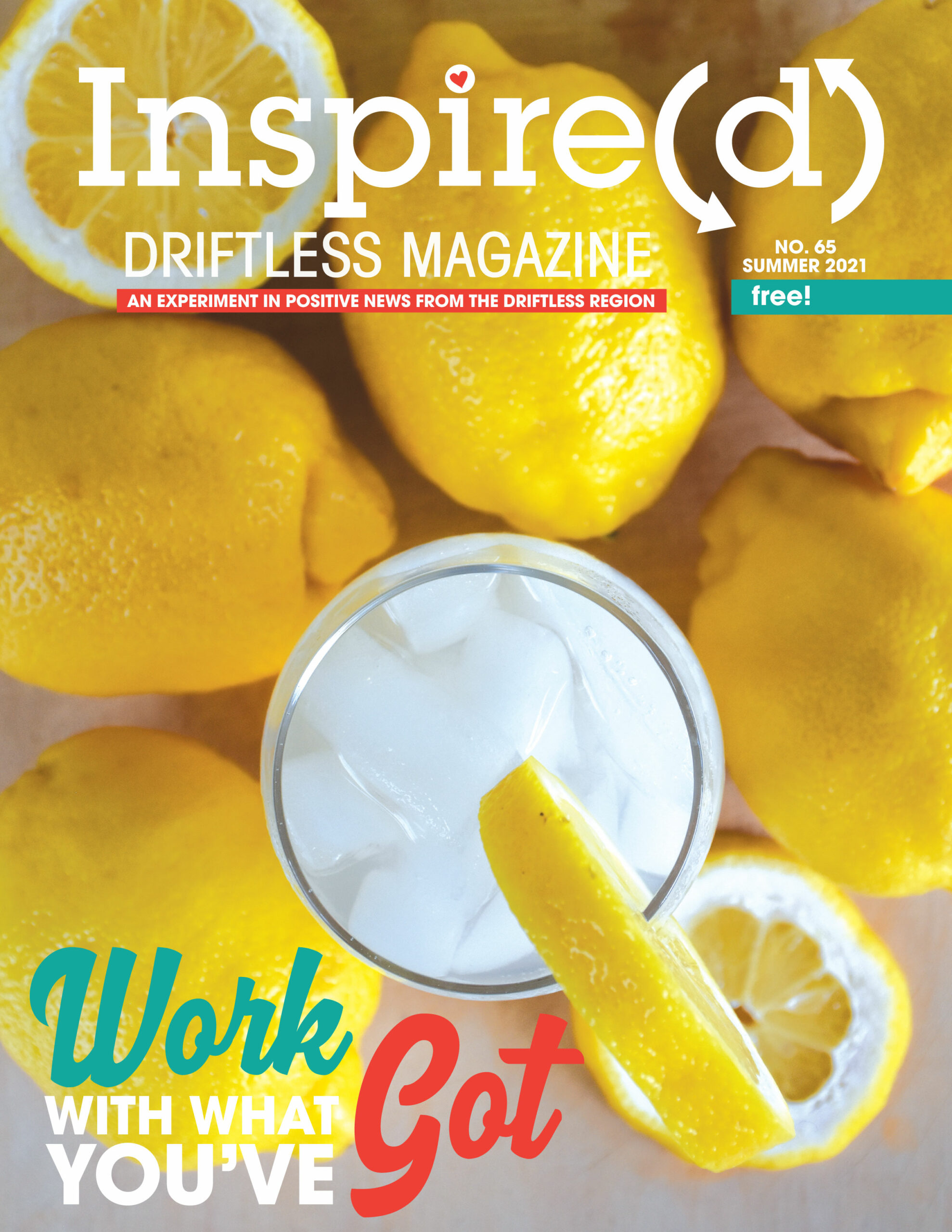 The Summer 2021 Inspire(d) is all about finding ways to make do with what you've got on hand – in your fridge and for your summer. Inside, you'll find fun activities, inspiring people and organizations, and tips for self-care and working with what you've got. 
Work With What You've Got! Community Hunger Solutions • Little Free Libraries • This American House • Blue Fruit Farm • Mental Health + Self-Care • Hammered Flower Postcards • Community Builders: Lara & Neil Martinsen-Burrell • Driftless Tiny Towns Day Tripper • Sum of Your Biz: Big Driftless & More!
Read the whole thing online here!
A note from Aryn: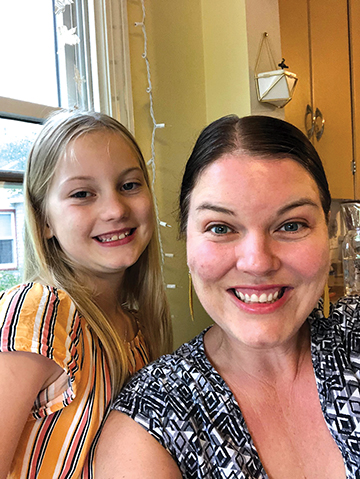 After a year that felt stocked to the brim with lemons, it's time for some lemonade, don't you think?
Many have been "working with what we've got" – i.e. making lemonade out of lemons – for a while, perhaps forever if you're particularly skilled at that character strength. Others might still be honing those talents.
But either way, we've definitely all had some practice. We've become better at recognizing our ever-shifting comfort levels in this ever-shifting world, and have found new tools to better Work With What We've Got.
So we here at Inspire(d) say it's time to squeeze the best out this summer! Let's make some dang lemonade, friends!
This issue is filled with inspiration for just that: Stories of innovative folks who know how to make the most of, well, whatever.
In Sara Walter's piece about Community Hunger Solutions (pg 16) in Viroqua, Wisconsin, find out how this organization takes seconds and surplus food and produce from farmers, factories, and more – food that would normally be heading for the bin – and gets it on local tables that need it.
Meet Jason Loper and Michael Schrieber – and their house, the Meier House in Monona, Iowa – in my story about their path from Chicago to the Driftless, and their new book about the history of their house, the only Frank Lloyd Wright American System-Built Home in Iowa (pg 22).
Read about the ever-enterprising farmers at Blue Fruit Farm (pg 48) in Winona, Minnesota, using MPR and lasers to keep pests away, plus how they helped to establish organics and a farmers market in their region in a story from new Inspire(d) contributor, Renee Brincks.
For our summer Sum of Your Business, Benji Nichols chats with Cody Whittle of Big Driftless about the ups and downs of running his hand-crafted (and amazing!) gear, pack, and apparel company (pg 54), and Kristine Jepsen features the Martinsen-Burrells – or the MB's as they're know around Decorah – in a Community Builder piece that highlights the family's work with the local OWL program (pg 44).
As for your summer: are you planning some, ahem, smaller travel plans? Erin Dorbin takes readers on a Southeast Minnesota Tiny Town Day Tripper Adventure that's full of fun, winding you through tiny towns and Driftless backroads (pg 60).
As you travel, keep an eye out for little house-like structures, filled with books and installed around towns across the U.S. These are Little Free Libraries, and they were founded in Hudson, Wisconsin. There are quite a few around the Driftless, and we learn about the history, and some of Decorah's LFL, in Sara Friedl-Putnam's story (pg 28).
Finally, make sure you take a stop mid-way through this magazine for the summer Mental Health piece by local mental health counselor Olivia Lynn Schnur. She walks us through tips that will help us Work With What We've Got – starting with self care (pg 37) – with an infographic introduction by me (pg 33).
Plus, there are a ton of fun summer things to add to your to-do list: live outdoor music (pg 14), flower pounding postcards (pg 43), and lots of super cool things around the region (pg 9). We hope you make the most of this fleeting season – it's your summer, after all…and you've gotta work with that!
Looking forward,


Aryn Henning Nichols