Check out the summer 2014 issue of Inspire(d) online!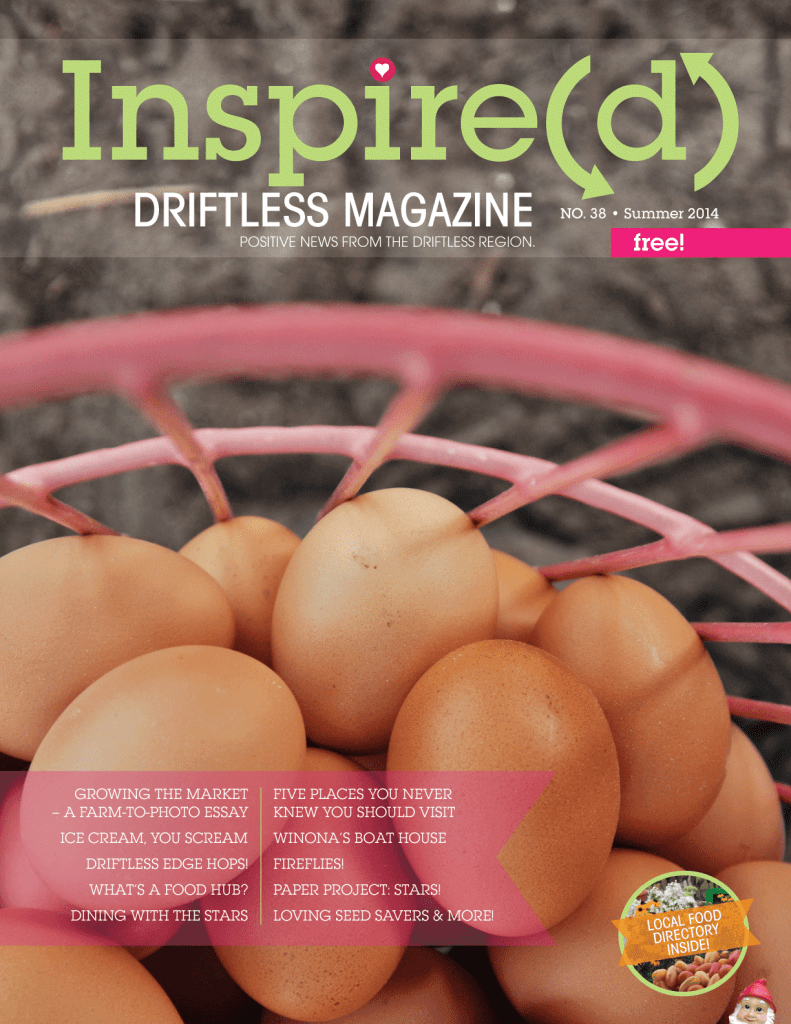 By Aryn Henning Nichols
There's an undeniable appeal to secret gardens and hidden worlds – just think about all the cool stuff we don't know about deep down in the ocean! But there is one secret world at least some of us DO know about – algific talus slopes.
Say what?
Algific talus slopes are these amazing mini-ecosystems that exist in only a few spots in the world, and we're lucky enough to be right in the hub of those locations! So what are they? "Algific" means cold producing and "talus" means broken rock. Also known as a cold air slope (which is much less of a mouthful), these nearly-unknown ecosystems – first noted in the early 1980s – are found in just a few hundred spots within the karst topography of the Driftless Region of Minnesota, Wisconsin, Illinois, and especially Iowa. (1)
The surface of the limestone, with its sinkholes and crevices veining through an impermeable layer of rock, provides the first of three factors needed to create an algific talus slope. The second necessity is dense vegetation – to provide cool, moist shade, and the third is a north-facing slope – to minimize radiant warming by the sun. This unusual geology keeps the slopes cool on the sticky, dog days of summer, and warmer on the most frigid of winter days. It also allows many species found nowhere else in the Midwest – and, in some cases, the world – to thrive. But you'll hear more about that later. (2)
First let's break this ecosystem down: In the winter, cold air drops through the cracks and holes in the limestone, supercooling the bedrock to 40 feet or more. In the spring, melting snow and rain is on a slow drip through the surface and down into the bedrock. There that water freezes in the supercooled rock and stays. In the summer, the bedrock warms up and that ice begins to melt, which in turn makes cold water vapor and of course melted water. Normally this would all flow further down, but because of the shale and slates in the topography, a change in direction is forced. The vapor and water has to flow through these veins and out in different angles – where there's an opening to the surface, there's also a blast of cold air! This is especially noticeable on those hot summer days. (2)
It's the feet of snow usually so prevalent in our winters that keeps the terrific algific talus slopes in motion, but if the Driftless Region had, in fact, been hit by glaciers and scraped clean of all its bluffs and valleys, the cold air slopes would simply not exist. Thus, certain species would no longer exist either. For possibly hundreds of thousands of years, our region kept cold-adapted plants and animals safe while the glaciers took out habitats all around the area. And then, when things warmed up 10,000 to 15,000 years ago and the glaciers receded, these slopes maintained enough ice for ancient species to survive. Cool, huh? (2)
For example, the Iowa Pleistocene Snail was thought to be extinct until it was discovered on algific talus slopes in Northeast Iowa in 1955. It was placed on the Endangered Species List in 1977, and Congress created the Driftless Area National Wildlife Refuge in 1989 to protect this and other threatened species, including the Northern Monkshood wildflower. Much of this refuge was established in pre-existing protected areas such as the Upper Mississippi River National Wildlife and Fish Refuge. (1)
Although the refuge was established to protect the snail and flower, there's an entire rare community of plants and animals that can be found elsewhere locally. The slopes can typically contain ferns, mosses, liverworts, evergreen species such as Canada yew and balsam fir, birch, basswood, and sugar maple. The U.S. Fish and Wildlife Service manages the refuge as part of the National Wildlife Refuge System. Unfortunately, in addition to species within the algific talus slopes being endangered, so are the mini-ecosystems themselves. Most refuges are closed to the public because of the fragile nature of the habitat. (1)
Studies of topographic maps and aerial photos in the 1980s and early 90s sited 600 locations in the four-states that could be classified as algific talus slopes – there are no more in the whole world! Sadly, one-third of these had been destroyed or damaged by logging, grazing, and livestock confinement, quarrying, home building, etc. The biggest current threats are grazing, sinkhole filling, and invasive garlic mustard. Of what's left, more than half are in Northeast Iowa in Winneshiek, Allamakee, Clayton, Dubuque, and Fayette counties. (2)
So the U.S. Fish and Wildlife Service along with helpful landowners, the Iowa DNR, county conservation boards, and organizations like INHF and The Nature Conservancy established the Driftless Area National Wildlife Refuge. It has almost 800 acres scattered in remote valleys throughout Northeastern Iowa, and is purposefully the least-visited wildlife refuge in the Lower 48. (2)
But there are a few algific talus slopes are open to the public, like "ice cave" at Bixby State Preserve, near Edgewood in Clayton County. Another small slope, with good signage, is next to Dug Road (sometimes known at Oneota Riverview Trail on maps) below the bluffs of Phelps Park in Decorah. The UNI Museum in Cedar Falls has a big, cutaway diorama of a slope and its vegetation, complete with a cold air vent that blows with a push of a button! Cool! (2)
Aryn Henning Nichols first heard about these tiny ecosystems from Benji, and she was all like, "What are you talking about?" But they're real! And they're cool!
1. Driftless Area National Wildlife Refuge – US Fish and Wildlife Service
http://library.fws.gov/refuges/Driftless08.pdf
2. Iowa Natural Heritage Foundation
http://www.inhf.org/ec13-algific-slopes.cfm
3. Bixby State Preserve
www.delawarecountyia.com/backbone001.html
4. Decorah Trail Map
www.exploredecorah.com
By Aryn Henning Nichols
Sleuthing, antiquing, thrifting – it has many names. It's been trendy, it's been frugal, and it's been just good sense. Why wouldn't you reuse a perfectly good piece of clothing, furniture, household item, accessory, lawn tool…? You get the idea.
Second hand shopping has been a favorite activity of mine for years. I love the thrill of the hunt. Sure, it takes a little longer and you might have to sift through mountains of bad lime green sweaters and dented bunt pans, but when you find IT, that one thing you really NEEDED (of course), AND you got it for a great deal, it's so worth it.
But wait! (Cue infomercial voice.) It gets better!
Second hand shopping is – gasp – a form of recycling. So it's good for the environment (happy birthday, Earth Day), and it's also often good for your community. When you donate or consign items, you're not only saving things from the landfill, but it allows someone to get something they might not normally be able to afford. Plus – many second hand stores, like Goodwill, the Salvation Army, Habitat for Humanity ReStore, or locally The Depot Outlet, donate proceeds from their sales to good causes and programs within your communities and states.
So for this Inspire(d), we hunted down a few favorite and a few new (or new to us) second hand stores in the Driftless Region. Next time you're in town, check 'em out. And if you know of any great ones we missed, let us know. For future stories. Of course…
Decorah, Iowa
Rien de Nouveau (that's French for 'Nothing is New' – fancy, huh?)
411 West Water Street
www.fancypantsonwater.com (or find Rien de Nouveau on Facebook)
"We thought – if you can't beat the economy, join it!" say owners Deb Paulson and Sharon Huber. They've taken on an expansion of Fancy Pants, their boutique-style clothing and "awesome crap" shop in Downtown Decorah. Fancy Pant's little sister, Rien de Nouveau, still focuses on top-quality fashion, but of the consignment kind – shoes, clothing, accessories and more for both women and men. They've only been open a short while, but they've already had items that were worn by Meredith Vieria from the Today Show and Katie Couric, labels like Marc Jacobs and Yves Saint Laurent, and things ranging from wedding and prom dresses to a parking meter lamp. These ladies are fun and so is their store.
The Depot Outlet
510 Montgomery St.
depotoutlet.org
The Depot Outlet began in 1973 by a bunch of church ladies in the old train depot (hence the name). After two different locations, change and growth, and 37 years, the Depot is still going strong. The large store is filled with clothing and shoes (women, men, kids ranging from just $.75 to $2), household decorations and items, occasional furniture, books and more. And they put out new items twice a day! Director Stacy Merrill says they've received everything from motorcycles to stereos to diamond rings. "We have the most generous community," Merrill says. In response to that generosity, the Depot grants funding to community organizations that might need a little help. Last year (2009) they donated $66,000 to a huge variety of great groups in Winneshiek County (funding applications can be found online). "The Depot is such a great place with such a great cause," Merrill says. We agree!
Some others in Decorah:
Goodwill, 915 Short Street, Centrum Plaza
Yesterday and Todays, 109 West Water Street
Spectrum Thrift Store, the corner of Broadway and Washington St.
Rochester, Minnesota
Kismet
600 Block, North Broadway, Rochester, Minnesota
kismetconsignment.blogspot.com
Spanning an entire city block in Rochester, the brightly colored Kismet Shops are hard to miss. Part fashion, part furniture, part antiques – the consignment stores are full of great pieces styled in fun vignettes throughout the sprawling stores. Inventory changes weekly and new items arrive daily for both furniture and clothing. Owner Penny Braken is friendly and helpful and shoppers happily flow amongst the fun finds. We loved the variety of furniture there – from Mission-style tables to old-fashioned vanities – and the tin ceilings above the great selection of women's clothing.
Refashion
321 South Broadway
www.refashion.org
Refashion has been on the second hand store scene for nearly 15 years. Sisters Kristie Moore and Cindy Hughes opened the store originally as a clothing consignment shop, then segued into including a furniture side of the business, and have expanded to occupy one large 5300 square foot – as they say – "superstore." The store is cute – exposed brick wall, great window displays and lots of clothing consigned by more than 50 area women (sorry guys). And owners Kristie and Cindy have been featured twice on HGTV's Decorating Cents!
Some others in Rochester:
The Salvation Army, 201 9th St. SE
Savers, 1201 South Broadway
All in Vogue, 32 17th Avenue NW
La Crosse, Wisconsin
Vintage Vogue
115 Fifth Avenue South
This place is aptly named. If you love to dress in period clothing, Vintage Vogue is the store for you. Everything is organized by decade. It's the perfect place to find a costume for Halloween or that truly "vintage" item to add to your wardrobe. The store is full of hats, shoes, dresses, coats, accessories – even wigs (!) – for both men and women, and is located just off the main drag in downtown La Crosse.
Habitat for Humanity ReStore
434 Third Street South ?(between King & Cass Streets)
www.habitatlacrosse.org/restore
A store after my own heart, Habitat ReStore in La Crosse is full of all things house!
According to their website, the mission of the ReStore is: to raise money for the building of Habitat houses, to sell usable merchandise at reasonable prices, to recycle building materials, keeping them out of our landfills and in circulation where they can benefit the La Crosse area, and to promote awareness of Habitat for Humanity-La Crosse Area and it's goal of eliminating poverty housing in the La Crosse area. The have rows and rows of doors, trim, fans, vanities, light fixtures, flooring, countertops and more! Bring a vehicle with cargo space, 'cause you very well might need it.
Some others in La Crosse:
The Second Showing, 1400 W. Ave S.
Elite Repeat, 1601 Jackson Street
Treasures on Main, 722 Main
Aryn Henning Nichols likes to look around her house and see how many things are second hand. She prides herself on her "frugal high life".