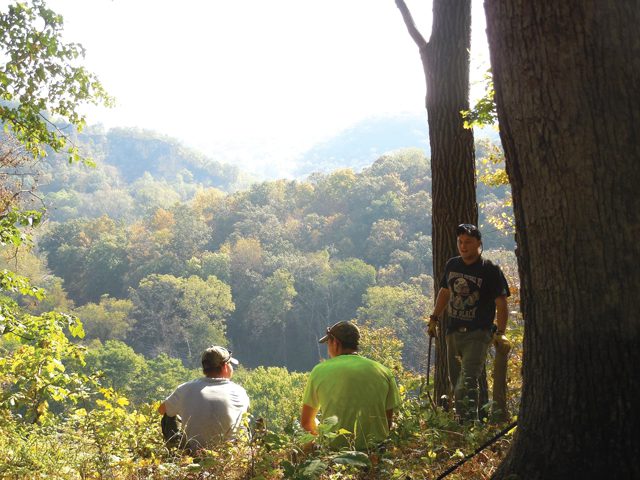 Osborne Visitor / Nature Center
29862 Osborne Road
Elkader, Iowa 52043
www.claytoncountyconservation.org
563-245-1516
Hours (April to October): Monday–Saturday, 8 am–4 pm; Sunday, 12 pm–4 pm
Admission: Free, but donations always welcome
A fascinating game of sorts is taking place between the wolf and coyote housed at the Osborne Nature Center on a recent winter afternoon. Seemingly oblivious to a group of vociferous human visitors, the two animals lock eyes through a sturdy chain link fence before suddenly taking off to chase one another along the length of their respective snow-blanketed pens. Back and forth, back and forth, back and forth, they run until, nearly 15 minutes later, the wolf finally calls it quits.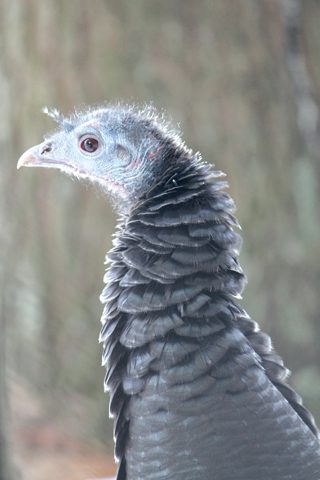 The energetic (and entertaining!) canines are just two of the animals visitors will find at the nature center, a favorite of adults and kids alike. Its native wildlife exhibit, which is nestled amid five acres of pine forest and dates back to the early 1970s, also boasts two red foxes, a black bear (good luck spotting it!), wild turkeys, a bobcat, deer, owls, and a raccoon. "All of the animals have been injured or raised in captivity and would not survive in the wild," says Joyce Schoulte, a longtime member of the center's staff. "They are by far the biggest draw of the center."
Even if live animals aren't your thing, there's plenty more to experience at the center, located on 300 acres of land about five miles outside of Elkader. An arboretum includes almost 50 different trees, many native to Iowa and each with a description containing interesting facts about the species. (Did you know white pine trees can live up to 400 years?)
There's also a natural play scape, a butterfly garden, a simple pioneer village (site of the popular Heritage Days celebration each October), and three outdoor trails, each with a specific theme (nature, conifer, and exercise). The exercise trail – more than a mile in length – has 20 exercise stations for those who prefer to burn their calories in the great outdoors.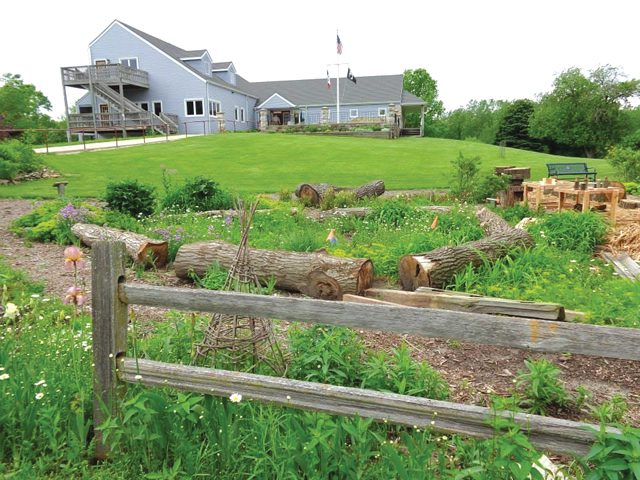 The center itself – opened in 1988 as a joint nature center and Iowa welcome center – contains myriad hands-on exhibits; mounted animal displays; and a collection of live snakes, turtles, and amphibians. It's the centerpiece of an extensive park system operated by Clayton County Conservation that also includes Bloody Run Park (Marquette), Joy Springs Park (Strawberry Point), Motor Mill Park and Frieden Park (Elkader), Buck Creek Park (Garnavillo), and Frenchtown Park (Guttenberg). Programs will be held throughout the parks over the course of the spring and summer, including an Earth Day saunter April 22 at Buck Creek Park and a Mercury transit program May 9 at Osborne.
"Our mission is to give people a place to learn about the environment and to immerse themselves in the outdoors," says Schoulte when asked what shapes the center's programming. "It's also our hope that they also have a lot of fun no matter what they choose to explore here."
What not to miss: The Mystery Mingle, Munch, Mob program meets April 21, May 19, June 16, and July 21 at Osborne Nature Center. Participants will tour the "mystery" community of the month during an outing that includes an educational program, lunch, and shopping opportunities.
See more Driftless Nature Center profiles here!
– By Sara Friedl-Putnam