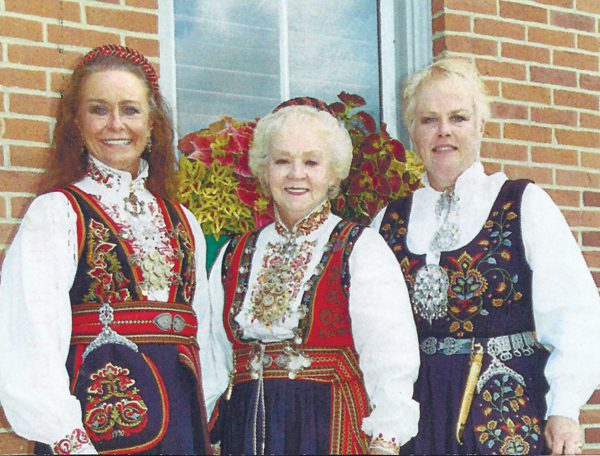 Norma Wangsness (center) lives a life of love and art and a little red lipstick
Interviewed by daughter Le Bahr
Norma Wangsness was born in Ossian, Iowa, as a third generation American Norwegian. She studied drawing and painting at Luther College under Orville Running and then rosemaling at Vesterheim Norwegian-American Museum in Decorah with Sigmund Aarseth. In 2011, Wangsness was commissioned by the museum to create a plate in honor of Norway's King Harald V and Queen Sonja's most recent visit to Decorah. She painted a portrait of the Royal Couple and bordered it with rosemaling that matched the pattern of the Queen's bunad. Wangsness and her husband, Willis, operated Wangsness Photography Studio in Decorah for many years, becoming regional and national leaders in photographic excellence.
What's the best advice anyone ever gave you?
Mother and Dad were good examples of advice. They were hardworking, honest, Christian, and loving. Also mother always said, "Make one test cookie first." "Don't put it down, put it away." And "If it's flat, dust it!"
What did you want to be when you grew up?
My Senior High School annual said I wanted to study voice and opera. I love to sing. In Girl Scouts at age 14 my leader gave me her set of photographic oils, two 11×4 photographs, and encouraged me to paint. Little did I know it would lead to my profession and a love of cameras led to our future to have a professional photographic career.
What do/did you do?
At age 10, I started working as a waitress in my parent McCandy Café in Ossian, Iowa. I married my roller skating partner and best friend at 17. We had two daughters – Linda Christine and Le Ann. Willis and I also owned McCandy Café for six years but our photography love led us to purchase the Henning Photographic Studio in Decorah. My Norwegian roots and love of painting became the fun career of rosemaling and also portraits and landscapes.
If you were stranded on a desert island, what three things would you want with you?
My bible, a paint brush, and paints.
Try to describe yourself in one sentence.
I'm third generation, 100 percent American Norwegian, love to keep busy, and a perfectionist.
Name one thing you could not live without.
Family, friends, and my red lipstick!
Tell us about your favorite memory.
My favorite memory would be my first dozen red roses from Willis for Easter. From that first Easter, he always bought Linda, Le Ann, and I a corsage for Easter – even his last Easter with us. I'm also a "depression kid" and they were hard times, but we made do with what we had and yet my growing up was a happy time.