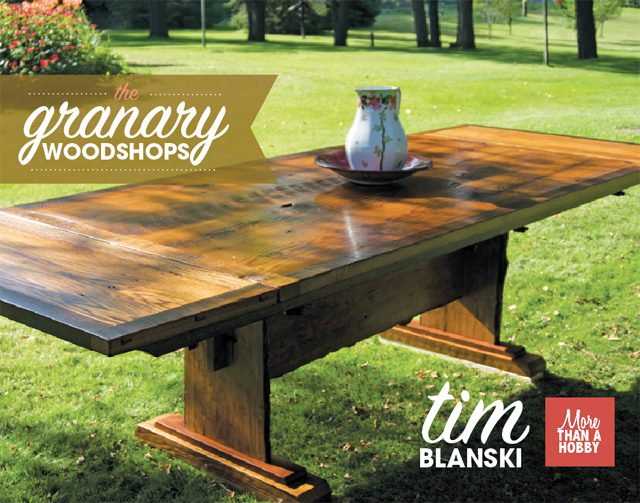 Tim Blanski of Granary Woodshops, Spring Grove, Minnesota
Story and photos by Kristine Jepsen • Originally published in the Fall 2015 Inspire(d)
Historic dream home you'd finally saved up for? Check.
Corporate tech jobs and a community of friends provisioning a predictable retirement? Check.
Logical next-step: Give it all up for an acreage in the rural Driftless, funded by woodworking skills dated to junior high?
Wait. What?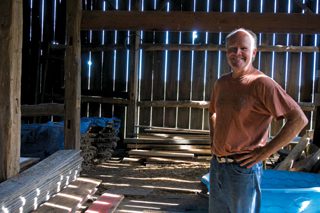 "It's true," Tim Blanski of Granary Woodshops says. "We hadn't been in our dream house in St. Paul nine months – a house we'd walked past for years and saved to buy – when an ad for this acreage caught my eye in the paper." One tour of the 1880 brick farmhouse and outbuildings at 18666 County Road 4, north of Spring Grove, Minnesota, had both Tim and his wife, Lisa Catton, testing fate. "We got back in the car, and she asked, 'Do we make an offer tonight, or tomorrow?'"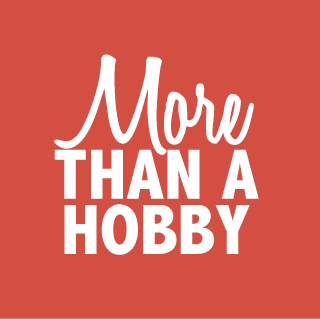 The problem was, they'd have to make a different living to make the move. As a marketing executive with an eye for salable detail, Tim set up a woodworking shop in the acreage's original granary and turned his attention to the growing trend of artisan crafts made from reclaimed antique wood. "At first I made just gift boxes, picture frames. I'm not God's gift to woodworking – this was stuff straight out of your average school shop class," he says with a laugh.
Lisa, who continued contract tech consulting part-time, pitched in with varnishing and managing the fledgling business's public relations, and they peddled their first goods at craft shows across the Upper Midwest. Soon, Tim found his niche: a rare patience for not only salvaging historic barns and sheds but in working the wood just enough to let its story shine.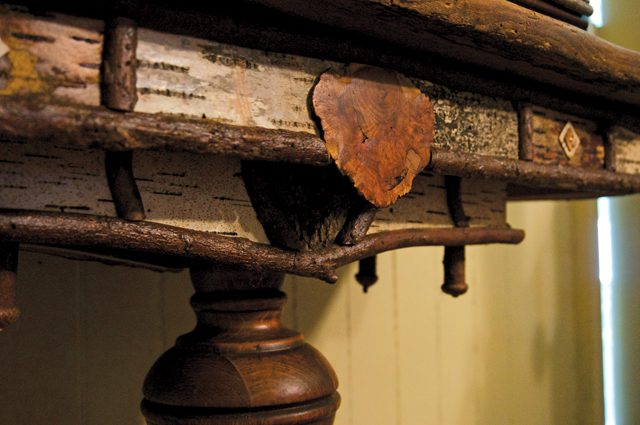 "All my wood is trouble," he says, explaining that he'll spend days matching up weather-worn grooves at the mitered corners of a box, or travel a state over to have a one-ton white oak burl sawn into slabs with the live edge (the outermost bark or surface) intact. "I'm giving people the story of this wood, its history," he says, "and that means not shearing it down to its smooth heart. I leave the saw marks, the nicks and grooves mice have worn a passageway through." He also believes in letting the material's colors create their own mosaic. "I don't paint or stain anything. I work with the texture of the wood's original paint or patina."
Now specializing in custom furniture, particularly farm tables and decorative side pieces, Tom will build four or more buildings into a single piece: walnut for the base, cherry for the upright table trestle, rare 1-inch-by-12-inch barn siding across the top, oak trim fumed to a deep mahogany color by the ammonia of its previous installation: a horse stall.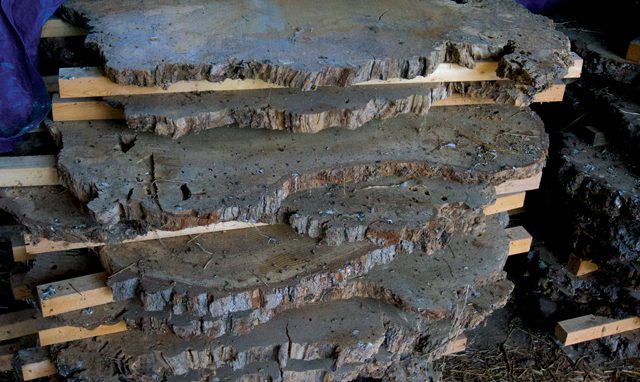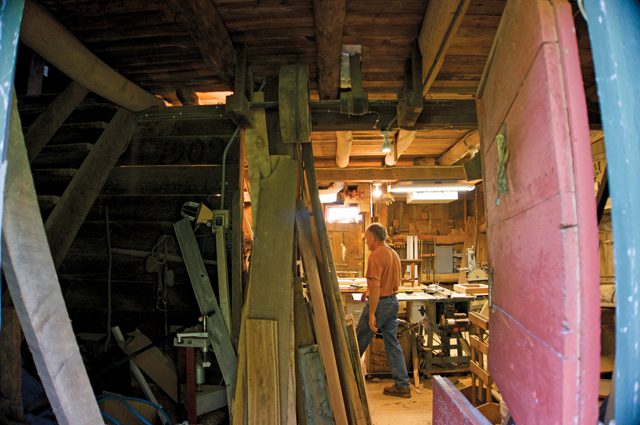 He also aims to give his furniture a full life of its own, calling in the mechanical expertise of other craftsmen to make the leaves in his tables sturdy, for example. "This is mortise and tenon," he says, pointing to tiny rectangles inset in a table's edge, "and these hold a single oak bridge across the leaves when fully extended," he says, jigging a discrete set of polymer tension knobs just out of sight. "Reclaimed, antique wood is some of the sturdiest, most valuable wood to grow on earth," he says. "Its worth is not just in looking pretty. It's in doing a job, part of daily life."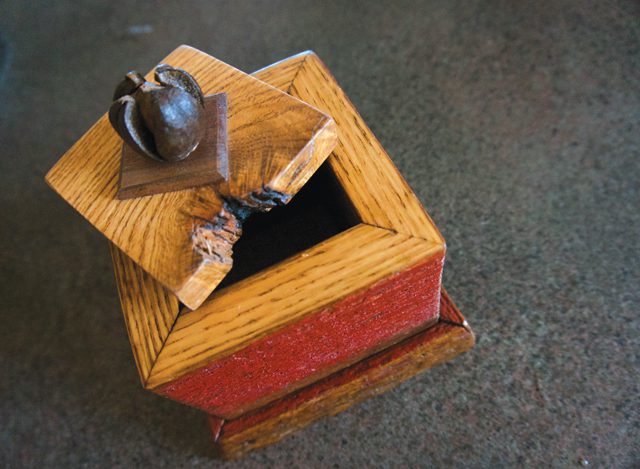 As his finished pieces have expanded in size and notoriety – it's been nearly 15 years since that first handmade gift box – Tim has pared back art show travel, preferring instead to host prospective customers at the farm, where they can walk with him through his neatly stacked trove of woods in his barn and express exactly what they envision for their table or chair or entryway mirror frame. He makes a steady stream of contacts through his website, granarywoodshops.com, and on Craigslist.com, where clients are looking for something a little extraordinary.
"I started out woodworking to make a living, almost a desperate living," Tim says. "And instead I found a passion. Creativity came pouring out of me. I get up every day excited about what I get to make next."
Learn more about Tim's work at granarywoodshops.com or by setting up a visit to The Granary Woodshops in rural Spring Grove, Minnesota.
————————————————
Kristine Jepsen understands the compulsion to 'make things,' as evidenced by whole drawers in her home of light-gage wire, glitter, beads, fabric scraps, papers and, especially, writing instruments. She's proud to call the Driftless home, where creatives are far from the exception.
————————————————
Check out Tim's work in Lanesboro!
Lanesboro Arts presents "Story Wood: Combining Nature & Rural History", an exhibit of 3D woodwork by Tim Blanski. The exhibit opens with an artist reception on Saturday, April 16, 2016, from 6-8 p.m., and runs through June 12, 2016. The reception will include wine and hors d'oeuvres, as well as live music. Always free and open to the public, the Lanesboro Arts Gallery is open five days a week through May and six days a week through December. Inspire(d) is a proud sponsor of this exhibit! 🙂