Marv Klocke shares business and desert island sense
Interviewed by Marla Klocke • Originally published in the Winter 2012-13 Inspire(d)
Marv Klocke shares his memories of the decades past through this interview with his daughter-in-law Marla. At age 92, Marv recalls his time in the service, years in the grocery business and owning K&S Super Value in Decorah, and spending time with his friends and family. Whether talking about stocking shelves or stalking big fish on Canadian expeditions with friends – Marv's zest for life, friends, family – and sauerkraut(!) – is bright.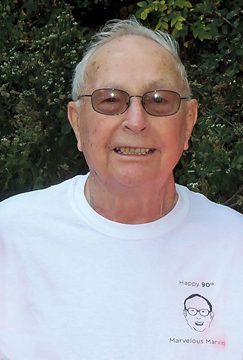 What's the best advice anyone ever gave you?
It is not what you earn, but how much you save of what you earn.
What did you want to be when you grew up?
A store manager in the supermarket business. I did not want to be not want to be rich, so when I was old I would not regret not being rich.
What do/did you do?
I was in the grocery business since age 19. I worked for a great gentleman, and then went into the military service. In 1942-1945 I was in Patton's 3rd Army through Europe. When returning from military service, I went into partnership and eventually owned my own business from 1951-1985 after which time I retired.
If you were stranded on a desert island, what three things would you want with you?
1) A partner with good common sense 2) My wife, Mary 3) A food source
Try to describe yourself in one sentence.
A common man that loves to be surrounded by friends and family.
If you could eat anything every day for the rest of your life, what would it be?
Sauerkraut with country style spare ribs.
Name one thing you could not live without.
My wife Mary, children, grandchildren and great-grandchildren.
Multiple choice: tell us about…
Your first job: Clerking in a store for two elderly maids, which was a great job.
Your favorite memory: My military service days.