Margaret Grund was interviewed by her granddaughter, Hannah, and daughter, Amy
Margaret Grund (Kopel) is a woman who has worn many hats throughout her life: mother, wife, daughter, sister, grandmother, great-grandmother, nurse, teacher, entrepreneur, and friend. Her family and friends say she is a selfless, kind, and resourceful woman.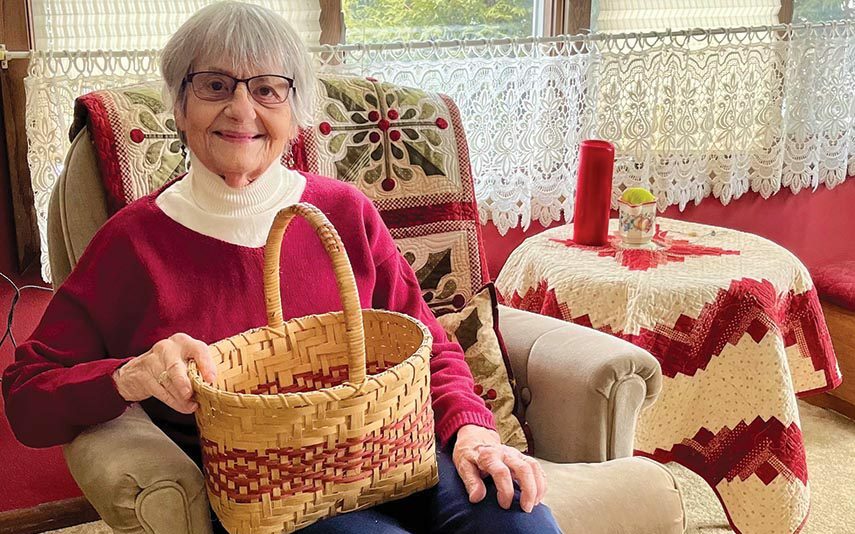 Margaret was born in 1939 to Joseph and Theodora. She and her 11 siblings grew up on the family farm in Olivia, Minnesota. Her mischievous spirit and spunky nature often got on her siblings' nerves. Seeing this energy, her mother developed Margaret's creativity toward sewing. It was a talent and skill she would use and enjoy for a lifetime. Living among a large family on a 1940s farm had its share of limited luxuries. Margaret recalls her mother using animal feed sacks as fabric for dresses.
After Margaret graduated from Danube High School, she attended practical nursing school in Minneapolis. In 1959 she married Roger Grund and together the couple raised four children, first in Olivia, Minnesota, briefly in Glencoe, and lastly in Winona in 1972.
Margaret has a servant heart. While getting settled in Winona, she worked tirelessly during the day at the family-owned laundry mat and as an overnight nurse caring for geriatric patients at St. Anne's nursing home. She has touched many lives over many decades.
Along with sewing, knitting, and crocheting, Margaret found time to learn a new hobby to feed her creativity: basket weaving. After taking one class at a local school, she was hooked. She loves making different sizes and varieties for kitchen, bedroom, and bath, using fibers that she dyed, stained, painted, or left natural. She proudly adds her signature and date of completion to the bottom of each basket. Making a basket is a joy, but teaching others the skill gives Margaret even greater satisfaction. The basement of their home is stocked with many fibers and weaving products, with a workshop section of tables and chairs that was often set and ready for students eager to learn. Her grandkids recall many times visiting Margaret and Roger where the street was lined with strange cars and they were greeted to a full basement of adult students. In the early 1990s, Margaret worked to share her talents and build the weaving community on a much larger scale by hosting a multi-day weaving workshop retreat for students and teachers. The retreat attracted basket weavers from the Driftless Region and across the country. The retreat flourished under her leadership and continues today under the capable hands of a beloved student. Through these many hats, Margaret shares a common thread: her kindness, humility, and creativity. All these qualities are proof of the key to a life well lived.
What's the best advice anyone ever gave you?
The best advice I have been given is to wake up with a smile and carry it through the day, with you to share with others.
What did you want to be when you grew up? When I was younger there were not many working opportunities for women. It was either teaching or nursing. I knew teaching was not for me, so nursing was the best fit.
If you were stranded on a desert island, what three things would you want with you?
Handiwork, a good book, and ice cream
Try to describe yourself in one sentence. I am a woman who gets up in the morning with the goal to serve another person in some positive way, and at the end of a full day, to get a good night's sleep.
Name one thing you could not live without. My family. I am fortunate to have a close-knit and connected family who care for each other. We are all willing to lend a hand and support each other. I feel genuine love in the room when I am with my family.
Tell us about…your favorite memory. My favorite memory was listening to my heart and moving our family to beautiful Winona. Neither Roger or I had ever visited southeastern Minnesota. We both grew up living amongst the flatter farm and cornfields of Renville County. I will forever remember walking around Lake Winona on a crisp autumn day and watching the colorful changing leaves in the bluffs. I've been blessed to see the bluffs from the kitchen window of our house for many decades.
Tell us how you'd like to be remembered. I would like to be remembered as someone who thought of others before herself. My mother told us on a nightly basis to use your life to make others' lives better. I'd like people to also remember me as a happy person and someone who accepted people and things as they are without trying to change them.