The following is part III in a series entitled "Making A Scene" from the Fall 2014 issue of Inspire(d) Magazine.
Part I – featuring Tanya Gertz & the Luther College Center Stage Series can be found here.
Part II – featuring James Ronan / Dance and Stay Young can be found here.
Interview by Benji Nichols
Images courtesy of Boats & Bluegrass.
*Please note, the 2014, 10th Anniversary presentation of Boats & Bluegrass is sold out. We offer up a giant high five to Tom Fassbender and his crew for presenting such a fantastic event in our region. Buy your tickets early next year!
Ten years ago Tom Fassbender threw together an idea to help promote a fledgling outfitter company – take some great regional bands, have them play on the backwater of the Mississippi near Winona, schedule some paddle time…see what happens. What was created is a source of local magic that has magnified into one of the best small festivals in the Midwest: Boats & Bluegrass. The 2014 edition features more than 40 bands, plus paddling trips, family outings, and all the regular festival fun. Located on Prairie Island, with camping just a skip and a jump from the festival site, this event has grown to be a regional favorite. Boats and Bluegrass runs September 25-28, 2014. www.boatsandbluegrass.com
How'd you get into presenting events?
I guess helping with events all started back in High School with "field parties" on summer nights.  So that puts me at about 25 years. I've always had a desire to make people happy. Music has always played a huge roll in that and in my life. I enjoy making places where people feel comfortable and can relax – so being able to present music really ties it all together.
Do you have a most "exciting" live moment? 
I have been blessed to see and be a part of many shows (good and bad).  I learned more from the bad ones than the good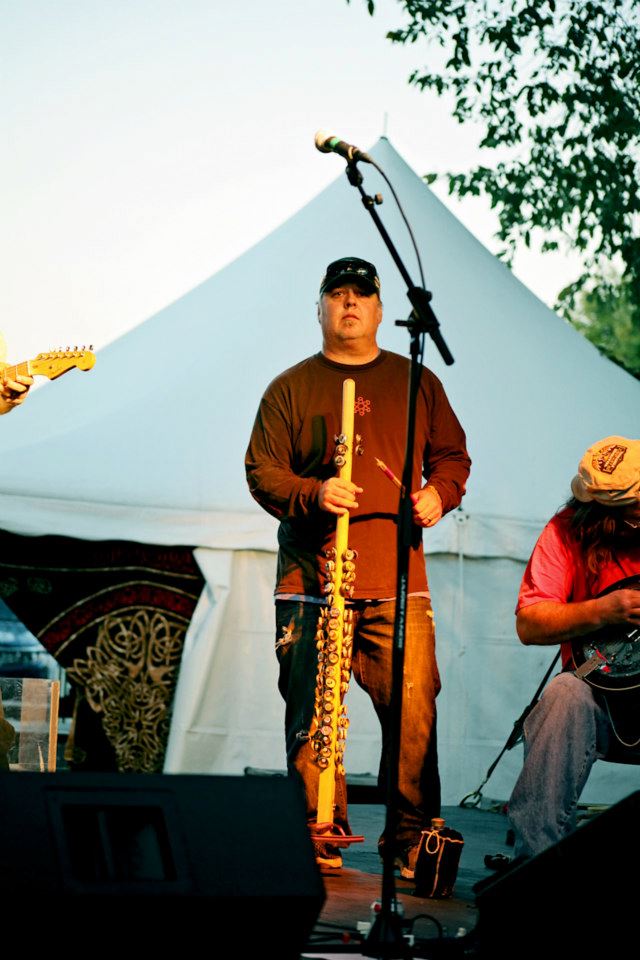 ones, but I would have to say the one that has stuck with me the most was one of my first experiences at a show. I was maybe 12 and fighting my way to the front at an Iron Maiden show. I bumped into a big guy with long hair who stood over six feet tall – he turned and looked down at me and gave me what I thought was a big thumbs up. I returned the thumbs up, but before I knew it he had picked me up and swiftly plucked me on his shoulders – turns out I had accepted his invitation.  His desire to help a kid enjoy the show has stuck with me, and been a bit of a mantra for me.
If you could present one show with anyone in the world – past or present – who would it be, and why?
My first thought is Jerry Garcia, just on a selfish note. On a more practical note, I guess I would say Bill Graham (1960s promoting legend, owner of the Fillmore / Winterland /Fillmore East, etc). Over the course of his life he was able give the world the gift of music – not always in a way I necessarily agree with but I think he cared about the "show". Today I think that can get lost, and it would be great to experience how he did things.
What are you excited about in the near future?
This year's 10th anniversary lineup is exciting. We are also planning to release a live compilation album from this year's Boats & Bluegrass festival to celebrate 10 years. I'm looking forward to working through this process and hope to release the album around the first of the year.
— The 2014 10th Anniversary presentation of Boats & Bluegrass is SOLD OUT. Congrats to Tom and his crew, and buy your tickets early next year. Cheers to supporting live music!
Benji Nichols is the co-owner of Inspire(d) Media with his wife Aryn, and daughter Roxie. He's been making things noisy since the early 1990s and is even known to make a living at it occasionally. Currently he is a partner in the Courtyard & Cellar in Decorah, makes magazines, and rides bikes while not being a Dad.