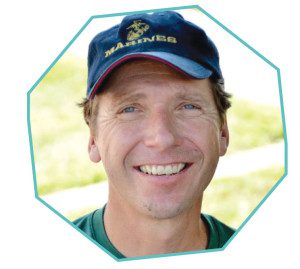 Ward Budweg has helped build a library in Rwanda, install a clean-water-catching system in Panama, and paint an orphanage in Peru.
But perhaps no place has benefited more from his unrelenting service ethic than Decorah, Iowa, his home of more than 30 years.
"Pay it forward or give it back – it makes no difference," says Ward, a local carpenter, handyman, and self-described "helper." "I just know that without the assistance I received from people in the past, I would not be in a position help others today."
Today this New Hampton, Iowa, native volunteers as council president of Decorah Lutheran Church and a board member of the Decorah Rotary Club, an organization he has also served as treasurer, vice president, and – you guessed it! – president since becoming a member in 1984. He's also served on the local Elks Club board, completed terms on local tourism and parks and recreation boards, volunteered as director of the annual Nordic Fest Elveløpet race (during its infancy in the mid-1980s), and helped get the Decorah Rotary Club's Loop de Loop race – which just marked four years in September – up and, yes, running.
It's no coincidence that much of Ward's volunteerism through the years – from chairing meetings to picking up garbage along Highway 9 – has been intertwined with the work of the local Rotary chapter.
Indeed, were it not for the generosity of the New Hampton Rotary Club years ago, says Ward, there's a very good chance he would never have earned his bachelor's degree in finance from the University of Northern Iowa in 1980.
"They loaned me $1,000 to finish my degree, and I never had to fill out a single piece of paperwork because they trusted me to pay it back," he recalls. "I repaid that thousand dollars years ago, but I will never be able to repay the kindness, generosity, and belief in me those Rotarians showed. That is what continues to motivate me to give back whenever – and however – I can."– by Sara Friedl-Putnam