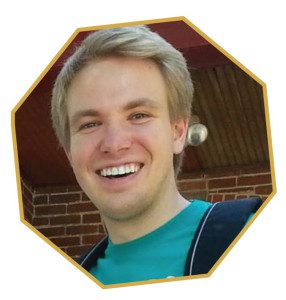 Lucas Zellmer had no idea the extent of poverty in La Crosse, Wisconsin – where more than 15 percent of the population lives below the poverty line – until moving there in 2012.
"The first time I rode through the city, I noticed far more homeless or impoverished people than I had ever seen in my hometown of Blooming Prairie," he says. "The poverty was impossible to ignore."
Wanting to "make a difference," Lucas soon began to split his time between studies at the University of Wisconsin–La Crosse, where he majors in biology, and volunteer service at the St. Clare Health Mission free clinic and the Place of Grace soup kitchen, which serves some 250 meals a day. He learned not only about the missions of both organizations but also about the people they serve – men and women without reliable transportation who are often able to land jobs but unable to get to them consistently.
"It was clear to me that there was a real demand for accessible, reliable transportation among the homeless and impoverished populations of La Crosse," says Lucas. "Sometimes getting to jobs is more challenging than securing those jobs in the first place – I wanted to do something to fill that transportation void."
In April, Lucas launched Wheels for All, a small nonprofit that provides single-speed bicycles – they require less maintenance than those with multiple gears – to those who need them the most. To date, he has fixed up and given away more than 20 bicycles, most of which have been donated by his family and supportive community members. As word of the organization spreads – WKBT-TV in La Crosse profiled Lucas and Wheels for All last July – Lucas hopes to help even more individuals who would benefit from having their own two wheels.
"I founded Wheels for All because I love knowing I have helped someone in difficult circumstances," he says. "We may only be providing bikes, but seeing the recipients' faces when they receive them – and hearing them describe how those bikes will help them – is such a powerful thing."
To learn more about the organization – or make a donation – visit Lucas's Go Fund Me page.
– by Sara Friedl-Putnam