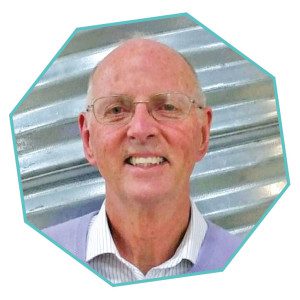 "I'm just a banker with a passion for renewable energy," Larry Grimstad says, in typical humble fashion.
In truth, the longtime Decorah resident is much more than that. He's a highly respected community leader who has spent well more than a decade working to reduce his carbon footprint on the world and educate others on the importance of doing the same.
"We need renewable energy – wind, solar, and geothermal – and some of us have just got to take the initiative so others will come along," he told the Des Moines Register in 2012 when asked about his efforts to promote environmental sustainability in Winneshiek County.
Larry, who served as president of Decorah Bank and Trust from 1978 to 2002, put those words into action three years ago when, through his company Decorah Solar Field, he partnered financially with Luther College to erect a $1.2 million array of 1,250 solar panels along Pole Line Road on the north edge of the college's campus. The eye-catching array provides the bulk of the electricity used by Baker Village, a student-housing cluster that also uses clean energy (geothermal) for heating and cooling.
"I spent my career as a community banker so it's a natural thing to figure out ways to help build good things for the community," he says of investing in the array. "The more of that you do, the more you to want to do even more."
Not surprisingly, Larry is just as generous with his time. He currently serves as board treasurer of four organizations – First Lutheran Church, Seed Savers Exchange, the Oneota Film Festival, and the Winneshiek Energy District – while also participating in events like the recent Decorah Energy Extravaganza that help educate the community about the myriad benefits of clean energy. The event showcased 10 solar-powered homes, including the one he built with his wife, Diane, in the early 2000s.
"It's my responsibility to my grandchildren," he replies when asked what drives his seemingly tireless efforts to leave this place in better shape than when he found it. "I have to do what is right for them and their generation."
– by Sara Friedl-Putnam