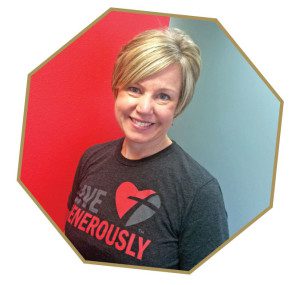 One of the first things you notice about Karen Trewin is her smile. She is, of course, generous with it. Next is her sense of humor – smart, quick, and catchy, just like Karen herself…especially when it comes to giving.
"It's not always about spending hours volunteering or writing a big check. We can all find ways to make a difference that don't take much time or cost a cent," she says. "If we all did that every day – think of what we could accomplish! I just got goose bumps."
It was this "we can do it" attitude (and a short email) that spawned the "Live Generously" theme for this issue of Inspire(d). We loved the idea of featuring folks in the region who are giving of their time, talent, goods, and money, and wanted to help encourage others to do the same.
"I like to view living generously as a habit to develop – much in the way we try to work a daily workout or eating healthy into our day. It takes practice, but once you start, it's addicting!" she says. "A kind word, buying coffee for the person behind you in line, or being truly present for someone who needs some time are all examples of giving of ourselves."
Live Generously is a term that is rooted in Karen's day job as a financial associate with Decorah's Thrivent Financial. Thrivent's mission is to help people make wise plans for their money, but to also encourage them to find ways to make their communities better.
"When I can help people find greater purpose in having a sound financial plan, that's a good day at work for me," Karen says.
"Live Generously is a value rooted in stewardship," she continues. "As a Christian, I have been taught that all we have is a gift from God, and I am responsible not only for being a good steward, but to share with others. My parents and grandparents were excellent models of this value when I was growing up; my family, friends, and community continue to inspire it in me. I volunteer for causes and organizations we care about, and my family has a plan for supporting them financially. We feel strongly about advocating for people who need a voice."
Currently, Karen chairs the First Lutheran Church Worship and Music Committee – often directing things like the annual Sunday School Christmas program and helping with the Youth and Family program – is on the Decorah Youth Choirs board, and volunteers for Decorah Music Boosters.
"Throw your daily change into a jar and donate it to a charity at the end of the month," she says of getting started with the live generously mindset. "Pick up an extra jar of peanut butter for the food pantry box at the grocery store. Ask your kids, if you gave them $10, how they would use it to help someone – then go do it together and ask them how it made them feel. Think about things you're passionate about, and challenge yourself to find ways to help. You don't have to set out to solve global problems on your first day. There is plenty of need in your own community, and everyone has the capacity to make a difference. Don't wait for an invitation – just get out there!" – by Aryn Henning Nichols