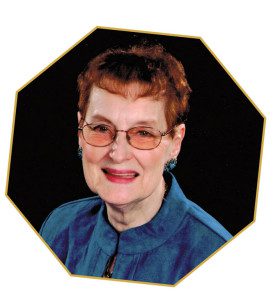 Carolyn Flaskerud, director of the First Lutheran Church Food Pantry in Decorah, does not mince words. "It keeps me busy – happy and healthy," the octogenarian says of her involvement in the expansion of the Food Pantry – it's gone from supporting seven families per week to sometimes 250. She punctuates her statements with a smile – one that locals came to trust during her years as a customer service officer for what is now Bank of the West.
Carolyn has been boots on the ground for the Pantry since her retirement in 1998, when her involvement with Decorah Public Library's Retired & Senior Volunteer Program (RSVP) and her service on First Lutheran Church committees revealed a desperate need for food support in the area. "Getting people in the door in dignified ways is hard for any community," she explains. People who turn up for state-run food assistance are subject to income verification and other eligibility requirements that can delay the receipt of food.
"These are people who are hungry today, not just when they might be approved. It's families with children – who don't learn well at all when they're hungry – and also elders, who sometimes choose between medicines and food – the 'heating or eating season' in winter."
Carolyn's specialty, it seems, is turning even the smallest leads into working opportunities for the pantry. In 2003, responding to unemployment in the aftermath of a fire that destroyed a turkey plant in Postville, Iowa, she pushed to get the volunteer-run charity, then operating out of a Sunday School storage closet, registered with the Northeast Iowa Food Bank. This made the pantry eligible to receive high-volume weekly shipments of groceries that are over-produced or nearing expiration date, for example.
Today, the pantry also receives donations from area businesses: Walmart's Feeding America program, Kwik Star, and Pizza Hut, for example. Many donations also reduce food waste by institutions, such as Decorah's Luther College. There, college and community volunteers portion-pack leftover cafeteria foods – many of which feature locally grown ingredients – to be stocked at the pantry as frozen meals.
The pantry also collects nonperishable foods from the college dorms, when students are in transition, and has partnered with Luther foodservice provider, Sodexo, to use donated student dining dollars – discretionary money left on the students' board plans – to purchase 2,700 pounds of rice, beans, pasta, and other staples. "That was the idea of a local student, Blaise Schaeffer, who grew up right across the street from the church," Carolyn explains. "He told me to iron out the logistics of ordering through Sodexo, and he hit the dorms, rounding up $2,915.99 in student donations." Carolyn, ever the precise funds manager, rattles off this figure like it's as familiar as her favorite loafers.
To keep pace with community needs and reduce the stigma of accepting food help, the pantry is savvy with its cash donations, Carolyn says, funding new outreach and visibility whenever possible. 2015 marked the first year of a voucher program that allowed pantry shoppers to buy subsidized produce, fruit, meat, eggs, and honey from Oneota Community Farmers' Market vendors in downtown Decorah. "Credit there should be given to [Decorah resident] Barb Dale and others," Carolyn says. "We just made it work last year, and we do need special funding to run the program again."
In all, the First Lutheran Food Pantry involves 70 or more dedicated volunteers who unload trucks, stock shelves, and assist families in maximizing their weekly product selections, from frozen venison to pureed baby foods. They accept donations of food, time, and financial support. "You can mail it, drop it off, or goodness knows, we'd come pick it up," Carolyn says, tireless on the subject of her work. "We've certainly done that before, and God willing, we'll keep at it." – by Kristine Jepsen