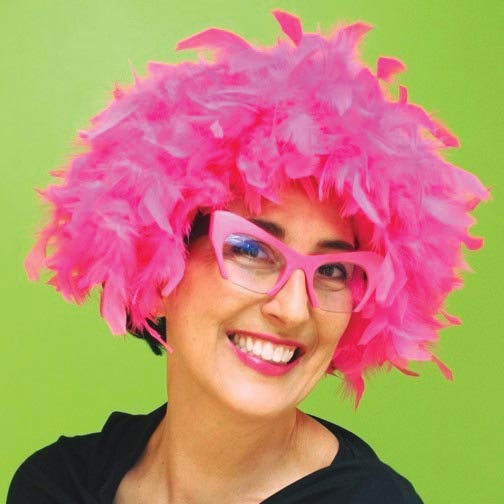 From her big smile and zealous laugh, to her colorful outfits and statement glasses, anyone who comes across Rev. Laura Gentry can feel her warm energy and contagious joy.
In many ways, joy is her job. Known as Laughing Laura (LaughingLaura.com), she is a Master Teacher of Laughter Yoga, a type of yoga based on the belief that intentional, voluntary laughter provides similar mental and physical benefits as spontaneous laughter. She has presented laughter and motivational programs on six continents and was named a Laughter Ambassador by Laughter University in Mumbai, India. As Pastor of Our Savior's Lutheran Church in Lansing, Iowa, and a Chaplain for Hospice at WinnMed in Decorah, Laura strives to bring joy to her entire congregation and beyond.
"It's hard to believe, but I've been pastoring the Lutheran church in Lansing for 22 years," Laura says. "I've watched a whole generation come up! I'm from Iowa but I had lived outside the Midwest for about a decade. In 2001, my husband and I moved to McGregor from Los Angeles. That was a bit of a change! Our California friends didn't think we'd survive but we did, and we've found a way to thrive."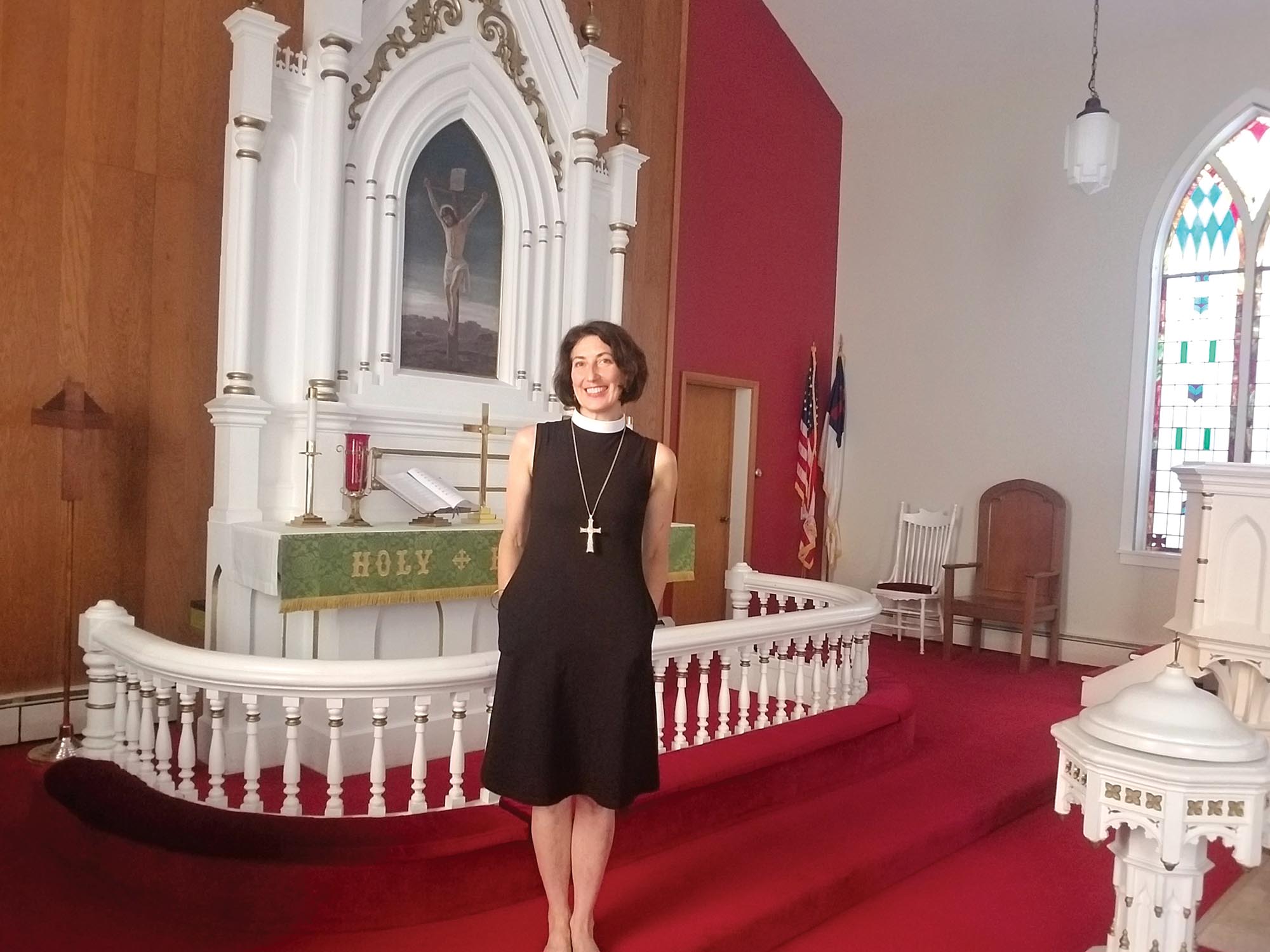 A Luther College alum, Laura and her husband William now live off-grid on a property in the woods – with their pig, snapping turtle, cats, dog Fugi, and kids Paul, Vincent, and Eddy… who are all goats!
Growing up, Laura spent a lot of time on the river at her family's summer cabin. She has long drawn inspiration from the natural beauty of the region's unique scenery, migratory birds, fish, and wildlife. It has informed her art, ministry, and other creative pursuits.
"I spend a lot of time hiking my goats, cats, and dog around my property, just soaking in nature and thinking. It is in my alone time that new ideas are sparked," she says. "By the time I bring ideas to the community, I am ready to engage the public from a place of spiritual fullness."
In the spring of 2023, Laura had a spark of an idea to pitch to the Lansing City Council: "Let's celebrate this exceptional place with art!" The hope was to transform an old public restroom building into public art with a bright and colorful mural.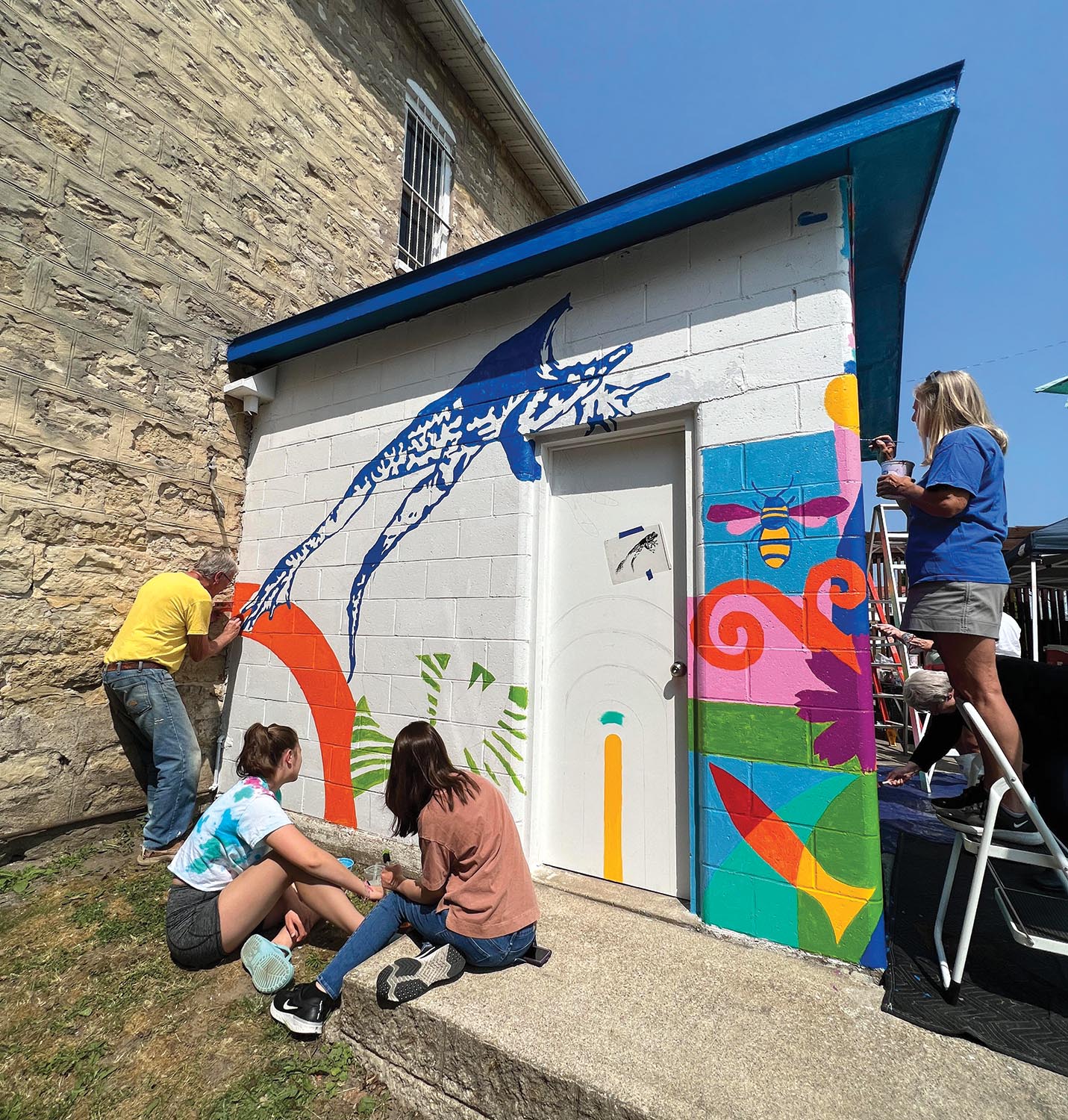 "I got the green light from the council, but I had no idea if we could actually carry it off!" Laura says with a laugh. She has been doing large art projects for most of her life. Her first commission was a mural for her church when she was just 14. Yet this would be her largest project to-date and she had a brave plan: Invite the community to paint it with her in just four days, covering its three sides with artwork inspired by the Mississippi River, featuring a great blue heron, flowing water, fish, insects, a painted turtle, and a leaping bullfrog.
"I wasn't even sure if it could be done," Laura says. "But I found a chief organizer, Marsha Kurth of La Crosse, who convinced me we should go for it." Marlene Duffy of Lansing also quickly jumped in to help. They raised money, bought supplies, established an online sign up for volunteers, delivered invitation letters to local businesses, churches, and organizations, and planned a celebratory gala for the first day of painting.
"The response was overwhelming," Laura exclaims. "The spirit of community was just buzzing throughout the worksite as children, adults, and even nursing home residents showed up in the summer heat to share their support, time, ideas, and painting skills. New friendships were forged and frankly, it was a blast. It was everything I had hoped for and more. I know that public art can do this, but I had no idea just how amazing it would be to watch it unfold!"
In the course of a week, 98 volunteers – approximately a tenth of the town – put in an estimated 262 hours of work, and the Great Blue Heron mural was born. (You can see a short video of the process at LansingLutherans.org.)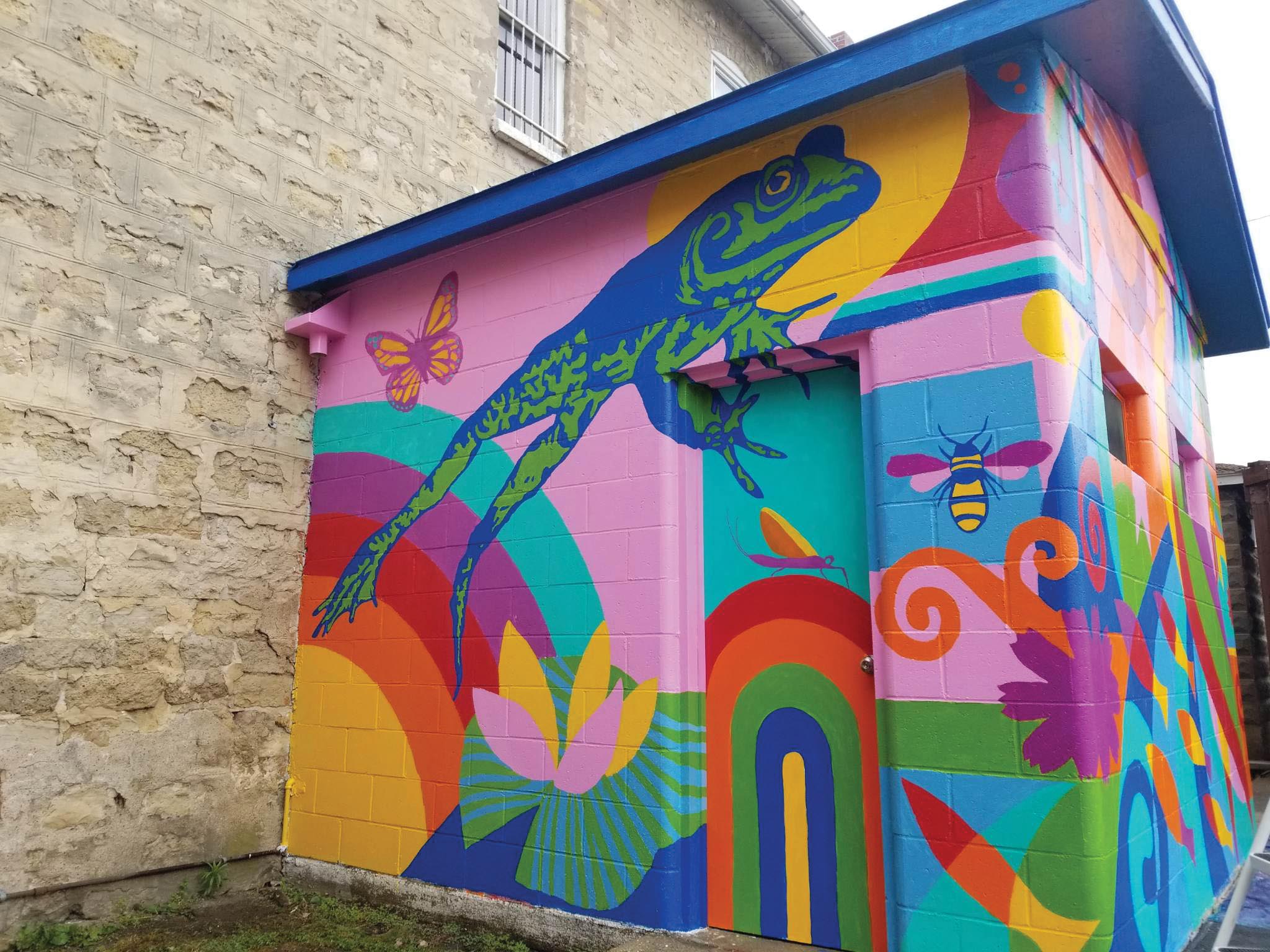 "What excites me is how bold this mural is," Laura says. "Drive by it and you'll be startled by the colors and patterns. It is not a work of realism but one that expresses the joy and wonder of the river and its inhabitants. I hope it engages people, making them think differently about the treasure that is ours here in Northeast Iowa. Even more exciting is that the community can say: 'That's our mural. Together we did that!'"
Shortly after the mural was completed, Laura was in a serious, life-changing car accident involving a med flight, orthopedic surgery on her foot, and a long recovery period, which she is still in as of this writing.
"I am grateful to have survived and to be surrounded by such loving people," Laura says. "But it's been hard to be the receiver of care instead of the giver. I've just never been in need like that before. That's how community works, though. You give and give, but when you're in need, you have to let others give to you. That's why we need to keep building community so we can be there for one another, especially in a crisis."
The world renowned author Maya Angelou once wrote: "Try to be a rainbow in someone's cloud." Laura loves this quote and incorporated it into one of her earlier public art projects. Now that she's being cared for by her community it has taken on new meaning.
"I am so grateful for what my community is giving me. These people I love are the shimmering colors breaking through my darkness!" she says. "It is teaching me so much. Isn't it incredible that we all have the power to be rainbows?"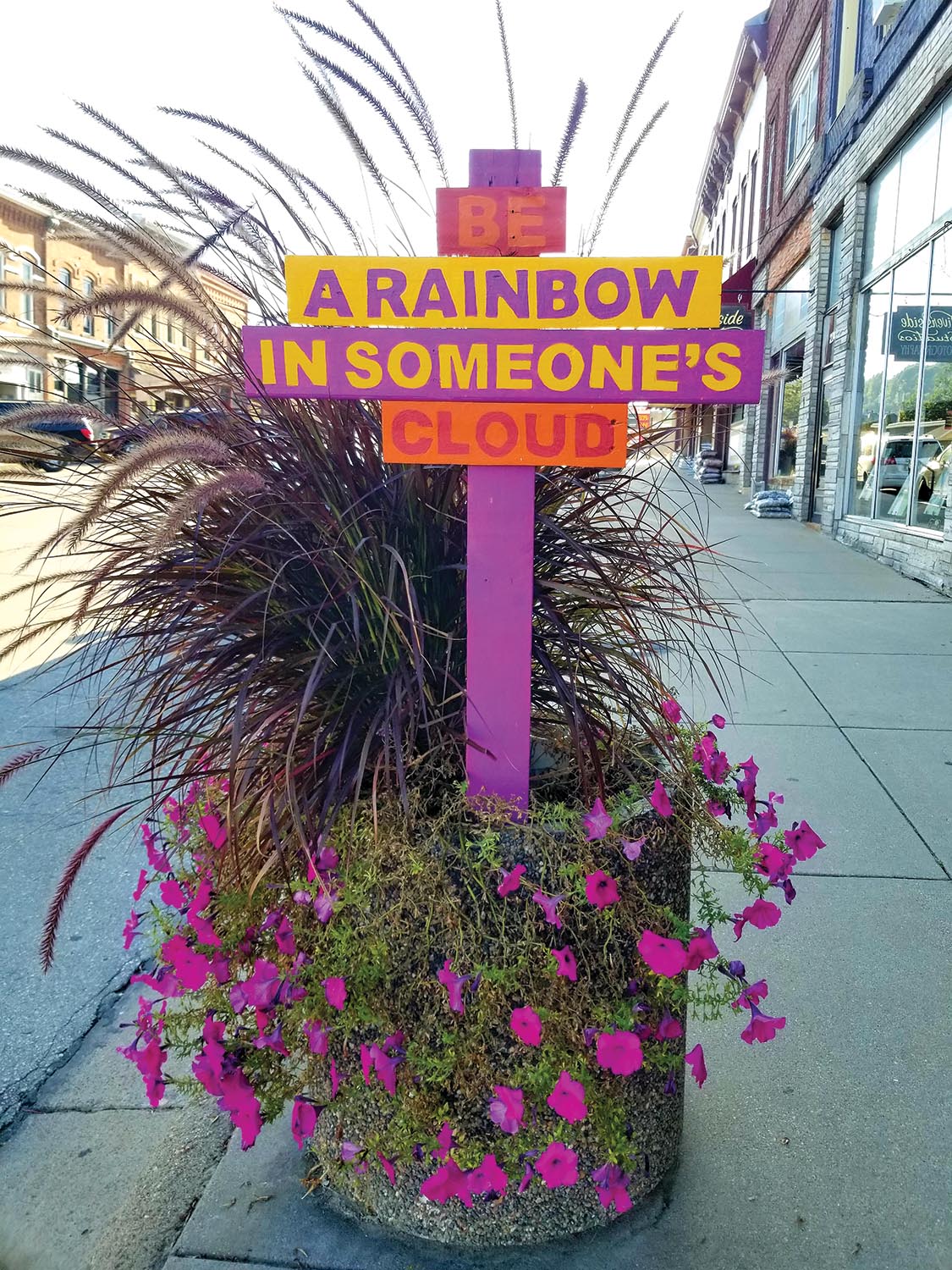 Laura plans to be back at it again soon, helping to shine a light on those rainbows, and fostering events that build community, like she's done so often before, be it running Iowa's first and longest-running laughter club, hosting group sound bath meditations with her growing collection of gongs, or launching a new public art project – the options for creating and connecting are endless.
"Throughout my life, I have tried to spend my time in meaningful ways," she says. "I'm so blessed that my job as a pastor is also my mission. Whether at church or with an art project or in a laughter presentation, I am endeavoring to make the world a more happy and loving place where everyone and their gifts are welcome. When it comes down to it, you could say that bringing joy is my joy!"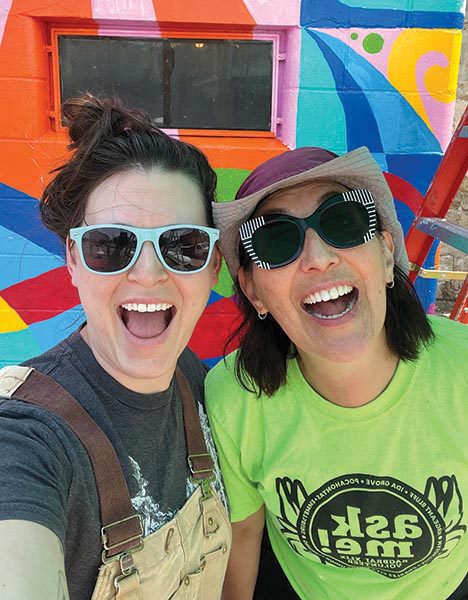 Lynsey D. Moritz
Lynsey (left, with Laura) is a Decorah native who now lives across the Mississippi River from Lansing on an acreage with her husband and their dog. She enjoys exploring the Driftless, learning new skills, creating and supporting local art, traveling as much as possible, and being a part of this incredible community!