And the Livin' is Easy: 15+ Boredom-Busting Kids' Activities in the Driftless
By Kristine Jepsen • Originally published in the Summer 2015 Inspire(d)
So, school's out, and the snow clothes have been washed and pushed to the back of the closet (finally). Light plays out longer in the evenings, breathing extra life into after-dinner games of tag, dog-walking, and park-going.
Sounds magical, right? Like everyone in your family should understand summer to mean shade-sitting. And catching up on reads that friends have been recommending. Or leisurely picking of wildflowers. Surely?
More likely, I – er, you – won't make it through one golden evening before the summertime chorus starts up: "I'm bored!"
If this refrain has you locking yourself in the bathroom for a sanity check, try these kid-friendly pursuits in the Driftless. From spelunking to strawberry picking, there's something for every pint-size naysayer. Best of all, many activities are free.
INTO THE WILDS: EXPLORING NATIVE LANDSCAPES
Driftless Safari
Best for: Anyone!
Open: Memorial Day through Halloween
www.driftless-safari.org
Rare trees and prairie plants, springs to splash in, wildlife tracks. Driftless Safari is both a self-guided tour of natural resources in Northeast Iowa, Southeast Minnesota, and Southwest Wisconsin and an introduction to community programs that support educational adventures for families.
To get started, pick up your guidebook and map packet for this year's destinations from a public library in Winneshiek County (or print one online), then visit sites in any order. Prove you were in each location by making a crayon rubbing in your guidebook of the 'marker' placed there (crayons provided in your packet). When you have 15 or more rubbings, you may return your guidebook to the library to register for awesome prizes.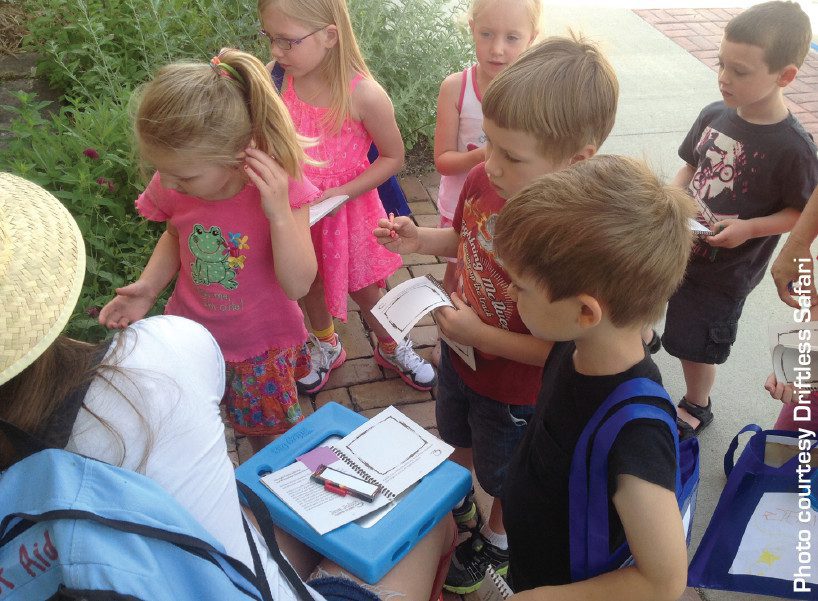 Eagle Bluff Environmental Learning Center
Location: Lanesboro, Minnesota
Best for: 6+ (Kids able to hike some distance without whining! Ability to read is also a bonus.)
Open: June – August (by appointment in off-season)
www.eagle-bluff.org
Located on nearly 100 acres of Root River bottom, limestone bluffs, and tall-grass prairie, Eagle Bluff Environmental Learning Center offers organized outdoor education courses for kids during the school year and family programming and multi-age ropes/zipline courses on Saturdays and Tuesdays ($25/person) in the summer months. Free stuff includes its nearly nine miles of hiking trails and public geocaching course, as well as access to the Schroeder Visitor's Center.
The center also hosts River Roots Skills School courses for teens 15 and older and adults (generally $40/person) ranging from orienteering to Amish bread-baking to taxidermy basics. Follow the directions online, rather than your GPS, to avoid sometimes-impassable back roads.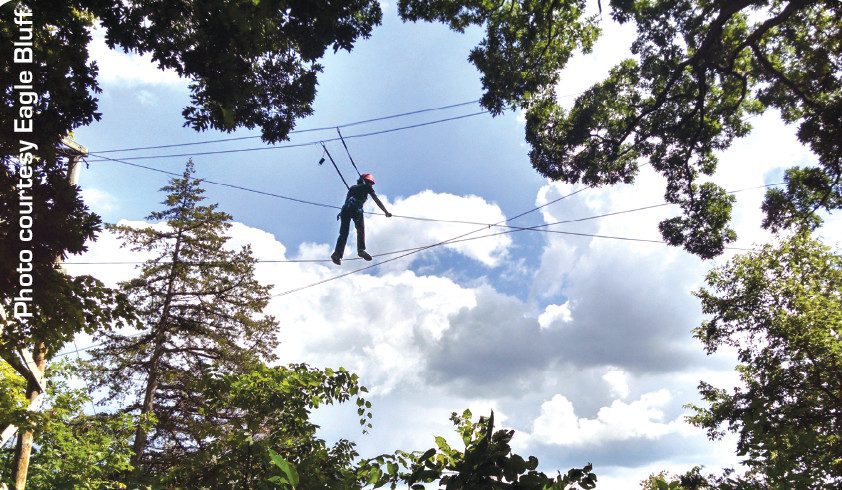 Driftless Area Wetland Centre
Location: Marquette, Iowa
Best for: Anyone!
Open: Year-round
www.driftlessareawetlandcentre.com
The Driftless Area Wetlands Centre opened its doors in August 2013 with one goal in mind: To connect people of all ages to the natural world and empower them to positively impact their local environments. The facility provides a shared environmental education and community gathering space, covered plaza area, and 24/7 bathroom, in addition to the beautiful, man-made Wetland and viewing platform. See a full story on the Centre on page 14 of the Summer 2015 Inspire(d).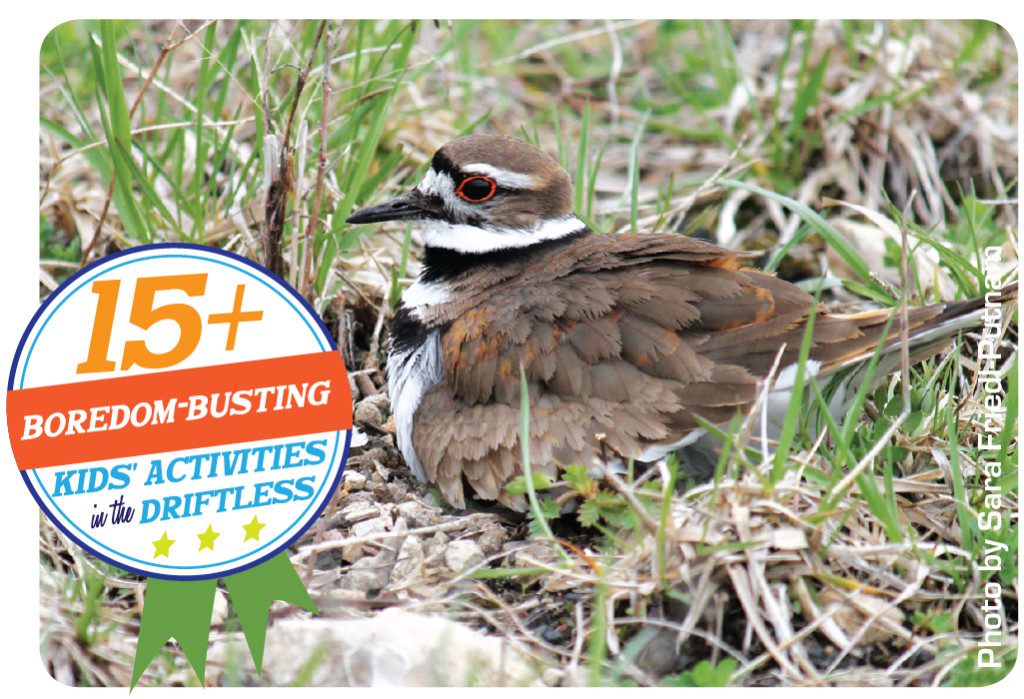 DRIFTLESS REGION FISH HATCHERIES
Best for: Anyone
Open: Sunrise to sunset year-round
The Driftless is home to renowned fishing along its creeks and winding rivers, and some of those fish (hundreds of thousands, actually) are stocked from Department of Natural Resources fish hatcheries in the summer months. Many hatcheries are open year-round, allowing kids to feed varying ages of brook, brown, lake and rainbow trout a quarter's worth of pellet food, available from gumball-like dispensers. Tips: Bring a small bucket or cup to hold the food, and wear closed-toed shoes suitable for walking.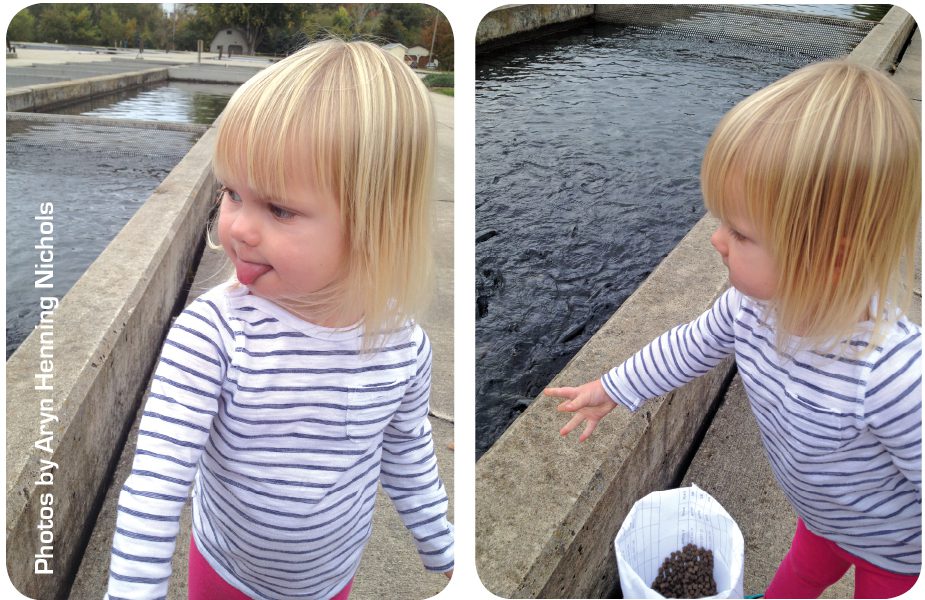 Locations and hours:
——-
IOWA
——–
Decorah Fish Hatchery (Decorah)
This facility raises around 150,000 "catchable" rainbow and brook trout annually. Features include their stately limestone office, built in the 1930s as a Civilian Conservation Corps project, and family-friendly (clean) bathrooms. Group tours are available 7:30 am – 4 pm daily by calling the office at 563-382-8324.
Big Spring Fish Hatchery (Elkader)
Located on the Turkey River and fed by the largest cold-water spring in Iowa, this hatchery raises 150,000 rainbow and brook trout from 2" in length to 10-12" over 15 months on average. The Big Spring Watershed is nationally renowned among researchers of karst (limestone) groundwater activity. River access at the hatchery is open for trout fishing and primitive camping, featuring a new angler access trail, a trout pond open for public fishing, and Iowa's first kids' fishing pond for anglers 15 and under. Fisherpeople must have appropriate licensure. Group tours are available 7:30 am – 4 pm daily by calling the office at 563-245-2446.
Guttenburg Fish Hatchery (Guttenburg)
This hatchery spawns Northern Pike fry in the spring, then operates the kid-friendly Guttenburg Aquarium and Fish Management Station May – October 8 am – 4 pm. See 35 species of fish, fresh-water mussels and turtles native to the Mississippi River ecosystem and its tributaries. Admission to this Great River Road Interpretive Network educational site is free. Call ahead for tour information and special events: 563-252-1156.
——————
MINNESOTA
——————
Lanesboro Fish Hatchery (Lanesboro)
This spring-fed hatchery produces a jaw-dropping 120,000 pounds of trout per year:
450,000 brown trout fingerlings (spring or fall of their first year)
24,000 brown trout yearlings (spring following their hatching)
85,000 rainbow trout fingerlings and 200,000 rainbow trout yearlings
Guided group tours are available by reservation (507-467-3771). Hours for self-guided tours are 7 am – 3:30 pm Monday – Friday.
Peterson State Fish Hatchery (Peterson)
This hatchery specializes in spawning lake trout, stocked to deep, cold lakes in northern Minnesota, and rainbow trout stocked in the Driftless and urban lakes in the Twin Cities. Self-guided and curated tours are available 7am – 3:30 pm Monday – Friday: 507-875-2625.
—————–
WISCONSIN
—————–
Genoa National Fish Hatchery
Located on both sides of the Great River Road Scenic Byway (State Highway 35), three miles south of Genoa, Wisconsin. Visitors should first head to the office (west side of the highway) to check in and learn about operations. There are 13 species of fish reared on site and a number of mussel species common to the upper Mississippi River basin. You'll also find a 1,000 gallon aquarium, a wetland and native prairie boardwalk with outdoor classroom area, a walking trail , and culture buildings housing 24 species of fish, freshwater mussels, and amphibians. Call 608-689-2605 to schedule group tours, generally provided 7 am – 3:30 p.m. Monday – Friday.
CAVE SYSTEMS
Locations: McGregor, Iowa, Preston, Minnesota, and Harmony, Minnesota.
Best for: Anyone, but best for kids who don't mind cool, damp conditions and close enclosures.
Open: May through October
The Driftless Region's craggy bluff topography offers stunning viewscapes underground, too, where water has carved formations and caverns into the area's soft(ish) bedrock.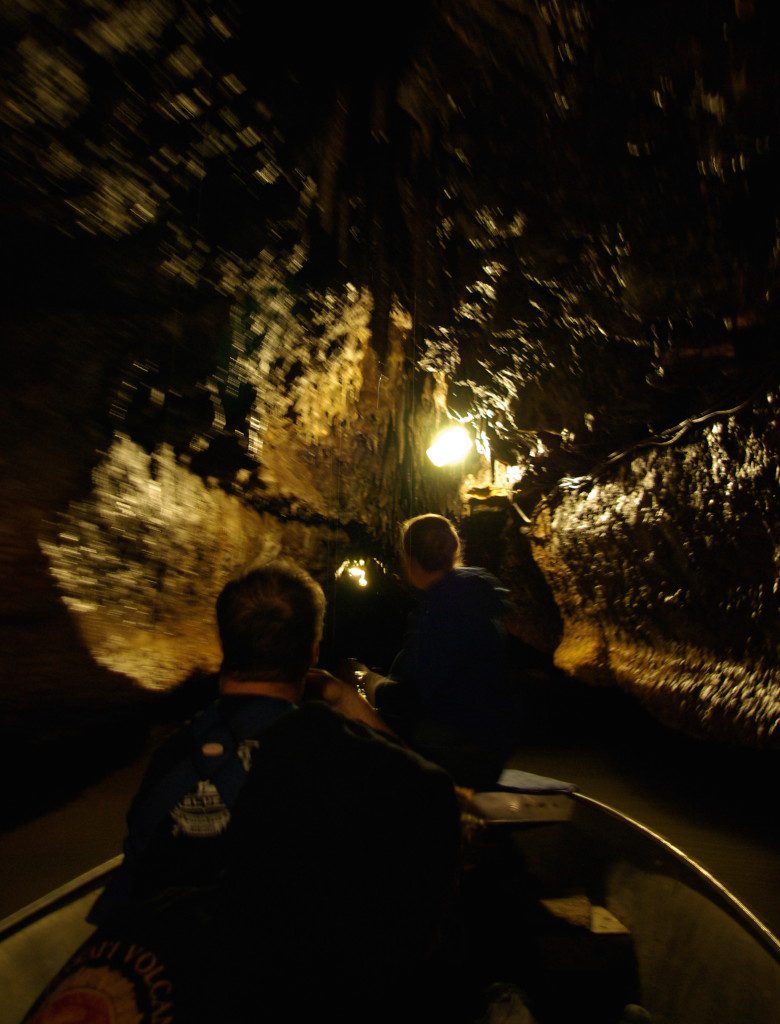 Spook Cave & Campground near McGregor, Iowa, offers 35-minute curated boat tours 9 am to 5:30 pm daily. No walking is required, as you travel by boat through the cave chambers. With a free picnic area and reasonable camping hook-ups and cabins on site, Spook Cave suits families, especially those with small children and seniors in the mix. Be sure to dress for the coolness (literally) of the cave itself, which remains 47 degrees year-round. Tour admission is $11 for adults 13 and older; $8 for kids ages 4-12, and free for kids 3 and under. spookcave.com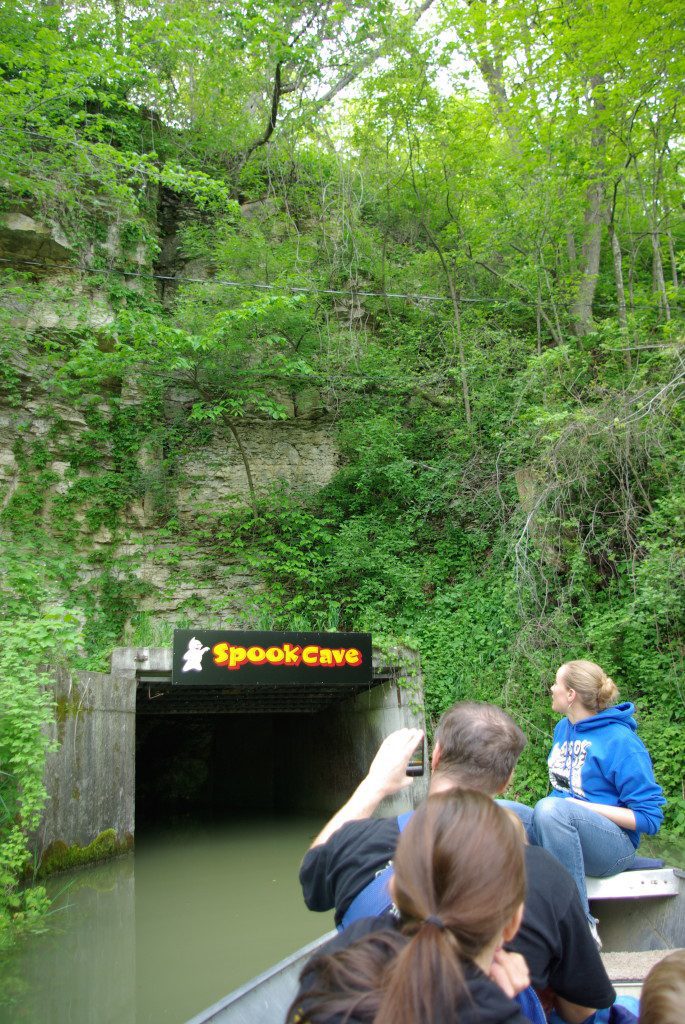 Mystery Cave, managed by the Department of Natural Resources, lies between Spring Valley and Preston, Minnesota, and is the longest cave system in the state, at nearly 13 miles. Park naturalists lead curated tours of the stalactites, stalagmites, flowstone, fossils, and iridescent underground pools, where flash photography is allowed, if you're up to it.
Programs range from a scenic tour for all ages and degrees of mobility (available daily; $12/adults, $7 ages 5-12, youngers are free) to flashlight and geology expeditions for children 8 and older ($13-$20/person). If your teen can't resist mud or physical challenge, check out the Wild Caving tour, a four-hour exploration of undeveloped sections of the cave system, outfitted with real spelunking gear ($75/person; 13 and older; group maximum of five people).
Reservations for Mystery Cave tours are recommended and available online (dnr.state.mn.us/mystery_cave) or by calling the Minnesota DNR at 866-857-2757.
Photography, Wild Caving and advanced geology tours are arranged by calling cave personnel directly at 507-937-3251. Follow guidelines for appropriate dress (48 degrees underground!) and be sure to consult the GPS-defying travel directions online.
Mystery Cave is located in a state park and requires a park day pass ($5) or sticker valid for the year ($25). While you're in the gate, consider visiting Forestville, a living history replica of the settlement before railroad development in Minnesota.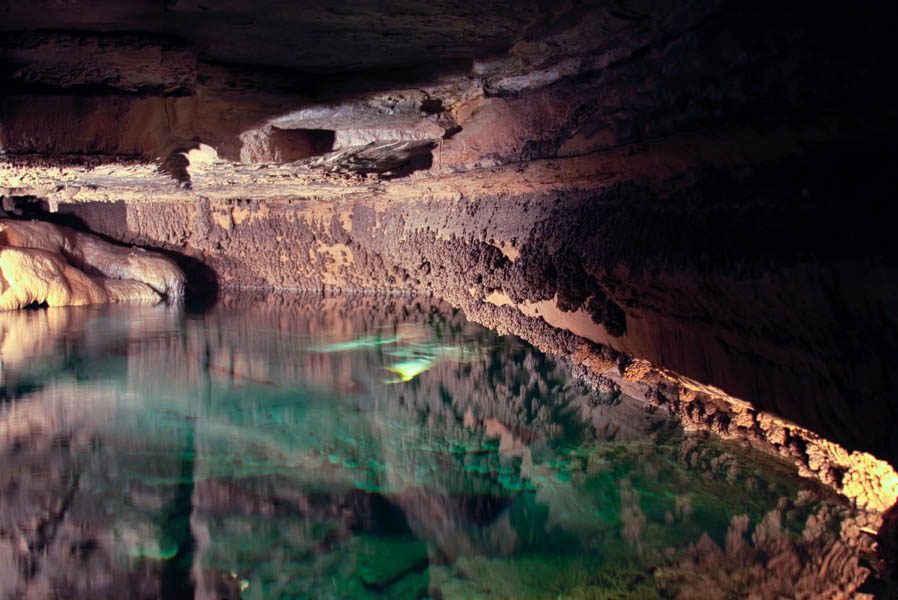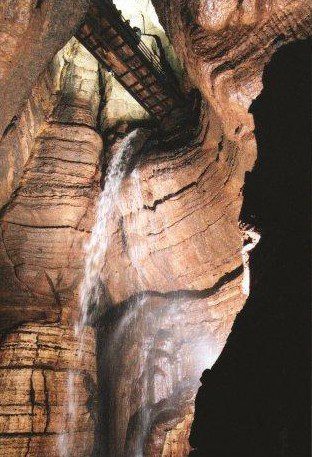 Niagara Cave near Harmony, Minnesota, boasts a one-hour, one-mile, guided tour April through October (see niagaracave.com for current hours). Visitors climb down a set of stairs into another world – there's an underground stream leading to a waterfall nearly 60 feet high, tiny and massive stalactites, calcite flowstone, and fossils that have been dated to more than 400 million years old. There's also an in-cave wedding chapel where more than 400 weddings have been performed. After the tour, take your minis for mini-golf or gemstone mining. Reservations for tours ($14 / $8 for 4-12 / youngers are free) are recommended, but not required. 507-886-6606.
Check out Inspire(d)'s in-depth (haha) Driftless cave feature from 2012.
Splash Down: Awesome Swim Facilities
Locations: Spring Grove, Minnesota and Hokah, Minnesota
Open: June – August (or, when the lifeguards go back to school)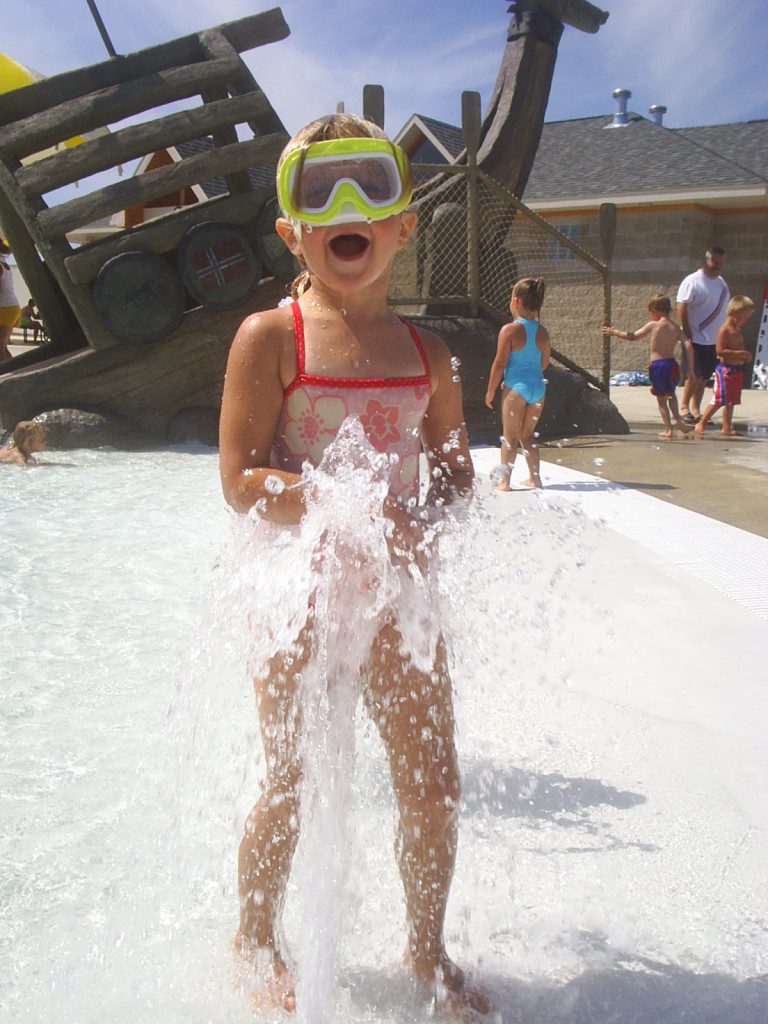 There are city pools, and then there are swim destinations. Spring Grove Swim Center, in quaint Spring Grove, Minnesota, offers a toddler slide, waterfalls and a zero-depth entry wading area for younger kids, and more thrilling two-story water slides, drop slides and diving boards for, you know, older guests who usually beg off getting in the water. If you're willing to let carb and sodium counts slide for a day, you can find a whole meal at the poolside snack bar.
Admission is $4/person; ages 62+ or 2 and under are free. Hours are 1-6 pm Monday through Sunday, and a cool-deal $2 admission 7-9 pm on Fridays. Toward the beginning and end of season or whenever weather might interfere, call ahead at 507-498-7946 to check pool hours. www.springgrovemn.com/swimcenter (Spring Grove pool photos courtesy Marlene Deschler.)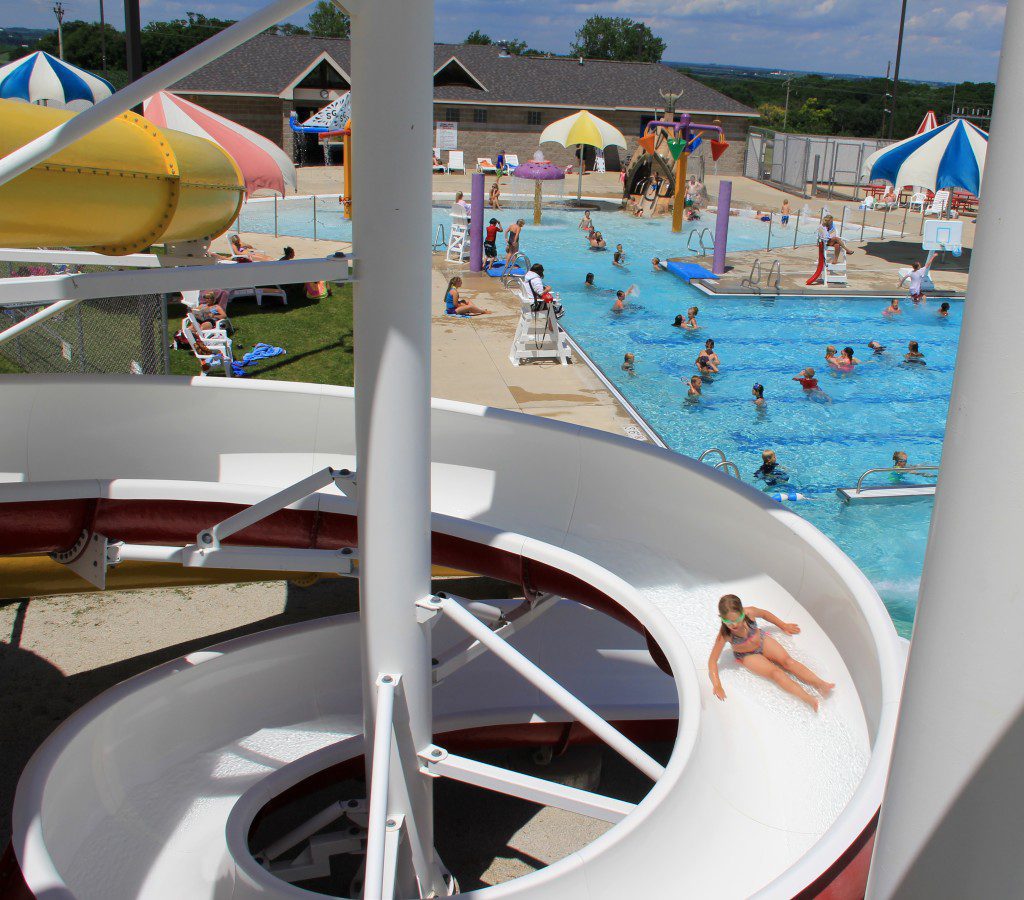 If chlorine isn't your thing, head over to 20 Como Street in Hokah, Minnesota, where you'll find a natural phenomenon uncommon beyond the Yellowstone Caldera of the West: a sand-bottom, spring-fed swimming area. The Hokah 'pool' offers diving boards, an in-water volleyball court, snack concessions and sandy banks for land-locked 'beach' play. Admission is $3/person Monday-Saturday 12-5 pm and Sunday 11 am–3 pm. Get in for $1 on Wednesday nights 5-7 pm. Call ahead to confirm pool hours at 507-894-4557. www.facebook.com/HokahPool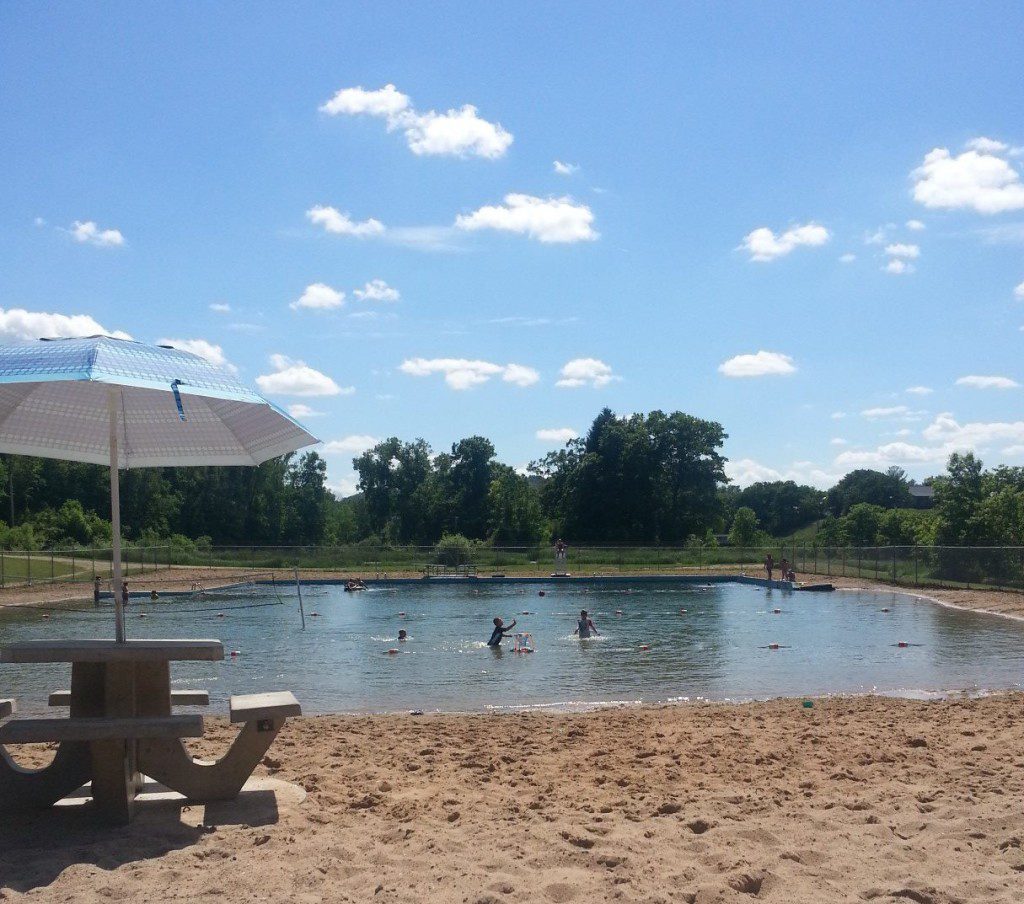 STICK A FORK IN IT: FOOD ADVENTURES WITH A DRIFTLESS TWIST
Wold Strawberries
Location: Rural Mabel, Minnesota
Best for: Anyone who can pick more than s/he eats.
Open: Daily when berries are ripe. Call ahead for details.
woldstrawberries.com
Summertime means seasonal food-a-palooza in the Driftless. If you're looking to dig in beyond visiting your local farmers' market, check out Wold Strawberries between Decorah and Mabel, Minnesota. Established in 1973 as a pick-your-own strawberry farm, the Wold plantation now offers ready-picked and pick-your-own varieties of strawberries in early to mid-June; raspberries (red, black and purple) in mid-July and late-blooming red raspberries again in mid-August.
If you're on top of the season's optimal weather for berry harvest, you might also get in on their sought-after blueberries and currants in mid-July through early August. (Hint: Call Wold's at 507-493-5897 each week for peak picking forecasts, or follow them on Facebook.) In 2015, the highway entrance to the Wold farm is under construction, so follow alternate directions on their site (woldstrawberries.com) to get picking.
Northeast Iowa Dairy Center
Location: Calmar, Iowa
Best for: All ages
Open: Daily
www.iowadairycenter.com
Read about robotic milking or seen it on YouTube? It's here in Iowa – and truly hands-off – as the newest innovation in dairy science. At the nationally acclaimed Iowa Dairy Center, cows produce more milk when they self-select when to enter the robotic milking parlor – up to six times per day. Get a bird's-eye view from the visitor platform, open 24/7. The center also has a human-powered milking parlor for another 140 cows, where visitors can watch the process three times per day – 4 am, 12 noon, and 8 pm. The adjacent calf barn gives you a peek at doe-eyed dairy youngsters, and if you're lucky, you might see a calf born in the transition barn.
Don't miss the annual free/free-will donation Breakfast on the Farm. Fill up on 'Dad's Belgian waffles,' sausage and dairy products made in Northeast Iowa before exploring the center's educational exhibits, including a curated tram tour of the barns. For more info, call the center coordinator at 563-534-9957 ext. 107.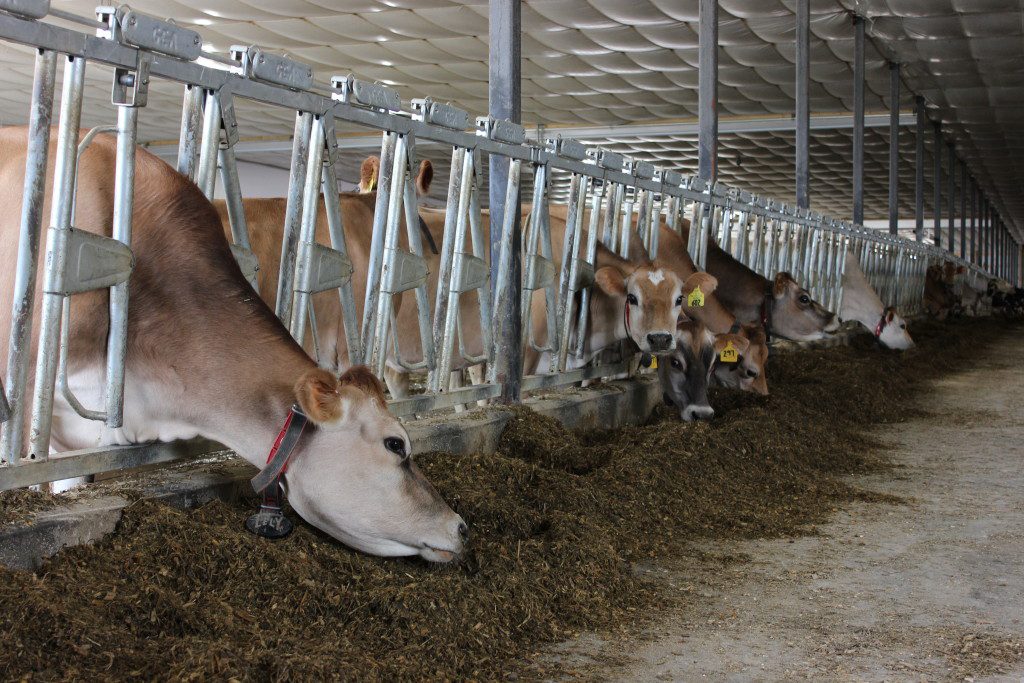 Seed Savers Exchange Heritage Farm
Location: Decorah, Iowa
Best for: Mobile kids or those content to traipse about in a backpack or sling
Open: Daily 10am-5pm March 1 through October 31
seedsavers.org
If your kids are just getting the food-to-earth connection, visit the internationally renowned Seed Savers Exchange Heritage Farm north of Decorah, especially at the height of summer, for a look at where a diverse diet comes from. Spread over 890 acres, the farm is home to display gardens growing 1,000 seed varieties of heritage vegetables and flowers; an orchard (preserving 950 apple varieties); a herd of Ancient White Park cattle; and heritage breeds of turkeys, chickens, ducks and geese.
Explore eight miles of hiking trails or cool your heels in bubbling Pine Spring Creek (where trout fishing is allowed). If your kids are game, you could spend a good day getting between the growing areas. Pack a lunch and regroup at the Lillian Goldman Visitor Center, which offers picnic facilities, (air-conditioned) bathrooms, a water fountain, and a gift shop. Check online or call ahead to dial in the best times to catch up with the cattle herd, for example, and to learn about special events that may affect visiting hours.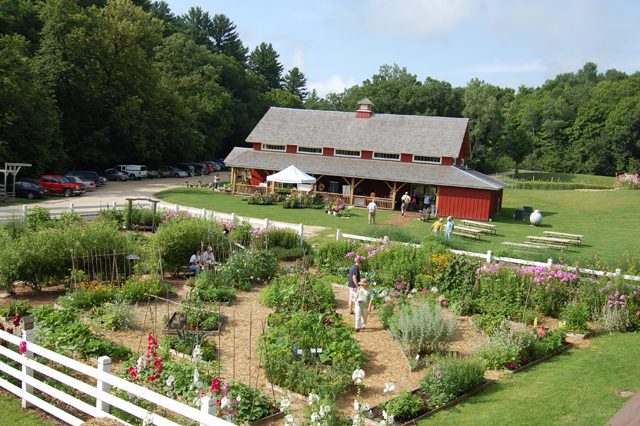 SHOW TIME: SUMMER ARTS OPPORTUNITIES
ArtHaus and Drama (of course!)
Location: Decorah, Iowa
Best for: Ages designated by course descriptions (ages 2 through teens)
Do you find yourself confiscating all the household writing or snipping tools from your little artist(s)? Sanctioning the Playdough? Send them to an ArtHaus camp or class, where professionals with more patience will help channel their creative impulses. Read about ArtHaus classes and register online at arthausdecorah.org.
(Photos courtesy ArtHaus)
If your kids are more at home on the stage, don't miss summer productions by area community theaters. The region is also home to outstanding professional companies, including the Commonweal Theatre  in Lanesboro, Minnesota, and the Great River Shakespeare Festival in Winona, Minnesota. Great River Shakespeare Festival even offers summer youth education programs like Shakespeare for Young Actors or Creative Drama and "Chill with Will" (Shakespeare, of course) free performances for ages 10-18. Me thinks there's an alchemy in the warm night air, bright stage lights and stories from far-off places.
Check out these area theatre options for current shows:
Wisc. Community Theatre for Youth
New Minowa Players
Elkader Opera House Players
Ye Olde Opera House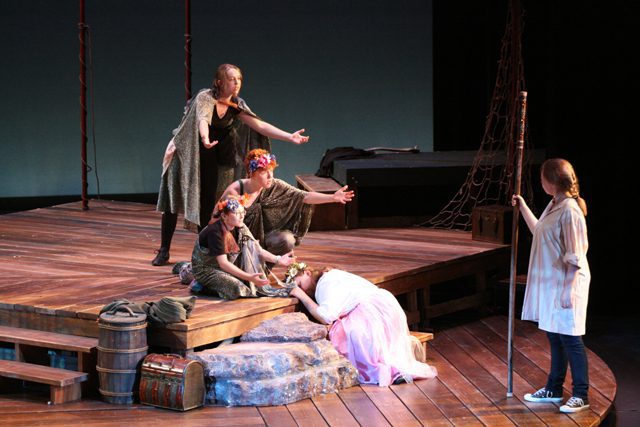 Photo by Kathy Greden Christenson – Shakespeare for Young Actors, 2014, The Tempest.
—————————–
Kristine Jepsen is definitely one of those parents in need of a go-to guide for kids' activities in the warm season. When she's not hunched over her laptop, writing on assignment and for herself (kristinejepsen.com), she's outdoors drumming up something to do with her family, including her daughter, Eliza.