Julia Borgen of Lanesboro, Minnesota, loves community. It's not a word she uses often or talks about very much. She won't tell you that you should love it, too. Julia just does it.
"Community is important at any age," she says. "It's all intentionally reaching out to people, spending time with them, socializing, and working together to make the places you live even better."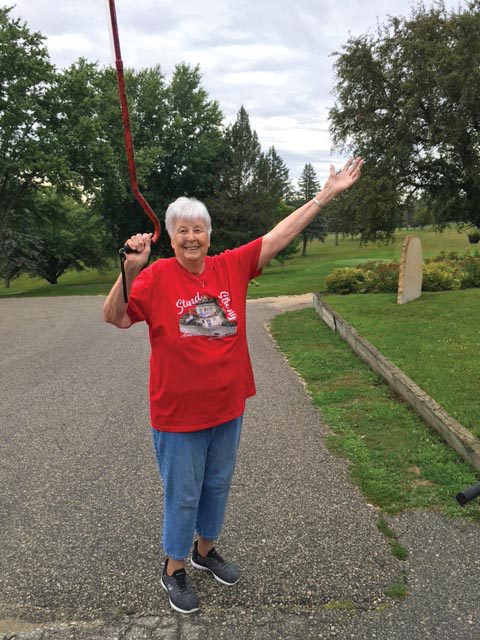 This year, as she celebrates turning 90, the way Julia does community sends a message much louder than words. People who want to stay healthy, active, and energetic as they get older usually prioritize healthy eating and regular exercise. Both are certainly essential. But so is staying connected to other people, she says, and you have to just do it.
Born and raised on a farm near Whalan, Minnesota, Julia was one of six kids. Later she married Ernest Borgen who had a farm near Lanesboro. Eventually they moved into town – "I wanted to be where people were," she says – and she served as the secretary at Lanesboro Elementary School and for the school superintendent. "I did that for 25 years and it was wonderful," Julia says. "We had a strong school community. I loved those kids and still keep in touch with many of them."
Following her retirement in 1998, Julia continued to keep busy by connecting with others in her small town. Earlier she became a volunteer leader in "ACT" (Agriculture, Commerce, and Tourism), the precursor to what evolved into the Lanesboro Area Chamber of Commerce. But probably the best way to appreciate Julia Borgen's community-building skills is to see her "in action" as she reaches out to people in friendly conversation around town.
"I love learning about people who are visiting here," she says. "There's nothing too shy about me. It takes very little to get a conversation started, 'Hi, where are you from?' I especially enjoy talking with younger people. You'll hear people complain about newer generations. I don't do that. Young people are the same as they have always been, as special as ever. You just need to make the effort and take time to get to know them."
Julia continues to be an active member of the Legion Auxiliary, and in recent years helped spearhead a volunteer push to keep a grocery store in town. She has also been a lifetime member of Bethlehem Lutheran Church and helps with many local projects. One is especially near to Julia's heart: the Coffee Street Walking Bridge.
"Before we were married, Ernest served in the Korean War (he was awarded a Bronze Sar) where he specialized in building temporary bridges. After the war, he worked for the state in that field as well," she says. Lanesboro has an historic railroad bridge over the Root River that was built in 1893 by the Chicago Bridge Company. After a series of floods and years of wear, it needed major repairs to save it. "Some people thought it wasn't going to work financially, but we organized fund-raising efforts to make it happen. Today the town's 'Coffee Street Walking Bridge' offers a beautiful setting overlooking the river." Construction was completed in 2003. One year later, in 2004, Ernest passed away. He and Julia were married for 50 years.
Now, 20 years later, staying active continues to be a big part of how Julia remains an active member of the community. Beyond visiting with folks on walks around town, she has participated for decades in bowling and golf leagues.
"Age is just a number," she says. "It should not be a barrier. If you're able to physically do activities you enjoy, do them! Don't hold back." This was something she saw firsthand in her own family growing up.
"My father first started playing golf when he was 75 years old," she remembers. "He bought a set of second-hand clubs and enjoyed that for the last 14 years of his life. We have a family reunion/golf event each summer as part of Lanesboro's Buffalo Bill Days called 'The Johnson Open.' Nearly 50 golfer – family members and friends – have played in it; we have a great time together."
Here's recent proof of that philosophy from this special lady's life. In the spring of 2023, she celebrated her ninetieth birthday at a standing-room-only party at the Lanesboro Golf Course. Her friends and family (including her children, five grandchildren, and three great-grandchildren) were part of the fun.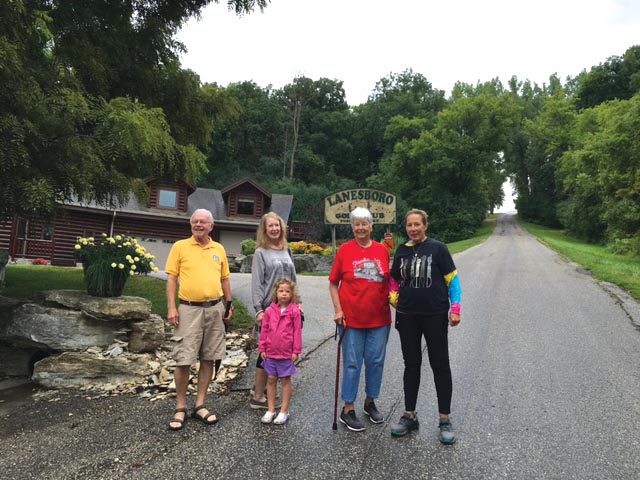 A few days earlier Julia did something else. The Lanesboro Golf Course sits atop a high bluff. The only way to get there is by traveling up the steepest road in town, a distance of at least 1000 feet with a grade of about 60 degrees. To mark turning 90, Julia decided to walk up that hill. "Everyone sang 'Happy Birthday' to me at the bottom, then we headed up!" she says with a smile. With family and friends holding hands, including her four-year-old old great- granddaughter, Kynlee, Julia made it just fine.
Just do it. Stay active, reach out to people, help build the community you love. According to Julia Borgen, it's a formula that works across the ages.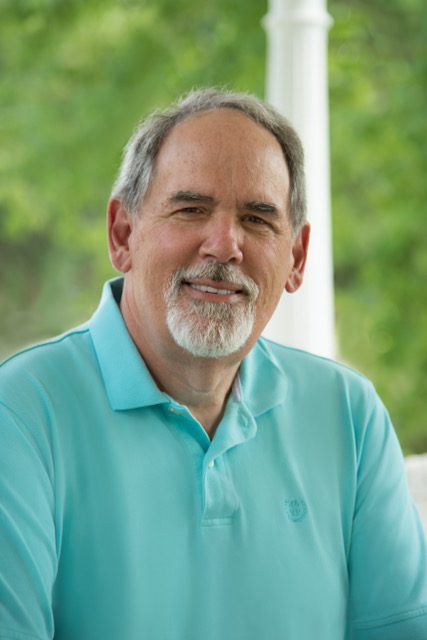 Steve Harris, a free-lance writer and author of the book "Lanesboro, Minnesota," recently joined Julia for a walk up Golf Course Hill and wonders if he will do it at 90.