Interviewed by Amalia Vagts, granddaughter (left) • Originally published in the Summer 2014 Inspire(d)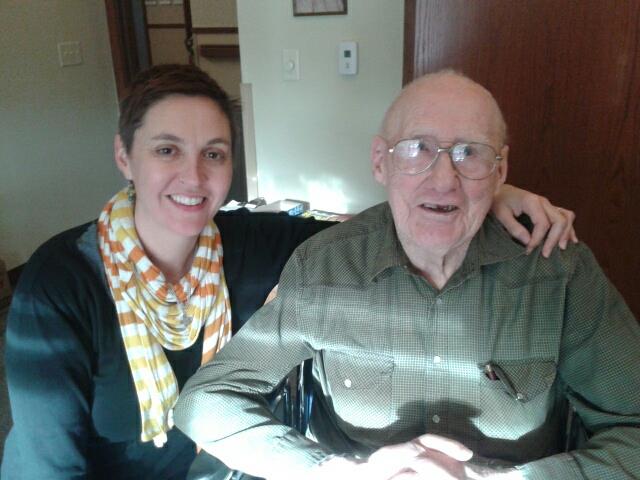 My grandfather, John F. Hassebroek, can have a conversation with anyone, anyplace, anytime, on pretty much any subject. At 97, he's slowing down a bit. But if you find yourself in Sioux City, Iowa with some time on your hand, he'd be glad to visit with you. John worked for the American Popcorn Company in Sioux City for 36 years traveling from farm to farm throughout Northeast Nebraska and Northwest Iowa where he was known as the "Pop Corn Man" by the farmers he visited. We caught up on Skype for this interview (with some help from my mom).
What's the best advice anyone ever gave you?
I don't know that I ran around and asked for advice, but, for one thing, "Be happy."
How about the worst?
This is really more the worst idea than the worst advice. I moved to Buffalo Center around the time of high school. We had a big ice storm one day and I skated to town on Highway 9, right down the pavement. Luckily, things turned out okay.
What jobs did you think about doing when you were a young kid?
I was raised by my grandfather and grandmother and did a lot of jobs as a young boy. My grandfather ran a filling station next to the house and I worked there sometimes. In fact, my dad dug a pit inside our dirt garage, and I would get in it. The cars would drive in and I would drain the oil, and then tell whoever was up top that I was done and they would pour the oil in. This was when I was 12 or 13 years old.
What work did you do as an adult?
In 1938, I went to the State Fair in Des Moines with my brother and some friends. When they went home, I decided to stay and got a room at the YMCA. Finally down to no funds, I sat on the curb outside a bakery one day eating day-old doughnuts. I got a job with a salesman who sold fur coats in home-owned ladies stores. I finally tired of that and got a job at a parking garage around the corner from WHO where Ronald Reagan was a sports announcer. After that, I joined the service and am a World War II veteran. I spent most of my working years at the American Pop Corn Company. I was a fieldsman and businessman for them for 36 years. I went out and worked with the farmers who were growing the fields of popcorn. I had a very interesting career with a great company.
If you were stranded on a desert island, what three things would you want with you?
Radio, shelter, and a friend. I suppose for food I would want a fire, so I would need some matches. So if I smoked, I tell you I'd quit on the spot!
Describe yourself in a sentence.
Well, I think I'm a thoughtful person, friendly…I look forward to helping somebody.
How did you meet your wife (the late Bonnie Brodie Hassebroek)?
I was stationed at Fort Des Moines. One night I ended up at the ISO and noticed this pretty classy looking red-haired WAC (Women's Army Corp) and challenged her to a game of ping pong. She was very friendly and we had a good time. We wound up at an upstairs bowling alley that had booths for short orders. Des Moines had citywide blackouts then and one of those happened so we sat across the booth and chatted in the dark. Well, we hit it off and that started the romance!
What is one of your favorite features of where you live now?
The bathroom, naturally!
A favorite memory…
Bonnie and I were featured in Ripley's Believe It or Not. Bonnie was in the Women's Army Corps and I was in the Army. Bonnie was deployed to London soon after the wedding. She went to France some weeks later and then I got orders to go to France with the 167th General Hospital Unit. We had a reunion in Verdun, France after I got a tip from a WAC who knew of a red-haired WAC named Bonnie staying in a farmhouse about 10 miles from the German front. I showed up and knocked on her door and it was on our first wedding anniversary, within one hour of our marriage ceremony. My sergeant mailed in the story to Ripley and it won first prize in 1945. We had quite a life together.