Sum of Your Business: "Happy" Joe Whitty
Intro and interview by Benji Nichols • Originally published in the Spring 2016 Inspire(d)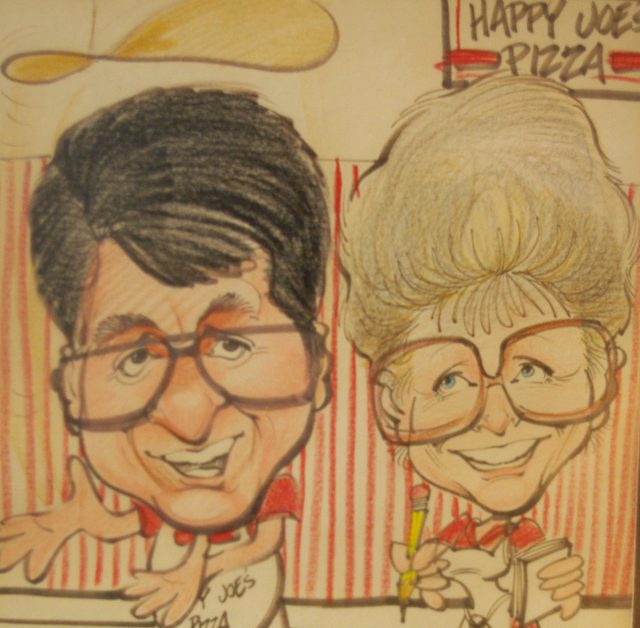 Foreword: While this story has just come out in our Spring 2016 issue, the news of losing Decorah's Manny Madrigal has also just reached us. Manny, whom owned and ran the Decorah Happy Joe's with his Wife Mary Ann and family for many years, was a one of a kind. He was well known in Decorah, played a mean game of pool, and worked out almost everyday. He will be missed in the Decorah Community and at Happy Joe's. Our condolences to the entire Madrigal Family.
———————-
If you grew up anywhere near a Happy Joe's Pizza restaurant, chances are you either hosted or attended at least one of their epic birthday parties, with the honking of Bombay horns, the singing, the fire engine siren, and a birthday ice cream sundae presented in full glory with a candle (and cherry alongside the wafer cookie) perfectly placed on top. The elaborate performance may not have caused tears of joy to the younger birthday boy or girl every time, but the festive atmosphere definitely lent itself to a happy experience. And the formula (to this day) is not an accident. It – happiness – was one of the key selling points to the "crazy idea" that Joe Whitty took from nothing to the now multi-generational, franchised restaurant that invented the taco pizza (something we're pretty big fans of at Inspire(d) HQ!).
Just west of Minot, North Dakota, in the sprawling Midwestern plains, Lawrence Joe Whitty was born the middle of five children. The family lived on a farm just outside of Des Lacs, milking cows, farming, and living in a typical farmhouse – void of modern plumbing and heated entirely by a wood stove. From a young age, Joe and his siblings learned the meaning of hard work, dedication, hospitality, and determination. And at eight years of age, Joe fell into a coma due to spinal meningitis and wasn't given long to live. Nothing short of miracles and stubborn dedication led to his recovery – and appreciation of the life he was given. It's a telling tale of Joe's ability to overcome life's challenges. The ups and downs of entrepreneurship are enough to give most people rough days, even years – add to that losing not one, but two wives to cancer, and you'll begin to see the depths of Joe's tenacity. This ability to survive – and thrive – is likely one of the reasons Joe has made giving back to the community, and especially handicapped and special needs children, a big part of the business.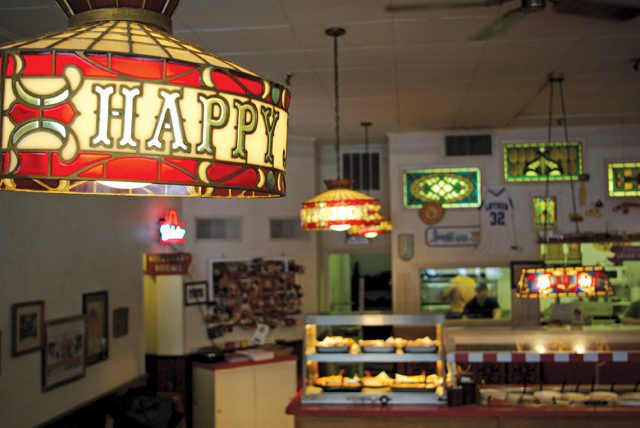 A love for connecting with every customer who walked in the door (or drove up!) started early for Joe – age 18 – when he bought and operated his first restaurant in Minot, North Dakota: The Keg Drive-In. He also learned how to make work – the place where you spend most of your waking hours – as fun as possible. The Keg didn't last forever, but it did give Joe an even bigger love for being your own boss and making people happy. As his young family grew, Joe worked as a baker, which eventually led to a series of jobs in Davenport, Iowa (one baking for nuns!), and finally to managing two Shakey's pizza parlors. Joe saw the fast rise that pizza was making – and the idea of a pizza – and – ice cream store was hatched.
Today, at age 78, Joe continues to oversee Happy Joe's business – with over 50 franchises and stores in seven states – while enjoying a little more time for retirement projects. His passion and sense of family continue on in the business with son Larry as the president of Happy Joe's, and daughter Kristel serving as marketing director. Yet Joe Whitty can still be found often in one of the many Happy Joe's restaurants – from Davenport to Gilbert, Arizona – greeting friends and talking to guests, and he's still a driving force in the Happy Joe's Kids Foundation which focuses on outreach to children with special needs.
The Basics:
Name: Lawrence Joe Whitty aka "Happy" Joe Whitty
Age: 78
Business: Happy Joes Pizza & Ice Cream
Years in Business: 43
(The first Happy Joe's opened in November of 1972 in the East Village of Davenport, Iowa)
Tell us about the "leap" moment. When/how did you decide to jump in and become your own boss?
In 1956 when I was 18, I bought the Keg Drive-in in Minot. I also met my wife Sandie there. The Keg only lasted a couple years, and then I went on to be a commercial baker – we eventually had the opportunity to move to Davenport, where I also baked for Mercy Hospital and the Catholic Nuns – that's where I really got my pizza crust down – the nuns loved my pizza. When I managed a Shakey's pizza parlor in Davenport, families were always coming in for pizza and then going down the street for ice cream afterwards. That's where my idea for a pizza and ice cream place came from – I knew what I wanted to do.
I had wanted to be in business for myself for forever – I saw people doing it, and I was working for people who were doing it. They were driving nice cars and living in nice houses, and here I was working away for them. I decided to do it for myself.
What's the best thing about being your own boss?
When you walk over and open up the door with that key – it's your place. You go out and clear the driveway – it's yours. You spend your whole life getting to that point. And of course the customers – good ones and "bad" ones. I've always taken time to talk to my customers, and it's fun to hear how much people love the pizza and parties, etc. But I take as much or more time to hear the complaints – those are how you learn. If somebody isn't happy or things aren't right – I'll stand on my head and whistle "Dixie," – free ice cream cones, whatever it takes to make it right. Those often become our best customers, happy customers, because you make it right.
How about the worst?
The hardest part for me was maybe working too close with friends at times. Having to hold friends to business or franchise agreements or ending up in court. That can hurt, but you find your way through it, and you have to protect your original business interest and everyone else that has invested in it.
Was there ever a hurdle where you just thought, "I can't do this?" How did you overcome it?
I had six banks turn me down for a loan to open my own place before I was able to convince someone. My friends thought I was crazy with the pizza and ice cream idea. It wasn't until I showed up at Jim Schrader's office at the Davenport Bank & Trust with my brass horn and yelled this huge birthday announcement for him, honking the horn, getting everyone to sing and laugh – I had no idea when his birthday was, but it got attention. The president came over and said "Good God, get this guy a loan so he'll get out of here!" But it worked… I still had no idea if the idea would work, but we had the loan!
When we got ready to open the first Happy Joe's, I invited a local Catholic Priest, Father Hoenig, to come bless the store. It was also at this time that I told the Big Guy upstairs that I'd take him as my partner – and I did. And I agreed that regardless whether things worked or not, I'd make sure we gave back to the community, and to those in need. When my first wife, Sandie, passed away all of a sudden from cancer – she was always right beside me in the business and such – I started pulling an empty chair up in my meetings. I'd get looks and asked who that was for, and I'd say it was for the Big Guy.
Another one of the first hurdles was coming up with a name we could trademark. I have a good lawyer friend, Bob Van Vooren, who helped us – we looked at all sorts of names with Joe in them, but were having a tough time. My then 11-year-old daughter (Julie) came down the stairs one morning and said, "If you're going to have pizza and ice cream, and fun birthday parties, and all these happy things – why not call it Happy Joe's?" That was it.
When the store took off, people noticed and loved the concept – I had people asking in the first year if they could franchise – I didn't even know if I could spell franchise. But, after a nice couple had come in several times and asked me about the possibility, I told them I didn't have the money or the agreements set up. They wrote me a check for $500 that night and said they wanted to be the first to franchise. I went out and collected every franchise agreement I could get my hands on – had a typist help me combine all the parts I liked and took it to my lawyer, who said, "Joe, this looks pretty good!"
We ran with it from there, and had franchises going in the next couple years. I had a lot of good help through it – always good help.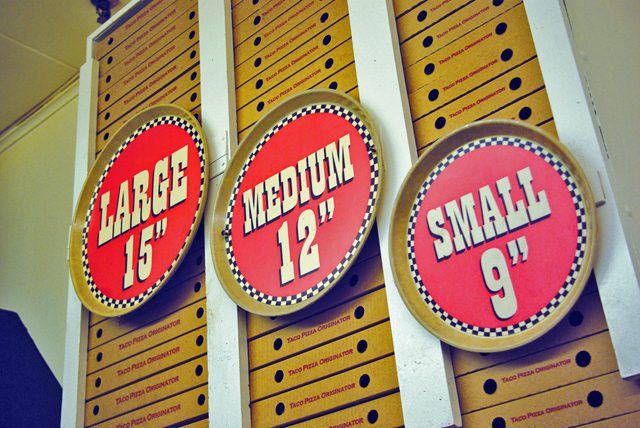 Any mentors/role models you look to/have looked to?
When I built out the first store I had so much help from friends and other businesses. People extended bills, personal friends helped put the store together and paint and such, along my friend and lawyer Bob Van Vooren. I was so thankful for all their help, so I put their names up on the windows as free advertisements – I just wanted to give them thanks. Bob came in after I'd done that and nervously said, "Joe! You have to take my name off there – it isn't even legal for me to advertise." (as a lawyer). So I took the "Van" off of "Van Vooren" and figured he could get away with it. I couldn't have done it without all of those people – and several of my friends – life long friends – came from running the business.
What's the one thing you wish you had known before you started?
I've often said if I had any more education I wouldn't have ever opened the store – not enough start up money, the location, our crazy pizzas with sauerkraut and things, and having ice cream too. Nobody was doing that, but I said, hey I want to do this. Originally I only wanted one store – a place to support my family.
But, a little more education sure would have been helpful at times. Maybe if I had gotten to go to college I would have been able to do a few more things myself. I had to hire good people to fill the slots where I couldn't do it.
How do you manage your life/work balance?
My family was always involved in the business. I used to tell my kids "Hey, I don't have any money, but I do have hours, how many do you want?" The members of my family were part owners in everything we did through that – they waited tables, washed dishes, you name it. After I lost my first wife, Sandie – well, it was hire a babysitter or have them at the store! I figured it was better to have them at the store. My kids were getting checks from me as young teenagers. They also came along with me all over the country in our RV as we opened new franchises and did celebrations. We also had a lot of fun along the way – and now some of them run the company!
What keeps you inspired? Any quotes that keep you going?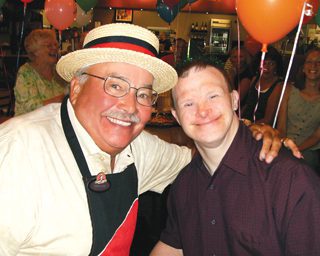 Back when I was a Shakey's manager, you know, checking on tables, talking to people, we still had the piano and banjo players back then. I had a gal come to the door one evening and look in. She asked if we would mind if her son could come in and listen for a bit – but that her son got a little loud when he was excited – he had special needs. Well, I had plenty of regular customers who got loud when they were excited, so what'd I care!? I of course told her to come in and enjoy – I treated them great, and her son really enjoyed himself. I wondered to myself how many other kids out there were at home – not able, or whose parents were hesitant to just take them out?
As soon as I had my own place going I knew I wanted to close the shop at least one day a year, just to invite children with special needs for a party – and treat them like royalty. And we did that our first year – it was great, and became a regular part of our business. As soon as you do something good like that, people take notice – we had newspaper write-ups, which I sometimes even got questioned on. You know, if everyone did things like this it wouldn't be so noteworthy – there's a lesson there.
We love it. We just had 1400 children participate in our Happy Joe's parties at the i-Wireless Center from all over. I see some of these children year to year and they are so great – some kid came up to me this year, and I'm in my straw hat, smiling – and he says 'Look! He's still livin'!" another told me "I've got a complaint Happy Joe – you need to make the parties last longer!"
We also found that workers with special needs or disabilities could often find valuable places on our teams. Many are capable, and willing, and often help attitudes that bring a team together in the store. This just started because I wanted to make sure we showed a little care to these people – those kids belong to all of us you know, not just their parents. That's what its all about.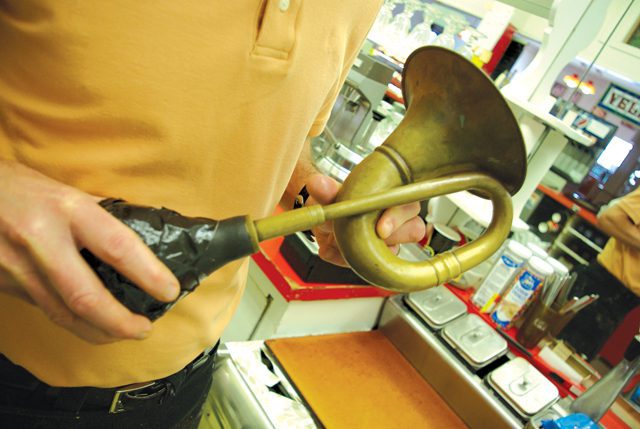 Joe Whitty is also the author of "Not Your Average Joe", a personal memoir of his life and the story of Happy Joe's Pizza & Ice Cream. You can find out more about Happy Joe's and the Happy Joe's Kids Foundation at www.happyjoes.com or www.happyjoeskids.org
"Everyone has a dream. Not everyone is lucky enough to see theirs come true. Give credit to success where it is due, and always remember that with success comes responsibility. Whenever you have the opportunity to make a difference in someone's life for the better, take it! Because, ultimately, the biggest difference, you'll discover, will be in your own life." – Happy Joe Whitty from "Not Your Average Joe"
——————————–
Benji Nichols celebrated countless birthdays as a kid at Happy Joe's in Decorah, and to this day enjoys a taco pizza like nobodies business. He's inspired by Joe Whitty's life story, business spirit, and ability to overcome.