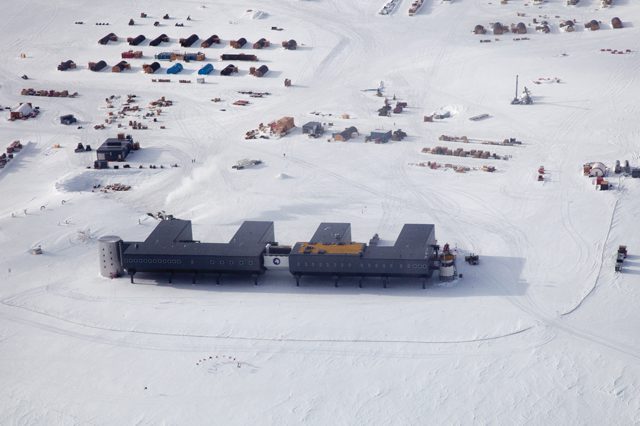 Interview and introduction by Aryn Henning Nichols (originally published in Inspire(d)'s Summer 2012 edition) • Photos courtesy Jase Grimm
The South Pole conjures up images of – for me – an actual pole, lots of ice, and maybe some penguins. Turns out there is indeed a pole and ice, but not much living except a crew of 50 scientists and staff and some greenhouse-grown produce – now including cantaloupe (if you're lucky)! Oh, and millions of dollars of cool, sciency equipment too. (Penguins do live in the Antarctic, just not as far inland as the Pole.)
Decorah native and chef Jase Grimm headed to Antarctica in 2011-2012 to be the Production Line Cook at the South Pole Station through a Lockheed Martin team that supports the National Science Foundation's U.S. Antarctic Program. He's there for a second time this winter – from November 2014 to November 2015 – and this time, you can follow his adventures, read his recipes, and watch fun videos at uncommonfruit.com. Inspire(d) caught up with Jase back in 2012 to hear more about what it's like when you're that far south. Turns out it's cold…but you can still get some local foods on your plate! Read on:
The south pole, eh? How does one decide to go to the South Pole? Was the Midwest just not cold enough for you? Tell us the background on how you got involved in this adventure. What was your first impression when you arrived?
It was an opportunity that presented itself that I really couldn't turn down. Two years ago, while I was working in Alaska, looking for more seasonal work I came across an ad for a job in Antarctica. A co-worker and I, after a few beers, decided it would be fun to apply. That year I was accepted as an alternate for a production line cook position at McMurdo Station, Antarctica, meaning if a primary production line cook failed a physical exam, or couldn't perform the job duty, they would call me up.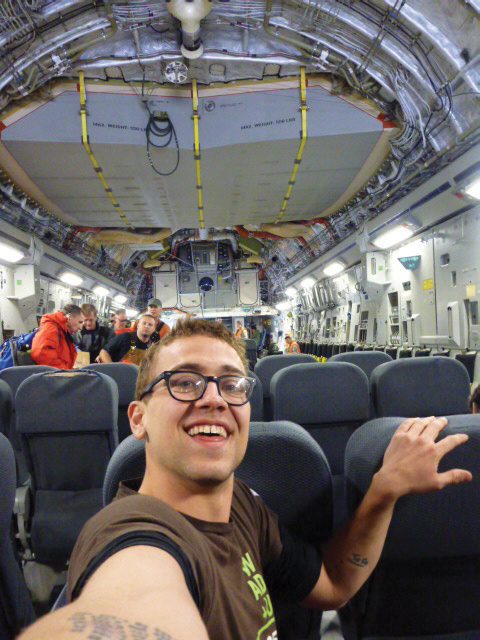 I ended up taking a position at a country club in Florida, AKA, hell on earth. I wanted nothing more than for Executive Chef James Brown to call me up and rescue me from Vero Beach, alas, it didn't happen. But, to my surprise, my first day back in Alaska this last year James called me up and offered me the primary production cook position. I believe his exact words were, "How would you like to come to the South Pole?" Getting off the plane here was absolutely incredible… I was giddy. After two years of anticipation, thousands of dollars in medical tests, a 12-hour flight to New Zealand, a week amongst the Kiwis, a flight to the continent, and that last flight to the pole, it was almost too much. Also among my first impressions was how damn cold it was.
Tell us about a "typical" day in the South Pole.
My job description is Production Line Cook at the South Pole Station. I'm an employee of Gana-A 'Yoo Support Services, which is a company hired by Lockheed Martin whom the United States Antarctica Program (a derivative of the National Science Foundation) hired just this year to provide Scientific Support. My typical day goes a little like this:
4 am: My alarm goes off… I snooze until 4:25
4:30 am: Get to the kitchen, dressed in my chef costume (I will never feel comfortable in a uniform)
6:30 am: Put out another delicious, nutritious breakfast made up primarily of expired eggs, 10-year-old frozen breakfast meats, and all sorts of dehydrated/powdered goods
8 am: Break down breakfast as fast as possible so I can utilize the scant hour of Internet available via satellite that day
10 am: Prep for the next day's breakfast and shoot the sh*t with my co-workers
12 pm: My favorite part of the work day… making some ridiculous, over-the-top dessert for dinner, I get a chance to express myself. My favorite day of the week is White Trash Wednesday… can anyway say giant Twinkie cake?
1:30 pm: Wrap up work, grab a bite to eat, attend any meetings (which vary from menu planning to hands-on blood drawing lessons for my trauma team)
2:30 pm: Volunteer in the greenhouse, germinating seeds or harvest chard, kale and arugula for the kitchen
3 pm: Work out and watch an hour of Sex and the City
4 pm: Help out with dinner, put out my dessert and socialize a bit with the dinner cook, then enjoy another delicious meal
6 pm: Retreat to my room for reading/feeding whatever television series addiction I'm nursing at the time (right now it's Lost)
8 pm: Turn off the lights, and have some of the most vivid dreams I've ever had, most of them having to do with Decorah… I miss that place.
Wash, Rinse, Repeat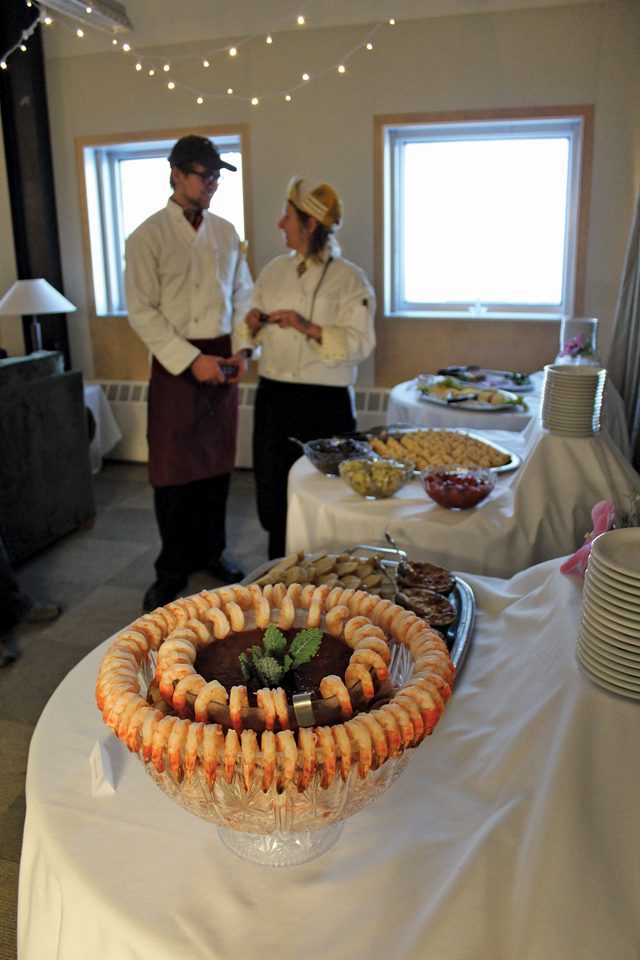 What's the rest of the South Pole crew like? What kind of work is happening at your job site
Everyone here is just as quirky as me, and that's awesome. My kitchen crew is awesome. Spencer is our Sous Chef and he's really down to earth, let's us have a lot of freedom. Mel is the dinner cook – a tattooed ex-circus employee and my de facto best friend for the season. Our dishwasher is Kasia, the Polish Princess. All of the support crew, from materials persons to heavy equipment operators, is awesome and have incredible stories of their own. The amount of small world coincidence down here is astounding; for instance, Spencer used to live in Minnesota and visited Luther College to discuss local foods being incorporated into college dining programs, and while he was there he ate at a little bistro called La Rana. My buddy Max, who worked here this summer, worked at the same restaurant as me in Chicago (at different times), lived in the house I built my tall bike in (I never met him), and shared an ex-girlfriend with my brother Trevor. Too weird. Most of the crew, and I, are here to support science. The kind of science going on down here is cutting edge, and most of the time, completely over my head. There's a lab called Icecube which is a $300 million attempt to determine the exact age of the universe. We also support a lot of climate science; measuring ozone, carbon levels in the atmosphere (both now and in history) and the like. During the summer we were lucky enough to have a science lecture every Sunday that would cover all sorts of topics like under-ice lakes and why Antarctica is resistant to global warming. It's darn cool stuff.
Can you tell us about some of the beautiful/inspiring things you get to experience being in such a foreign environment?
It is a challenge to be somewhere so remote, so dry and so cold. And it really brings the best out of people. I've done things here that I never thought possible. For instance, I've run two marathons since being on the ice, one here at the pole and one at McMurdo. It also challenges me in the kitchen; working with no fresh ingredients and having to rely on dehydrated celery and powdered milk makes you damn creative. Just the environment here, though, is really beautiful; who knew that flat, white and endless could be so aesthetically pleasing? The sunset was also incredible… you just don't know how special they are until you only get one a year. I got to see my first glimpse of the Aurora Australis this past week and I was reminded why I was crazy enough to sign up for a yearlong stint at the Pole. It was breathtaking, and I can't wait to see more.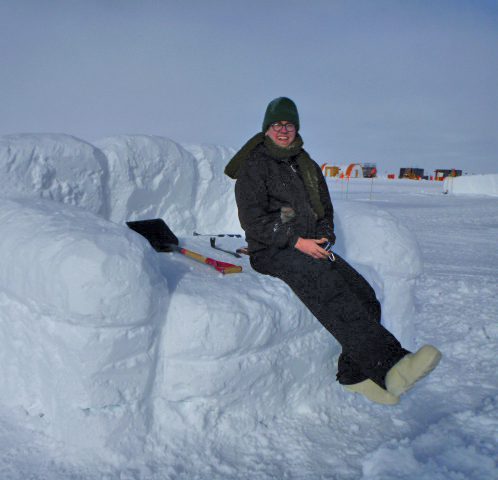 What do you miss most about the Driftless Region?
I miss my family terribly. Mom, Dad, Maddie and Colin, I love you and can't wait to see you! I miss my friends, and just all the good people I know. I miss the people I don't know too… seeing the same folks day in and day out gets a little old. I miss the hills, bluffs, trees, streams and river. I miss topography period. I miss green things. I miss my dogs. I miss the rain. I miss the smell of dirt.
Let's get down to the cooking – how many people are you feeding, what are your biggest challenges cooking in a south pole kitchen, and what does the menu usually look like?
Our winter population is 50 people exactly. Right now I'm cooking breakfast, but we switch every of couple of months, just to break up the monotony. Lucky for me, only about 25 people actually show up for breakfast. A typical breakfast might include ham and cheese scramble, hash browns, sausage patties, homemade biscuits and gravy (a specialty of mine), waffles with strawberries and maple syrup, mango smoothies, homemade vanilla yogurt, a bowl of canned pineapple and bran muffins. We try to keep it interesting and varied; the reality of it is that the galley plays a major role in the morale of the station so we do our best to make people happy. The biggest challenge by far is the lack of fresh ingredients. We're working with eggs that expired on March 7, we're on our last case of onions, and the only other freshies we have are pumpkins and sweet potatoes. Everything else is frozen or dehydrated. Our freezer is a big ol' door that leads onto a deck outside so when you open up a bag of frozen snap peas they do just that: snap, because they're brittle. If you toss a bag of frozen brussel sprouts into a hot pan they will literally shatter because of the heat difference. We also happen to be the driest location on earth; recently they clocked the humidity level at about 2% (keep in mind the Sahara sits pretty at about 10%.) Popcorn won't pop unless you soak it in water overnight. Cookies go stale within a few hours. Yet another challenge – most specifically in the baking department – is the altitude. Our physical altitude is just shy of 10,000 feet but due to atmospheric and weather abnormalities here the physio altitude (what the air pressure says the altitude is) can vary by about 1,500 feet. Baking a cake takes a whole lot of finagling: add flour and liquid, reduce leavening, increase oven temperature, decrease baking time, etc… Needless to say, it all keeps things interesting.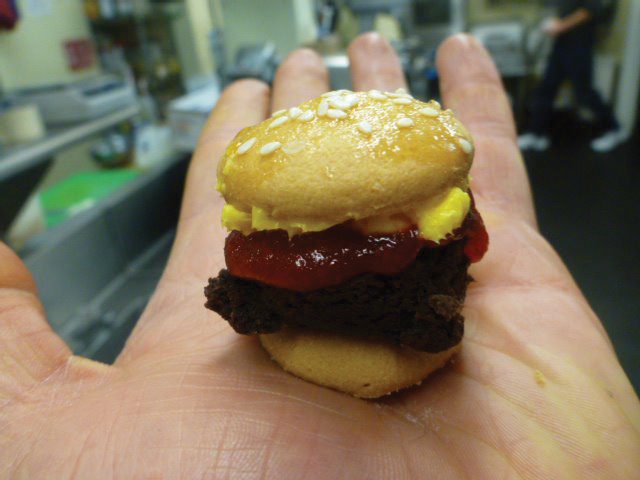 Does anything grow in the South Pole? Any local ingredients?
We are blessed with a food growth chamber, aka greenhouse, and an incredibly competent greenhouse manager named Joselyn. She's awesome. She brings us bok choi, kale, chard, arugula, amaranth, tomatoes, cilantro, mint, parsley and so many other great things almost every day. Today she brought up two tiny cantaloupes (I'm told the first to be successfully cultivated at the pole) and they were heaven. You really don't know how much you miss these kinds of things until you can't have them.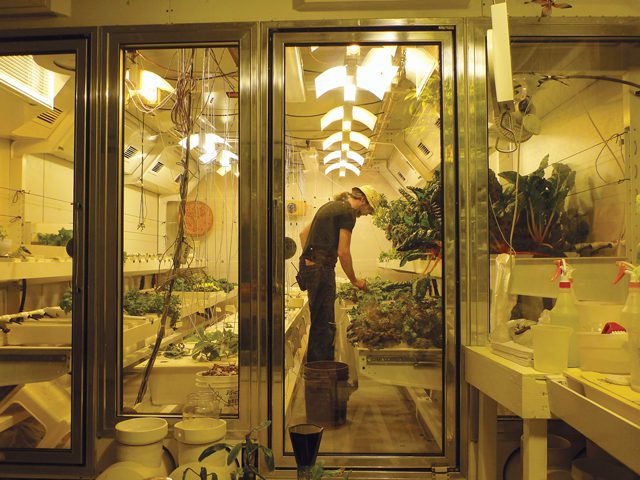 Would you recommend this experience to other adventurers? What advice would you give them
This has been the adventure of a lifetime. It was a hard choice to stay here for as long as I'm going to, but I wouldn't change it for the world. I have met incredible people, done things that most people only dream of doing and have memories that will last me forever. If you ever get the opportunity to do something like this, or anything that makes you a little nervous, or puts you out of your comfort zone, do it. The appreciation that I have for my friends, and family, and my hometown is so much stronger now than it ever was before. The best part about going out into the world and having adventures is knowing that Decorah is always going to be there for me when I get home.
Remember, follow Jase's adventures and food at uncommonfruit.com.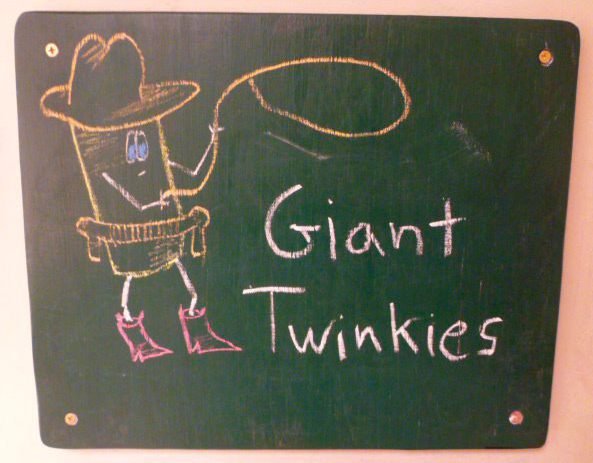 —————–
Aryn Henning Nichols is inspire(d) by Jase's adventures, and remembers her own adventures teaching English in China in 2004-2005.