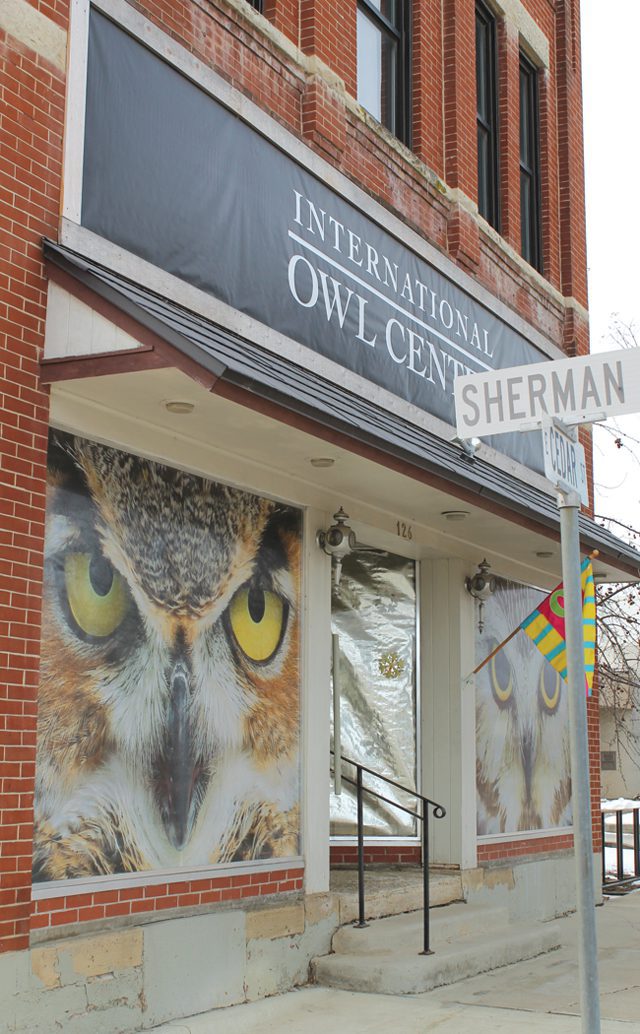 International Owl Center
126 East Cedar Street
Houston, Minnesota 55943
www.internationalowlcenter.org
507-896-6957
Hours (year-round): Friday through Monday, 10 am to 4 pm; educational programs with an owl flight at 11 a.m. and 2 p.m. daily; owl enrichment (fun activities for owls) at 3:30 p.m. Admission: Adults: $5; children 4–17, $3; members and children under 3, free
Can't make it to the center anytime soon? Check out the 24/7 live owl cam on its website.
There was a whole lot of hooting going on at the International Owl Center on one recent Saturday morning. The sounds, however, aren't emanating from Ruby, the imposing great horned owl perched on the forearm of educator Sue Fletcher, or any of the other education owls currently at "work" at the center. Instead, two young boys and their mothers were attempting – with varying degrees of success – to imitate the distinctive "hoo, hoo-oo, hoo, hoo" call of the great horned species.
"I love owls!" proclaims one of the boys during a lull in the action. The other quickly agrees.
"That's the reaction we always strive to get from our visitors," says Karla Bloem, executive director. "Our goal is educate and inspire people – and invite them to make changes in their lives that will benefit the owl community."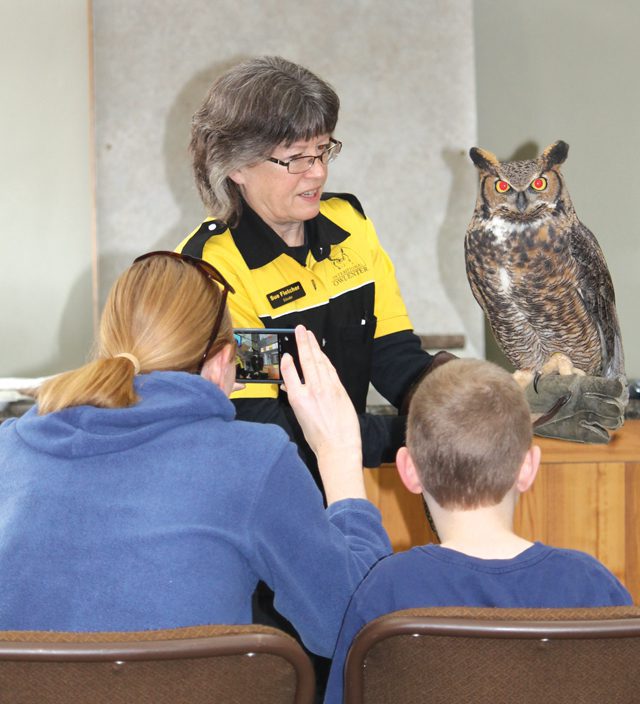 In addition to its educational programs – which are customized according to the makeup of each audience – the center boasts more than a dozen highly realistic owl mounts representing owls engaging in different behaviors as well as an array of hands-on exhibits to give visitors a better idea of how owl wings, feet, and tails look and feel. (Touching the live birds is not allowed.) Those who want more of an outdoor adventure can take a self-guided tour of 10 pieces of owl art scattered throughout downtown Houston.
"If you want people to care, you have to show them that there's so much more to owls than they ever realized," says Bloem. "We want visitors to leave our centers having learned that owls are real creatures with real personalities."
The seed for establishing an owl center was planted in 1998, when Bloem acquired an injured great horned owl, Alice – currently on maternity leave – to use in educational programs at the nearby Houston Nature Center. To celebrate Alice's "hatch day," she created the celebratory International Festival of Owls in 2001. The success of that three-day festival – which last year drew nearly 2,000 people from as far away as Norway, South Africa, and Nepal – sparked interest in establishing a center devoted exclusively to owls.
"This is the only facility in North America dedicated to teaching people about owls," says Bloem. "It really is a must-see."
What not to miss: The annual International Festival of Owls features activities for owl enthusiasts of all ages, including live-owl programs, an owl-themed pancake breakfast, an owl photography contest, nest-box building, and a kids hooting contest.
See more Driftless Nature Center profiles here!
– By Sara Friedl-Putnam