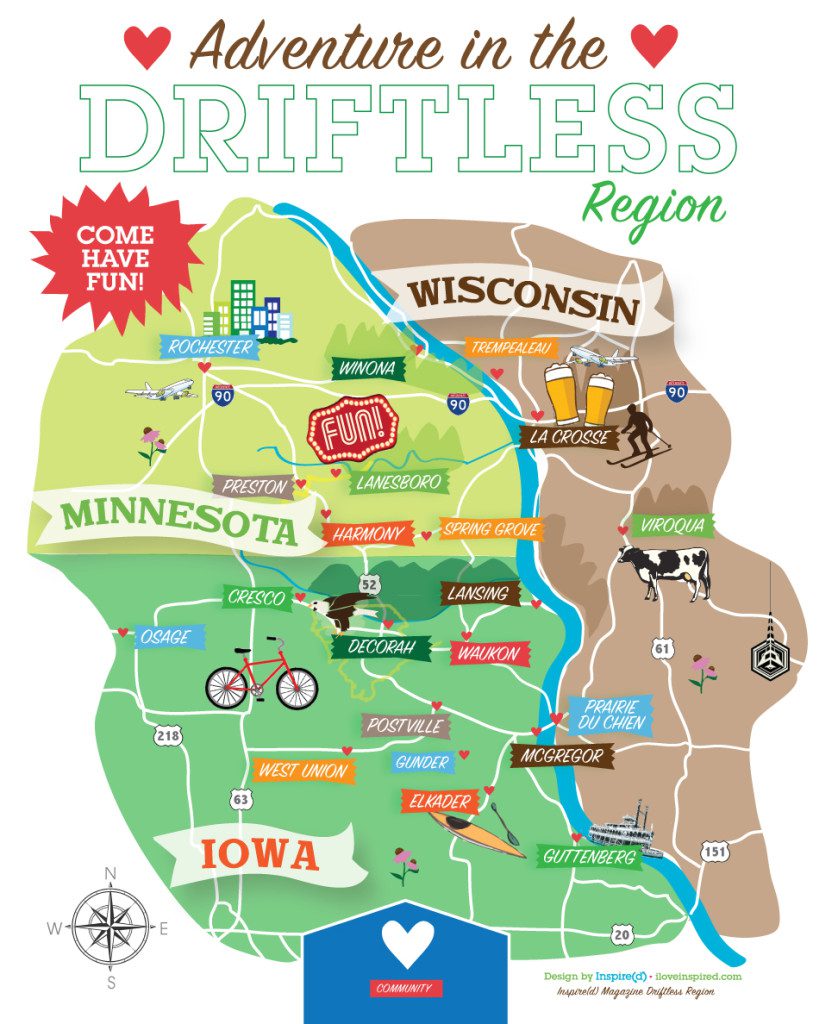 March 1, 2016. An Inspire(d) Manifesto (of sorts):
Inspire(d) Media started officially in October of 2007, but the idea was planted in my head long before that. I wanted to create a publication that made it easy for people to find inspiration – and not just pie-in-the-sky inspiration; I wanted it to be relatable.
We've grown and learned and changed throughout our eight-going-on-nine years running this magazine, but a few things have remained the same: People are good. Community is important. Change is possible.
The theme of this Spring Inspire(d) is "looking forward". I like to think of that phrase as filled with optimism and hope and determination. So remember that every time you read my editors letters and see that I've signed it thusly. Looking forward from there, this very moment, I'm making it a goal for community to be an even bigger mission for Inspire(d). Specifically the Driftless Community. I want us all to get to know each other a little better. I want us to help each other a little better. And I want us all to have fun together!
So here's what's happening: We're going on some info-finding missions. We're asking mayors and city managers in communities around the Driftless Region what makes their towns special and what are the biggest challenges. And then we're all going to learn more, see how we can further enjoy the area, and how we can help with some of the issues right in our backyards.
This spring Inspire(d) kicks it off with Postville. It's a big one. I grew up on a gravel road between Decorah and Postville – I went to school in Postville, and I had a happy time growing up there – cheerleading, marching band, theatre, chorus, student council – I was involved in nearly everything.
When I was in high school, diversity wasn't something I thought a lot about. It was just starting to happen in Postville, though, with a handful of Russian and Ukrainian students filtering through the halls and a decent number of Mexican and Guatemalans starting to call Postville home. Jewish people were building their sukkahs in the fall and I had friends who worked at the local Jewish deli (now defunct). It was all very novel, to be honest.
Now, Postville Schools clock in at 52 percent minorities. But the special thing about this place is that the diversity isn't driving a wedge between the students; it's making them closer. Postville Community School's best attribute? Diversity. And you can bet I love that.
Check out this story to read more about what's happening in this neighbor community these days, and what makes the students and faculty of Postville Schools pretty darn amazing.
This little map graphic is a rough estimate of the Inspire(d) readership area. Have you been to all the places here? Do you know anything about the people who live here? I'll tell you something: We are a kind lot of Midwesterners. I am so happy and lucky to call the Driftless home. Thanks for reading, friends.
Looking forward,


So what exactly are we trying to do here? Here are a few things that go through our minds as we put each Inspire(d) together – we want to inspire our readers in a variety of ways. Readers, heretofore, will be referred to as "you". (ha!)
We want you to put down the phone and pick up some paper.
We want you to make things with that paper.
We want to you make things. Period.
We want you to go analog some days.
We want you to adventure around our region we call home.
We want you to do something great.
We want you to do something good. Every day.
We want you to cook more.
We want you to support local businesses.
We want you to play with your kids more.
We want YOU to play more.
We want you to take in the beauty and life in nature surrounding us every. minute.
We want you to believe in yourself.
We want you to believe in other people.
We want you to know that there is beauty in everything. Every. Thing. Even those dandelions. Even in the colors that come together in that pile of trash. Even in that (what seems to be) 800th cloudy, cold winter day.
We want you to talk to people. Really talk.
We want you to be kind.
We want you to feel like a unicorn.
We want you to be inspired.