Impact Coffee roasts and brews a great cup of joe.
Interview and photos by Benji Nichols • Originally published in the Summer 2017 Inspire(d)
In a world that seems to move faster with each passing day, a true attention to detail is something that stands out. A perfectly matted and framed piece of art; a beautifully honed bench in a compact space; coffee beans transported halfway across the world, to be roasted, brewed, and served to perfection. These are traits of a craftsperson – or, for this story, craftspeople: Decorah husband and wife team Jeff and Anja Brown, and their sons Sean and Kai.
Impact Coffee Bar and Roasters is a young business, but for almost three decades Jeff and Anja have served the community through The Perfect Edge, now in its fourth downtown location, where they offer high quality professional art framing and matting services. It makes sense that the level of skill needed to frame literal works of art would follow through to anything else the couple touches – from the careful remodeling of old buildings to the roasting of a specialty batch of Yemen coffee beans.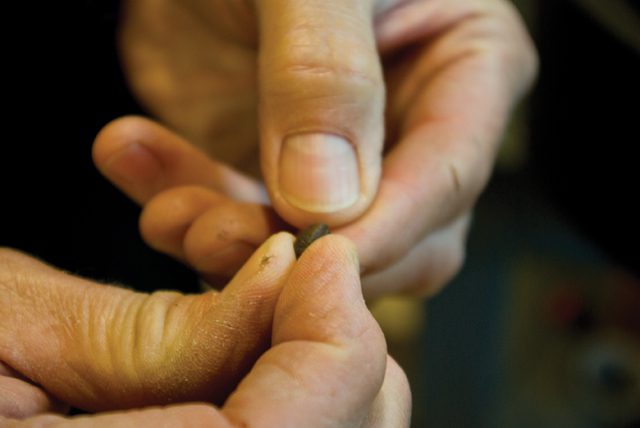 Arguably one of the greatest adventures of owning a small business is that inspiration (and opportunity) can strike at any moment. It was one of those chance opportunities that eventually led Anja to move the framing shop (for the third time!) to the beautiful space at 106 Washington Street, a former century-old cobbler and shoe shop (rail ladders still intact). Meanwhile, just down the block, 118 Washington became home base for the now-expanded Impact Coffee, a "third wave" – as they say in the business – roaster and coffee bar.
Much the way microbreweries have grown in recent decades, "third wave" coffee has shifted the bean business from mass commodity to a craft that honors the product's finest nuances. From grocery store tins to the mid-century rise of Italian-influenced espresso cafes to the onset of worldwide café chains, a culture has grown, giving the utmost attention to fairly sourcing, processing, roasting, and serving single-origin coffee beans.
This transformation of a rather humble agricultural product into a truly artisanal beverage is indeed an art, and Impact Coffee captures that. Beans are coaxed through the roasting process to bring out the subtle flavors of their source – from Kona, Hawaii to the Lake Kivu area of Rwanda. The differences can be immense, much like grapes to wine, and result in a truly stunning cup of coffee.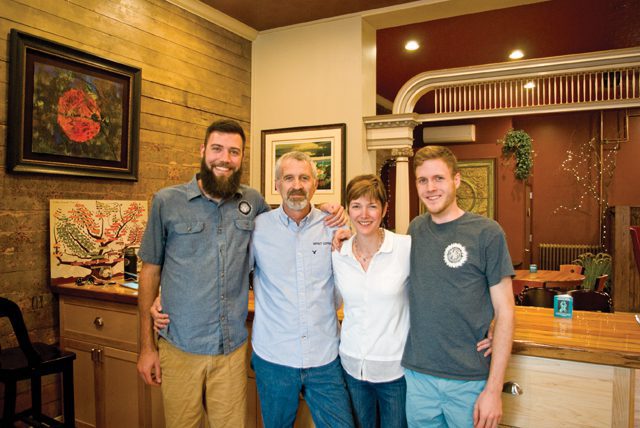 Jeff Brown is the man behind (well in front of, really) the roaster at Impact's processing facility, jumping through multiple regions and batches of beans on any given day. He's also the preparer of beautiful amounts of cold-brewed coffee – a process that can take more than 12 hours before it is kegged. These cold brews get served over ice through a nitrogen-charged tap system at the café, which produces a coffee with rich mouth-feel, smooth, yet exact flavors, and a great kick. The Brown's sons, Sean and Kai, are both involved in the business, and can often be found behind the counter serving up single origin pour-overs, frothy lattes, locally baked goods, tea, and more. The Brown family has clearly found their sum in Downtown Decorah, and we're Inspire(d) by that!
Tell us about your "leap" moment. When/ how did you decide to jump in and become your own boss?
Our "leap" moment was a gradual one. We met our former partners through The Perfect Edge three years ago. They were selling their roasted coffee at the farmers market and we offered them a retail space so they could have a permanent outlet in Decorah.
From there, the idea grew to replace the gallery space with a small coffee shop. Shortly thereafter our partners got an excellent job opportunity and sold us their roasting equipment. Impact Coffee Bar & Roasters was born. The name refers to the asteroid that hit Decorah 470 million years ago and created its distinct crater.
The decision to take over a new business was exciting and nerve-wracking at the same time. But we could see that we had the enthusiastic backing and support of the community. When you look at the coffee bar now, it is full of pieces offered by the community and friends: the old archway, the tin ceiling pieces, the barn wood, a humungous old photograph of Decorah, etc.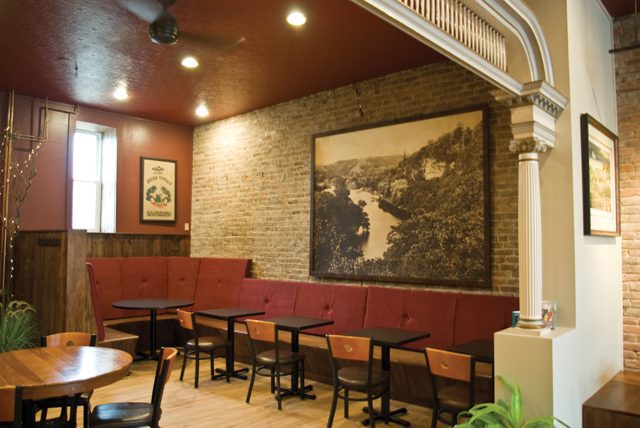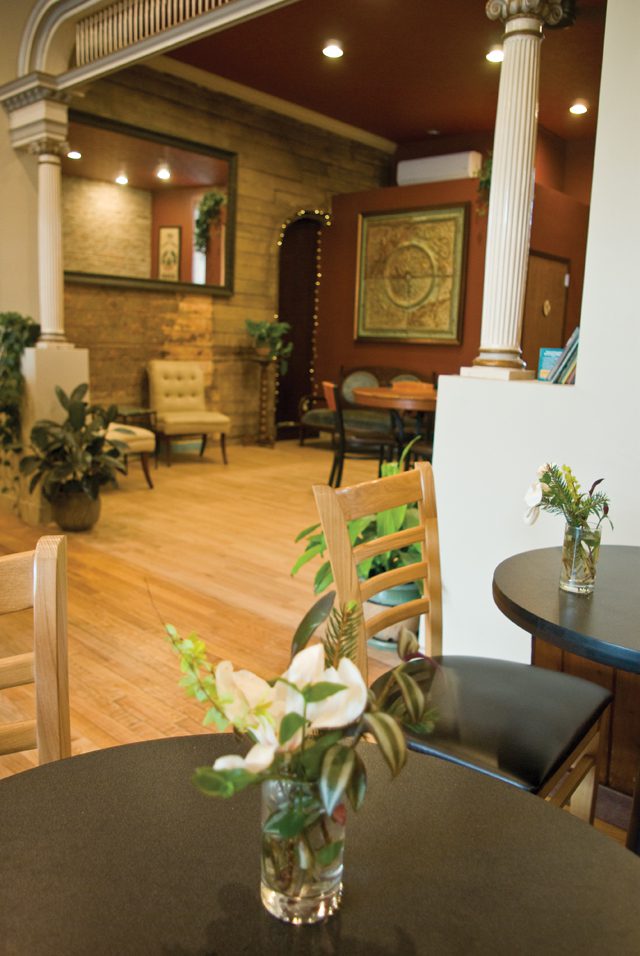 What is the best thing about being your own boss?
The best thing is that when you have a crazy idea for your business, you go ahead and do it. You own it. Making your own way, seeing it through. The satisfaction of knowing you did it and have sustained it, making it into a thriving business.
And we are lucky that Sean and Kai joined us and are running the coffee shop. Who knows what the future holds, but for now we can say we are a family-run business.
How about the worst?
Some days you just don't want to be responsible for anything. You just can't hand it off. Again, you own it.
Being a small business owner means you don't get to clock out at 5. Whatever the issue is, you need to deal with it for as long as it takes.
Was there ever a hurdle where you said, "I just can't do it!"? How did you overcome it?
Loosing our partners shortly after opening the coffee bar was a stressful time. While we had crossed our t's and dotted our i's, we had not worked on an exit strategy, which is an important factor when going into business with someone.
But we are so lucky to have a wonderful community and friends who gave us great advice and moral support. That gave us the energy to move forward. And we could never have made the transition without our two sons.
Mentors or role models?
Anja: Watching the way of life of my grandmother and my parents. Even through difficult times, the goal is always to do your job well and with pride. Maybe that is the infamous German trait I've heard so much about since coming to this country…
Jeff: I'd say all the entrepreneurs and small business owners were and are an inspiration. Hard work, integrity, and good customer service… the heart of any business.
What's the one thing you wish you had known before you started?
Sometimes it's probably best that you don't know! It forces you to be creative, to keep an open mind, and to trust yourself. We had been running The Perfect Edge for the last 28 years when the opportunity to get into the coffee business presented itself. This transition happened fairly quickly but things seemed to fall into place one idea at a time.
We knew that running two businesses was going to change our lives, but now that we've settled into our separate roles, we've adjusted well. With Jeff running the roastery and coffee shop now, we can finally come home and say: "How was your day, honey?"
Tips on managing work life balance:
It's good to have passion for life AND for work. The satisfaction of loving what you do carries over into life. And when things get crazy it's the small moments of joy that carry you through: a hug, a nice walk through the woods, getting your fingers dirty in the garden soil or making dinner together with friends.