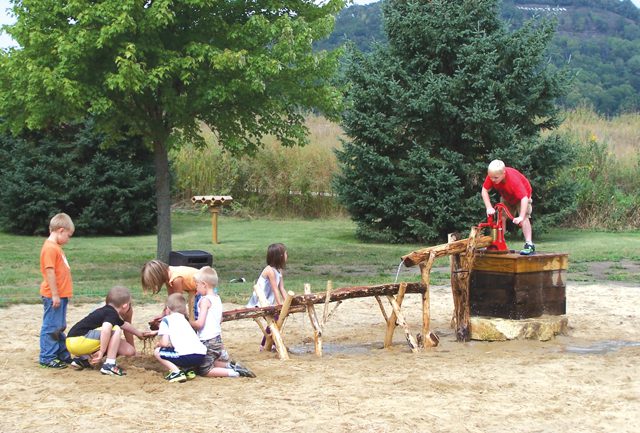 Houston Nature Center
215 West Plum Street
Houston, Minnesota, 55943
www.houstonnaturecenter.com
507-896-4668
Hours: Vary by season; check website for current hours
Admission: Free, but donations always welcome
The realistic taxidermy displays – have you ever looked a fox or an otter in the eye? – are impressive. The timber rattlesnake exhibit is fierce. But the real star of the Houston Nature Center is its natural playground, opened in 2013.
"Kids just love it," says Connie Verse, center manager. "Actually, so do adults."
Take a look at photos of the center's latest addition and it's easy to see why.
No swings or jungle gyms dot the decidedly untraditional play scape. Instead, pedestal pipes create opportunities for music. A sand pit (with hidden fossils!) invites digging. Stone tunnels and caves promote old-fashioned games of hide-and-seek. A wooden wall facilitates climbing. Straw bales invite stacking. And a slide provides plain, old-fashioned fun.
"The oldest person who has gone down our slide was over 80, and the youngest was riding in a parent's arm," says Verse. "The playground is just one of the ways we help people of all ages unplug from technology and get out and experience nature."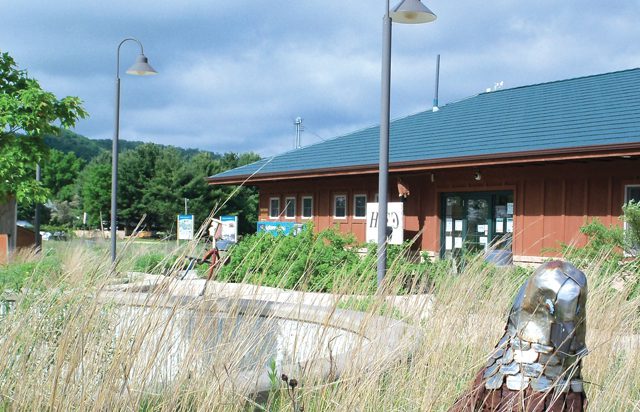 Built in 2001, the center sits on 18 scenic, peaceful acres at Trailhead Park and functions as the eastern trailhead of the 60-mile Root River Trail System. In addition to its natural play scape, the park offers a native prairie and primitive walk-in camping facilities – nine tent-only sites, available on a first-come, first-serve basis – along with shower and restroom facilities that Verse proudly describes as "the best along the entire Root River Trail."
For almost 15 years, the center was also synonymous with Alice, the great horned owl that now "works" at the International Owl Center in downtown Houston. And while the owl-based programming that was once a Houston Nature Center staple is now offered a stone's throw away at the International Owl Center, there are plenty of other programs planned for the spring and summer sure to interest nature enthusiasts of all ages.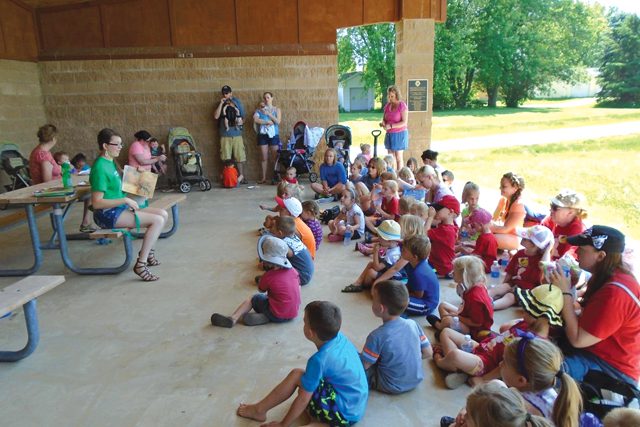 In June the center will begin offering its popular children's summer programs – which include hands-on educational activities, play time, and (of course!) snacks – two Wednesdays a week. Family–friendly programs are offered every Saturday through the year and focus on a single topic each month. Wetlands will be spotlighted in May, pollination in June, biking and bike safety in July, and arts and nature in August.
"Our mission is to educate people – children in particular – regarding nature and its benefits and to help people experience the outdoors," says Verse. "Between our natural playground, our camping facilities, and our programming, everyone is bound to find something of interest here."
What not to miss: A guided walking tour to the Houston sign on the bluff will take place at the center during the Houston Hoedown, July 29–31.
See more Driftless Nature Center profiles here!
– By Sara Friedl-Putnam